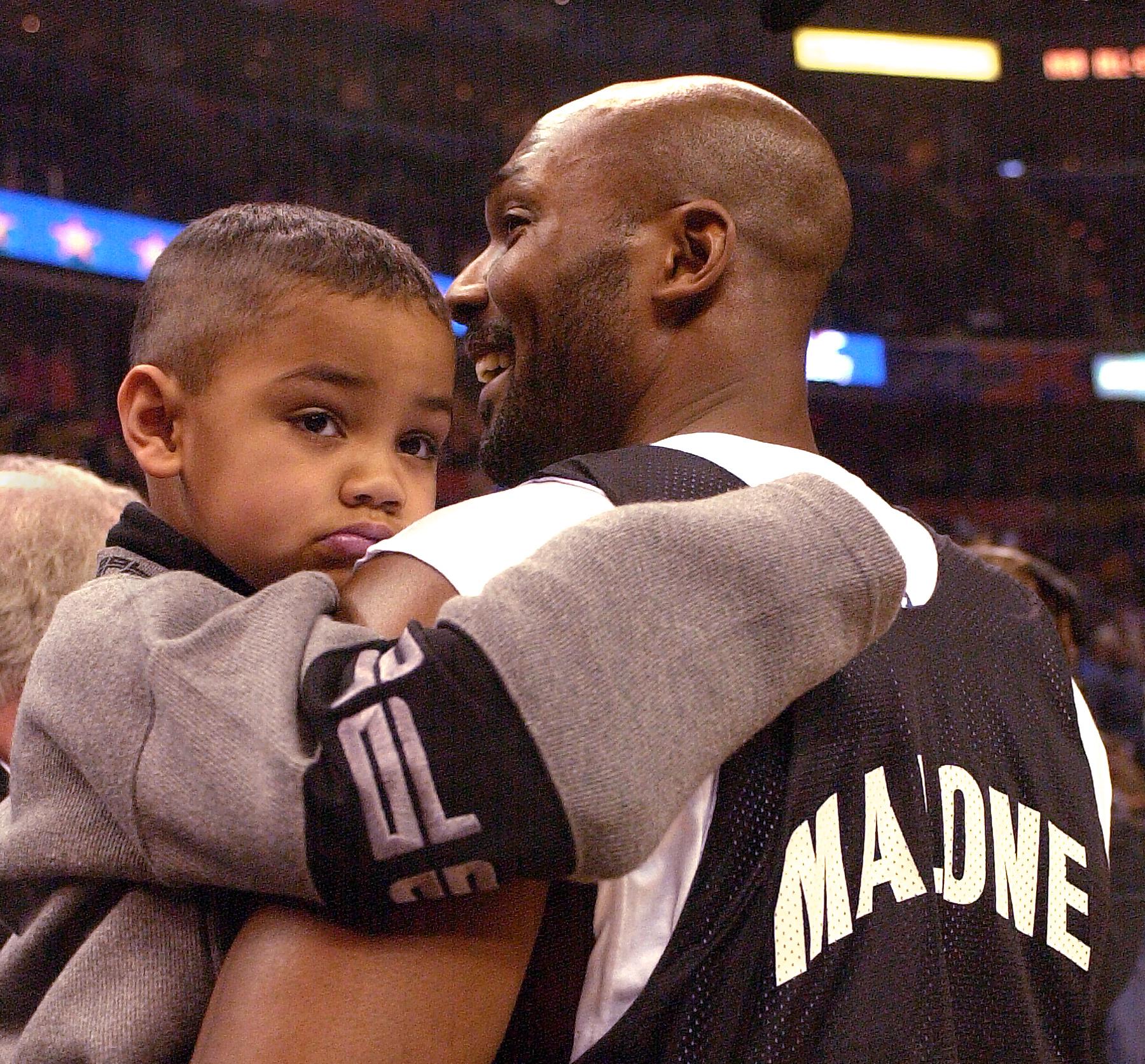 Karl Malone Has 7 Children but His Son Demetress Is Part of a Dark Secret
Karl Malone has fathered an impressive seven children over his lifetime, but he neglected his middle son for years because of a dark secret.
Karl Malone is one of the greatest pure scorers in NBA history. He totaled over 36,000 points over his 19-year career with the Utah Jazz and Los Angeles Lakers, and he averaged more than 20 points per game in 17 of 19 seasons. Off the court, Malone became a father before he even played a minute in the NBA. He went on to father seven total children, but his son Demetress wasn't a part of his life for a long time because of a dark secret from Malone's past.
Karl Malone has fathered seven children in his lifetime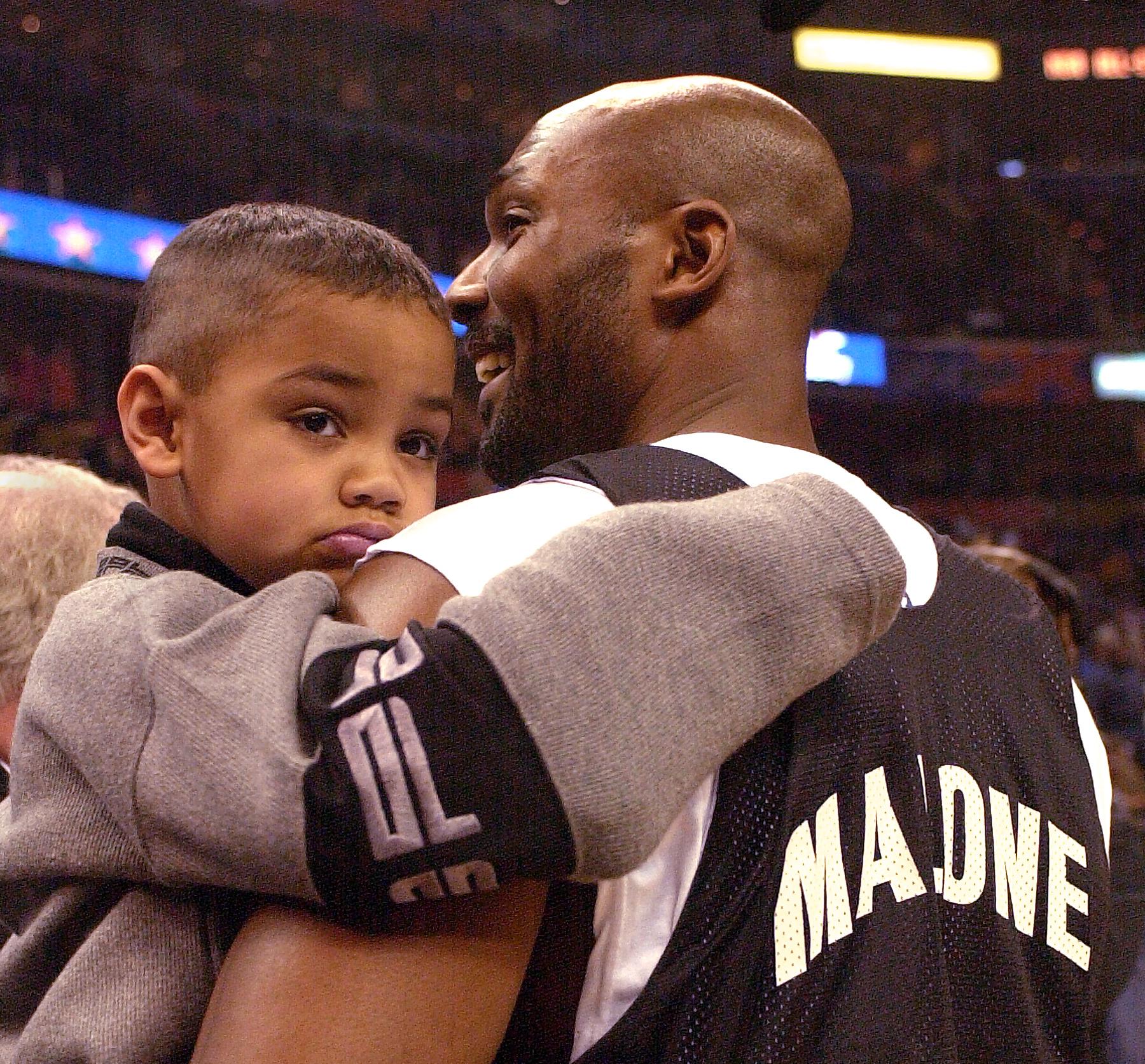 Karl Malone has fathered seven children during his lifetime, but he doesn't have the typical family you might expect. Malone's seven kids have come from three different women. Only four came from the NBA legend's marriage.
Malone had his first two kids when he was just 17 years old. His former girlfriend, Bonita Ford, gave birth to twins a few weeks after Malone graduated high school. The couple named the children Daryl and Cheryl. Soon after the birth of his first children, Malone abandoned the twins and his girlfriend. He didn't meet them again until Daryl and Cheryl turned 17.
Malone married his wife, Kay Kinsey, in 1990, and the couple has produced four children over the years. Kadee, Kylee, Karl Jr., and KJ are all in their 20s today, and they all have a great relationship with their father.
However, Malone had another son in between high school and marriage who slipped through the cracks for years.
Malone neglected his son Demetress because of a dark secret from his past
Shortly after his first children were born, Karl Malone headed to Louisiana Tech University to begin his college career. Evidently, Malone was busy with more than just basketball as a college student in the 1980s.
When Malone was just 20 years old he had another child with a 13-year-old girl named Gloria Bell. They named their son Demetress, but again Malone abandoned mother and child to pursue his NBA dreams.
For years, Malone kept Demetress a secret, but the truth was revealed after the Bell family brought a paternity suit against Malone in 1998. Malone ended up settling out of court with the family. He didn't have a relationship with Bell for years, but the two have since gotten closer.
"I treat it as if my mother went to a sperm bank," Bell told ESPN in 2008. "I don't hate him [for not being in my life]. It made me a better person. I grew up around good people. I never turned to a father figure. I was lucky. I didn't need one. I'm happy. I don't need anything else."
Malone eventually came around to fathering Demetress
Before the 1998 paternity suit, Malone wanted nothing to do with Bell because of the dark secret and statutory rape allegations surrounding his birth.
However, the father and son have begun to repair their relationship in recent years. Although Bell is from a different mother than Malone's four youngest children, he frequently attends family events today. Bell has a great relationship with all of Malone's children, and now the father and son have made up.
Malone might not have been an exemplary father in the early stages, but he's matured and seems to be a present father to all seven of his children today.