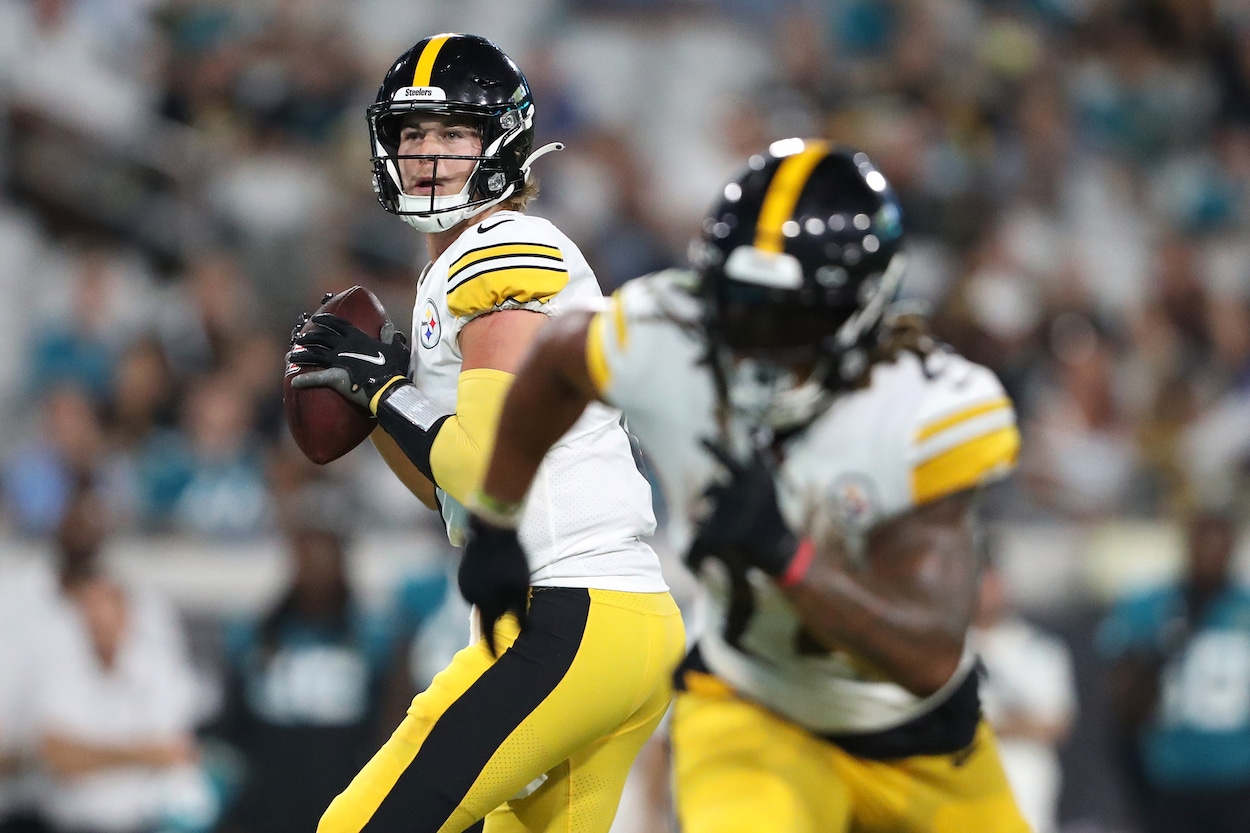 Kenny Pickett Should Have the Pittsburgh Steelers Salivating About Their Future at QB
Kenny Pickett is already excelling for the Pittsburgh Steelers, giving them hope even if he doesn't win the starting job.
The Pittsburgh Steelers are entering uncharted waters for the first time in a long while. Their longtime starting quarterback, Ben Roethlisberger, has called it a career, and now they must find success with a new signal-caller now and for the future.
The Steelers added two quarterbacks this offseason as potential candidates to replace the future Hall of Famer. They signed Mitchell Trubisky to a two-year deal while also drafting Kenny Pickett in the first round back in April.
Head coach Mike Tomlin should announce the quarterback decision soon. And while Trubisky, the second overall pick in the 2017 NFL Draft, is the likely starter, Pickett displayed some impressive throws throughout camp and in the preseason, which should spark optimism and confidence for Steelers fans going forward.
Kenny Pickett has shown a lot of growth since joining the Steelers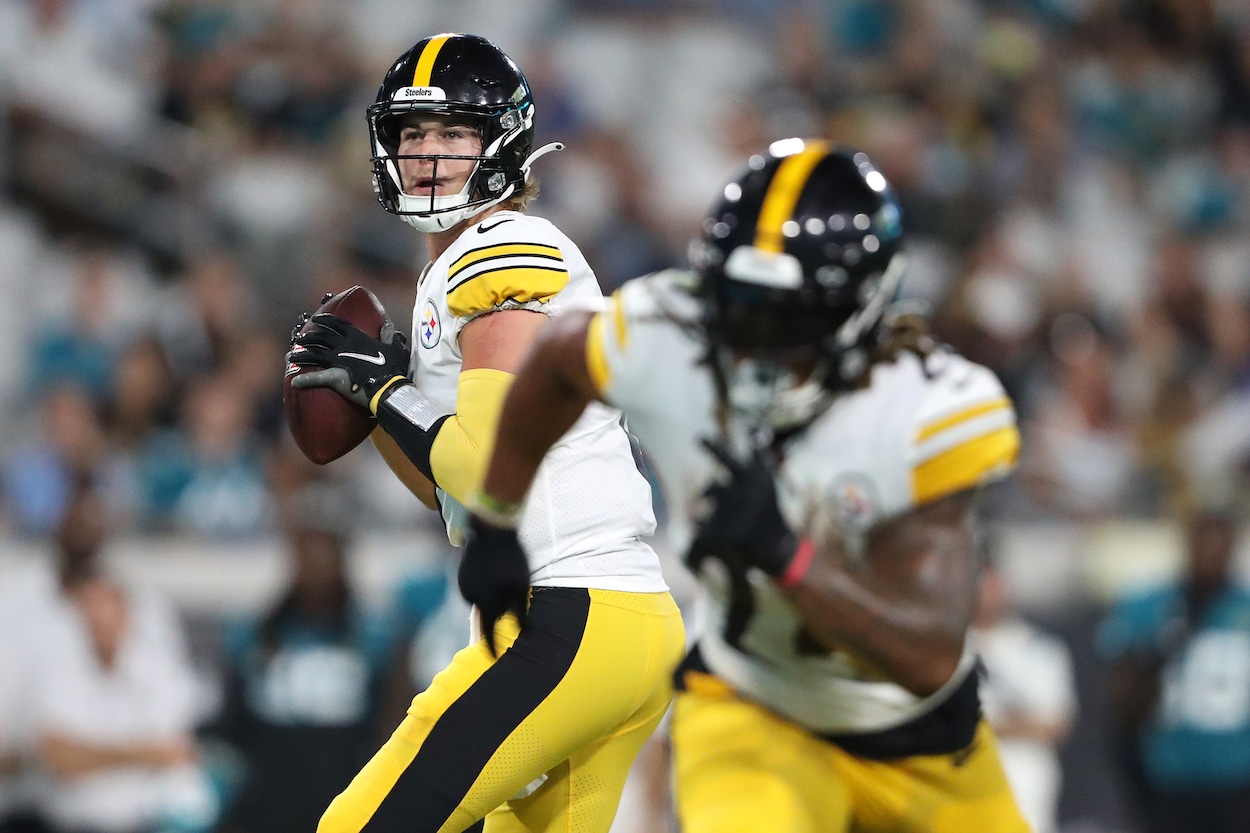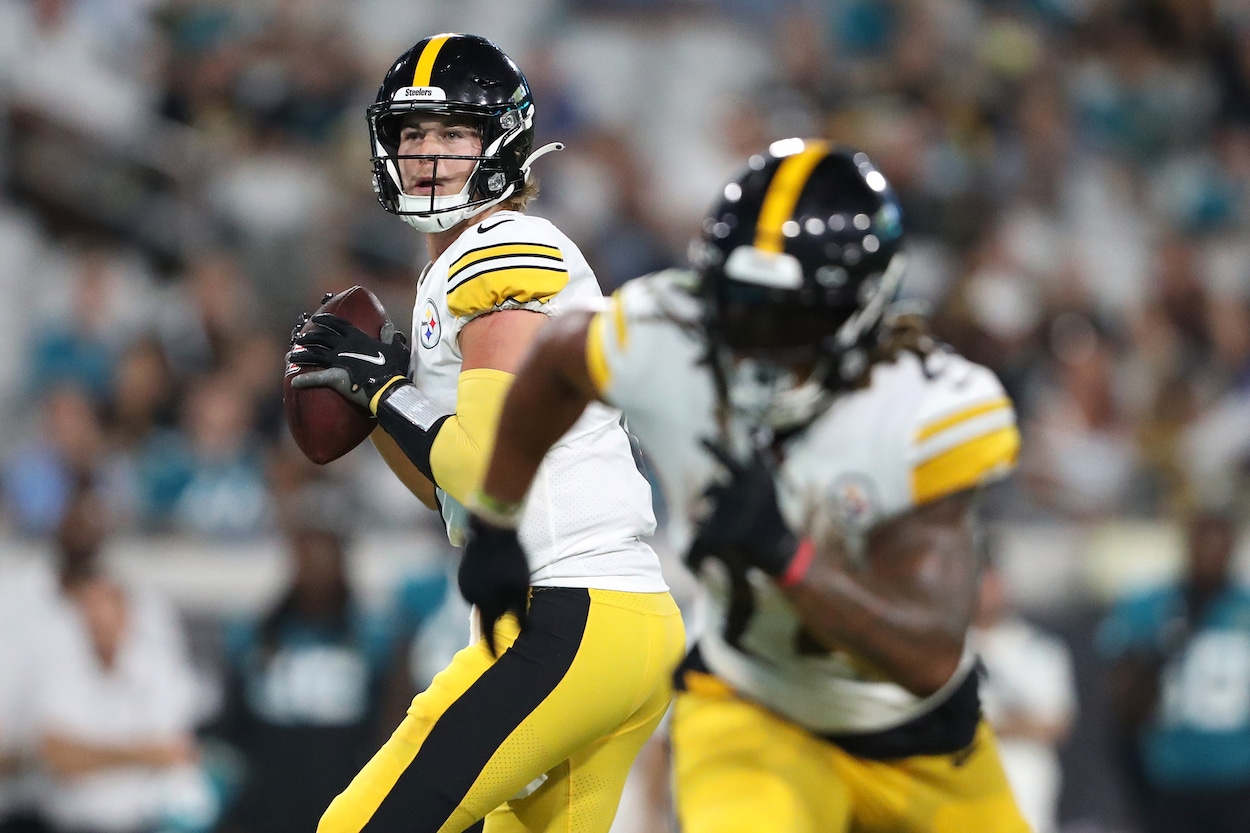 The Steelers have rarely picked a quarterback in the first round. In fact, the last time they did resulted in Roethlisberger back in 2004, and he ended up bringing two Super Bowls to Pittsburgh. So, it's especially hard not to be cautious and critical of any young quarterback brought into the fold, especially one from this draft class since Pickett was the only one to come off the board in the first two rounds.
Pickett received a lot of criticism leading up to draft day. His age — he's now 24 years old — was a concern since he was the oldest passer in the class. His hand size also drew a lot of attention for being severely smaller than that of a typical NFL quarterback. It came out at 8.5 inches at the NFL combine, one of the smallest ever measured in the combine era.
However, his hand size wasn't an issue in college, and it doesn't appear to be one in the NFL.
The Steelers commended the Pittsburgh Panther for being mature and thought he was a special player. He's handled the pressure with ease, and according to Steelers offensive coordinator Matt Canada, he's shown improvement every day since joining the team.
"I feel very comfortable with Kenny Pickett in any role. I think he's had a tremendous camp. I think he's shown growth from day one of rookie minicamp," Canada said in a press conference (h/t Steelers.com). "He did some things that looked like a rookie or whatever, and he's still going to be a rookie. But I think he's progressed as well as we would hope that he would."
That's all a team can ask of a young player. Pickett can create explosive plays through the air and out of structure, and he demonstrated that in the preseason.
Pickett may get on the field sooner than expected after a solid preseason
In a new environment, one of the most important things a quarterback can do is develop a strong connection with his wide receivers. It's the foundation for a strong passing attack, and Pickett already seems to have established as much.
In three preseason games, he completed 80.6% of his passes and had a 124.7 passer rating, both of which ranked near the top of the league.
Pickett's best outing came in a 32-25 victory over the Seattle Seahawks in which he went 13-of-15 for 95 yards and two touchdowns. He capped off the night with a game-winning drive, throwing, in the face of pressure, a strike to Tyler Vaughns for a 24-yard touchdown. 
His second game went just as well as he averaged 10.9 yards per pass attempt and earned a 151.5 passer rating. In the preseason finale, Pickett connected on 10 completions for 90 yards while throwing one of his best passes yet.
Pittsburgh's first-round pick has made a compelling argument for why he should be leading the charge come Week 1. He's been accurate with the football while remaining poised in key situations. Beyond that, he's looked comfortable in the Steelers offense and developed great chemistry with his receivers.
Pickett has progressed ahead of schedule, which will force Tomlin into making a difficult decision at the most important position.
The starting role won't be handed to Pickett, and he'll have to take it from Trubisky
Trubisky has admittedly looked like a different quarterback since leaving Chicago and head coach Matt Nagy. Dating back to last year, he lit up the Bears in the preseason, completing 20 of 28 passes for 221 yards and one touchdown. He played the entire first half against the Detroit Lions on Sunday, leading the offense to 16 points and throwing for 160 yards and a score.
Despite a substandard training camp, Trubisky's preseason outings were satisfactory. But the regular season is a different monster, and only time will tell if he's developed enough over the past two years to become a better player than he once was.
Even if Trubisky is named the starter, Pickett's growth in training camp and the preseason will likely force Tomlin into having a short leash on the veteran quarterback during the regular season. And if things don't go according to plan, Pickett has shown he's ready to be called upon.
Like Sportscasting on Facebook. Follow us on Twitter @sportscasting19 and subscribe to our YouTube channel.