Kevin Durant Had an Even Better Day in New York Than Cade Cunningham Did on Thursday
Kevin Durant is half a world away as he represents the United States in the Tokyo Olympics men's basketball tournament. That doesn't mean, however, that the Brooklyn Nets forward didn't experience an exciting day in New York City.
Durant's thrill had nothing to do with basketball, even though Brooklyn was the site of the 2021 NBA Draft, where Cade Cunningham scored the honor of going No. 1 overall to the Detroit Pistons.
Instead, Durant had himself another killer day on Wall Street, something that's been happening with great frequency.
Kevin Durant's NBA credentials are Hall of Fame material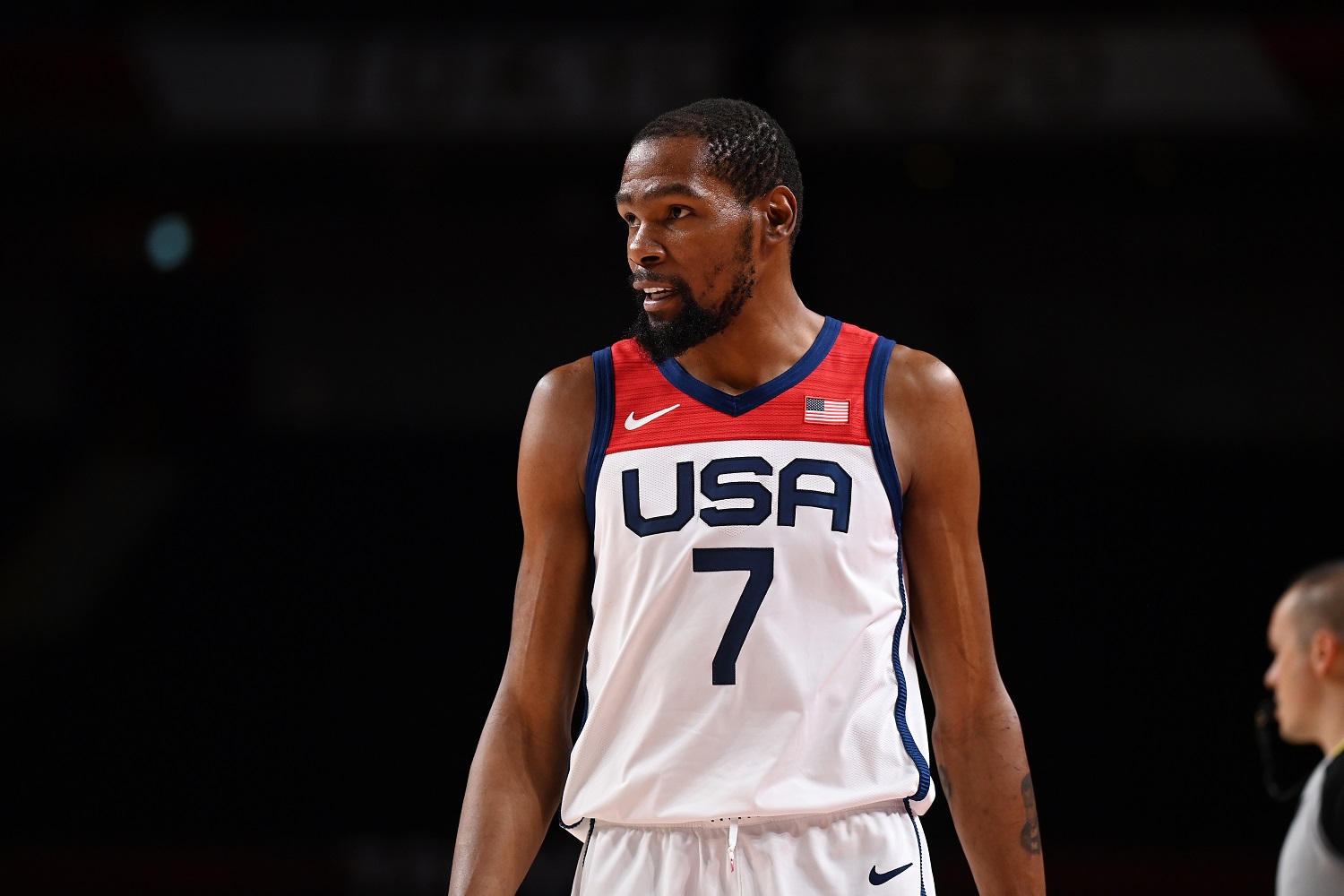 Durant missed out on earning the distinction of No. 1 pick in the 2007 draft (Portland went with Greg Oden), but nearly everything else has fallen into place for the 6-foot-10 forward. Voters made him the overwhelming pick for Rookie of the Year, and Durant has since added MVP honors in two All-Star Games and a pair of NBA Finals.
Missing the entire 2019-20 season while rehabilitating an injury is the only blip on a resume highlighted by averages of 27.0 points, 7.1 rebounds, and 4.2 assists per game. He has already appeared in 151 playoff games, averaging 29.5 points a game while playing heavy-duty minutes.
There's little doubt that there's a Naismith Memorial Basketball Hall of Fame induction ceremony in Durant's future.
Kevin Durant had a great day in New York despite working in Tokyo
Durant has already earned a pair of gold medals in the Olympics by playing for Team USA in London in 2012 and Rio de Janeiro in 2016. The Nets star was wrapping up his first week in Tokyo on Thursday in pursuit of a third gold medal when he received good news from New York City.
It seems that, besides being a talented basketball player, Durant possesses a gift for picking investment opportunities through his Thirty Five Ventures firm. Thursday was a big day for one of the companies he took an interest in at an early date.
Robinhood Markets, Inc., a high-profile online brokerage and financial services platform specializing in opening investing to small investors, made its debut in an initial public offering on the NASDAQ exchange.
Durant's company invested an unknown amount of money in Robinhood back in 2017, when the company was making the rounds to secure funding from venture capital firms. According to Sportico.com, Thirty Five Ventures' typical investments at that time ranged from $250,000 to $1 million. Crunchbase valued Robinhood at $1.2 billion at the time.
By opening at $38 a share and then sliding back to $34.82 when the markets closed Thursday, Robinhood allowed Durant to nail down better than a 2,000% profit on his investment.
The big win on Robinhood wasn't his first Wall Street success
Durant, 32, has had a better month as an investor than Team USA has experienced in Tokyo. Earlier in July, online banking start-up Mercury raised fresh venture capital funding that raised its valuation to $1.6 billion. It was only a $100 million entity when Durant invested in 2019.
Again, the exact amount of the NBA star's investment is a mystery. However, Sportico reports that he has upped the size of some recent investments to as much as $3 million. If Mercury makes it to the finish line with its own IPO, Durant will be able to cash in at a multiple even better than his huge Robinhood score.
That would be consistent with earlier successes. Most notably, Coinbase Global, Inc., went public in April, and its market cap immediately soared past $100 billion. The share price has slipped 45% since, but Durant's stake is believed to be more than 50 times what he invested in 2017.
His Thirty Five Ventures, which longtime business partner Rich Kleiman runs, has invested in an estimated 75 start-ups. Separately, Durant bought 5% of the Philadelphia Union, a Major League Soccer franchise.
With Thirty Five Ventures being privately held, outsiders don't know how profitable the company has been for Durant. However, given the successes he has already scored and the $580 million that Sportico says Durant has made in NBA salaries and endorsements, he could very well be closing in on $1 billion in career earnings.
All stats courtesy of Basketball Reference.