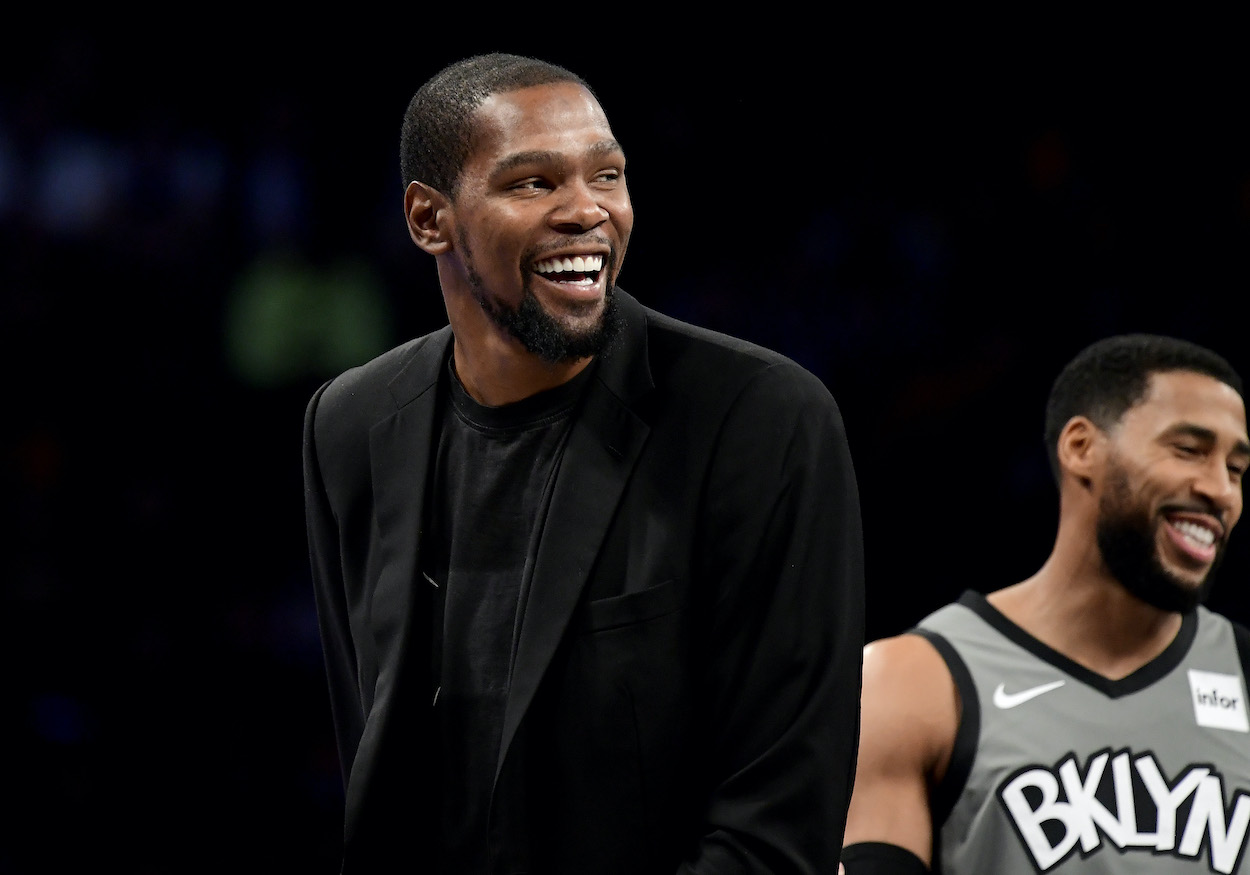 Kevin Durant's Lucrative Business Venture Just Gave Him a $100 Billion Reason to Smile
Kevin Durant is a fiend for investing, and one of his latest business ventures just rewarded him with a $100 billion evaluation.
When Kevin Durant isn't dicing up the best athletes in the world on an NBA court or beefing with internet trolls with his Twitter fingers, he's making serious money moves in the business world. The Brooklyn Nets superstar has a rich investment portfolio that features some of the most promising startups in Silicon Valley. Durant would be more than set for the rest of his life if he never earned another cent in the NBA.
On Wednesday, one of Durant's newest business ventures gave him a $100 billion reason to smile.
Kevin Durant is an investment tycoon off the court
Kevin Durant is a man of many titles. Eleven-time All-Star and two-time NBA champion? Yup. NBA Hall of Famer? Soon to be. Sensitive superstar who can't take a joke online? Yes, even that.
But off the court, Durant is also an investment tycoon. He's been investing the money from his NBA contracts ever since he first received a paycheck in the league, and he's built up an impressive portfolio over the years.
Through his own investment company, Thirty-Five Ventures, Durant has invested in companies such as Postmates, Robinhood, Acorns, JetSmarter, and more. He also recently joined the Philadelphia Union's ownership group as an investor and community partner.
According to Stephen Beslic of Basketball Network, Durant earned $35 million in off-court investments in 2019 alone. That number is only going to rise in the coming years.
Durant invested in Coinbase at $1.6 billion
Most of Durant's investments focus on companies you've probably heard of or even used before. But one of his most recent business ventures was a bit more daring. A few years ago, Durant and his business partner at Thirty-Five Ventures, Rich Kleiman, decided to invest in Coinbase.
Now, Coinbase, in its simplest form, is an online platform where consumers can exchange cryptocurrencies. The company was founded in 2012, and it's since grown to become the most popular crypto exchange platform in the United States.
When Durant and Kleiman invested in Coinbase, the budding crypto company was valued at $1.6 billion, per Joe Pompliano of Huddle Up. Pretty impressive, right? Well, let's check in on Coinbase now.
Coinbase just gave Durant a $100 billion reason to smile
On Wednesday morning, Coinbase opened on the Nasdaq for the first time, and that sound you probably heard at around the same time was Kevin Durant jumping for joy inside his Brooklyn apartment. Coinbase opened at $381 per share, giving the company close to a $100 billion valuation.
That's right. Durant's lucrative business venture has seen a 61.5-time increase in valuation since he first invested in Coinbase. It's not reported how much Durant originally invested in the cryptocurrency giant, but he surely woke up on Wednesday a very, very happy man.