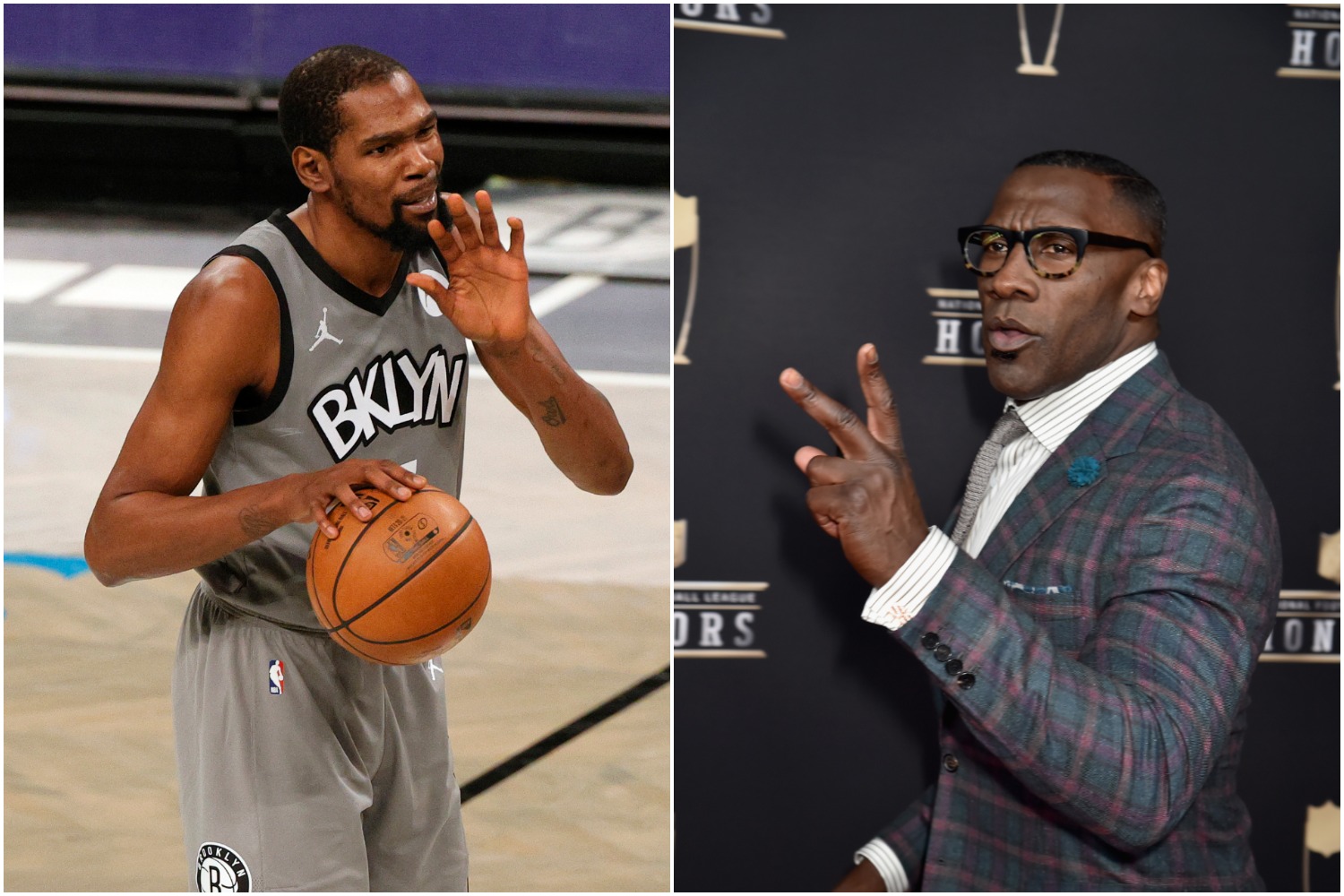 Kevin Durant Blasts NFL Legend Shannon Sharpe for Spreading Fake News About Him on Live TV: "Y'all Drunk Uncle Out Here Lying Again'
Kevin Durant had no choice but to put Shannon Sharpe on blast after the Pro Football Hall of Famer spread some fake news about him on live TV.
Let's just say the next time a sports media member calls out Kevin Durant, that person should conduct a thorough fact check. At least that's the lesson Shannon Sharpe learned Monday night.
After spreading a lie about the Brooklyn Nets star on live TV, the Pro Football Hall of Famer got put on blast by the Slim Reaper. Ironically, the situation involved the superstar to whom Durant is most often compared: LeBron James.
The Kevin Durant vs. LeBron James debate engenders strong opinions from both sides
When LeBron James and Kevin Durant finally retire, they will certainly go down as two of the most dominant players in NBA history. While the former boasts four championship rings, four MVP trophies, and 17 All-Star selections on his resume, his younger peer has an impressive list of accomplishments of his own.
A four-time scoring champion, Durant has put up monster numbers for three franchises. During his nine-year run with the Oklahoma City Thunder, he averaged 27.4 points in 641 games. However, he couldn't lift the team over the top.
Meanwhile, James won two titles with the Miami Heat before returning to his home state of Ohio. And in the second year of his second stint with the Cleveland Cavaliers, he led the team to a championship by taking down a Golden State Warriors squad that had just added Durant.
Of course, KD got his revenge for losing to the league's biggest star. Golden State defeated Cleveland in the NBA Finals on back-to-back occasions. Durant took home Finals MVP honors both times, which seemingly helped close the gap between him and James.
The NBA superstar blasts Shannon Sharpe for lying on live TV
Your reputation means everything. So for Kevin Durant, hearing Shannon Sharpe disparage his name on live TV was unacceptable. But what exactly happened on Monday's edition of Undisputed?
The Hall of Fame tight end engaged in a discussion with co-host Skip Bayless about Durant and his motivation to win championships. However, in doing so, Sharpe brought up a fake quote attributed to the 32-year-old NBA superstar.
"Kevin Durant thought by winning the titles everybody was going to regard him as universally the best player in the NBA—better than even LeBron James," Sharpe said. "But very few people were willing to go there. And then—because he said it—if LeBron James is the GOAT, I beat the GOAT twice, and hit the shots in his building, what does that make me? It wasn't about, 'I want to be the best player.'"
Durant did not actually utter those words. So once he heard Sharpe spread fake news about him, he took to Twitter to put the NFL legend on blast.
He wrote, "Y'all drunk uncle out here lying again. When did I say this @ShannonSharpe ???????????????????????????"
Oddly enough, Sharpe blocked Durant on Twitter on Tuesday.
Durant needs to take care of business on the court to ensure the Nets live up to their championship potential
Kevin Durant obviously didn't enjoy hearing his name attached to a fake quote that didn't paint him in the best light. After all, with just two rings sitting at home, he still falls behind LeBron James in that measure of greatness.
Luckily for the sharpshooting forward, he has all the pieces around him to close that gap. Thanks to a flurry of moves, the Nets now boast a terrifying lineup headlined by Durant, Kyrie Irving, and James Harden. Battle-tested veterans like LaMarcus Aldridge, DeAndre Jordan, Blake Griffin, and Jeff Green round out a roster full of highly paid stars.
With the postseason rapidly approaching, Brooklyn needs to start playing with more consistency. The team has lost two of its last four games, including a 126-101 defeat to an LA Lakers squad that didn't even have James or Anthony Davis on the floor.
Given their sheer abundance of talent, the Nets have no excuse not to win a title this summer. Let's see if Durant can carry the Eastern Conference franchise to a championship in the coming months.
All statistics courtesy of Basketball Reference.