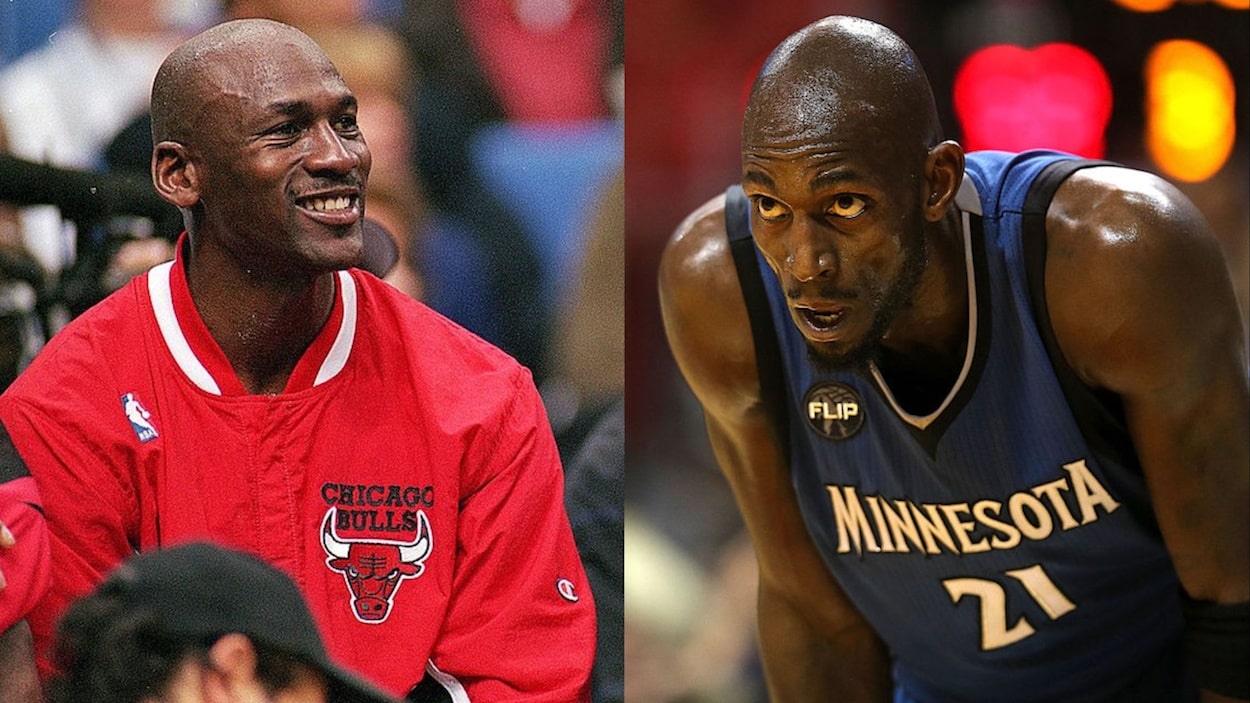 Kevin Garnett Tried to 'Grow Doubt' In Michael Jordan's Mind and Failed Miserably
While Kevin Garnett could intimidate almost anyone, facing off against Michael Jordan was a completely different story.
If you asked a basketball fan to name some fearless NBA players, Michael Jordan would probably sit near the top of the list. While it's been quite a while since he hit the hardwood, His Airness still has an aura of invincibility. Between his sheer talent, willingness to push the envelope, and straight-up refusal to lose, MJ was someone to mess with at your own risk.
Kevin Garnett, however, was more than willing to take that chance.
The Big Ticket, who was a ruthless trash-talker and a fearless competitor in his own right, once tried to plant some seeds of doubt in Jordan's mind. While that might have worked against lesser players, it went exactly how you might think against Mike.
Let's take a walk down memory lane and check it out.
Michael Jordan had no time for Kevin Garnett and his mind games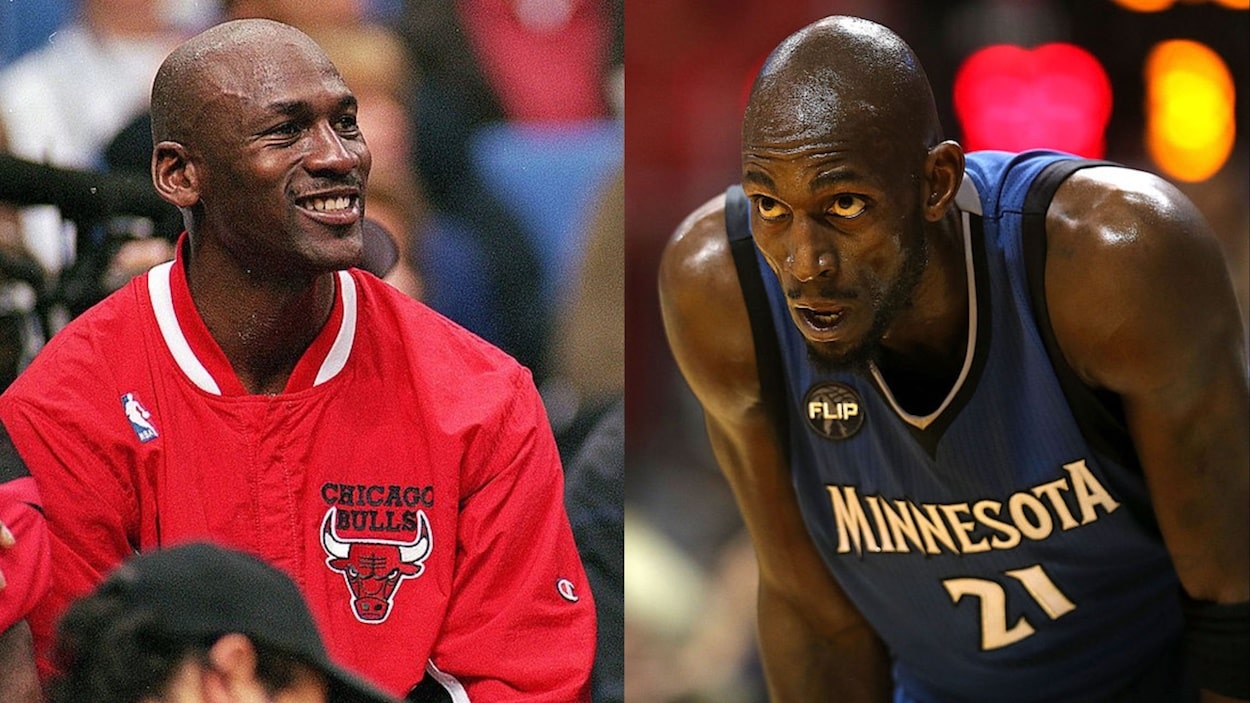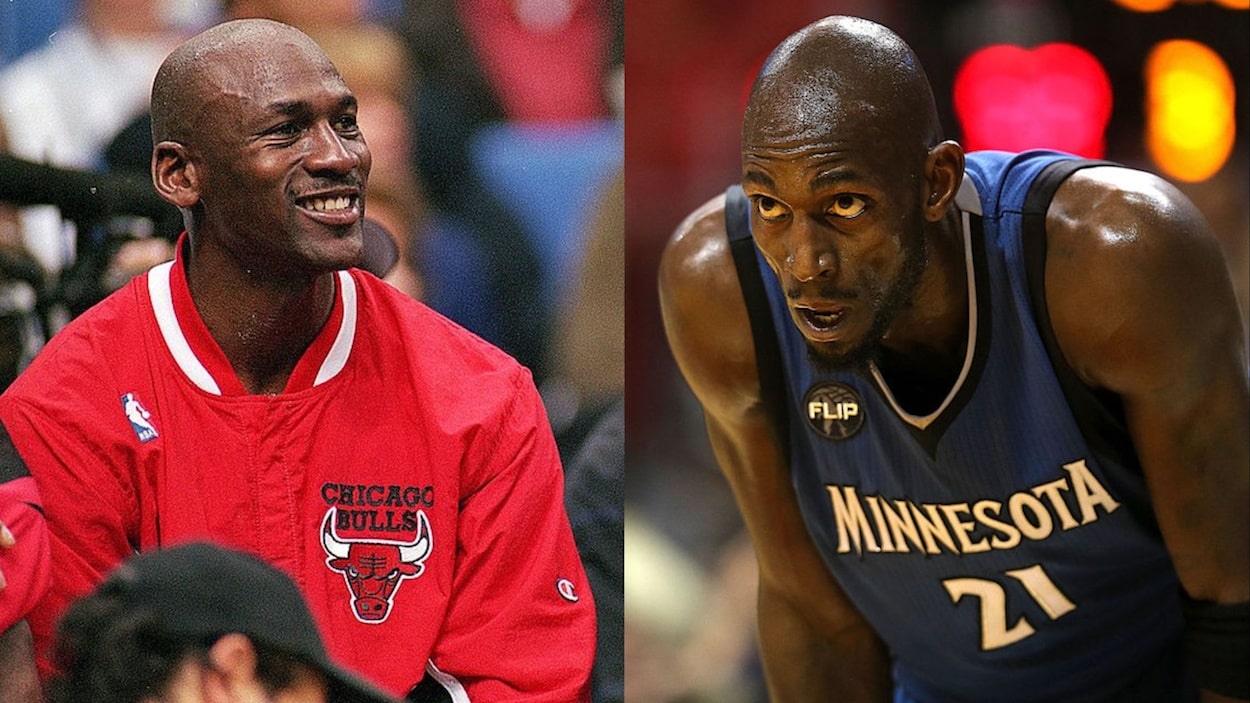 For the most part, Michael Jordan was the one who usually subjected his opponents to a variety of trash talk and intimidation tactics. On at least one occasion, though, Kevin Garnett tried to give MJ a taste of his own medicine.
"I learned how to grow doubt," KG explained on an episode of Showtime's KG Certified. "And I learned that if a guy has a little bit of doubt in his game, you can grow that. So that's why I'd be like, 'Put that s*** in your left hand, I'm gonna take that s***."
The Big Ticket was so confident in his ability — not only could he read the game and make the play, but he could use it to mess with the opposition — that he tried to plant that doubt in Jordan's mind.
"I caught him," Garnett told Bones Hyland. "He was going two dribbles, coming off left, and he was trying to … he tried to reject baseline. I knew that. I knew both baselines, he liked to reject [the screen], so I played the middle. And he went two dribbles, came back left. And he was talking. He went two dribbles, came back left, and I said, 'Man, if he do this s*** again, I'mma pick this s***.' "
When His Airness tried that move again, Garnett was ready. He took the ball and, in a bold move, "sauced" the living legend. Those actions combined to send Jordan into overdrive.
"The next time, dog, I blink, and he was at the cup," the big man remembered while miming a lay-up. He also suggested that Jordan threw a bit of trash talk his way before heading back up the floor.
That wasn't the only time that Jordan but the Big Ticket in his place
Based on his retelling, it's not clear when Kevin Garnett tried — and failed — to get inside of Michael Jordan's head. We do know, however, that the two tangled on at least one other occasion.
As recounted on an episode of All the Smoke, Isiah "JR" Rider was playing well against MJ during a 1996 meeting between the Minnesota Timber Wolves and the Chicago Bulls. At the end of a time-out, Garnett — who was a rookie at the time — told his teammate to "keep killing" Mike. There was an issue, though. Jordan could hear those words. And while KG didn't care, he quickly learned the error of his ways.
I see [Rider] and Mike having a conversation, saying, "He don't really know, he's excited." So now MJ is on the back leg joint, nodding his head saying, "Oh yeah?" I can't even describe the next six, seven minutes of play, yo. We're down 25 now, it was just at two. It got bad quick. I'm like, "JR, my bad, dog. Sorry, man. I'm sorry." He said, "It's good man, I told you shut your ass up." Mike came over like "Damn, young fella, damn, y'all done?" Never talked s*** to Mike ever again in life

Kevin Garnett
And while the timeline isn't clear, it certainly seems like Garnett did make the mistake of crossing Jordan again. The Timberwolves had only played the Bulls once before the JR Rider game, so unless KG went after MJ in both of his first two meetings, the situation he described to Bones Hyland would have had to come later on.
If nothing else, at least the Big Ticket came away with some pretty cool stories.