Kevin Harvick Still Has Clout at SHR After 59 Straight Winless Races
Stewart-Haas Racing has made changes to Kevin Harvick's crew in a bid to boost his playoff chances.
Kevin Harvick hasn't finished lower than eighth in the NASCAR Cup Series standings since 2009. On Thursday, his team confirmed it has no intention of ending that streak this year.
Harvick blasted the work of his pit crew after another debacle at Sonoma, and Stewart-Haas Racing has responded. Now, Harvick and his pit crew have 10 races to get it right.
Kevin Harvick is on his longest winless streak since 2010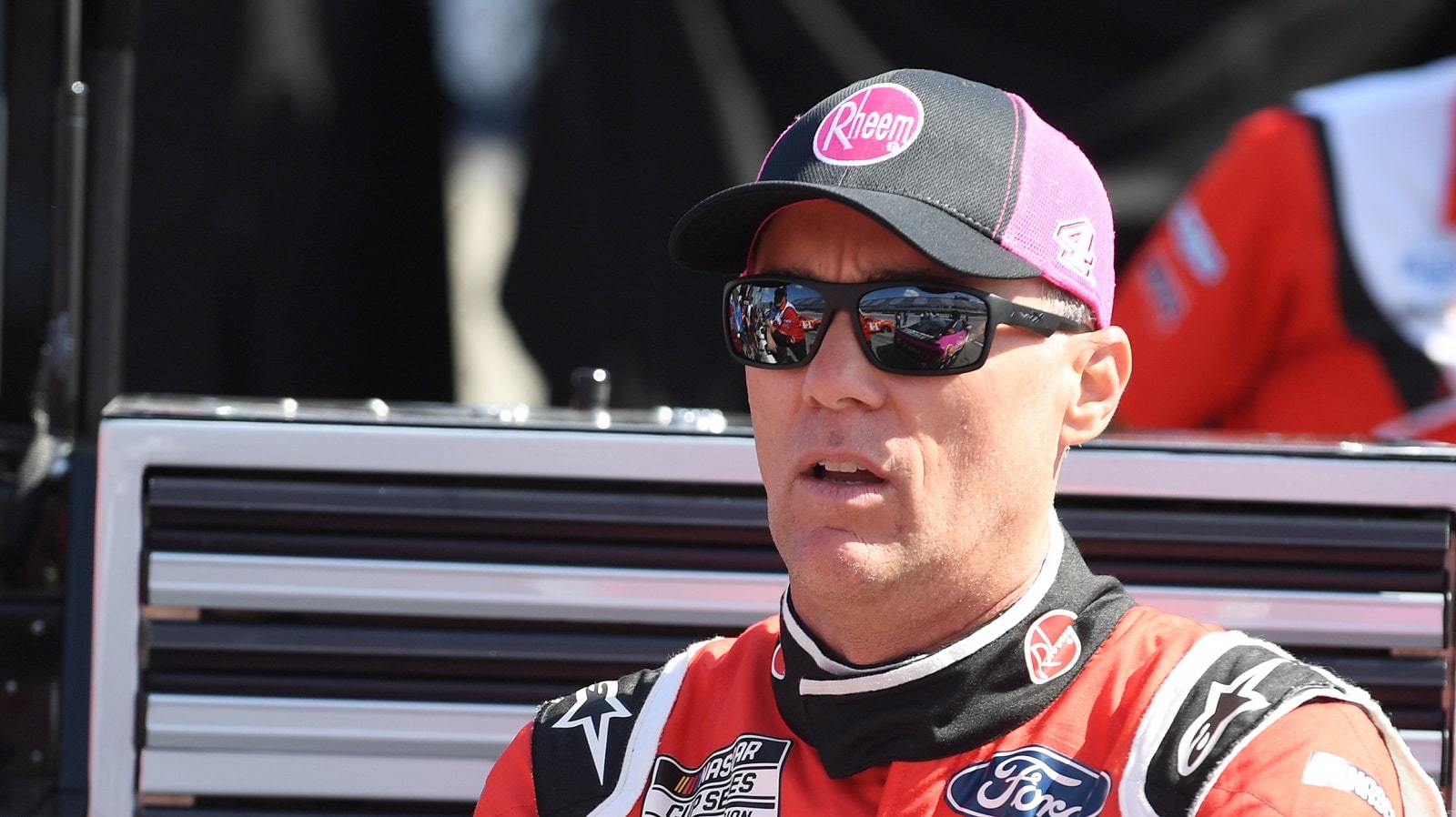 The joy of winning the 2007 Daytona 500 faded week by week over three-plus years as Kevin Harvick proceeded to come up winless in his next 115 starts in the NASCAR Cup Series. He regained his winning form in 2010 and has scored 47 of his 58 victories since.
However, Harvick has gone ice cold again. Since winning at Bristol in the 2020 playoff race (his ninth triumph that year), he has gone 59 races without visiting Victory Lane.
It's undoubtedly the source of frustration for Harvick, who won the 2014 season championship in his first year at Stewart-Haas Racing after coming over from Richard Childress Racing. The frustration boiled over at Sonoma before the Cup Series went on hiatus for a week.
Harvick was in contention with 29 laps to go, pulling into the pits in third place behind Daniel Suarez and Chris Buescher. Harvick and Buescher were in adjacent stalls, but not for long. The RFK Racing crew got Buescher out in 12 seconds. Meanwhile, the SHR team had to jack up the left side of Harvick's Ford twice, and he left nearly 10 seconds after Buescher departed. It cost Harvick 11 places and his chances of winning.
Kevin Harvick tore his pit crew a new one
Seeing Chris Buescher pull out of the pit lane at Sonoma far ahead of him infuriated Kevin Harvick.
"I swear to God, we look like the biggest f****** bunch of wankers every single week on pit road," he said over the team radio.
He continued to vent while speaking to reporters afterward.
Harvick comes to Nashville this weekend 12th on the NASCAR Cup Series points list, but five drivers behind him have scored victories in 2022. In essence, that shoves Harvick down to 17th place. With only 16 drivers qualifying for the playoffs after the remaining 10 races of the regular season, Harvick is seven points below teammate Aric Almirola in the battle for the final playoff spot.
Kevin Harvick still has clout at SHR
The Stewart-Haas Racing team has heard Kevin Harvick's complaint and acted upon it. NBC Sports reported that SHR has moved members of three pit crews around to beef up the odds of the No. 4 Ford winning its way into the NASCAR Cup Series playoffs.
"We need to win a race," crew chief Rodney Childers said. "We kind of feel like if you don't win a race, you might not get in. You can't really give up a lot of spots on pit road and still try to win races."
Beginning Sunday, front tire changer Daniel Coffey and jackman Brandon Banks are moving from Chase Briscoe's car to work on Harvick's car. Former Harvick team members Shayne Pipala and Stan Doolittle move over to Briscoe's No. 14 Ford and Cody Ware's No. 51 Ford, respectively. Ware drives for Rick Ware Racing, which contracts with SHR for its crews.
Raiding Briscoe's team isn't an issue since he won at Phoenix in the season's fourth race, virtually guaranteeing his place in the playoffs. Now, SHR is angling to give Harvick that same guarantee.
All stats courtesy of Racing Reference.
Like Sportscasting on Facebook. Follow us on Twitter @sportscasting19 and subscribe to our YouTube channel.