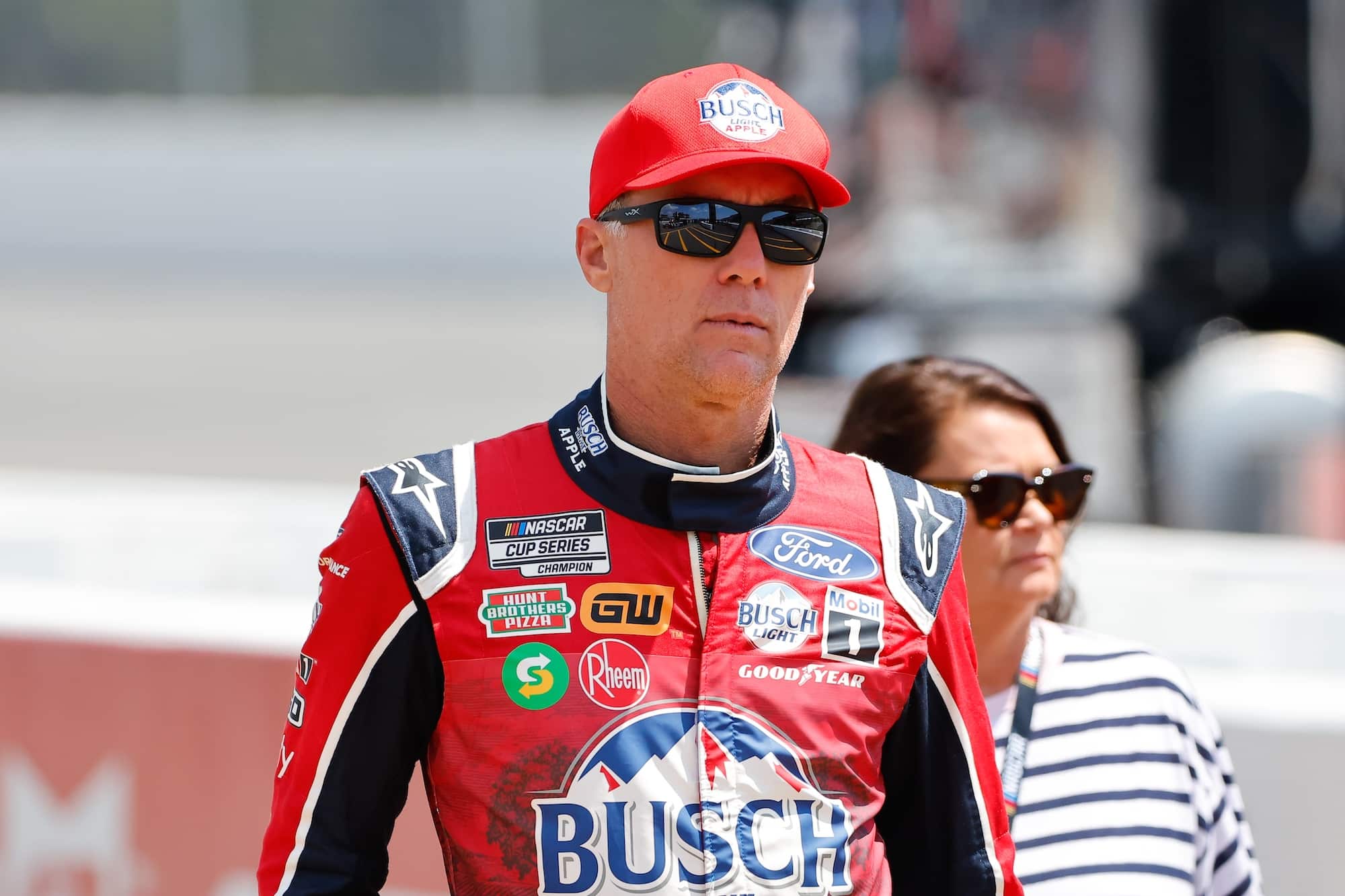 Kevin Harvick Reflects Back on Career and Has 1 Painful Thing He Would Change
Kevin Harvick admitted this week following his retirement announcement that, if given a chance, there is one painful thing in his racing career that he would like to change.
This week Kevin Harvick announced that he will race his final NASCAR Cup Series season in 2023. After 23 years, including 60 wins and the 2014 championship, the Stewart-Haas Racing driver is ready to move on and pursue other opportunities.  
In his first interview following the announcement, SiriusXM NASCAR Radio's Dave Moody asked the driver if he had any regrets or wished he could change anything in his career. The 47-year-old had one specific thing in mind.
Kevin Harvick announces retirement after 2023
In recent years as the seasons ticked off the calendar, the media and fans regularly questioned Kevin Harvick about his future and when he would finally retire. The 2014 champion temporarily suspended those questions in 2020 when he won an impressive nine times. 
They returned and grew louder in volume following the 2021 season when the No. 4 driver went winless for the first time in his career since 2009. When that streak extended well into the 2022 campaign and reached 65 races, some naturally questioned if Happy would ever win again. 
He responded in dramatic fashion with back-to-back wins at Michigan and Richmond. Despite those trips to Victory Lane and showing he still had the ability to win, according to the driver, the time was right to step away. He made the official announcement this week that he will hang up his helmet a final time following the season finale in Phoenix.  
Would like to change one thing in his career
It's been a remarkable career for Harvick. He's undoubtedly bound for the NASCAR Hall of Fame with his many career accomplishments, including his eight crown jewel wins, the highlight coming when he won the 2007 Daytona 500. 
It was six years earlier on that same track that NASCAR endured one of its greatest tragedies with the death of Dale Earnhardt on the final lap of the Great American Race. Richard Childress called on Kevin Harvick to fill the seat.
This week following his retirement announcement, the driver visited with SiriusXM NASCAR Radio's Dave Moody, who asked him about any regrets or things he'd like to change in his career. The driver unsurprisingly flashed back to beginning his Cup career under such difficult circumstances.  
"You look back; I wish there were things we could have done differently in 2001," Harvick said. "Obviously, I didn't want to be in that 29 car. That would be the only thing that I would have loved to race against Earnhardt and that was really why I went to RCR. That would be the one thing that I'd like to see different."
Harvick proved he was special early on
Harvick knew when Richard Childress called on him in 2001 that it would be impossible to replace Earnhardt. However, objectively looking back on what he achieved that first season is nothing short of remarkable. 
He strapped into the seat at Carolina for his first-ever Cup race and finished 14th. The next race at Las Vegas, he recorded the first top 10 of his career, finishing eighth. And then, the following week, in the third Cup race of his career, he shocked the NASCAR world by outlasting Jeff Gordon and winning in a photo finish. 
It was a precursor of things to come. The No. 29 crew won a second time that year at Chicago and impressively finished ninth in the standings. He deservedly won Rookie of the Year honors. 
And the rest, as they say, is history. But if Harvick had it to do all over again, he'd gladly give back all the trophies from that first season if it would have allowed him to race against Earnhardt.