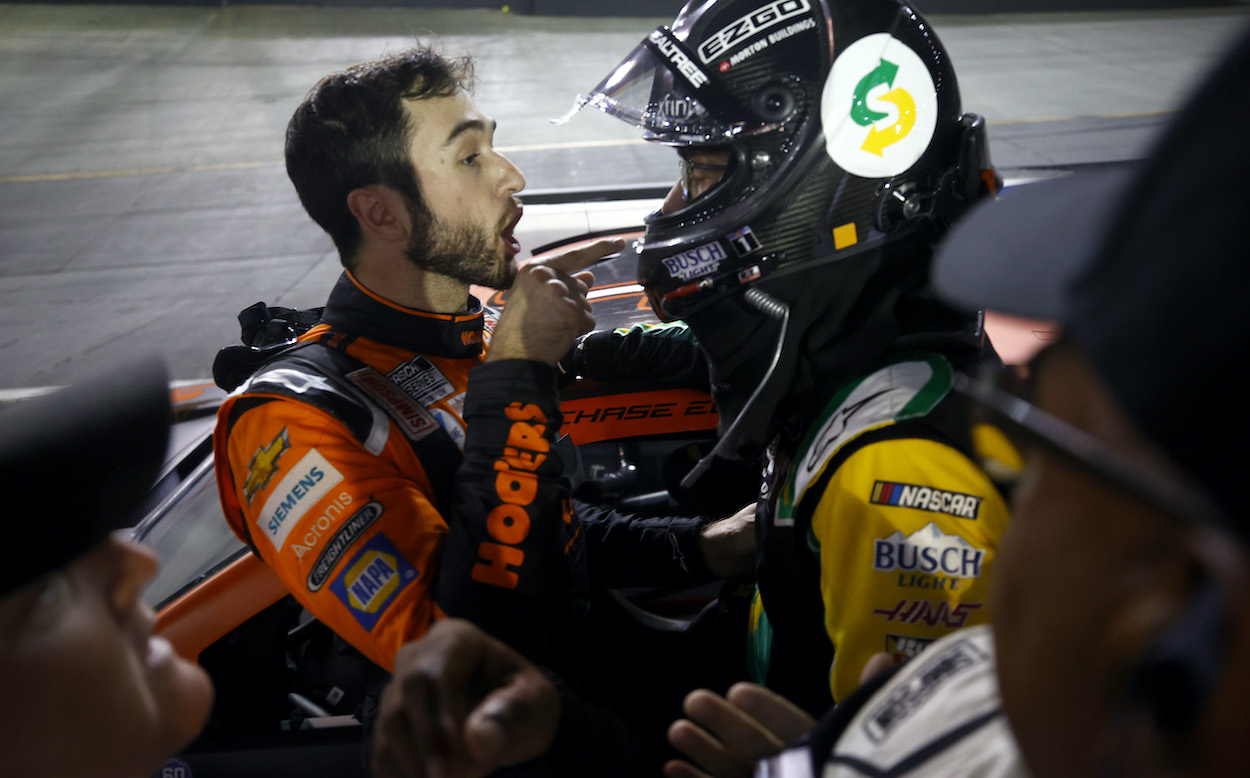 Kevin Harvick Reveals He Has a Different Set of Standards for Cup Series Drivers Named Chase
Kevin Harvick spoke highly of young, aggressive driving this weekend at Richmond and it was a complete 180 of how he viewed Chase Elliott's driving just a few months earlier.
Kevin Harvick and his months-long feud with Chase Elliott was one of the main storylines in 2021. The veteran directed some harsh language at the younger driver, even offering a few choice words on the eve of the 2022 season. 
This weekend in Richmond, the 2014 Cup Series champion brought up Chase Briscoe in a conversation and, unsurprisingly, had nothing but glowing words to say about his Stewart-Haas Racing teammate. What made it all the more interesting is his remarks were the complete opposite of what he had previously said regarding the same behavior of the other guy named Chase. 
Kevin Harvick likes aggressive driving of Ross Chastain and Chase Briscoe
This last week, Ross Chastain's aggressive last-lap move at Circuit of the Americas was a hot topic of conversation. Numerous drivers offered their thoughts on the move and whether they agreed with it. Kevin Harvick had plenty to say.
"Ross is just a super aggressive driver, and I think balancing that with not wrecking and putting yourself in bad spots, there's a fine line between that," Harvick said. "I think that's the biggest difference. He's still super aggressive and does all the things that he needs to do, but he has learned how to not put himself in a position where he totals his car or tears his car up. 
"Ross is a lot like Chase (Briscoe), right. And he's got that background of just a hardcore racer, had to battle for everything that he's got, and the most important (thing) for guys like that is to not lose that desire that got them to this point and learn how to still treat this as you don't have a job tomorrow and still carry that same enthusiasm year after year after year. That's the trick to being successful at this for a long time.
"A lot of stuff goes on that you guys don't see, and we're super fortunate as a sport to have a lot of really young, talented, aggressive drivers that are coming up through this deal to make it exciting, and both of those guys are one of them."
Kevin Harvick not a fan of Chase Elliott's aggressive driving
Kevin Harvick suggesting that it's good for the Cup Series to have young, talented, aggressive drivers is something most fans would agree with. However, it's not something even he agreed with just a few months ago. 
Before the start of the 2022 Cup season, Harvick appeared on the Daytona 500 prerace show and was interviewed by his boss, Tony Stewart, who was moonlighting as a guest analyst. The former driver asked Harvick his thoughts on racing between generations, referring to his conflict with Elliott. 
Harvick said younger drivers don't think and don't race smart, which is something he said directly to Elliott in the garage when the conflict started at Bristol. 
"I have a better perspective of that and a lot of that has probably come from Keelan," Harvick said, referring to his son. "A lot of these kids when they come through go-karts, it's hammer down. They're so focused on push-push-push that they don't know how to think-think-think. That's been good for me to be able to push myself in order to just not care because they just don't care. And I can not care, too." 
Completely changed his tune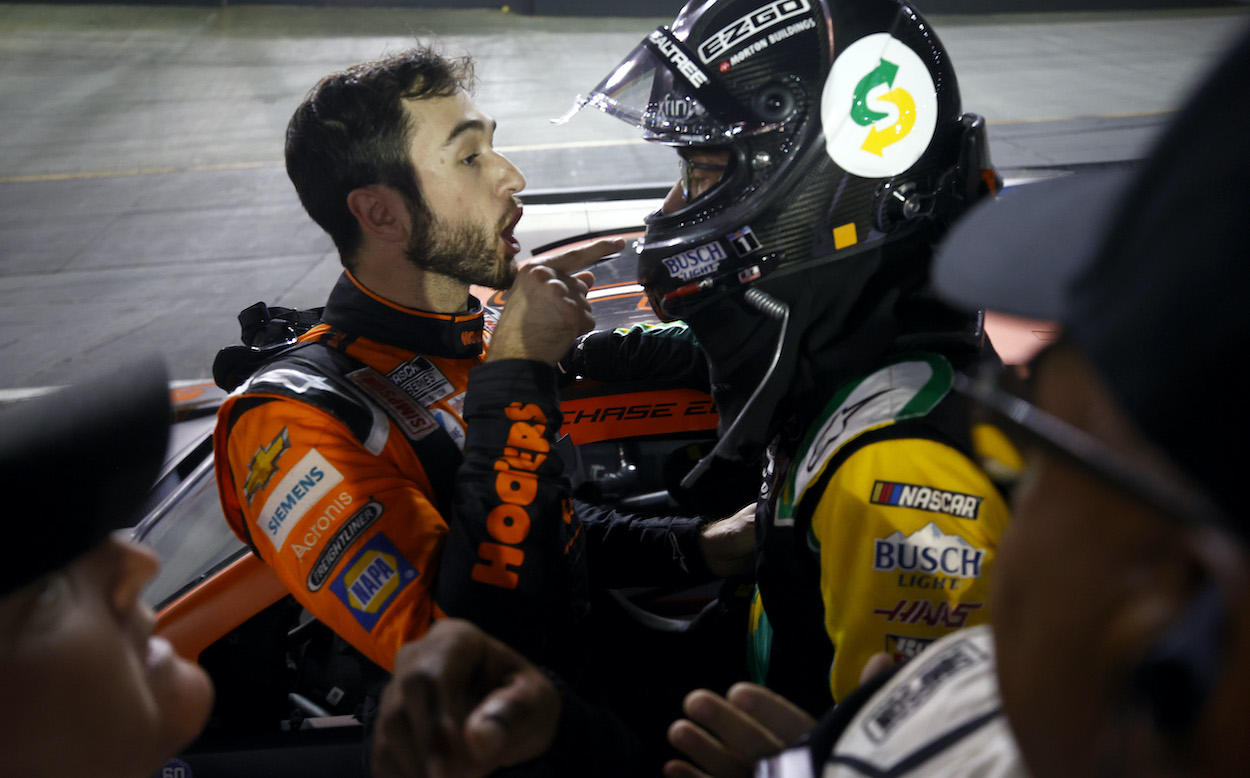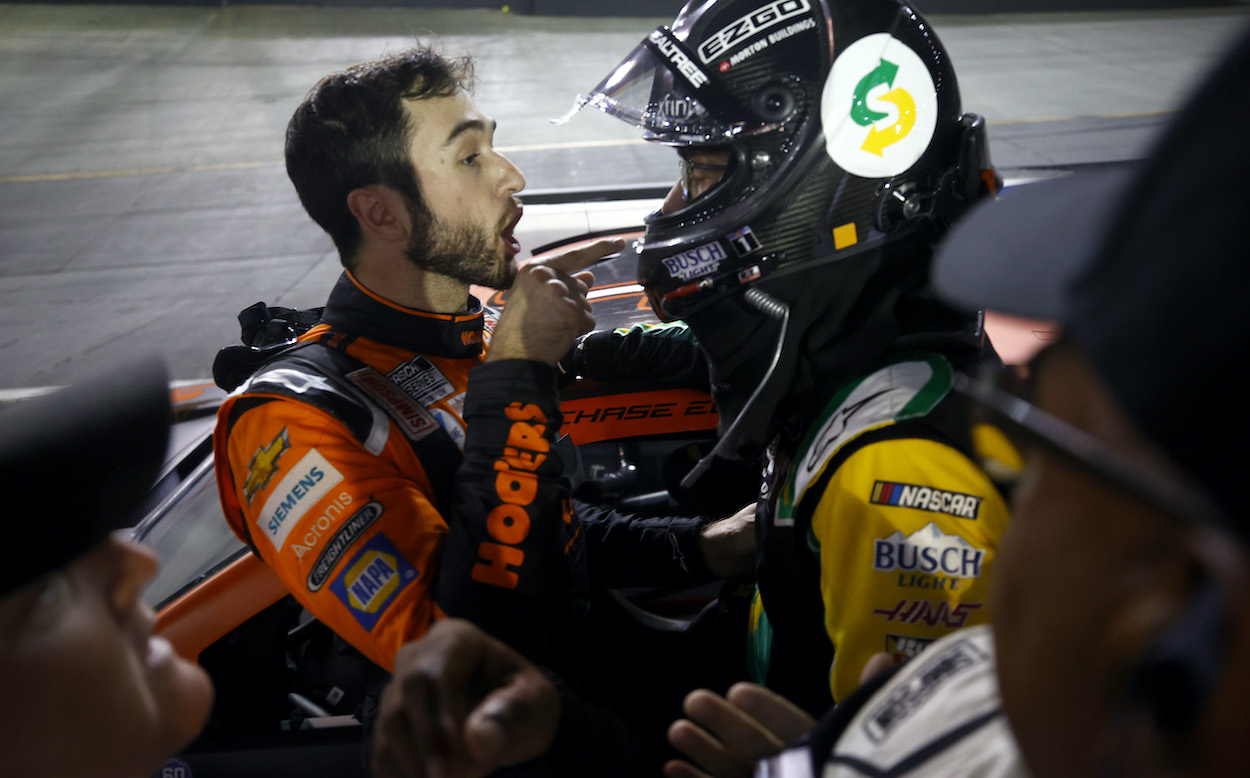 Speaking of not caring, when talking about Chastain's win in Texas, Fox's Bob Pockrass suggested that the Trackhouse Racing driver's temperament is similar to Harvick's when he was younger. The driver agreed.
"That's important to have that flair and that fire because that's what's going to set you aside from everybody else," Harvick said. "Having some of that personality and that I-don't-give-a-s*** attitude about what happens and if you don't like it, sorry — having that edge is something that will make him popular because of the way that he races. He doesn't have to do anything else. Just race like that, and the people will gravitate toward you because it's exciting to watch, and you're winning."
To sum it up — Kevin Harvick endorses the aggressive, I don't-give-a-s*** attitude of the younger drivers. That is unless your name is Chase Elliott. 
Like Sportscasting on Facebook. Follow us on Twitter @sportscasting19.