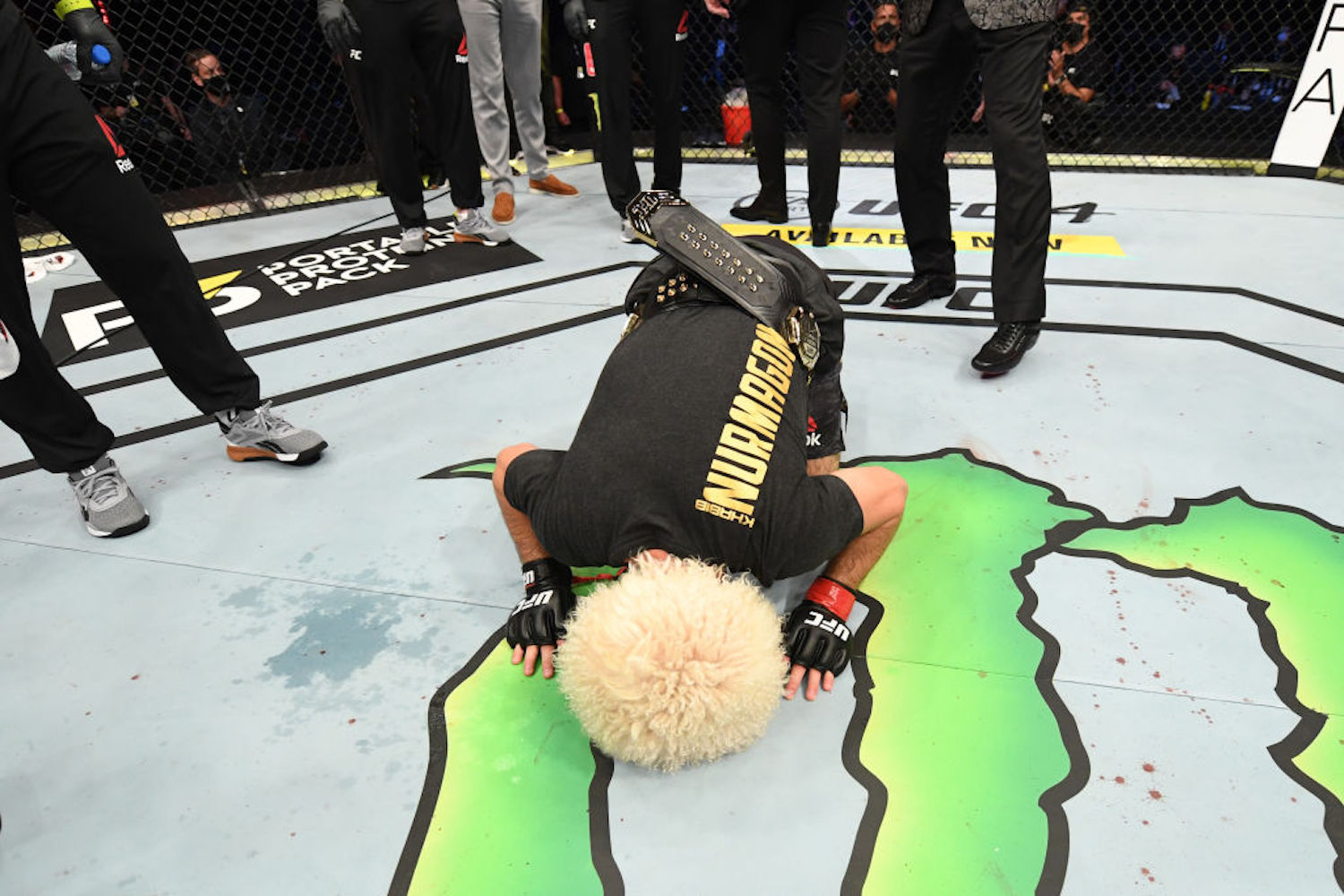 Khabib Nurmagomedov Doubles Down on Retirement: The Mission Is Accomplished
Khabib Nurmagomedov announced his retirement after defeating Justin Gaethje, and it sounds like he won't be going back on that decision.
After defeating Justin Gaethje by triangle choke to stay undefeated in the UFC and retain his world lightweight title belt, Khabib Nurmagomedov surprisingly announced his retirement in the octagon.
Nurmagomedov wouldn't be the first UFC fighter to announce his retirement only to return to competition a few months later. It's actually happened quite frequently over the last few years. But "The Eagle" sounds convinced that he made the right decision.
Khabib Nurmagomedov announced his retirement at UFC 254
Nurmagomedov's title victory over Gaethje was notable in more ways than one. With the win, Nurmagomedov established himself as the greatest pound-for-pound fighter in the entire UFC and one of the best to ever do it in the lightweight division.
The Russian superstar improved his career record to 29-0 with the victory. And none of his fights were even very close. In his last 13 bouts, Nurmagomedov finished his opponent seven times. In the other six, he won by unanimous decision.
The win over Gaethje was the most emotional of Nurmagomedov's career, as it was his first fight since the passing of his father. After the fight, he announced it would be his last in the UFC.
"I talked with my mother three days. She don't (want me) to go fight without father, but I promised her it's gonna be my last fight," Nurmagomedov said. "And if I give my word, I have to follow this."
UFC fighters frequently come out of retirement
The UFC is a competitive enterprise first and foremost, but you can't deny the entertainment aspect of professional mixed martial arts. UFC President Dana White enjoys when his athletes stir things up outside the octagon.
If Nurmagomedov comes out of retirement in the future, he wouldn't be the first and surely wouldn't be the last.
One of the most popular UFC fighters ever, Conor McGregor has even made a habit of it. McGregor has actually retired from fighting three separate times, and every time he's gone back on his decision.
But this is different for Nurmagomedov. He doesn't fight for the fame, glory, or wealth it brings. He fights to prove he's the best in the world, and that's exactly what he just accomplished.
Nurmagomedov doubles down on his decision
After his victory against Gaethje, Nurmagomedov was finally named the No. 1 pound-for-pound UFC fighter in the world. When he arrived back in Russia and heard the news, Nurmagomedov doubled down on his retirement.
Everyone reacts differently. Of course Dana [White] wants me to continue fighting and generate revenue. I can make money myself. I'm at the peak of my career but I made this decision and I think this is the best time for me to make it. Not everyone can retire at their peak but I know that in a year, two or five, I'd have to face that decision again. I did enough in the sport to be considered the best.

Khabib Nurmagomedov
We've probably seen the last of Nurmagomedov in the UFC, but at least he's going out the way he envisioned — as the best in the world.
"Today I was ranked the No. 1 pound-for-pound fighter so the mission is accomplished," Nurmagomedov said. "What else is there to do? Make money? I'll always be able to do that."