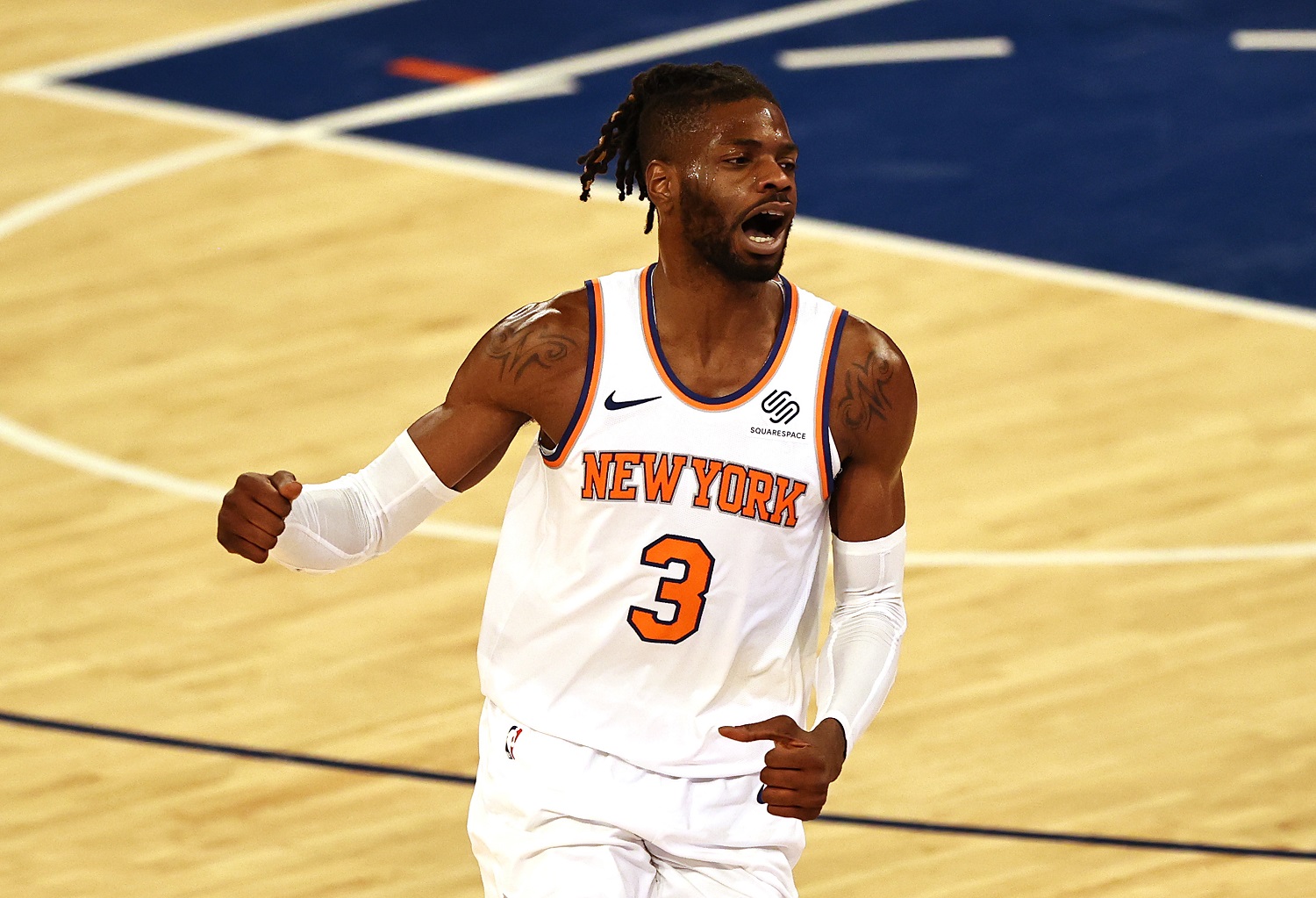 Knicks Center Nerlens Noel's Injured Thumb Cost Him $58 Million, but His Fingers Still Work … and He's Flipping 1 at His Ex-Agent
New York Knicks center Nerlens Noel has filed a lawsuit seeking $58 million from former agent Rich Paul.
Nerlens Noel's first mistake in pro basketball qualifies as self-inflicted. No one who is four months removed from tearing an ACL during a one-and-done college season should enter the NBA draft, where the New Orleans Pelicans took him at No. 6. Had he waited a year, Noel could have displaced Andrew Wiggins as the top pick in 2014.
Whether he has acknowledged that miscalculation or not, Noel is now quite vocal about what he regards as a more serious blunder, and he's assigning $58 million of blame to his former agent.
Nerlens Noel has yet to establish himself as an NBA force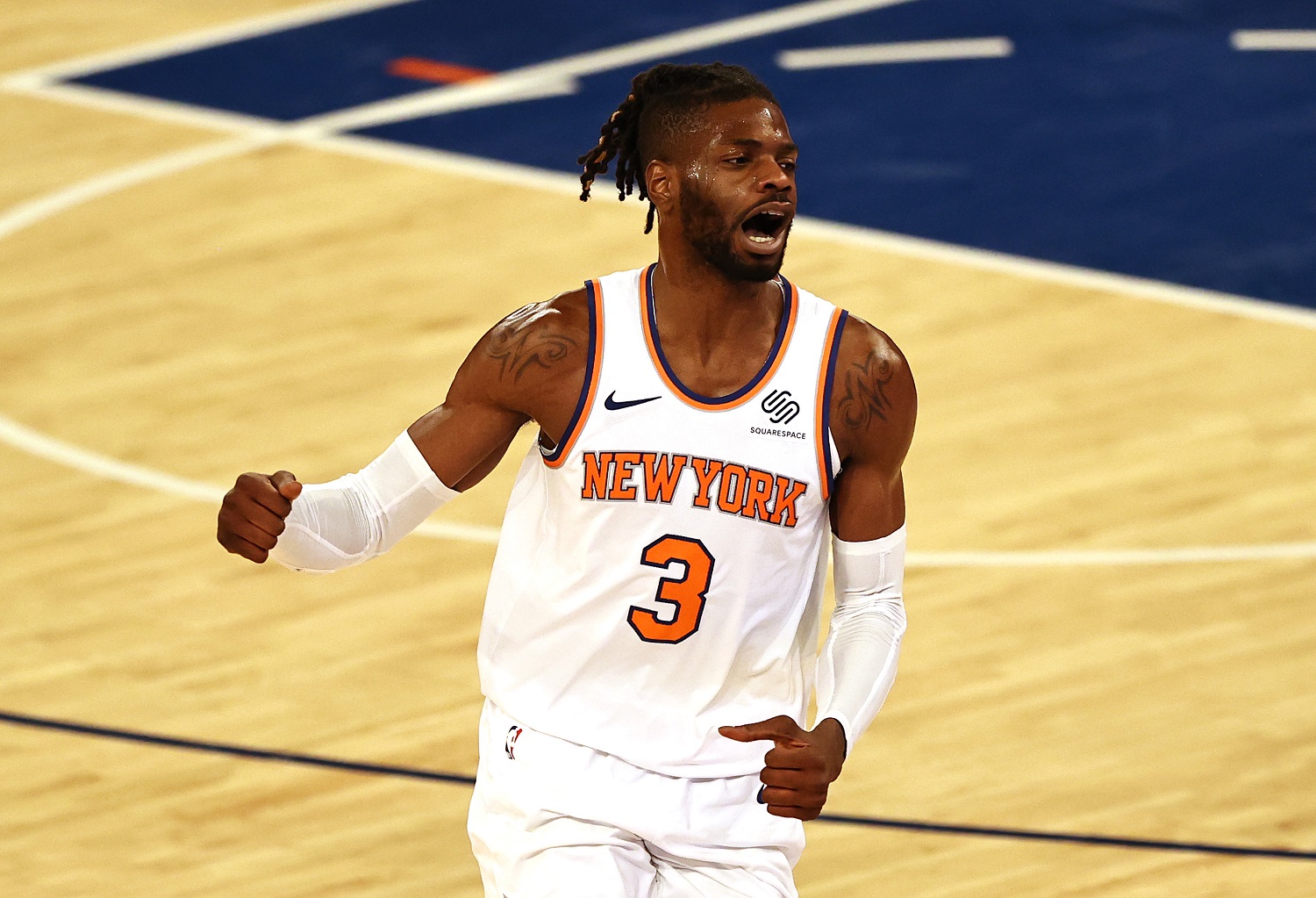 Noel played effectively for Kentucky in his one college basketball season, but he wasn't a dominant force (10.5 points, 9.5 rebounds per game) as the heir to Anthony Davis for a 21-12 Wildcats team that missed the NCAA Tournament. Still, his shot-blocking and overall potential positioned Noel as a possible No. 1 NBA draft pick until he tore the ACL in his left knee in mid-February.
The Pelicans picked Noel at No. 6 before sending him off to the Philadelphia 76ers for Jrue Holiday on draft night. He sat out the 2013-14 NBA season while recovering from knee surgery.
Noel played one game for the Sixers in October 2014 when they exercised their third-year option on him, and he went on to be a two-year starter. However, he never developed into an offensive force — 10.2 points a game on 50.5% shooting with no game outside the paint — and Philadelphia traded him to the Dallas Mavericks in February 2017.
It's approximately there where the real problems began for Noel, whose career averages are 7.6 points and 6.2 rebounds a game.
Nerlens Noel is going after his former agent for $58 million
Noel, still just 27, has never made more than $5 million in a season, having signed a one-year deal with the New York Knicks for that amount last fall. He blames former agent Rich Paul and Paul's Klutch Sports for that, and the journeyman center filed a lawsuit Tuesday in Dallas seeking $58 million because of purported poor representation.
Noel signed with agent Happy Walters coming out of Kentucky, and media reports in 2017 had the Mavericks offering a four-year, $70 million deal. However, Noel met Paul at a birthday celebration for Ben Simmons in July, and Noel claims the agent bragged that he could land Noel a max contract.
Noel subsequently dropped Walters and signed with Paul, who convinced him to take the Mavericks' $4.1 million qualifying offer as the foundation for landing the max contract in free agency. Dallas got off to a horrible start that season, and Noel suffered a torn ligament in his thumb that caused him to miss 42 games.
The player's lawsuit alleges that's the point at which Paul began neglecting him as a client, resulting in Noel settling for a two-year, $3.75 million deal — the veterans' minimum — with the Oklahoma City Thunder. He further claims that deal was only possible because Paul George and Russell Westbrook lobbied management and that Paul failed to pursue subsequent options, including rejoining the 76ers.
Noel dropped Paul last season after signing with the Knicks. He went on to start 41 of 67 games and averaged 5.1 points and 6.4 rebounds while playing his most minutes since 2016.
The player and agent will slug it out in court
Noel's lawsuit is a counterpunch against Paul. According to ESPN, Paul's agency filed a grievance with the National Basketball Players Association that alleges Noel hadn't paid a $200,000 commission on his initial contract with the Knicks.
After firing Paul, Noel signed with George Langberg, who negotiated a three-year, $27.7 million pact for the center to remain with the Knicks. It's arguably the first contract remotely close to paying Noel what he's worth in a sport where even non-rotation players can make $5 million a year.
The lawsuit seeking $58 million is probably a longshot since Noel didn't have to switch agents in 2017 and walk away from the $70 million that the Mavericks put on the table. His best bet is to line up NBA general managers who might testify that Paul wasn't returning their calls when they inquired about Noel.
That could be tough. RealGM lists more than two dozen Paul clients, including LeBron James, Anthony Davis, Draymond Green, Ben Simmons, and Lonzo Ball. A league executive who crosses Paul risks losing access to potential free agents.
Noel saw dollar signs after meeting Paul. With $70 million already on the table, he should have been looking for stop signs that would have kept him from dropping his original agent.
All stats courtesy of Basketball Reference.