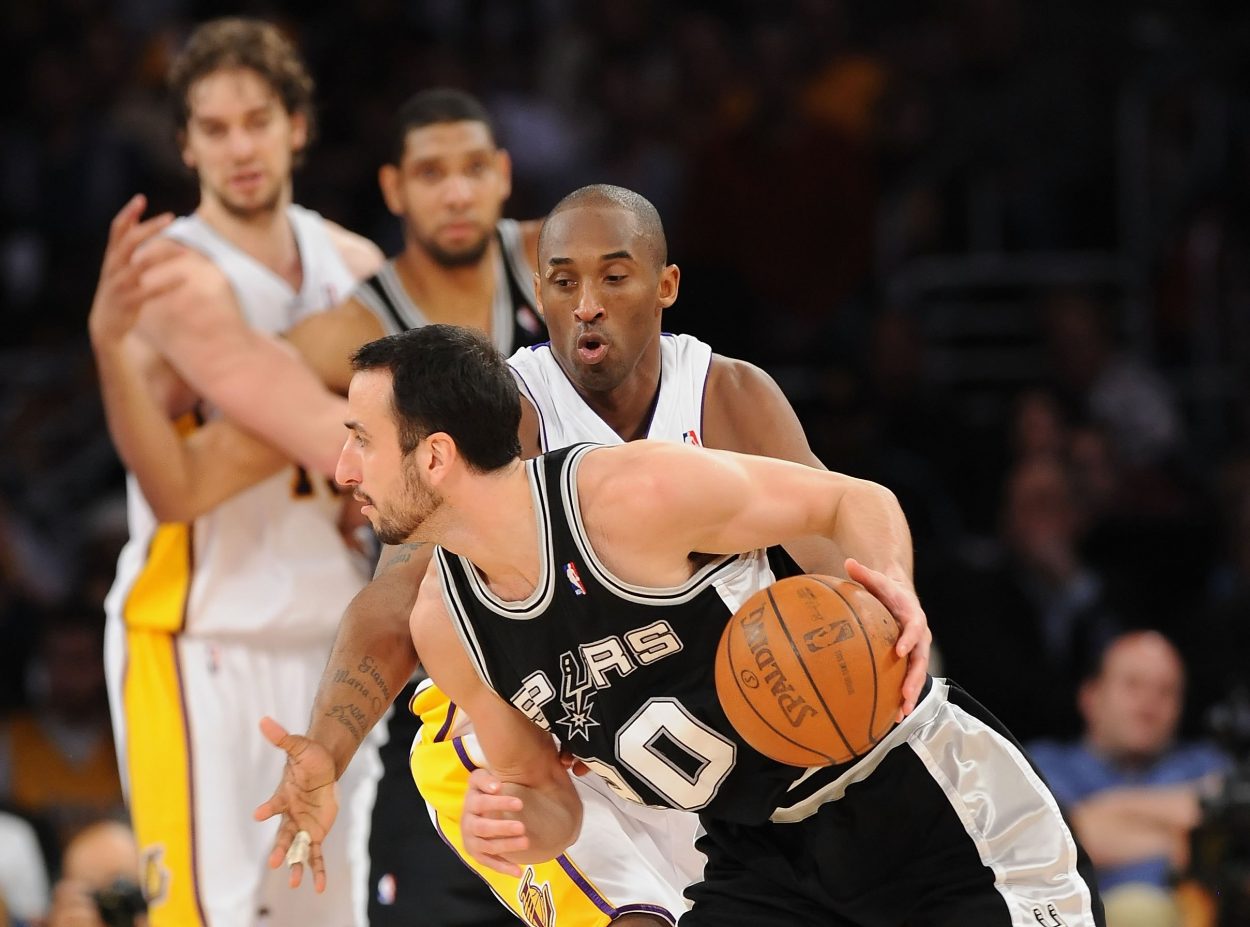 Kobe Bryant Drastically Underestimated Future Hall of Famer Manu Ginobili: 'Tell Me About the White Boy'
Kobe Bryant initially thought Manu Ginobili was just another "white boy." But Manu showed his quality over the course of a Hall of Fame career.
In the summer of 2002, young Los Angeles Lakers star Kobe Bryant felt like he was on top of the world. Aside from leading LA to a three-peat, Bryant took his talents to New York's iconic Rucker Park in a legendary showing that epitomized all the qualities that made him one of the brightest stars in the NBA.
That same summer, Argentinian product Manu Ginobili prepared to make the jump to the Association and join the San Antonio Spurs. Bryant didn't think much of the European standout at the time. Then again, not too many did, aside from those in the Spurs organization.
Kobe Bryant and Manu Ginobili charted very different paths to the NBA
Manu Ginobili should end up in Springfield alongside Kobe Bryant. But Manu's path to the NBA was quite different from the Black Mamba.
Bryant rose to prominence as one of the top high school stars in America, dominating exhibition runs at UCLA and forgoing college to enter the draft after his senior year. The Lakers acquired Kobe from the Charlotte Hornets after Charlotte made him the No. 13 pick in 1996.
Conversely, Ginobili had little fanfare, at least in the United States. Though he starred in the Euroleague and for two different Italian clubs, a lower profile resulted in Ginobili falling to the No. 57 pick in the 1999 NBA draft as what's essentially called a "stash and stow."
Whereas Bryant began his NBA career immediately, Ginobili held off on making his debut. He played three more seasons in Italy before joining the Spurs. By that time, Kobe had become a star on a dynastic Lakers squad. When the Lakers faced San Antonio for the first time in 2002, he asked about Manu in a bit of a chiding manner.
Bryant mischaracterized Ginobili ahead of their first matchup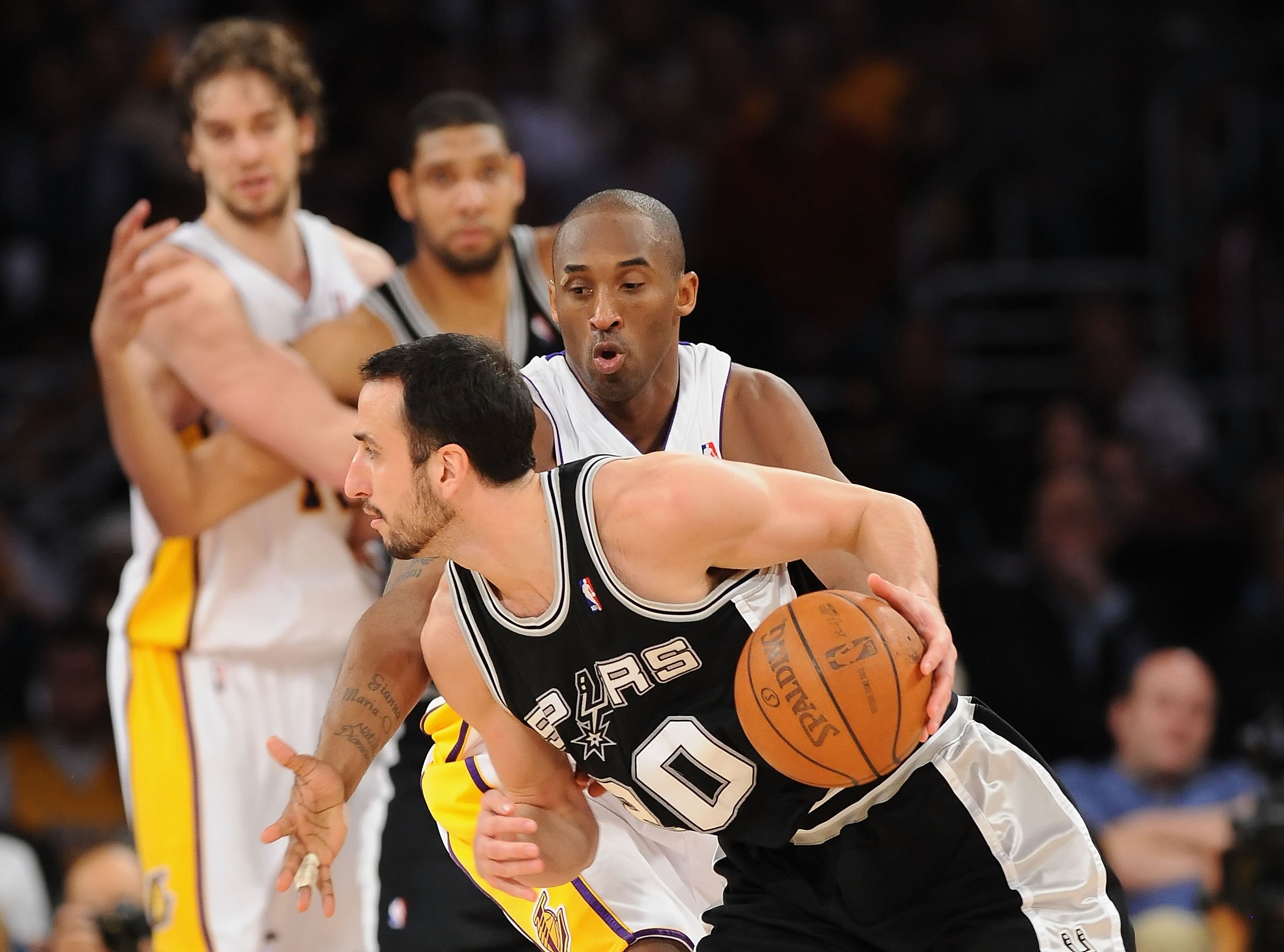 Kobe Bryant already knew all about No. 21 on the San Antonio Spurs. It's hard to miss Tim Duncan's talent. But before the first game of the 2002-03 season, he wanted to learn more about No. 20.
The Lakers star approached former Spurs defensive savant Bruce Bowen and asked (h/t Zach Lowe of ESPN) about Ginobili, albeit rather bluntly.
"Tell me about the white boy."

–Kobe Bryant asking Bruce Bowen about Manu Ginobili in 2002
To his credit, Bowen vouched for Ginobili. He warned Bean not to take the Argentine lightly, despite Manu being a rookie.
"Oh, you're gonna see. He's not a white boy, and he's got some stuff."

–Bowen's response to Bryant
Ginobili struggled a bit in his debut, shooting 3-of-9 from the field. But it didn't take Manu too much time to adapt to the NBA.
The Spurs icon became a force who revolutionized the sport as a starting-caliber player often willing to come off the bench. His proficiency with the euro step has also influenced generations of NBA stars.
Bryant didn't know much about Ginobili before Manu came to the NBA. Then again, neither did teammates like Tim Duncan. However, Ginobili quickly gained Kobe's respect and became one of Bean's closest friends.
Kobe and Manu shared respect and friendship after years of battles
Although it took Ginobili a couple of years to gain more recognition in the NBA, Bryant probably understood his true quality during the 2003 playoffs.
The Lakers and Spurs met in the conference semifinals, where San Antonio shockingly dethroned the three-time reigning champions. Ginobili played a critical role in the series, averaging 11.7 points, 3.3 rebounds, 2.5 assists, and 2.2 steals while shooting 51.2% from the field.
San Antonio went on to win the Finals, sparking a run of three titles in six seasons. Ginobili rose to stardom, making his first All-Star team during the 2004-05 season. He'd add to his resume by winning a Sixth Man of the Year Award in the 2007-08 campaign and making a pair of All-NBA teams before winning another ring in 2014.
All the while, Kobe gained a stronger appreciation for the Spurs great. He wanted to guard Manu during the 2008 Olympic Games and hailed him as "one of the best" he ever matched up with following Ginobili's retirement in 2018, also calling Ginobili a brother.
Today, Ginobili is a possible candidate to replace esteemed Spurs head coach Gregg Popovich. He's also eligible for the Hall of Fame in 2022 and will almost certainly be inducted on the first ballot. In short, he more than proved his worth to Bryant and a host of others through the years.
Stats courtesy of Basketball Reference.