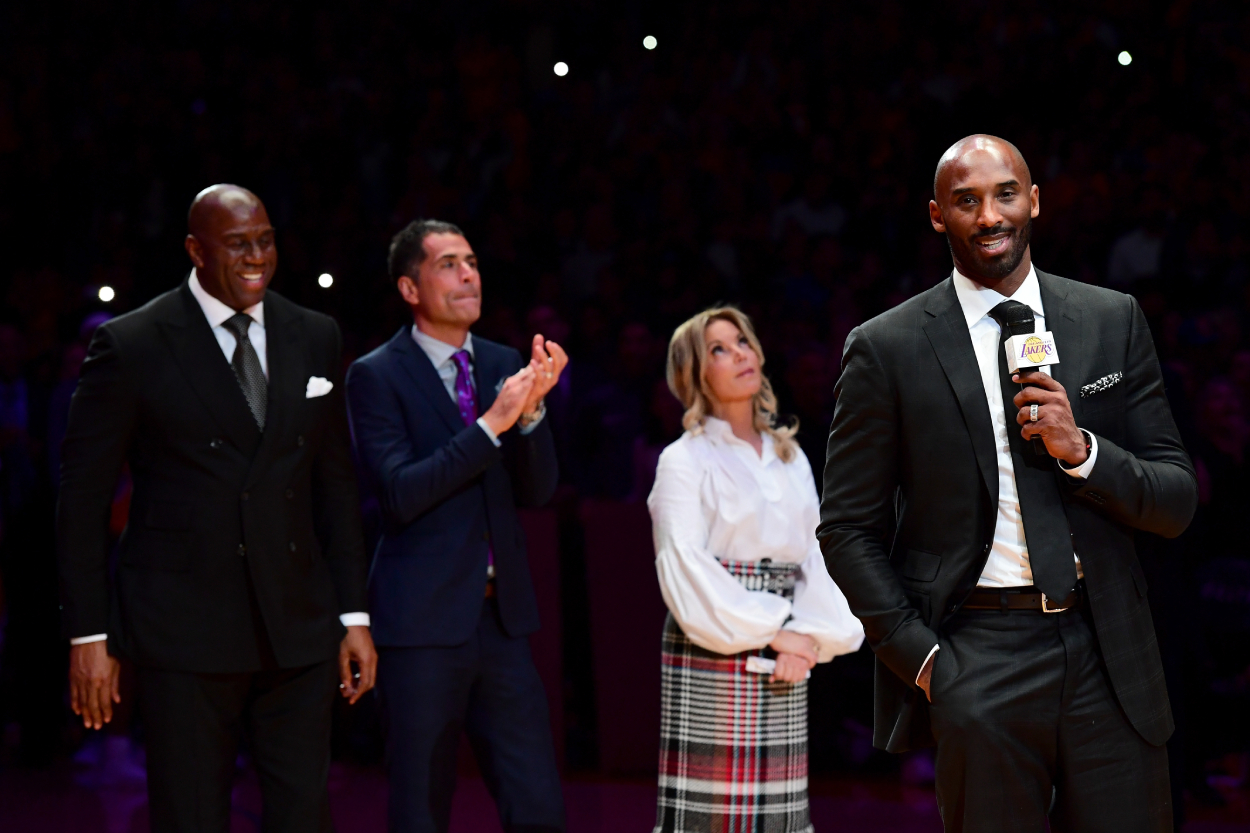 Kobe Bryant Gave Jeanie Buss a Crucial Piece of Advice Before She and the Lakers Seriously Pursued LeBron James
LeBron James has won an NBA championship with the Los Angeles Lakers and will soon lead a team in 2021-22 that looks ready to contend for another title. However, before owner Jeanie Buss and the Lakers seriously pursued The King, the legendary Kobe Bryant gave her a crucial piece of advice.
Throughout the past few years, LeBron James has restored the Los Angeles Lakers to their former glory. LA went from being one of the worst teams in the NBA to a perennial contender looking to win its second championship in three years in 2021-22. However, many people may not know that Lakers legend Kobe Bryant actually played a small role in bringing James to his former team.
In fact, Bryant gave Lakers owner Jeanie Buss a crucial piece of advice before the team embarked on its franchise-altering pursuit of The King.
The Lakers were a laughing stock in more ways than one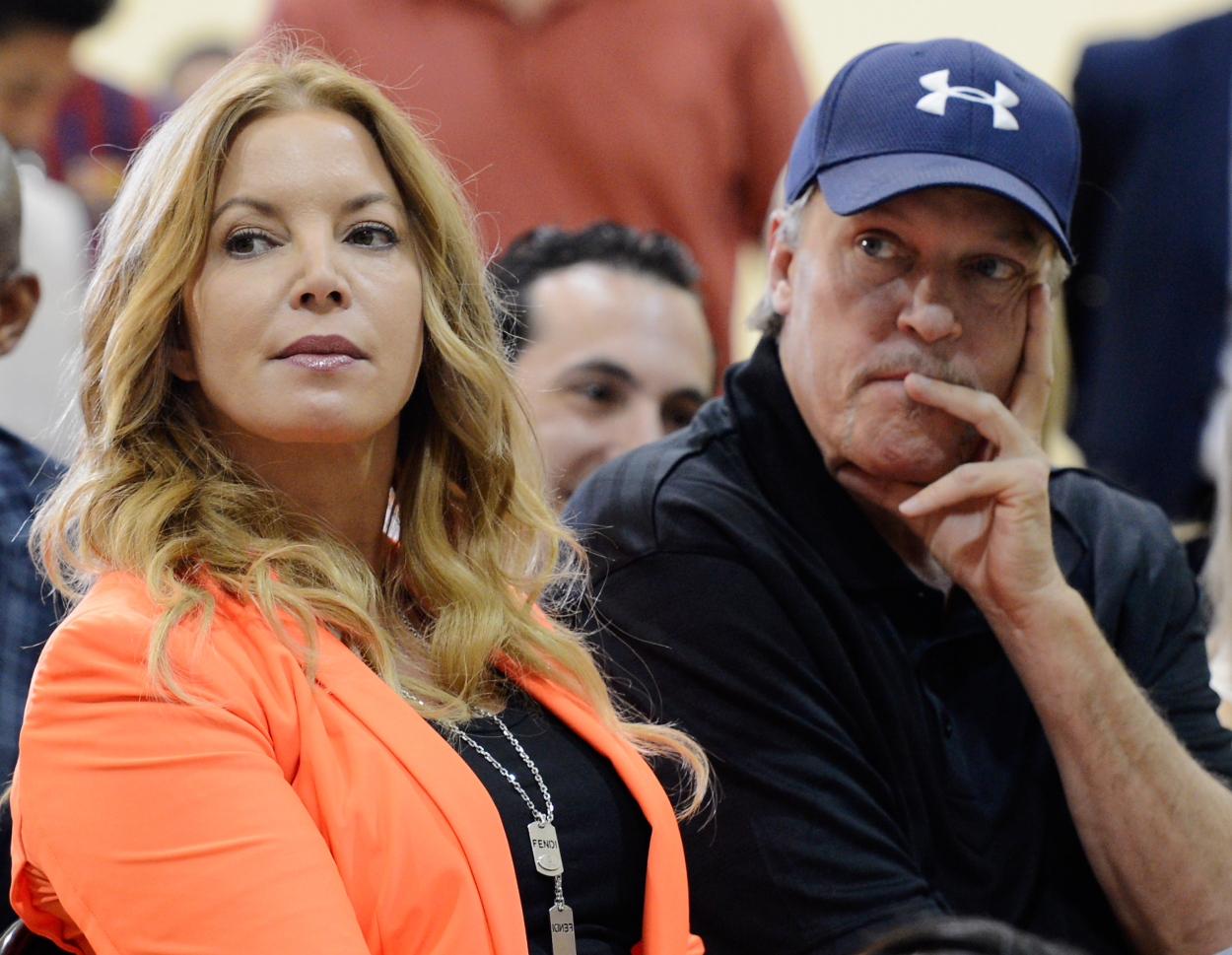 After making the playoffs in eight straight seasons, winning two championships, and reaching the NBA Finals three times between 2005-06 and 2012-13, the Lakers quickly became the laughingstock of the NBA.
They missed six consecutive postseasons between 2013-14 and 2018-19 and had four consecutive years where they won 27 games or fewer.
Their play on the floor, though, was just a byproduct of the messiness in the front office.
Legendary Lakers owner Jerry Buss died in 2013 and left his six children equal shares of his 66% stake in the franchise, per USA Today's For The Win. His death also resulted in a bunch of infighting between Jeanie Buss, who became the franchise president, and her brother Jim Buss, who was the team's executive vice president of player personnel. However, in February 2017, Jeanie fired Jim and general manager Mitch Kupchak. She also made Magic Johnson the Lakers' president of basketball operations.
According to ESPN, the move had a lot to do with Jeanie finding out her brother, Johnny Buss, had a plan to remove her as governor and controlling owner. But, long story short, the siblings' battle ended up going to court, and Jeanie came out on top, which altered the direction of NBA history forever
A little over a year later, the Lakers made a serious run at one of the greatest players in NBA history and eventually brought him to LA: LeBron James. But before their franchise-altering move, Kobe Bryant gave Jeanie crucial advice.
Kobe Bryant gave Jeanie Buss a crucial piece of advice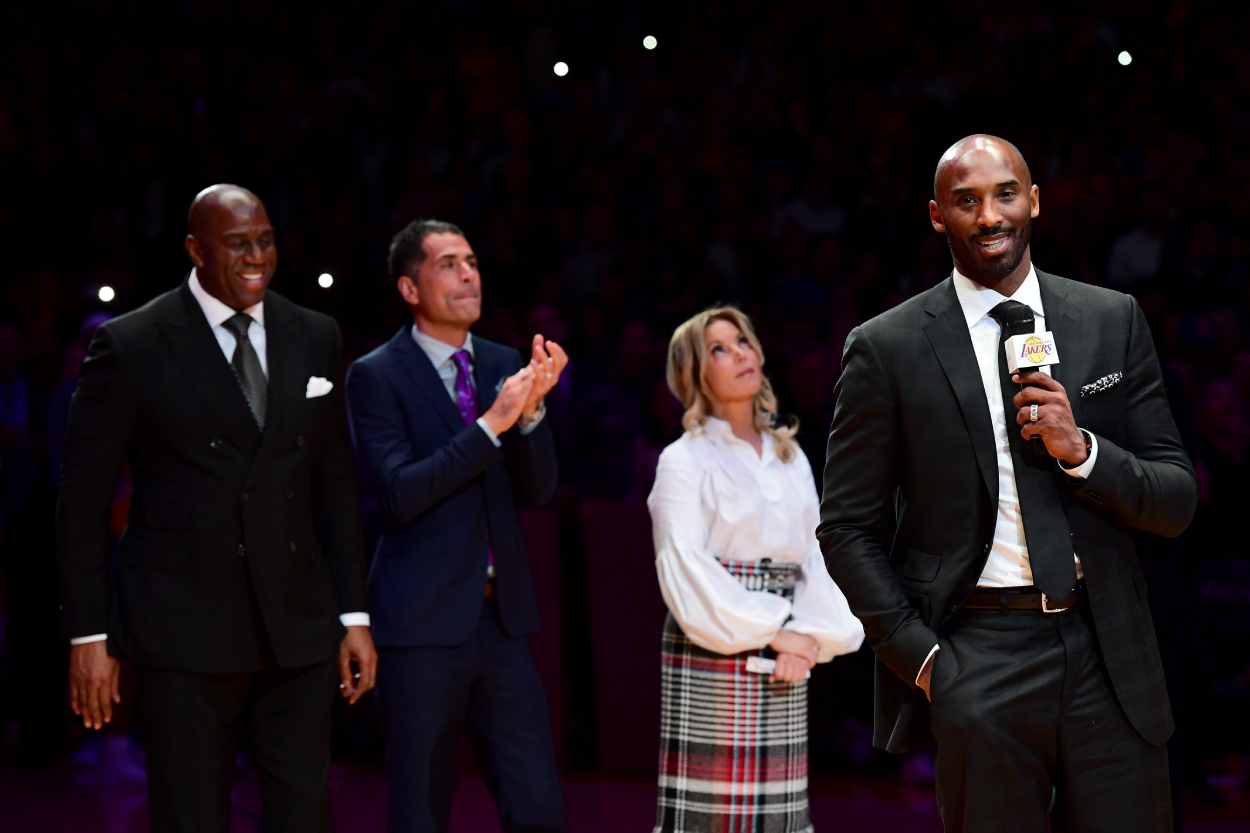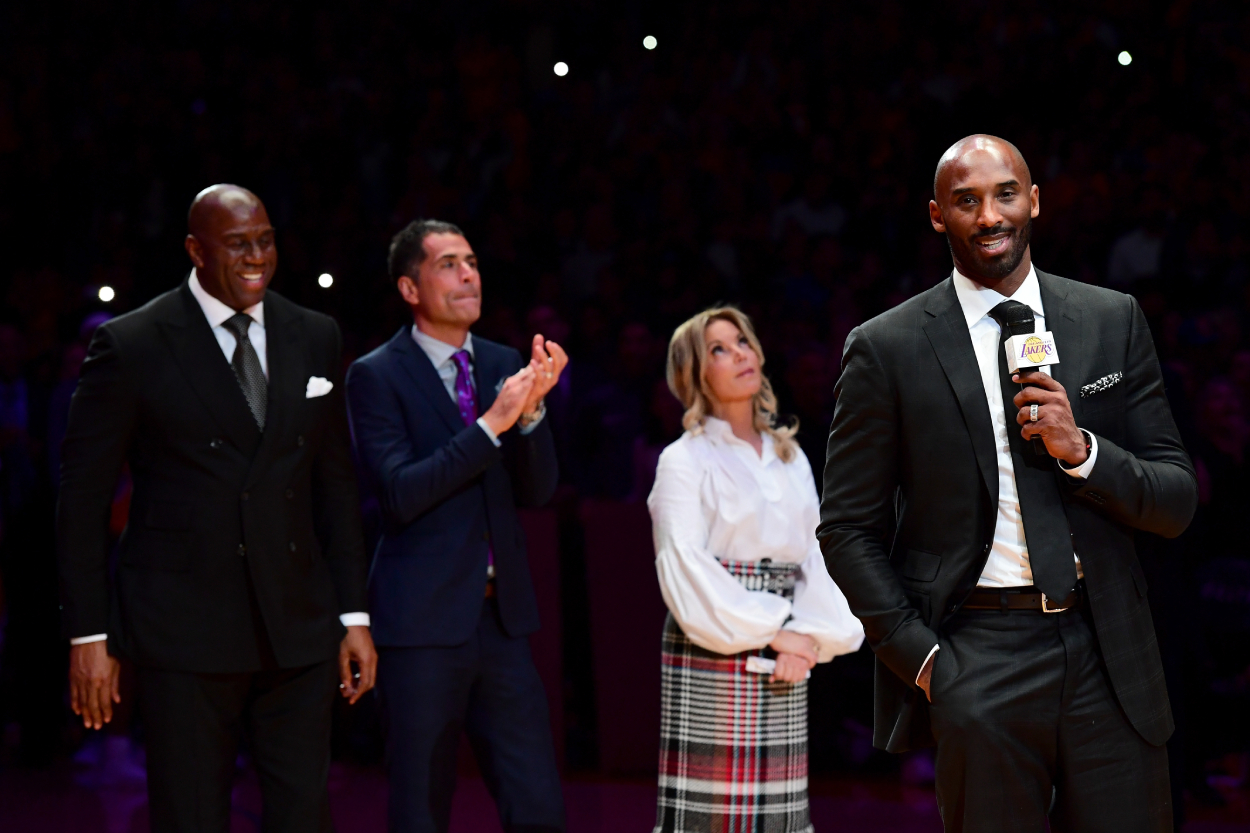 In October 2018, Kobe Bryant spoke to The Undefeated about how involved he was in getting LeBron James to leave his hometown team, the Cleveland Cavaliers, and sign with the Lakers. And it appears he actually had a pretty serious conversation with Jeanie before the franchise pursued him.
"I'll tell you, when Jeanie Buss came to me and said, 'I really want to go after [LeBron],' I said, 'Jeanie, he's not coming here until you clean up this s— here,'" Bryant said, per The Undefeated. "The last thing LeBron wants to do is come to an organization that has a lot of infighting, a lot of the stuff going on."
He continued: "I said, 'Jeanie, it's time for you to take ownership of this franchise. He's not going to come if you don't.'"
This isn't saying Bryant is the reason Jeanie took over the Lakers and ousted her brother. She was likely aware that she needed to do that on her own. But she essentially needed to know that there couldn't be anymore drama if they wanted to add someone like James.
So, as mentioned earlier, Jeanie subsequently cleaned things up, and the Lakers have since found their way back to the top of the NBA.
LeBron James has helped the Lakers restore their former glory
LeBron James signed with the Lakers in 2018, and after seeing the team struggle during his first year there, LA then traded for Anthony Davis in 2019. The two of them have since helped the franchise reclaim its spot as an NBA powerhouse.
Together, James and Davis led the Lakers to the No. 1 seed in the Western Conference in 2019-20, and they eventually won the NBA championship that year. The dynamic duo then helped LA reach the playoffs again in 2020-21 before seeing the front office, which no longer consists of Magic Johnson but is now run by Rob Pelinka, completely change the team's roster.
Ahead of the 2021-22 season, LA arguably has the best squad in basketball with players like James, Davis, Russell Westbrook, Carmelo Anthony, and others. The Lakers have risen from the ashes with a fury and are now a model franchise in the league again.
Sure, LeBron James deserves a lot of credit for their success. But Kobe Bryant's advice and, most of all, Jeanie Buss' hard work were what made the Lakers the Lake Show yet again.
Stats courtesy of Basketball Reference