Kobe Bryant Once Said Phil Jackson Would Take Conversations They Had 'in Confidence' and Use Them to 'Manipulate the Media Against' Him: 'I'm Done With This Guy'
Phil Jackson may be best known for his success with Michael Jordan on the Chicago Bulls, but he had almost as much success with Kobe Bryant on the Los Angeles Lakers. They won five championships together (compared to the six Jackson won with Jordan) and went to the NBA Finals seven times total.
However, their relationship was a complex one. They had a tremendous amount of mutual respect, but that came after some difficult times where it seemed like they couldn't stand each other. In fact, Bryant even claimed that Jackson would use their private conversations to "manipulate the media against" him.
Phil Jackson and Kobe Bryant initially had a difficult relationship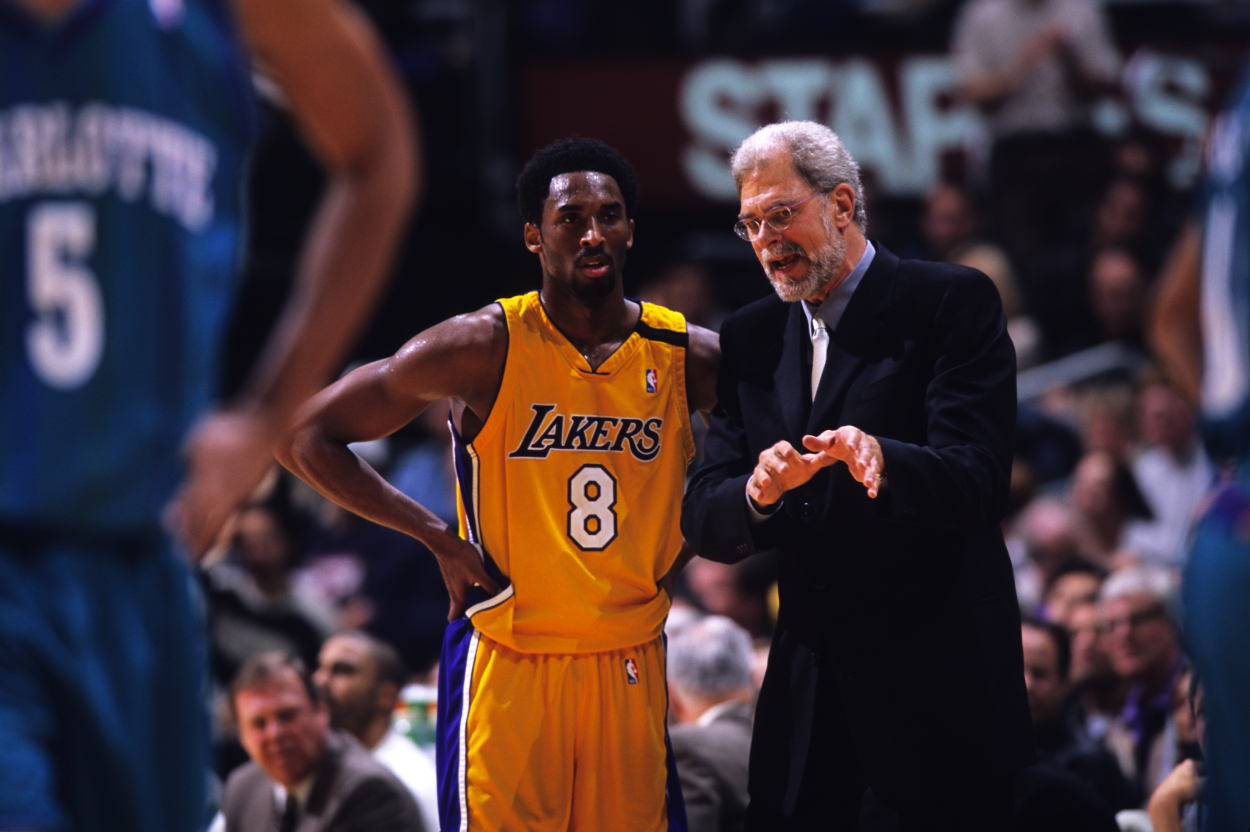 After winning six titles with Jordan and the Bulls, Phil Jackson moved to the Lakers to coach Kobe Bryant and Shaquille O'Neal in 1999-2000.
They then had a tremendous amount of success, as they won three consecutive championships in Jackson's first three years in LA and went to the finals again in 2003-04.
O'Neal and Jackson, though, both left after that 2003-04 campaign, and the coach ended up coming out with a book titled The Last Season: A Team in Search of Its Soul, which reflected poorly on Bryant. He even called him "uncoachable," according to GQ.
"I'm sure Kobe was pissed when I wrote in The Last Season that he was uncoachable," Jackson said to ESPN in 2015, per The Washington Post. "And, yes, we were often at loggerheads. He wanted more freedom and I wanted him to be more disciplined. This is a normal source of friction thing between coaches and players on just about every level of competition."
Jackson later returned to the Lakers in 2005-06, but Bryant also essentially said their friction was at an all-time high during their first run together.
Kobe Bryant also had strong claims about Phil Jackson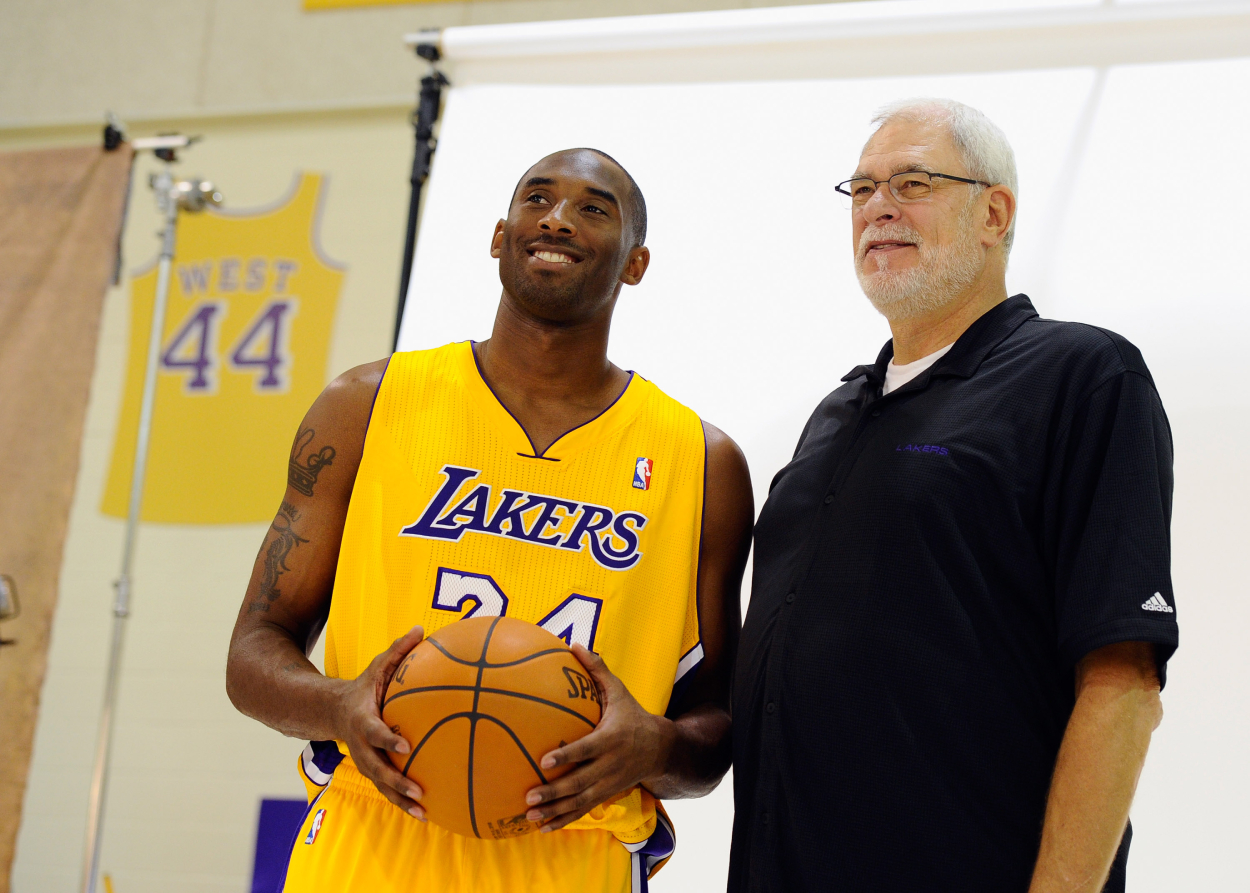 In 2015, during his second-to-last season in the NBA, Bryant spoke to GQ and discussed the rocky relationship he and Jackson had in the beginning.
"Well, most successful people are a little arrogant … I was very stubborn," he said. "I was like a wild horse that had the potential to become Secretariat, but who was just too f—ing wild. So part of that was him trying to tame me. He's also very intelligent, and he understood the dynamic he had to deal with between me and Shaq. So he would take shots at me in the press, and I understood he was doing that in order to ingratiate himself to Shaq."
Bryant, though, said he knew what Jackson was doing, and he felt the coach was insulting his intelligence.
"Why not just come to me and tell me that?" he said. "Another thing was that I would go to him in confidence and talk about certain things, and he would then use those things to manipulate the media against me. And from that standpoint, I finally said, 'No way. I'm not gonna deal with that anymore.' This was during our first run, during those first three championships."
Bryant added that some of the comments Jackson made to the press led to him eventually deciding to say, "I'm done with this guy." He would play for him and win titles. But he would "have no interaction with him."
However, the coach's tactics also drove him to be the best he could be.
"Either consciously or unconsciously, he put a tremendous amount of pressure on me to be efficient, and to be great, and to be great now," he said.
Their relationship may have been rocky at first, but Bryant and Jackson worked things out and formed a close bond.
The two Lakers legends later formed a close bond
Jackson and Bryant later went to three more finals together and won two more titles in 2008-09 and 2009-10. They did so by, according to Jackson, working "it all out."
"I gave him more of a license to do his thing, as long as it stayed within the overall context of the triangle," he said to ESPN in 2015, per The Washington Post.
Bryant also eventually had nothing but praise for his former coach. In 2017, he told Complex he wanted Michael Jordan or Jackson to present him at the Naismith Memorial Basketball Hall of Fame, saying, "They've been the greatest mentors, not only in my career as an athlete, but also as a person."
Jackson then touched on their relationship when Bryant died in 2020.
"Kobe was a chosen one — special in many ways to many people," he said, per Bleacher Report. "Our relationship as coach/player transcended the norm. He went beyond the veil."
The Kobe-Phil player-coach partnership was one of the most dominant in NBA history. However, success always comes on the other side of a struggle, and that was precisely the case when it came to those two NBA legends.
Stats courtesy of Basketball Reference