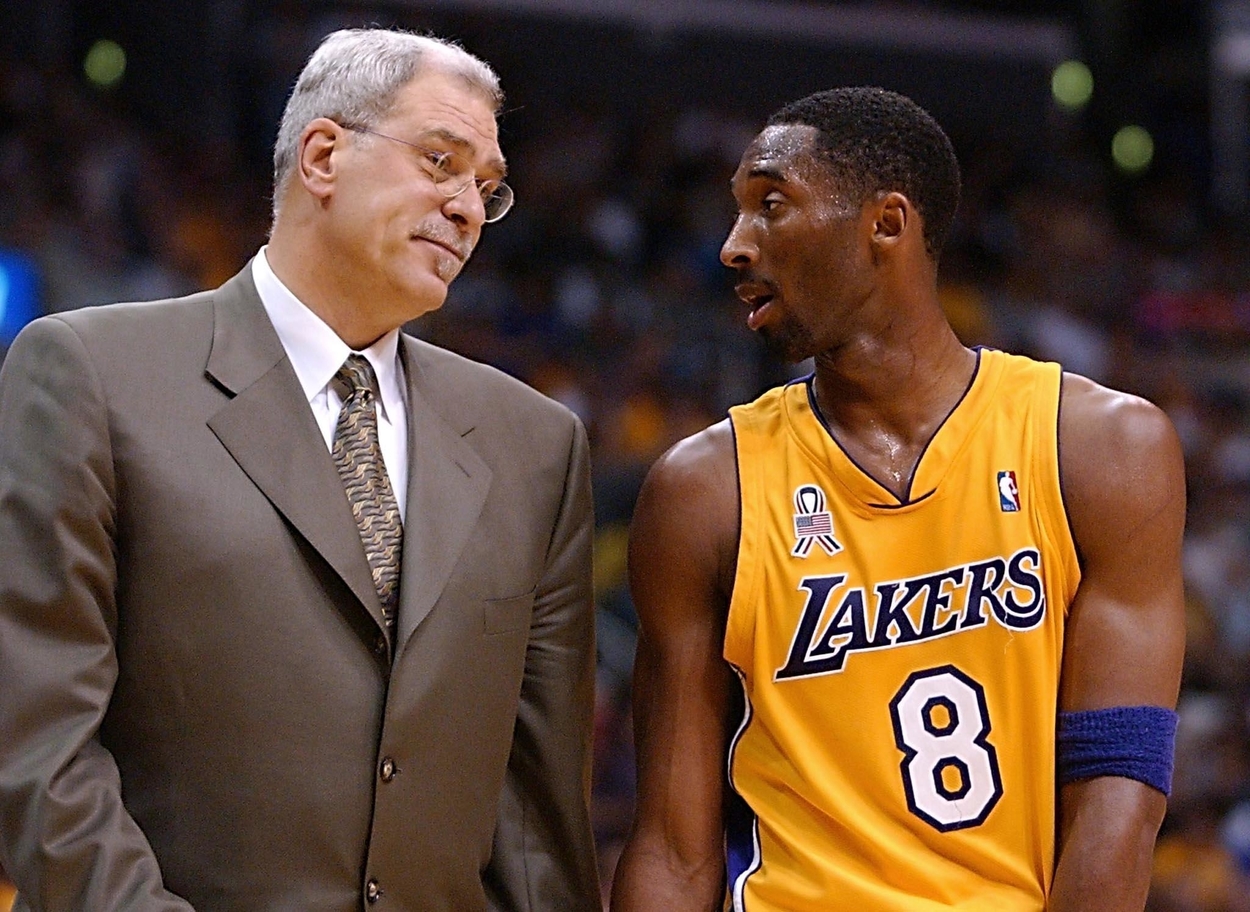 Kobe Bryant Was Once Accused by Phil Jackson of Sabotaging His Own High School Games
Los Angeles Lakers legend Kobe Bryant had to deal with a wild accusation from his coach Phil Jackson.
Kobe Bryant's early days with the Los Angeles Lakers were defined by an ascension to superstardom and three consecutive championships. But that doesn't mean there wasn't some drama every now and again.
In the spring of 2001, Bryant became a three-time All-Star at just 22 years old. However, the budding star was battling longtime teammate Shaquille O'Neal, often in public, as well as coach Phil Jackson, who once tossed a wild accusation about Kobe during an interview.
Kobe Bryant clashed with certain members of the Lakers
In the fall of 1996, an 18-year-old Bryant came to LA with dreams of becoming one of the all-time greats. It wouldn't take long for that dream to come to fruition.
By his second season, Kobe became the youngest All-Star starter in NBA history. By year three, he was LA's everyday starter putting up close to 20 points a night before being legally allowed to consume alcohol. Finally, the 1999-00 season saw the Black Mamba averaging 22.5 points, a total he would eclipse in each of the next 13 seasons.
Though as Bryant became more of a sensation with each passing season, the 6-foot-6 guard had trouble getting along with certain people. Namely, O'Neal and Jackson.
By now, the feuds with Shaq are well-documented. Although the duo won three championships, they were often oil and water off the court. In fact, former Laker Dennis Rodman demanded a vacation to Las Vegas just because he was tired of Kobe and Shaq's constant fighting.
As for Jackson, Bryant's battles with the Hall of Fame coach weren't as aggressive as the ones with O'Neal. Though Kobe had a rough time buying into Jackson's famous Triangle offense, which centers around ball movement (not exactly Bryant's specialty at the time).
"Kobe wanted to chase the ball," former Lakers assistant coach Jim Cleamons said in the book Three-Ring Circus: Kobe, Shaq, Phil, and the Crazy Years of the Lakers Dynasty. "The Triangle is about spacing and ball movement, not ball chasing. … But Kobe didn't feel that. He's like Keyshawn Johnson: 'Just give me the ball. Just give me the ball. Put the ball in my hands.'"
Phil Jackson accused Kobe of tanking games in high school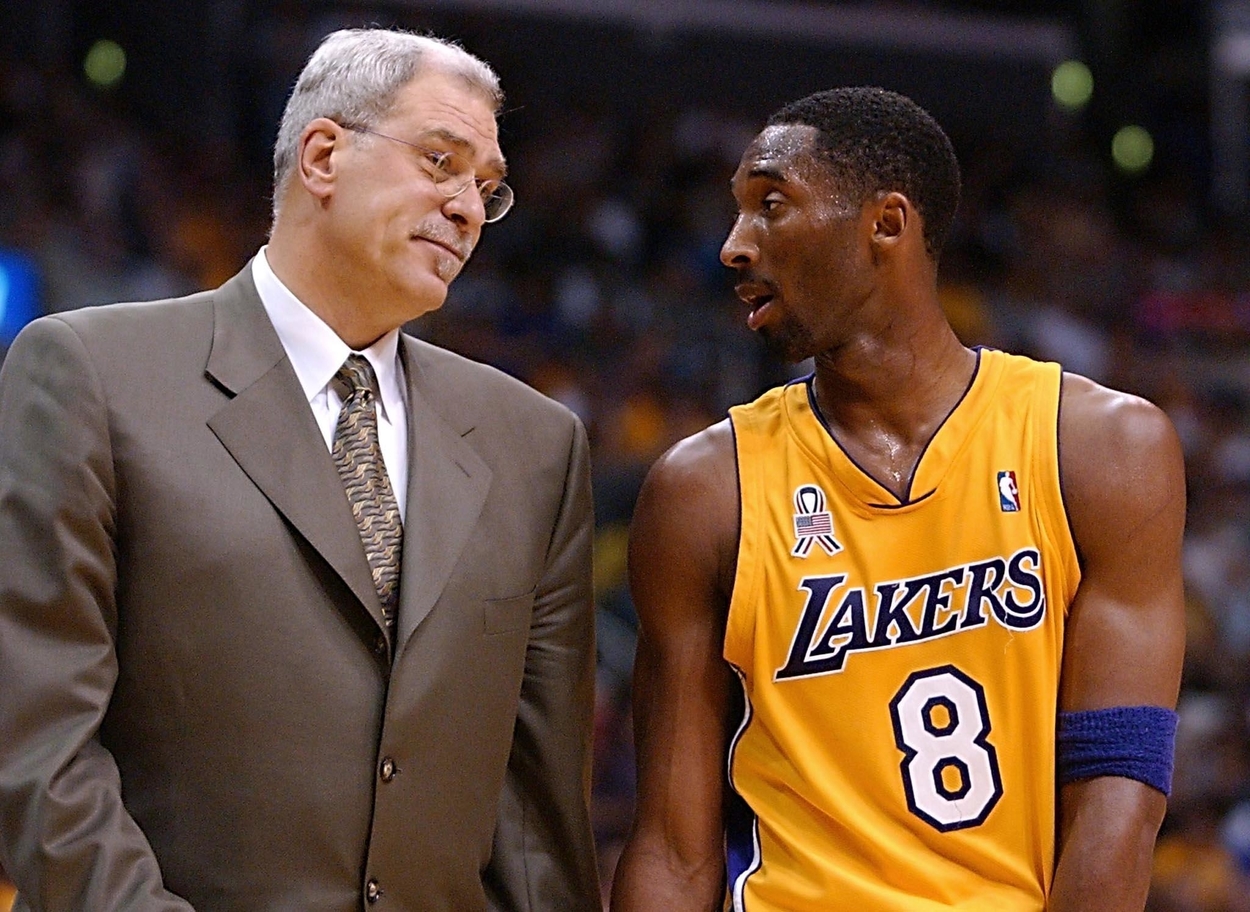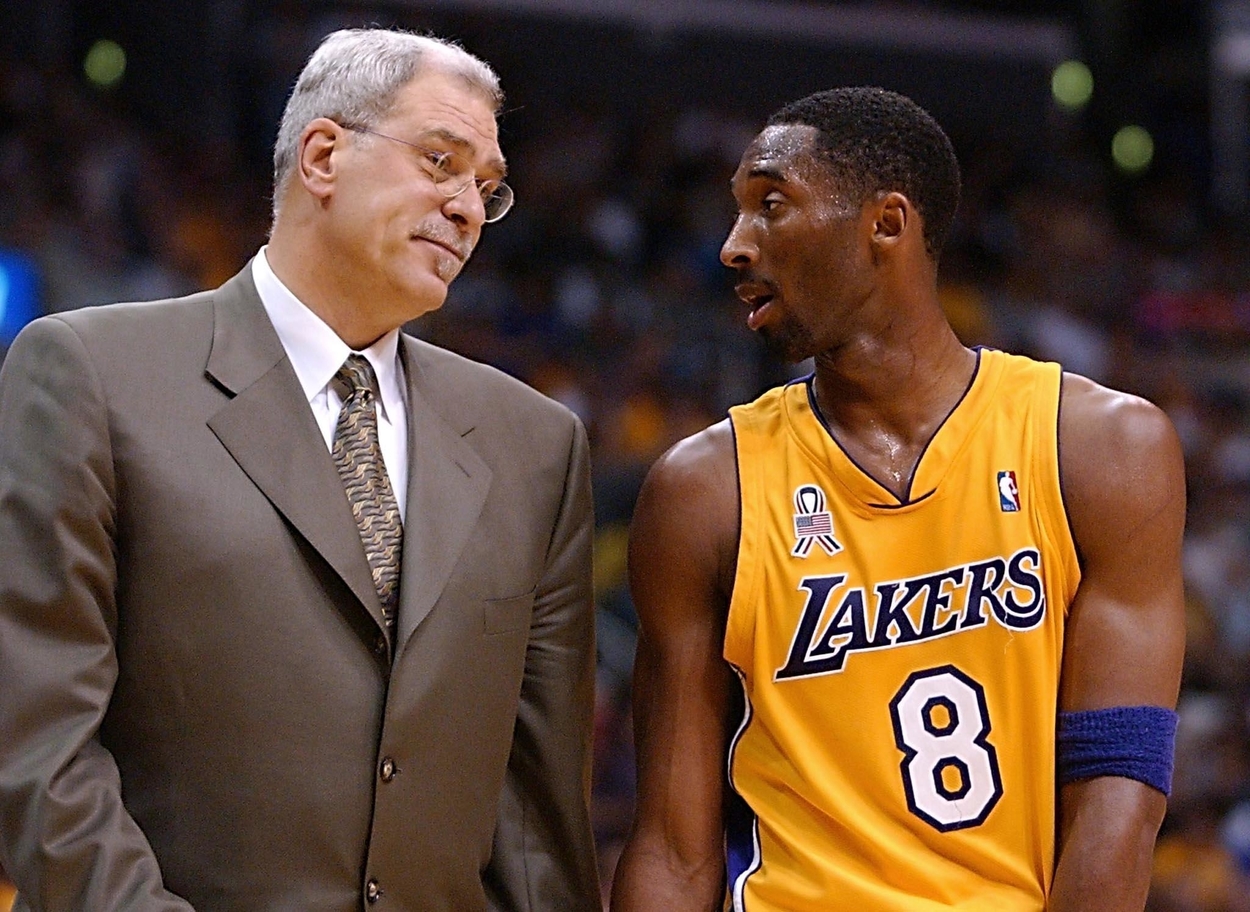 During the 2000-01 season, Jackson's second on the job, the Lakers were on a quest for another title. But with just weeks to go until the playoffs, the Zenmaster lost his cool during an interview.
Jackson spoke with Chicago Sun-Times columnist Rick Telander (transcribed by ESPN) and revealed how Bryant was still expressing displeasure with the Triangle. Namely, how it didn't highlight his abilities as a scorer.
"The other day I said to Kobe, 'What's the problem?'" Jackson said. "He said, 'The game's too boring for me. The offense is so simple. It doesn't display my talent.' I said, 'I realize that. But we're trying to win games with the least amount of things going wrong, the fewest injuries, the least fatigue.' He said, 'But it doesn't give me what I have to have for my game.'"
Soon after explaining how Kobe was "not willing to let someone else's ideas penetrate his mind," Jackson revealed a bizarre claim.
"Someone told me that in high school, Kobe used to sabotage his own games. So the game could be close. So he could dominate at the end. To sabotage the team process, to be so self-centered in your own process .. it's almost stupefying."

Phil Jackson
While it's the first time Kobe was accused of tanking his own games, it wasn't the first time Phil spilled the tea on private conversations shared between the two Hall of Famers. Back in 2015, Bryant explained how Phil would often take conversations they had in confidence and use them to manipulate the media against him.
Jackson's comments hurt his camaraderie with Kobe
The accusation made by Jackson may have ultimately been a metaphor of some kind. But it nevertheless drew the ire of many, including Greg Downer, Bryant's high school coach at Lower Merion.
"It's ridiculous," Downer said to the LA Times. "I'm getting tired of the microscopic existence Kobe is leading out there. To attack the integrity of myself and the integrity of my basketball program is not right. I'd like to know who his source is. It shows a lack of professionalism."
"I don't appreciate it personally. I can tell you, honestly, it's 100% off base. If Phil wants to say something like that, he better recheck his sources."
What was Kobe's reaction? After all, Phil not only aired the contents of a private conversation but also accused the star of sabotaging his own high school games.
"I'm not going to defend myself every time," Bryant casually explained to the LA Times. "I'm getting tired of doing that. I'm going to let my play do the talking and hopefully, everything else will fall by the wayside."
Although Bryant seemed to let bygones be bygones, Jackson felt otherwise. As he referenced in his book The Last Season: A Team in Search of Its Soul, Phil believed his relationship with Kobe became tenuous from that day forward.
After Jackson left LA and released his book in 2004, he returned to the bench a year later. Once he patched things up with Bryant, the two would go on to win two more titles together in 2009 and 2010, giving Bryant five and Jackson 11. And best of all, no one sabotaged any games in the process.
All statistics courtesy of Basketball Reference.