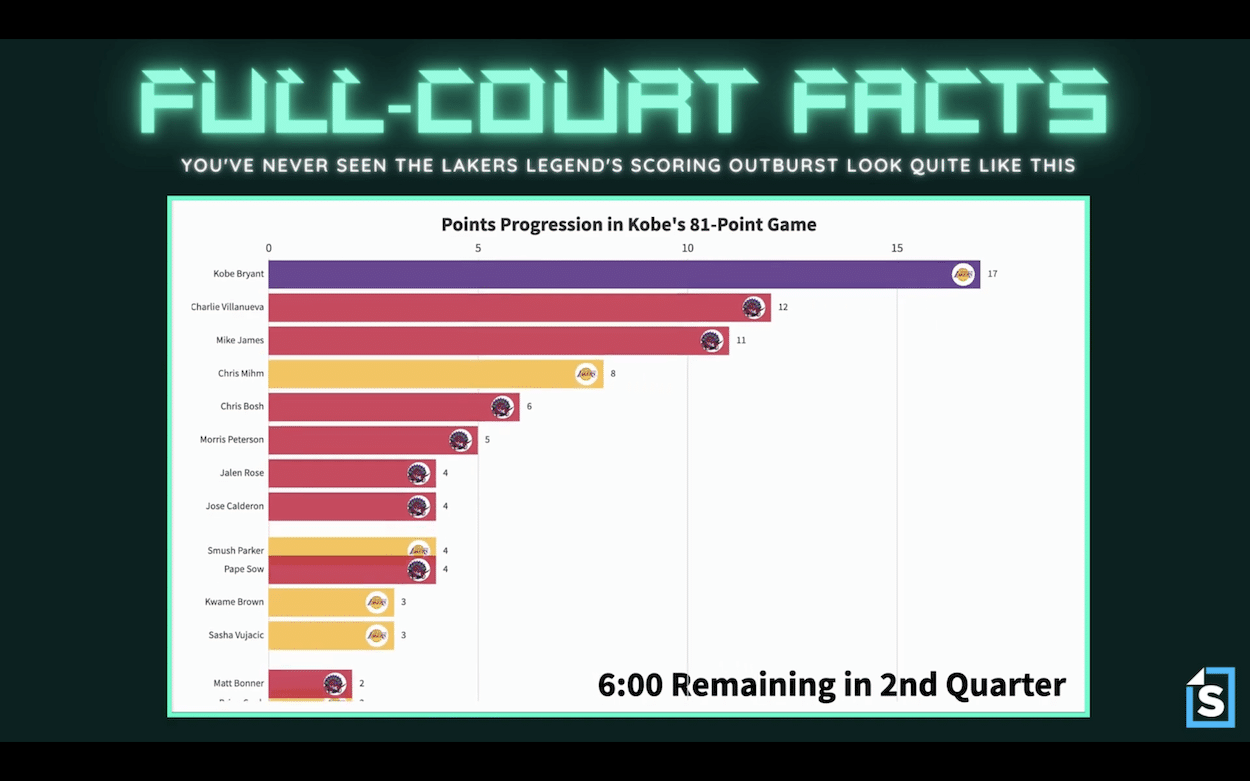 Kobe Bryant Visualized: A New Way to Look at the Los Angeles Lakers Legend's Greatest Achievements
Check out an entirely new way of looking at some of Kobe Bryant's greatest achievements with the Los Angeles Lakers.
Kobe Bryant has been idolized by players and fans alike for the on-court legacy he earned with the Los Angeles Lakers. He's been mythologized due to his sterling play as one of the NBA's leading superstars throughout the 2000s. He's been criticized and debated and argued about and imitated and discussed and, well, you get the point.
But you've never seen the Mamba's greatest achievements presented quite like this. From his 81-point masterpiece against the Toronto Raptors to his overall on-court value added to the Lakers to his pure scoring contributions, prepare to enjoy some unique visualizations that shed new light on just how special this basketball legend was.
Kobe Bryant's 81-point outburst against the Toronto Raptors
The number itself has burrowed its way into the long-term memory of a large swath of the basketball-watching population: 81.
Kobe Bryant had no mercy against an overmatched Toronto Raptors squad on Jan. 22, 2006. During a 122-104 victory at Staples Center that pushed the Los Angeles Lakers' record to 22-19, he put up an astounding 81 points, six rebounds, two assists, three steals, and one block while shooting 28-of-46 from the field, 7-of-13 from downtown, and 18-of-20 at the charity stripe.
You've seen the highlights before. We don't need to rehash them here, though we will at least show them to you again.
But did you remember that no one else scored more than Mike James' 26 points? Wilt Chamberlain's famed 100-point masterpiece also featured three 30-point scorers on the other squad as Richie Guerin (39), Cleveland Buckner (33), and Willie Naulls (31) each cracked the threshold for the New York Knicks.
Did you remember that Bryant scored 27 points in the third quarter and 28 in the fourth? Only 63 other players have scored 55 points in a game, and he put up that number in the second half alone after outscoring James by just seven points through the first two periods.
You will remember after watching that first video up above.
Kobe became the Lakers' all-time leading scorer
Dating back to their debut 1948-49 season in the BAA, the Lakers have won 3,460 games, made the playoffs 62 times, and earned 17 championships — tied with the Boston Celtics for the most titles in league history. They've enjoyed 143 All-Star selections and had 28 Hall of Famers wear their uniform. Eleven different jersey numbers hang from the rafters.
But through the years, only four different players have enjoyed even the shortest tenures as the franchise's all-time leading scorer:
George Mikan: 1948-49 through 1960-61
Elgin Baylor: 1961-62 through 1970-71
Jerry West: 1971-72 through 2008-09
Kobe Bryant: 2009-10 through present
Magic Johnson? Nope. Kareem Abdul-Jabbar? Negative. Shaquille O'Neal? Brick.
Bryant became the franchise's all-time leading scorer on Feb. 1, 2010, with a breakaway slam dunk in the third quarter that moved him past Jerry West en route to a 44-point performance in a road loss to the Memphis Grizzlies.
Now, he's likely going to hold the scoring title interminably.
Heading into the 2022-23 season, LeBron James is the only active player within the franchise's all-time top 25, and he's more than 27,000 points shy of Bryant's 33,643. It's tough to bet against James, but he's probably not going to play NBA basketball until he has grandchildren pushing toward the NBA draft.
Probably.
In fact, given the Lakers' lack of youthful superstars and the leaguewide trends toward player empowerment, which prevents many modern franchise legends from submitting single-organization careers, this might be one of those unbreakable records. That, in turn, makes it all the more fascinating to watch Bryant chase down West and create quite a bit of breathing room in the bar-chart race.
Kobe's on-court value to the Lakers
Kobe Bryant might not be the all-time leader in NBA Math's total points added (TPA) metric for the Los Angeles Lakers, but there's no shame in a third-place finish. Not for a franchise that has more legendary figures than you can name in a single breath.
Only nine players have crossed the four-digit threshold on the career leaderboard, which means Bryant gets to chase down one Hall of Famer after another as he rises through the field.
Wilt Chamberlain finished at 1,041.67 TPA, at least partially because he spent so much time in other uniforms. Pau Gasol wound up at 1,136.09 TPA and remains an underrated figure on Bryant's title-winning teams. James Worthy had some fairly big performances that may have led to a nickname or two as he compiled 1,161.15 TPA. LeBron James is still racking up big counting stats for the current iteration of the Purple and Gold, giving him 1,280.40 TPA and counting.
Bryant passed them all.
A tier up in the pecking order, Shaquille O'Neal sits with 2,632.84 TPA. Jerry West finished his Hall of Fame, NBA logo-earning endeavors at 2,943.03 TPA.
Bryant passed them all.
In fact, he sits in third place with 4,261.13 TPA, narrowly behind Kareem Abdul-Jabbar (4,419.83 TPA) and a bit further behind Magic Johnson (5,204.74 TPA). And once again, there's no shame in that third-place finish.
Like Sportscasting on Facebook. Follow us on Twitter @sportscasting19 and subscribe to our YouTube channel.