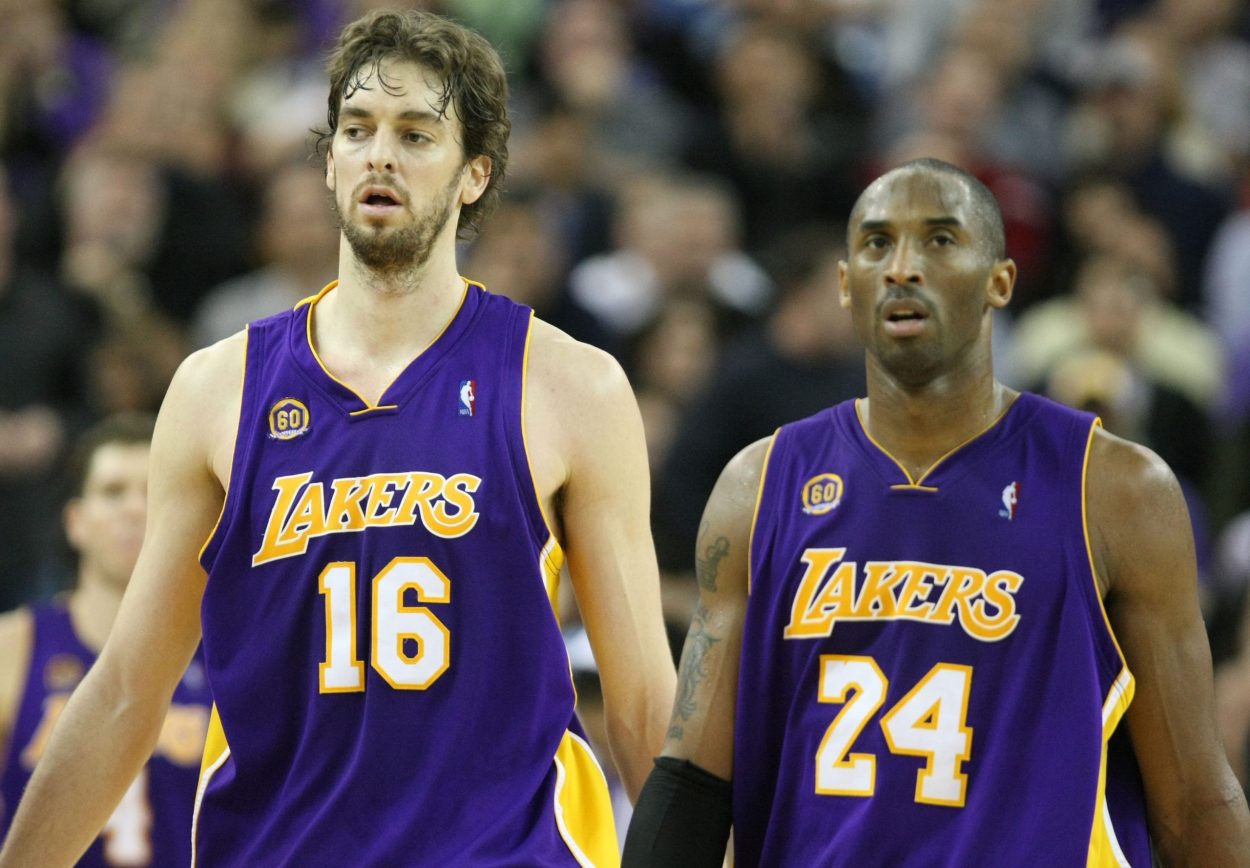 Kobe Bryant Won MVP in 2008, but He Thanked a Higher Power For Sending Him Pau Gasol
Kobe Bryant's individual brilliance earned him MVP honors in 2007-08, but he breathed a sigh of relief upon getting a legit co-star in Pau Gasol.
Even during the Los Angeles Lakers' three-peat at the turn of the 2000s, Kobe Bryant began to yearn for more responsibility. Soon enough, however, he had all the responsibility. It became too much.
The feud between Bryant and Shaquille O'Neal, which Shaq still maintains served as a marketing ploy, played a role in separating one of the greatest one-two punches in NBA history in 2004. The Lakers elected to make the younger Bryant the franchise cornerstone, and Kobe could finally (and emphatically) say the Purple and Gold were his team.
However, Bryant labored for years as the be-all, end-all on some incredibly underwhelming squads. Alas, he felt such a sense of relief after the Lakers swung a 2008 blockbuster trade for Pau Gasol that he thanked a higher power.
Kobe Bryant headlined some woeful Lakers rosters in the mid-2000s
Bryant likely envisioned himself winning a championship without O'Neal. He probably didn't understand how torturous that challenge would become.
After reaching the NBA Finals in 2004 — a five-game loss to the Detroit Pistons — the Lakers missed the playoffs entirely during the 2004-05 campaign. They bounced back to make the playoffs in each of the next two seasons but lost in the first round both times, through no fault of Bryant's.
The Black Mamba did everything he could just to put LA in a decent position. He arguably got robbed of NBA MVP honors in 2005-06, when he won the scoring title at an absurd 35.4 points per game while also averaging 5.3 rebounds, 4.5 assists, and 1.8 steals. Kobe excelled every bit as much the following season, winning a second straight scoring title (31.6 points) while averaging 5.7 rebounds and 5.4 assists.
Bryant's individual success meant very little because of how much energy he exerted dragging LA's lackluster rosters along. Bean grew tired of carrying the weight of the organization on his shoulders and requested a trade in 2007.
The Lakers rebuffed that ask. Instead, they eventually traded for a perennial All-Star who may as well have been Kobe's archangel.
Bryant thanked the heavens after the Lakers acquired Pau Gasol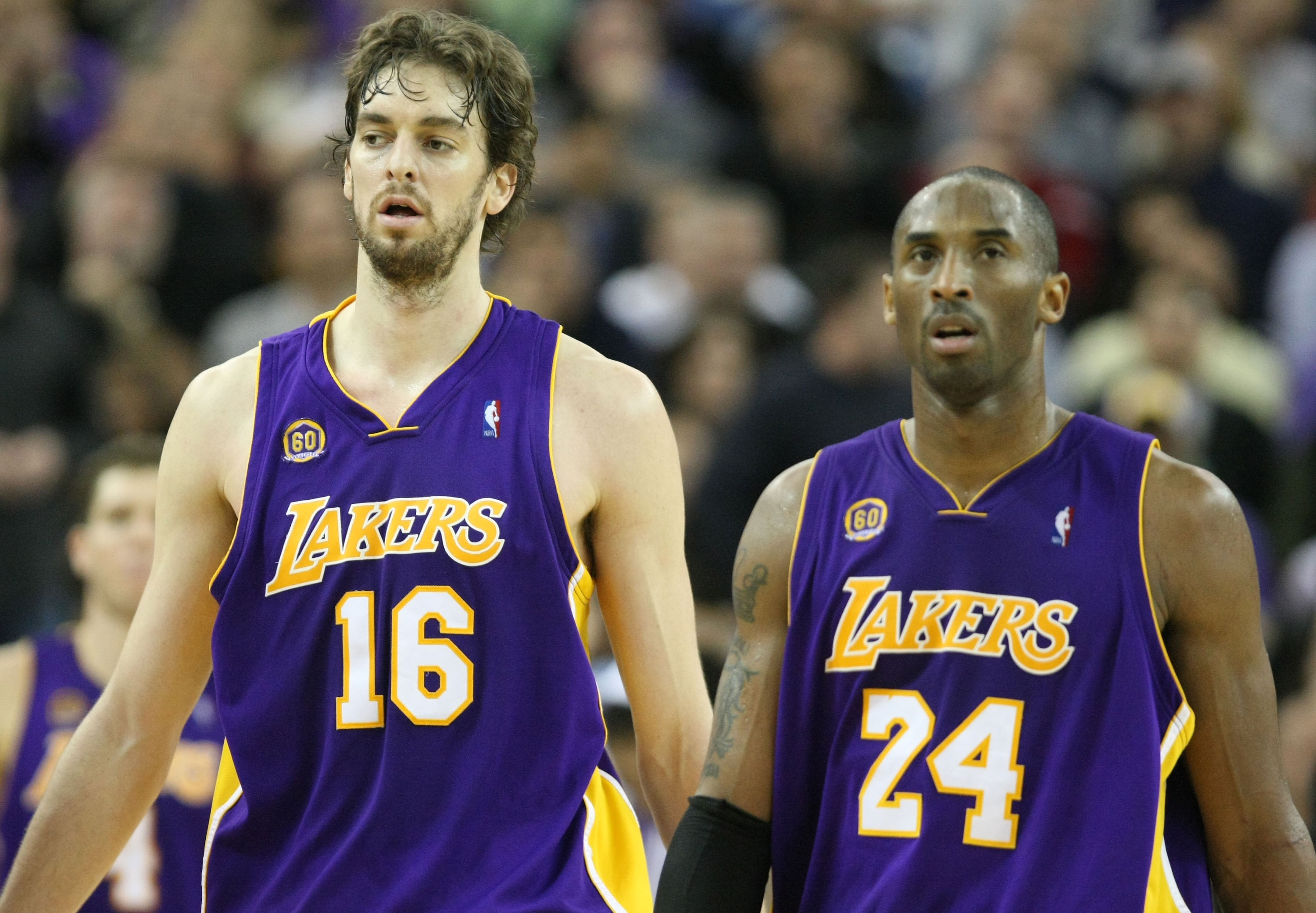 On Feb. 1, 2008, the Lakers made a monumental move to give Kobe Bryant a legitimate co-star in a trade that altered the course of franchise history.
The Purple and Gold traded 2001 No. 1 overall pick Kwame Brown, Javaris Crittenton, Aaron McKie, the draft rights to Marc Gasol, and two first-round picks in exchange for Memphis Grizzlies big man Pau Gasol. The deal gave Bryant a frontcourt force he'd not had since Shaq dominated the paint in LA.
Kobe felt eternally grateful.
Gasol made his Lakers debut on Feb. 5, 2008. He scored 24 points, grabbed 12 rebounds, and dished out four assists in a 15-point win over the New Jersey Nets. Interestingly, Bryant had just six points on a woeful 3-of-13 shooting. He also committed seven turnovers.
Contrary to past seasons, however, Kobe no longer had to score a ton of points for LA to win. He relished that fact to the point he thanked a higher power (h/t Twitter) for sending him Gasol during his postgame interview with YES Network.
"[Gasol] just makes the game so much easier. We had some weapons before, now we just added a huge one to the team. We're getting big [Andrew] Bynum back … there is a God."

–Kobe Bryant in 2008
The Lakers were 30-16 before Gasol made his debut. They went 27-9 the rest of the way, with Bryant earning MVP honors in the process.
Kobe and Pau failed to win a championship in their first season together, as Bryant struggled against Paul Pierce and the Boston Celtics in the 2008 NBA Finals. But Bean's partnership with Gasol would bear fruit, as LA won back-to-back championships in 2009 and 2010.
In many ways, Bryant's relationship with Gasol reflects his complexity as a teammate and a person.
Bryant and Gasol had a bond that ran deeper than basketball
Kobe Bryant is one of the most ruthless competitors in NBA history. He would chastise teammates and force them to get on his level.
However, the dynamic between Bryant and Gasol speaks to Kobe's depth and character.
Whereas Kobe and Shaq never seemed to find common ground, Bean and Pau immediately developed a deeper bond. The two spoke Spanish to confuse opposing teams. As Gasol revealed following Bryant's death, the two had dinners together and spent time off the floor, including and especially after Kobe retired in 2016. Pau is the godfather of Bryant's children.
The friendship between the former Laker stars speaks to the outpouring of love after Bryant's death in January 2020. He's one of the most tenacious and gifted players in NBA history. However, he never let the game detract from his relationships with his friends or family. That says as much about Kobe's legacy as five championship rings.
Stats courtesy of Basketball Reference.