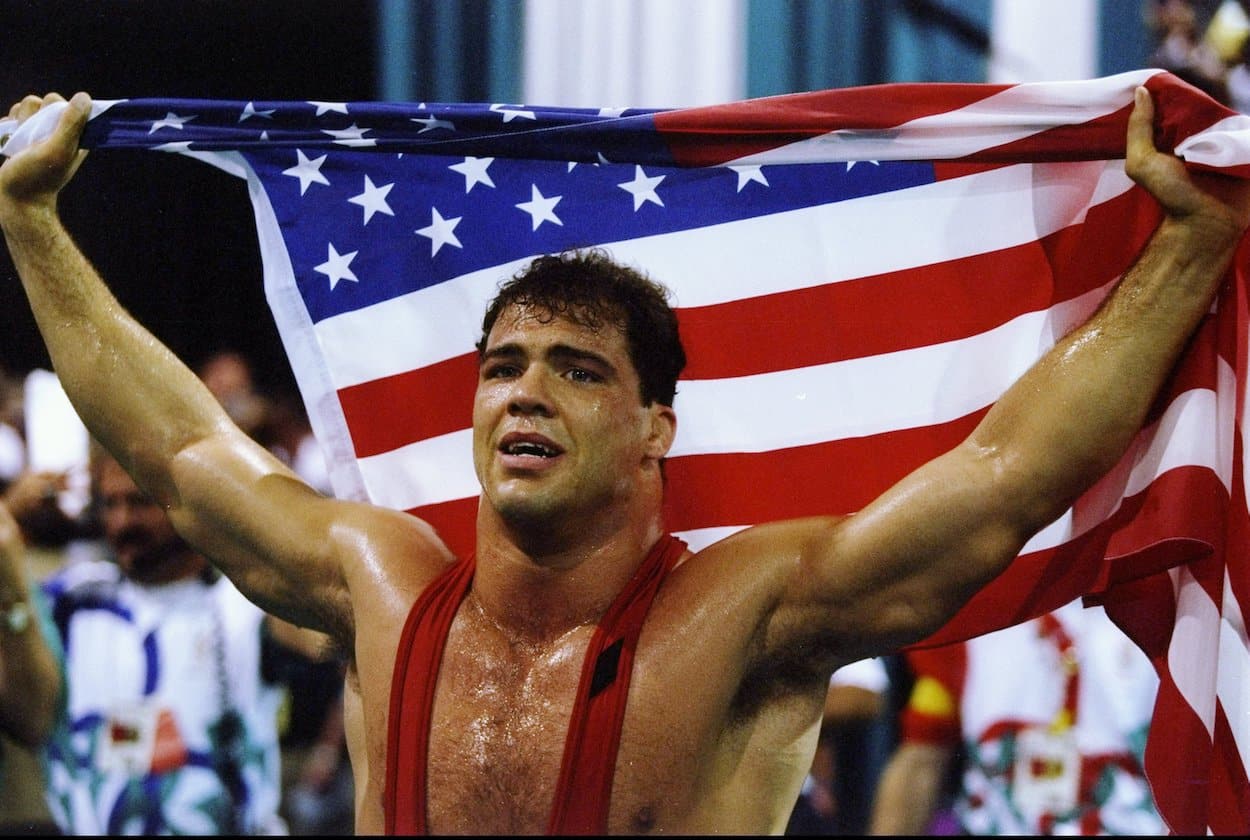 Kurt Angle Signed With WWE After Watching 1 of the Most Disturbing Moments in Pro Wrestling History at an ECW Event
Kurt Angle is a WWE Hall of Famer but almost didn't become a pro wrestler at all after watching an ECW match that ended in a crucifixion.
Kurt Angle is a college wrestling champion, Olympic gold medalist, and one of the greatest professional wrestlers in WWE history. However, his pro wrestling career almost took a different track. The superstar considered signing with his home state promotion, ECW, before joining WWE. That all changed, though, when Angle was in the building for one of the most controversial and disturbing nights in pro wrestling history.
The rise of ECW
The early 1990s were a heyday for professional wrestling in the United States. The WWE (then WWF) was coming out of its infamous steroids trial and regaining momentum with new stars like Sean Michaels, Bret Hart, and The Undertaker.
Eric Bischoff joined WCW at this time and started growing the company that would take on WWF beginning in 1995. And, in Philadelphia, Pennsylvania, the more hardcore ECW — run by Paul Heyman at the time — was picking up steam.
By 1996, the Monday Night Wars between WCW and WWF were in full effect. ECW wasn't quite at that level. But the promotion had its fair share of diehard fans who loved the bloodier and more violent wrestling style.
At this point, competition for talent was fierce. And no free agent loomed larger than 1996 Olympic gold medalist Kurt Angle. The Pittsburgh-area native was looking to join a promotion, and a friend convinced Angle to give the Philadelphia-based ECW a try.
That's why Angle was in the building during ECW's High Incident show on October 26, 1996, doing guest commentary.
What happened that night is one of the most shocking incidents ever to take place in a professional wrestling ring, and it drove Angle directly into the arms of Vince McMahon and the WWE.
Raven vs. The Sandman crucifixion storyline
ECW produced many pro wrestling stars in the 1990s. Legendary names like Tommy Dreamer, Taz, Sabu, and Rob Van Dam cut their teeth in this promotion.
However, the most legendary rivalry in the company's history was between Raven and The Sandman. The pair started their most infamous feud in January 1996. It got so heated that Raven even turned The Sandman's young son against him.
In October 1996, at High Incident, The Sandman's son broke Raven's psychological grip and interfered in the match between the two to help his father.
What happened next is the stuff of wrestling lore.
With the help of Stevie Richards and the Blue Meanie, Raven got a large wooden cross from underneath the ring and tied a bloodied Sandman to it in a classic crucifixion pose. The move shocked even the usually rowdy and blood-thirsty ECW crowd into near-silence.
The use of sacred religious iconography in this way so disgusted so many that Raven had to do something rarely done in professional wrestling. He returned to the ring, broke kayfabe, used his real name (Scott Levy), and apologized to the crowd:
Apparently, [ECW chairman] Tod Gordon and Paul Heyman — by acting without their knowledge — are offended by my use of religious iconography. And apparently, I've offended quite a few people in the audience. Well, you people chose to respect Scott Levy's privacy when I needed the personal time, and so I choose to respect your privacy and your religious beliefs. And so, for the people who I deeply offended, I apologize.

Raven apologizing to the ECW crowd
Despite the center-of-the-ring apology, Angle still wasn't satisfied and took it out on Heyman.
The Kurt Angle aftermath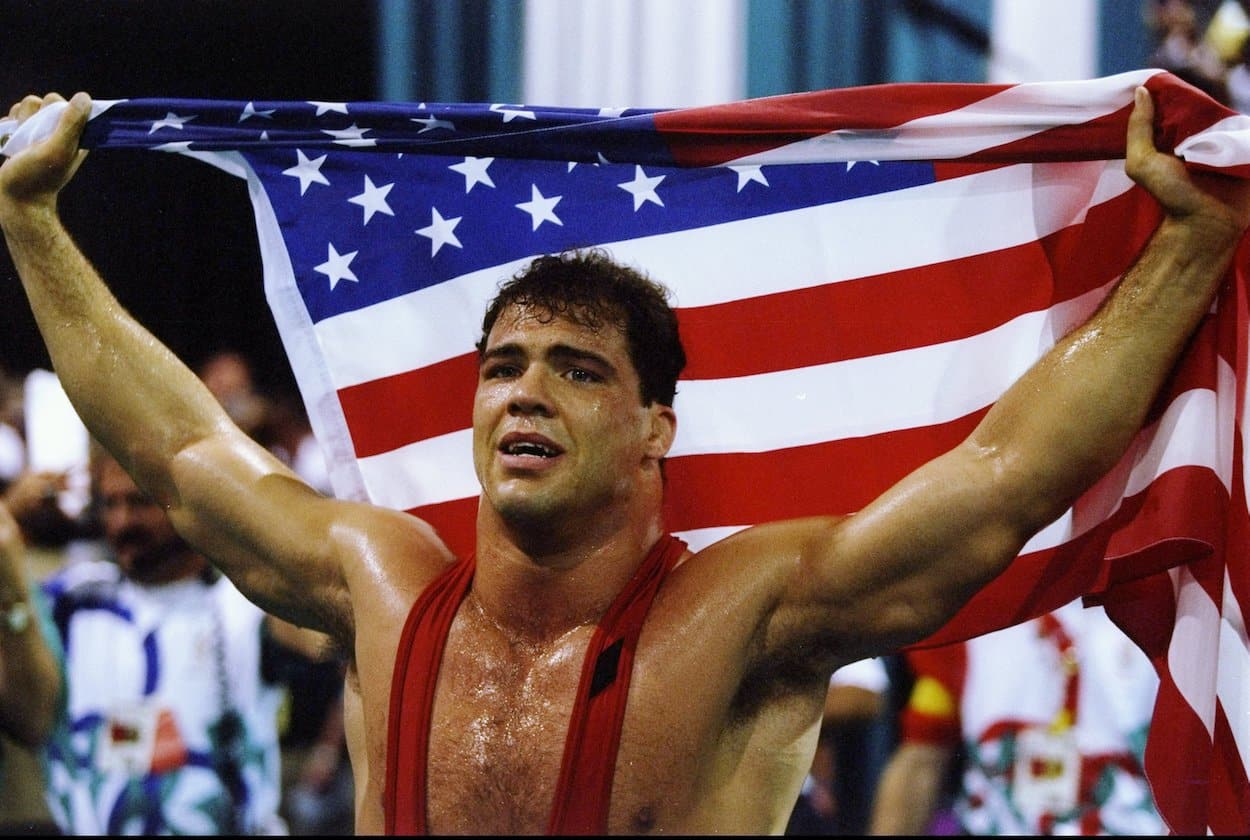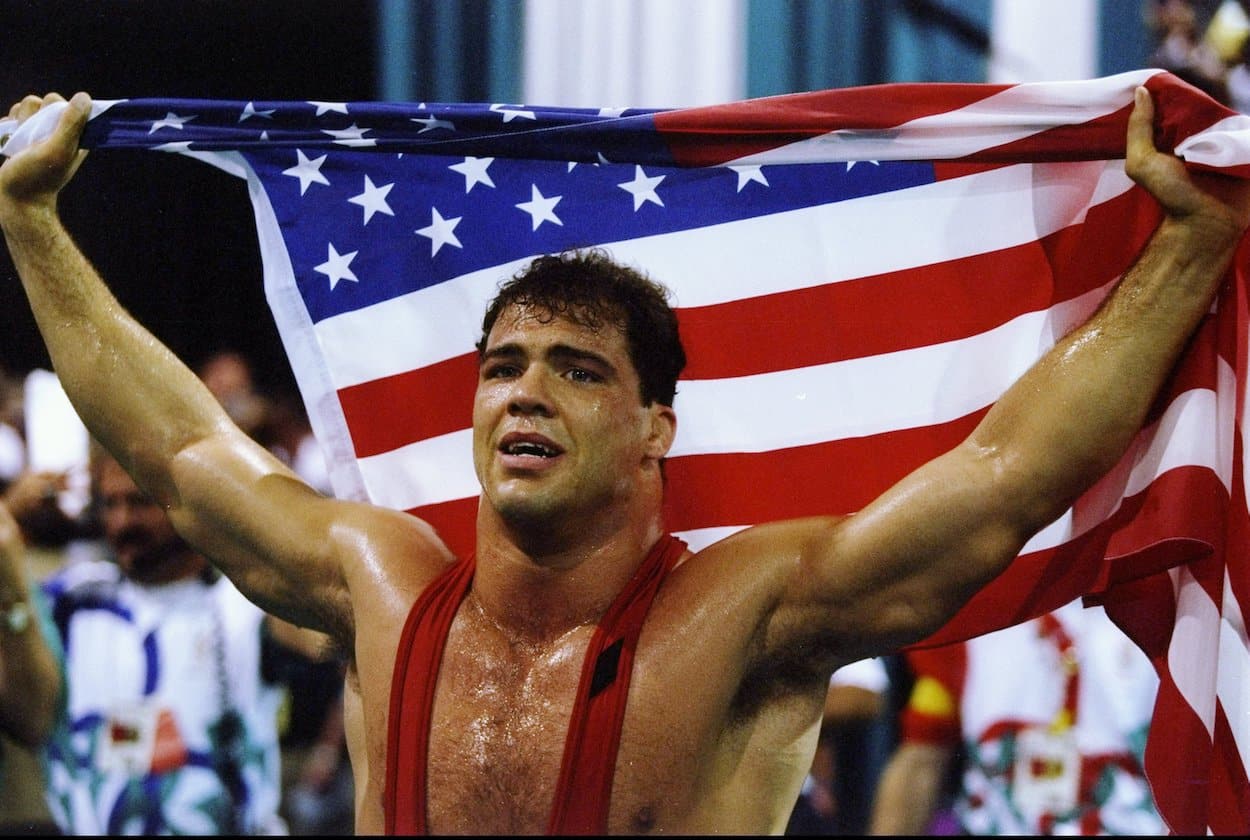 In 2021, Kurt Angle rehashed that night on his Kurt Angle Show podcast with Conrad Thompson (h/t Jack Atkins of Cultaholic).
During the podcast, Angle explained his feelings after seeing what went down with Raven and the Sandman. "You've got to understand that I'm a Christian kid from Pittsburgh, and to see the crucifixion was really offensive," Angle told Thompson. "When I saw it, I was like, this is a crucifixion. It's someone portraying Jesus on a cross, and I can't believe I'm here. I was really upset."
After the incident, Angle found Paul Heyman and let him have it:
I went to Paul Heyman and said, 'I can't be on the same show as this. You can't air this show with me on it, and if you do, you're gonna hear from my attorney.' Paul said, 'I didn't even know it was gonna happen.' I was like, he's the promoter, and it's the main event, and he doesn't know this is gonna happen? He's full of s***. I love Paul, he's a great guy, but he basically lied to me. I understand why. He was just trying to take the heat off of himself. … I was serious, I told him I'm gonna sue you if I end up on the same show. I won that battle, but it definitely scared me away from pro wrestling. 

Kurt Angle on his confrontation with Paul Heyman
It wasn't until two years later, in 1998, that Angle found his way back to pro wrestling and signed with WWE.
Things ultimately worked out for Angle, who became a Grand Slam Champion and WWE Hall of Famer over the next two decades.
After ECW folded in 2001, many of its wrestlers ended up moving to (or back to) the WWF/WWE. This includes Raven, who made another run with Vince McMahon's company after a short stint in the early 1990s.
In an ironic twist, Raven and Angle ended up having some memorable hardcore matches against each other in the early 2000s.
Like Sportscasting on Facebook. Follow us on Twitter @sportscasting19 and subscribe to our YouTube channel.