Kurt Busch Warns Jimmie Johnson Ahead of His Second IndyCar Season: 'Be Humble'
Lost in a list of accomplishments including 33 NASCAR Cup Series victories and the 2004 season championship is the fact that Kurt Busch dazzled in his only appearance in an IndyCar race, and it just so happened to be at the biggest race of them all. While reflecting upon that experience, Busch predicted success for Jimmie Johnson in Year 2 of his second career, and he also offered some advice.
Kurt Busch finished sixth at the 2014 Indianapolis 500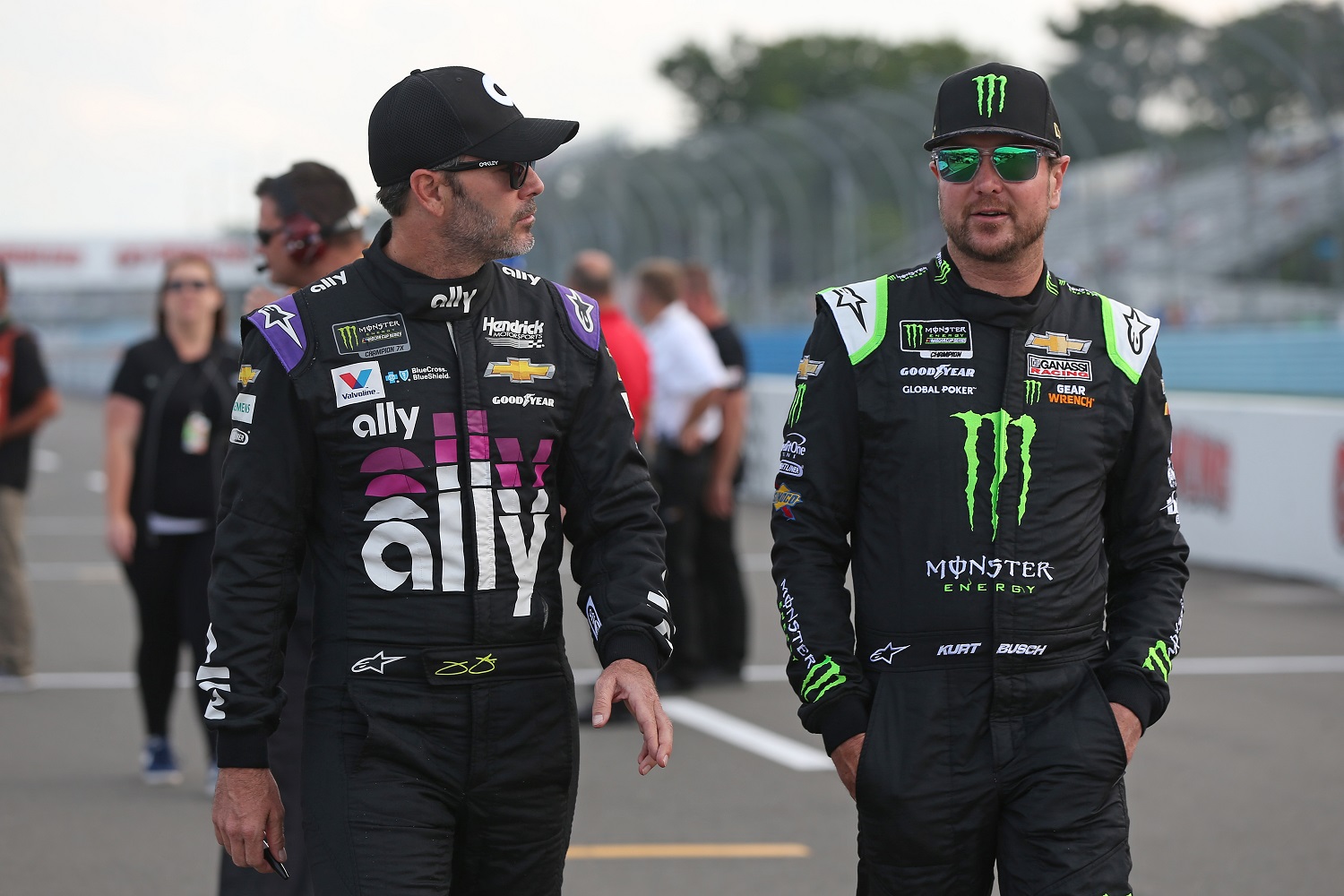 Kurt Busch worked a long day on May 25, 2014. Perhaps feeling a little restless after going winless the two previous NASCAR Cup Series seasons, Busch built his early 2014 schedule around competing in the Indianapolis 500, which required double duty concluding his night with the Coca-Cola 600 in Charlotte, North Carolina.
The NASCAR race was a letdown as his Stewart-Haas racing Chevy's engine gave out on lap 271 of the scheduled 400, and he finished 40th. Before that, though, he had an exhilarating day at the Indy 500.
Busch started 12th on the grid. Although he never led, Busch remained competitive all day and came across the line in sixth place, the best among all rookies, while driving for Andretti Autosport. Ryan Hunter-Reay beat Helio Castroneves to the checkered flag, but notable drivers finishing behind Busch on the lead lap included Will Power and Takuma Sato.
The preparation leading up to the long day was demanding but also rewarding for Busch.
"The 'Month of May' is a unique experience," he told Motorsport.com. "The long practice sessions, the teamwork, the build-up, the pageantry … there's nothing like it. I've been privileged to race in the Daytona 500 for over two decades and it's pretty special, but Indy is a unique place and the 500 is a one-of-a-kind event."
Kurt Busch has advice as Jimmie Johnson preps for his Indianapolis 500 debut
Although he didn't race on ovals during his debut season in IndyCar, seven-time NASCAR Cup Series champion Jimmie Johnson did log 12 races while competing for Chip Ganassi. In Kurt Busch's mind, that will matter at the Indianapolis 500.
"Jimmie's experience with a full year of road courses in an IndyCar will mean the comfort level is high for him," Busch said. "That's why I think he was ready to go oval racing, and I believe he'll be fantastic. He'll jump in and feel the old memories of running and winning there in the Brickyard 400."
Busch offered a caution while reflecting upon his Indy 500 experience. He recalls crashing hard in turn 2 during Monday practice after qualifying after he and engineer Craig Hampson weren't on the same page when it came to the car's setup. Busch faults himself for not backing down after the car got loose moments earlier.
"Truth is, I should have pulled in at the end of the previous lap, but I was so eager to learn about the draft, and both Craig and I were relying on my general racing experience even though we both knew I was an IndyCar rookie."

Kurt Busch
That's why Busch hopes Johnson takes every moment of practice and qualifying this May to learn his car's capabilities. It will be only his second time racing on an oval.
"Jimmie will have to be humble and open to the idea of being a rookie again," Busch cautioned. "But I'd say in my case, the wreck was a good lesson, because if I hadn't made that mistake in practice, I'd have done it early in the race instead, and it would have been a disaster."
One funny recollection from the 2004 NASCAR Cup Series champion
Kurt Busch was 35 years old and had been driving full-time in the NASCAR series since 2001 when he took his one shot at the country's biggest open-wheel race on Memorial Day weekend in 2014.
Despite all his experience in stock cars, there were jitters at the start.
"The biggest shock for me – and it felt like a rookie hazing by the other drivers – came at the drop of the green flag on race day," he said, laughing. "It was like they were trying to intimidate me, going three-wide down into turn 1, 11 rows deep. I qualified 12th, took it nice and easy at the start, and by the time I got to the back straightaway I was about 20th."
Busch overcame the gaffe and clawed his way back to the sixth-place finish.
Jimmie Johnson is 11 years older now than his former NASCAR rival was then, so Busch doesn't expect him to flinch one bit.
"Honestly, I think he's got the chance to do a really great job," he said.
Like Sportscasting on Facebook. Follow us on Twitter @sportscasting19.