Kurt Busch's Wildly Unpredictable NASCAR Cup Series Season Remains Intact
Kurt Busch' hit-or-miss NASCAR Cup Series season continued Sunday with a third-place finish at WWTR.
With one more break late in Sunday's race at World Wide Technology Raceway, Kurt Busch could easily have scored his second victory of the NASCAR Cup Series season.
Of course, the way the breaks have been falling for Busch this season, he could just as easily have finished 32nd instead of third.
Kurt Busch continues a wildly unpredictable NASCAR Cup Series season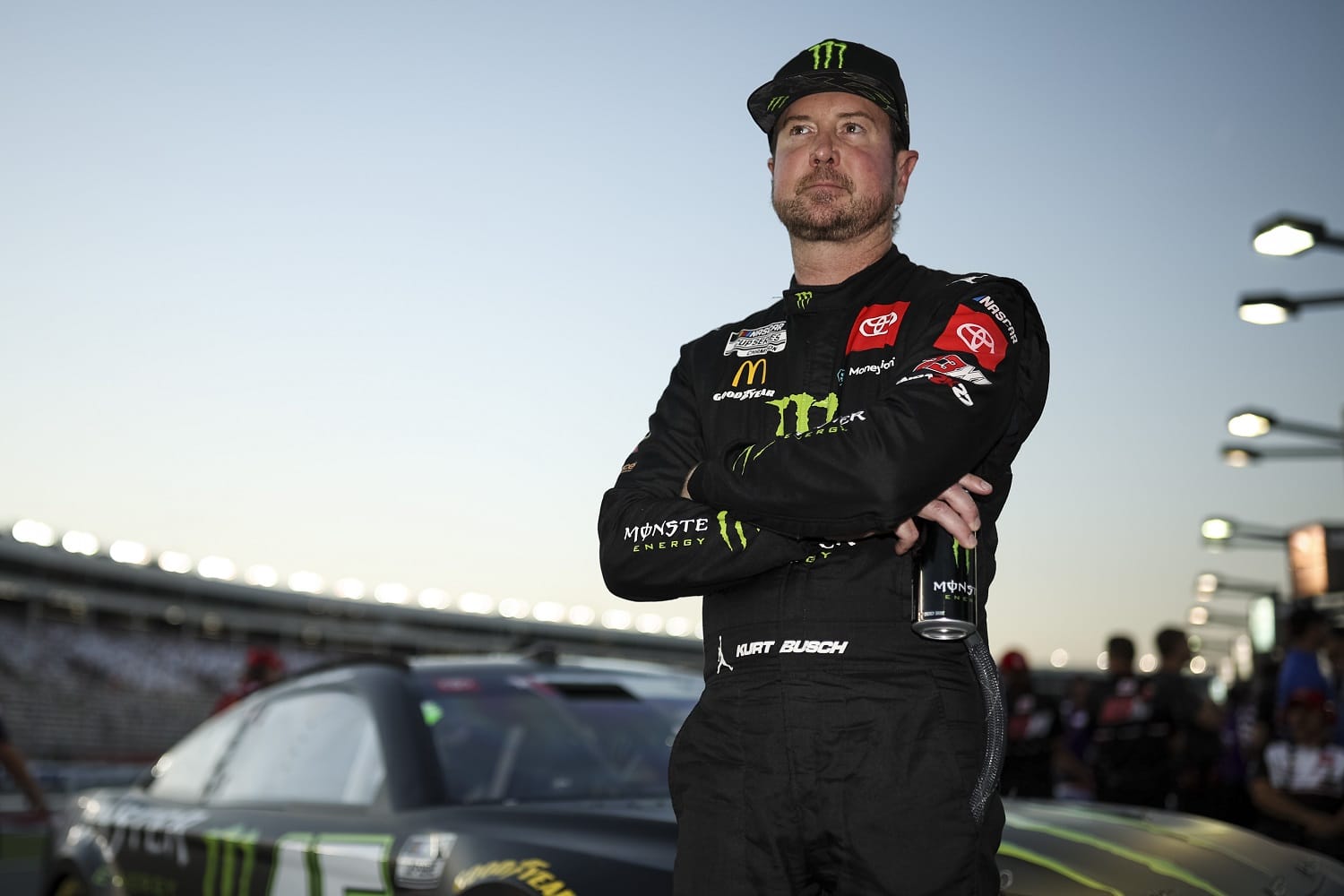 Kurt Busch's third-place finish in Sunday's Enjoy Illinois 300 marked his sixth top-10 result of the season. No one below Busch on the points list has more top-10 showings, but that's true in part because he is in a surprisingly low 17th place.
In short, Busch is having one of the most inconsistent seasons in memory. On one hand, he has the victory at Kansas Speedway and the five other finishes of eighth place or better. On the other hand, he has finished 28th or worse six times. In between were finishes of 13th, 16th, and 19th place in his hit-or-miss season.
With a win in the bank already, Busch's performance for the remainder of the regular season probably doesn't matter much. With Joey Logano now the fourth multi-race winner of the season, it's becoming less likely that we'll get to 17unique winners. As long as there are 16 or fewer, Busch can slide to 30th in points and make the playoffs without a worry.
However, wild swings in playoff results would be a formula for elimination long before the Championship 4.
Hall of Famer Dale Jarrett is a Kurt Busch fan
Retired driver Dale Jarrett is a 2014 NASCAR Hall of Fame inductee. He's sure Kurt Busch will be joining him as a HOF member not long after retirement, and the numbers support him. Busch, who started in the Cup Series in 2000, has won 34 races, including them2017 Daytona 500, in 771 starts and captured the 2004 season championship.
Along the way, he has won races with five organizations and with four manufacturers. Topping it off, he placed sixth in an Indianapolis 500 appearance.
"He's certainly one of the most talented of drivers, just sheer driving ability and the talent and the understanding of what it takes to win big races in big moments and to do it with a lot of these teams that hadn't won in situations like that," Jarrett said on a NASCAR on NBC podcast after Busch's Kansas triumph. "I know that 23XI got their win last year with Bubba at Talladega. This was a whole different scenario with the new car and adding a second team here. This was completely different."
The transformation is complete
Kurt Busch, 43, is a rookie with the 23XI Racing team this year, but a veteran of 23 NASCAR Cup Series seasons. The brash, temperamental driver of two decades ago enjoys elder statesman status now. His brother, Kyle Busch, remains the NASCAR hell-raiser of the family.
"I think it says a lot about his career, the transformation of Kurt Busch," retired NASCAR star Dale Jarrett said. "I think it's not just him. I think his brother's a part of a group that I will put there, of athletes and competitors that that maybe have so much talent and success come their way at a young age and they don't always do the right thing.
"Not that many of us did in our early twenties, always doing the right thing. Heck, some of us don't still at 60-something. But I've seen Kurt Busch make a huge change. … We're seeing a different person that's more appreciative of these opportunities and things. But I'll stand by something I said quite a while back: Kurt Busch has made every race team that he's been to a better team and he's won at all of these places."
All stats courtesy of Racing Reference.
Like Sportscasting on Facebook. Follow us on Twitter @sportscasting19 and subscribe to our YouTube channel.