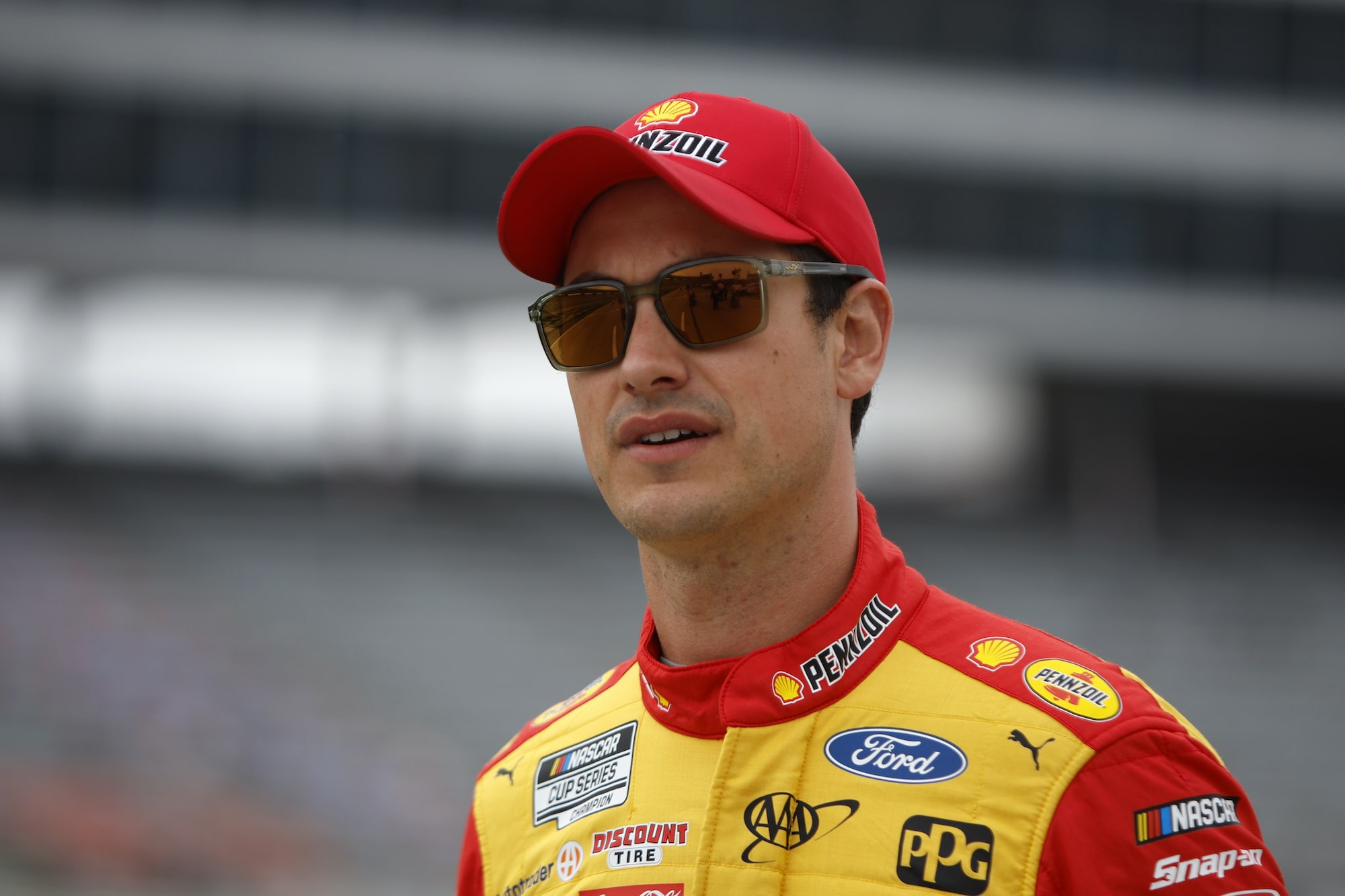 Joey Logano Offers Take on 2022 Season That Won't Be Popular With Fans of Kevin Harvick and Martin Truex Jr.
Joey Logano has a win to his credit this year and offered his assessment of why some of the older drivers have struggled to find Victory Lane in 2022.
Joey Logano opened the 2022 NASCAR Cup Series season by winning the exhibition Clash at the Coliseum. Interestingly, his win would be the first and only by a driver over 30 in the season's first seven races.
At 41 years old, Denny Hamlin broke the streak at Richmond, but his win didn't foretell more victories by the older crowd. Instead, through the season's first 13 races, only four of them have been won by drivers over 30, including Logano's win at Darlington. This week the 32-year-old Penske driver explained why he thinks it's happening.  
Joey Logano winning at Clash was an anomaly
When Joey Logano won the season-opening exhibition race at the LA Coliseum, no one could have predicted its significance. His win ended a six-race streak of drivers under 30 who had won races, extending back to Bubba Wallace's win at Talladega in October. 
At the next race, the Daytona 500, a new streak began. Logano's teammate, 23-year-old Austin Cindric won the race and was the first of six consecutive won by the under-30 crowd. 
Denny Hamlin ended the streak at Richmond. Since that win, three more drivers over 30 have won races, including Kyle and Kurt Busch and Logano.  
Joey Logano identifies why older drivers are struggling to win in 2022
When NASCAR announced the Next Gen car a couple of years ago, it was supposed to be a game-changer, leveling the playing field for all teams and giving the smaller ones a chance at success. It has effectively done that with Trackhouse Racing and Richard Childress Racing regularly running upfront, including a couple of wins by 29-year-old Ross Chastain. 
But according to Logano, it's had another effect. The older drivers have had to radically change their mindset with the new car. And that by itself has been a significant challenge, as the results have shown.
"I think it's about the experience that the guys who have been here for a long time got wiped out a little bit when the car that they've been tuning on and working on, working on their craft to get really good at got wiped away," Logano said. "I think also the same guys are still fast. There might be a few others that kind of jumped in there that haven't been there. And a lot of them had issues even though they've been leading laps. I think it's just why it's kind of worked out like that."
Older drivers have made uncharacteristic blunders
While the race results most importantly have shown the older drivers have found adjusting to the new car challenging, there have been multiple in-race examples highlighting that the struggle is real.
At Las Vegas, Denny Hamlin missed a shift and ended his day. 
"Just killed every gear," he told Fox's Jamie Little. "We had the best car today. Just made mistakes."
Harvick made the same mistake earlier this month at Kansas, saying over his radio after he spun, "That was on me. Third gear is not up."
The Next Gen car has undoubtedly produced exciting action this season, with numerous races undecided until the final laps. But as Logano suggested, and the numbers indicate, it's been harder on the older crowd. 
Unfortunately for those drivers and their fans, there's nothing to suggest that the trend is going to change anytime soon. 
Like Sportscasting on Facebook. Follow us on Twitter @sportscasting19 and subscribe to our YouTube channel.