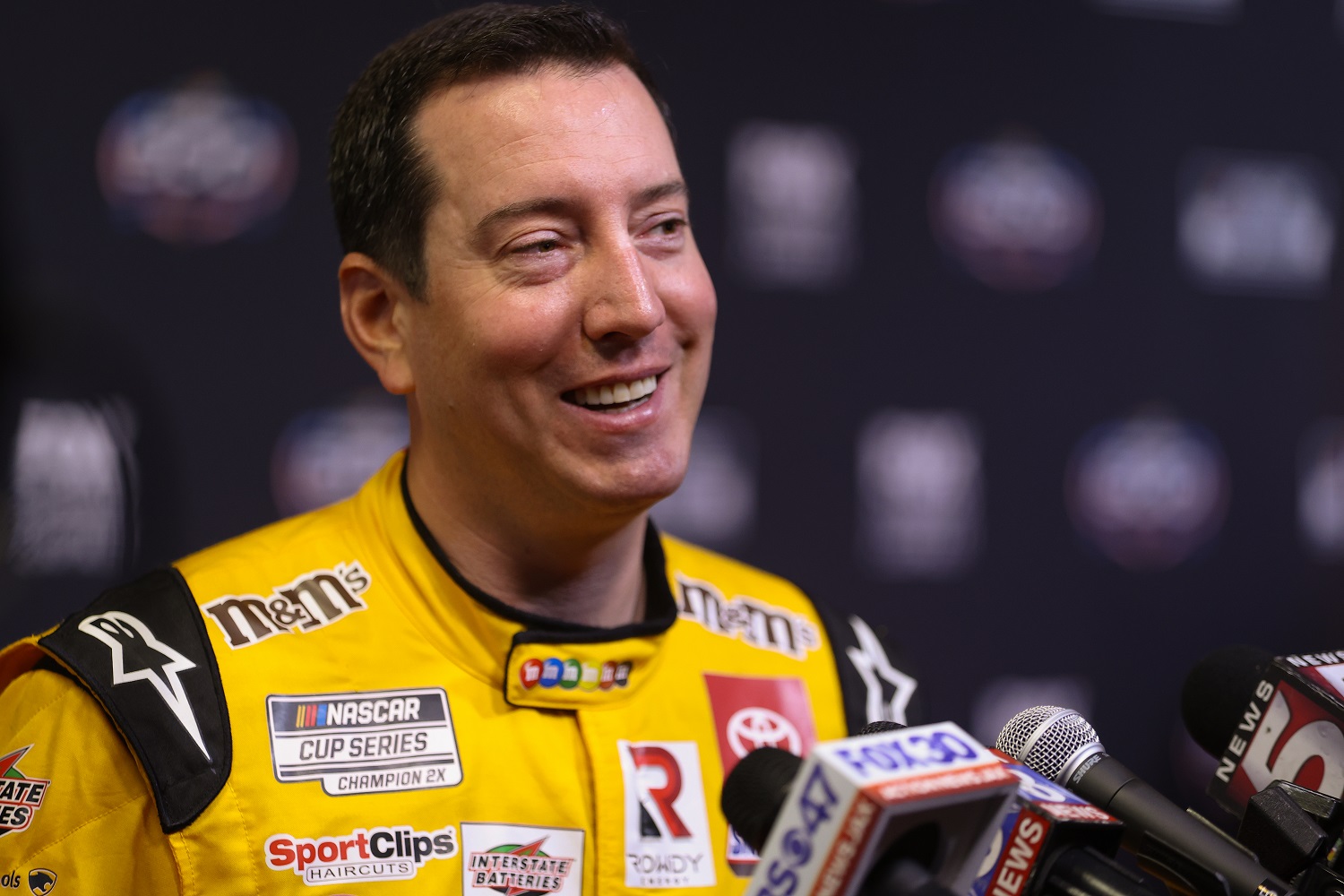 Kyle Busch Got Away With Something Crazier Than Brad Keselowski's $25,000 Stunt
Kyle Busch remembers getting away with a stunt at the 2005 Daytona 500. When Brad Keselowski pulled a less risky version seven years later, it cost him $25,000.
Paul Simon implored his mama not to take his Kodachrome away.
NASCAR told Brad Keselowski his camera phone was going to cost him $25,000.
And then there's Kyle Busch. As has been the case with his competition in 222 victorious races since 2004, NASCAR never caught him. The statute of limitations expired years ago.
Brad Keselowski didn't think he was doing anything wrong
NASCAR fans will always remember the 2012 Daytona 500 as "the Juan Pablo Montoya race." That's impressive considering that Matt Kenseth was the actual winner. Montoya finished 36th, never led, and completed just 159 of the scheduled 200 laps.
Montoya's fame stemmed from his No. 42 Chevy plowing into a jet dryer full of fuel on the Daytona International Speedway oval during a caution triggered by Davis Stremme's Toyota dropping oil on the track. The mishap ignited a huge blaze, necessitating a red flag.
With the cars stopped while emergency crews extinguished the fire and repaired damage to the track, Brad Keselowski became a social media sensation by tweeting pictures and some play-by-play of the work the crews were doing. Strictly speaking, he wasn't violating the NASCAR rule against the usage of electronic devices beyond radio communication with his crew; the rule only applied to races in progress, and the red flag stopped the action.
Late in the season, however, Keselowski pulled the same stunt during a stoppage in Phoenix. This time, NASCAR imposed a $25,000 fine, which didn't sit well with him. The explanation was that NASCAR had warned Keselowski after Daytona not to do it again.
"I'm confused a lot," Keselowski said. "I'll just add that to the list."
Had NASCAR officials known about a stunt that Kyle Busch pulled years earlier, Keselowski and all the other drivers would have been crystal clear about the policy long before 2012.
Kyle Busch got away with something crazier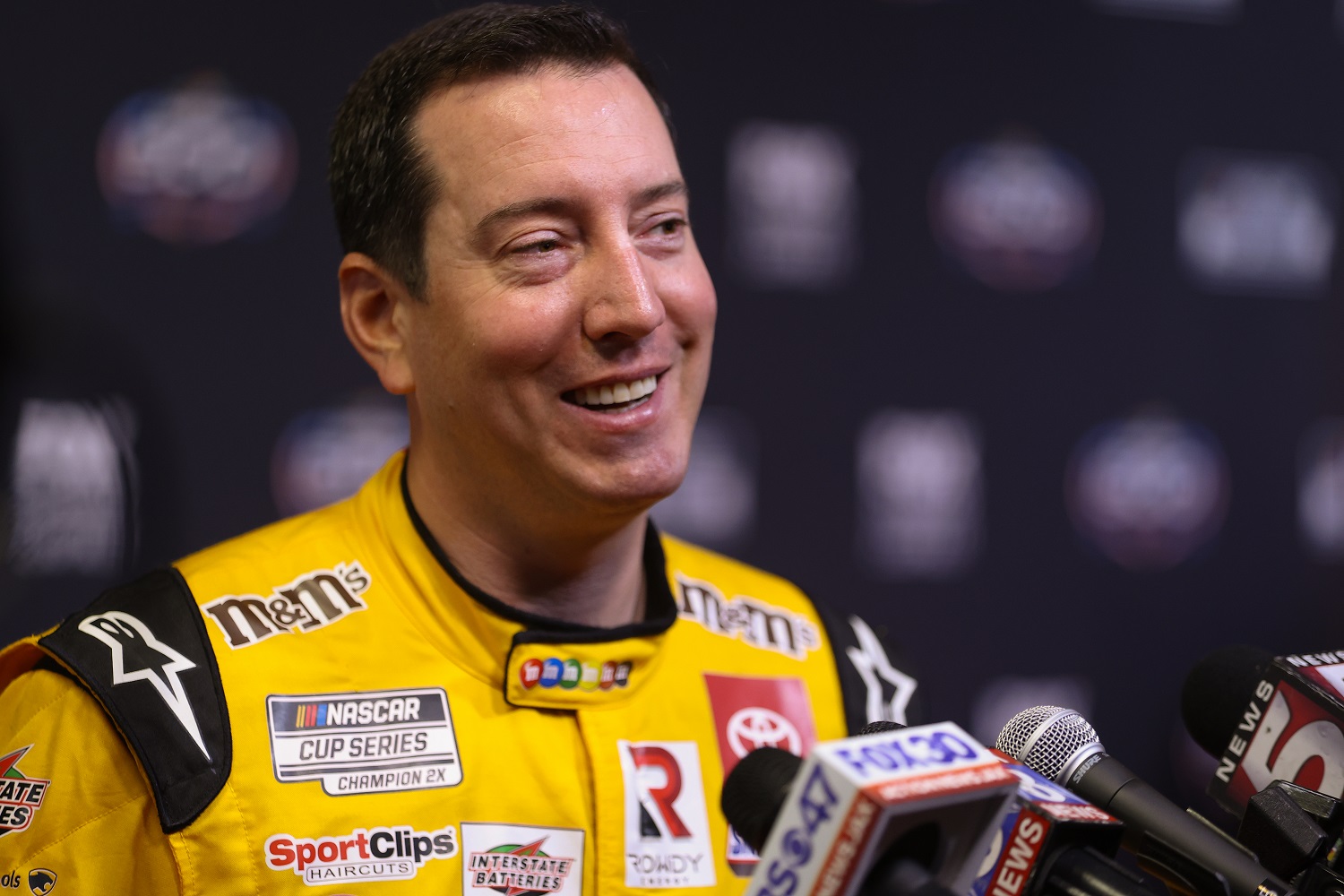 NBC Sports produced a fun feature this week in which NASCAR Cup Series drivers recalled their first time competing in the Daytona 500. Kyle Busch's recollection was slightly off, but his story was still the best of the bunch.
Busch began driving in the Cup Series late in the 2003 season, but he didn't race at Daytona until 2005 as part of the Hendrick Motorsports team. His car that season was the No. 5 Chevy now driven by 2021 season champion Kyle Larson.
Busch said a reporter gave him a disposable camera to document some of the things he saw in the days leading up to the race, and he remembers taking pictures of markers painted on the walls of the track.
"Another thing I did was I took the camera in the car," Busch said. "So, when I was leading my first laps in the Daytona 500 in my first Daytona 500, I pulled it out of the pocket and snapped the picture and put it back."
That's the part of the story that's a little bit off since the race recap doesn't show Busch leading any laps. But it also makes the story even better. It would have been dangerous enough for Busch to snap a photo while he was running ahead of the rest of the field. Doing so while in traffic qualified as an even more audacious stunt.
"I don't really know if that picture ever got developed or not," Busch continued. "Anyways, long story short. Jeff Gordon won, and I have no clue where I finished."
Busch lost time after an early accident also involving Mike Wallace, Ricky Rudd, Boris Said, and Elliott Sadler. The combination of pitting for repairs and then running a damaged car resulted in him completing just 148 of the scheduled 200 laps and finishing 38th.
More on the Brad Keselowski episode
As was the case with Kyle Busch, Brad Keselowski endured a disappointing Daytona 500 debut. He finished 36th in 2010 after cutting a tire a few laps into the race and wrecking.
Two years later, Keselowski gained fame by tripling his Twitter following in a matter of hours by tweeting from the Daytona 500. Thirty-four races later, he posted more images at Phoenix, triggering the $25,000 fine.
As it turned out, the $25,000 was almost inconsequential. One week later, Keselowski hit the jackpot. He finished 15th at Homestead-Miami, but it still earned him enough points to wrap up his only NASCAR Cup Series championship.
Like Sportscasting on Facebook. Follow us on Twitter @sportscasting19.