Kyle Larson's New Crew Chief Lost 21 Straight Times With the Century's Most Successful NASCAR Driver
Kyle Larson has lost Cliff Daniels to a four-week suspension. His replacement crew chief has never won in the Cup Series despite working with JImmie Johnson.
Kyle Larson begins the second half of the NASCAR Cup Series season with ground to make up and one hand tied behind his back in the Hendrick Motorsports No. 5 Chevy.
With just one race victory, two stage wins, and a seventh-place showing in points, Larson faces the prospect of beginning the playoffs much worse than was the case when he roared to the 2021 season championship. As he attempts to get back in stride, Larson comes to Nashville this weekend partnered with a crew chief who's on a Cup Series losing streak.
Kyle Larson has lost Cliff Daniels for a month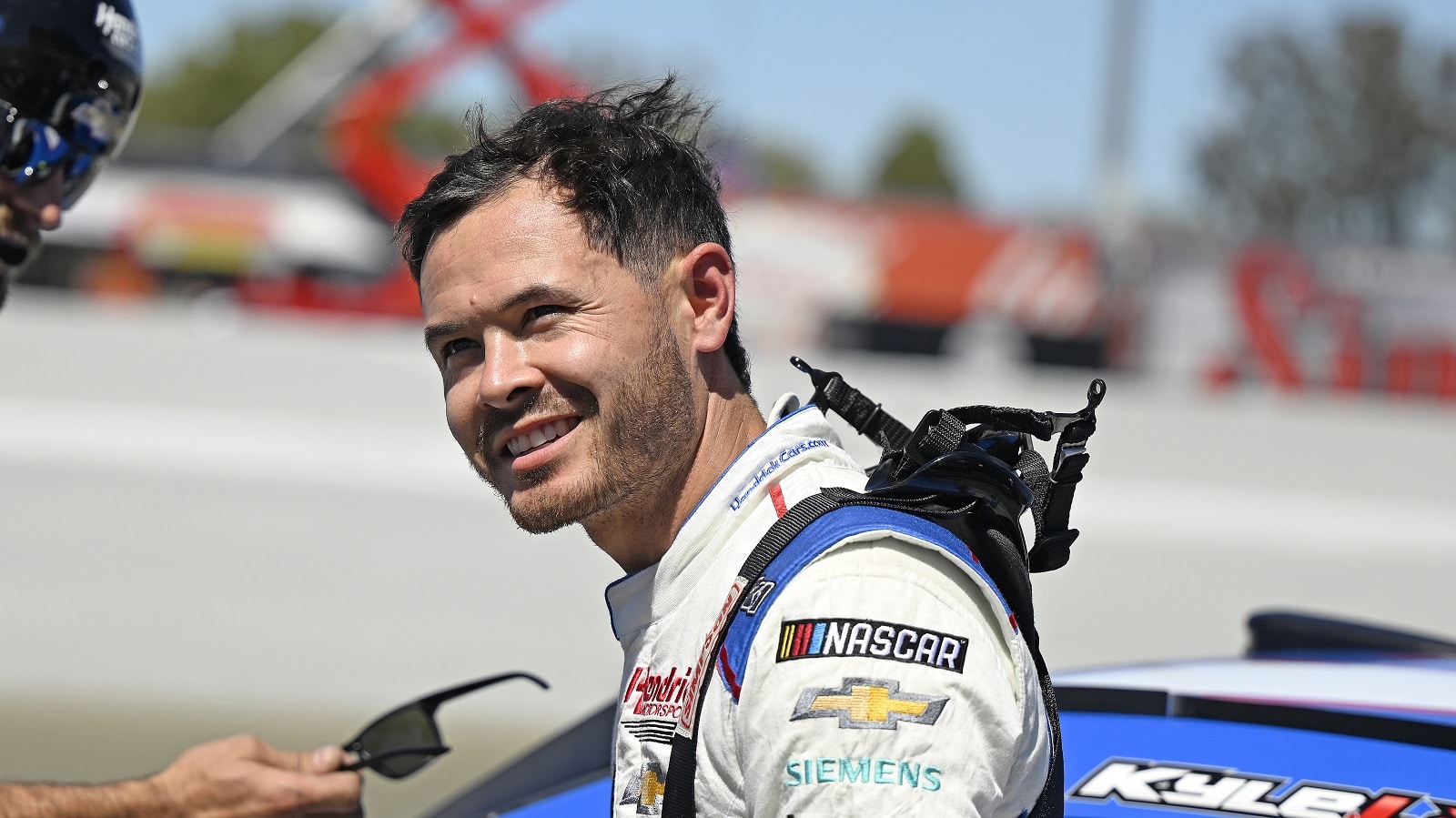 Kyle Larson's last appearance in the NASCAR Cup Series was a 15th-place showing at Sonoma, where he scored one of his 10 victories last season. Finishing in the middle of the pack was bad, but the circumstances were worse. Larson was in contention until a wheel fell off late in the race.
The incident triggered a four-race suspension for three team members. Among them is crew chief Cliff Daniels, whose pairing with Larson last season was magical. Daniels is held in high esteem at Hendrick Motorsports and across the Cup Series. Losing him costs Larson not only a master strategist but also a confidant who keeps the driver calm and focused.
Taking on Nashville, Elkhart Lake, Atlanta, and New Hampshire sans his crew chief is not how Larson envisioned returning from the Cup Series' one-week hiatus. Making up ground on the likes of Joey Logano, Ross Chastain, and teammate Chase Elliott will be that much more difficult.
Kyle Larson's new crew chief lost 21 straight races with Jimmie Johnson
The break in the schedule allowed Hendrick Motorsports time to decide how to cover the four-race suspension for crew chief Cliff Daniels. On Monday, the organization announced Kevin Meendering will fill in.
Meendering came to HMS in October 2018 to set the stage for replacing Chad Knaus as the crew chief on Jimmie Johnson's No. 48 Chevy. Johnson and Knaus were a legendary combination, winning 81 races and a record-tying seven championships together in 602 starts. Their success has been unmatched this century, and they are a lock to enter the NASCAR Hall of Fame in next year's voting.
Upon seeing Johnson slip to 10th and 2017 and go winless in 2018, HMS assigned Meendering as the new crew chief. After the pairing went winless in 21 starts in 2019, HMS moved Meendering aside and put Daniels in charge of the car.
Kevin Meendering has an extensive background
The winless spell with Jimmie Johnson doesn't define Kevin Meendering, 41, and tasking him to Kyle Larson's car for the next month makes sense. For one thing, the combination of Jimmie Johnson and Cliff Daniels went winless in their 50 starts after the change, but Daniels and Kyle Larson have been a major success story together.
Before coming to Hendrick Motorsports, Meendering worked as Elliott Sadler's crew chief on the JR Motorsports Xfinity team. Beginning in 2016, Sadler finished second, second, and fifth in the season standings.
Additionally, Meendering was already returning to a crew chief role. HMS is entering its own cars in three Xfinity series races this summer, and he is in charge of the car.  That includes a Larson/Meendering pairing on July 2 at Road America, the day before they'll also be collaborating in the Cup Series race.
All stats courtesy of Racing Reference.
Like Sportscasting on Facebook. Follow us on Twitter @sportscasting19 and subscribe to our YouTube channel.