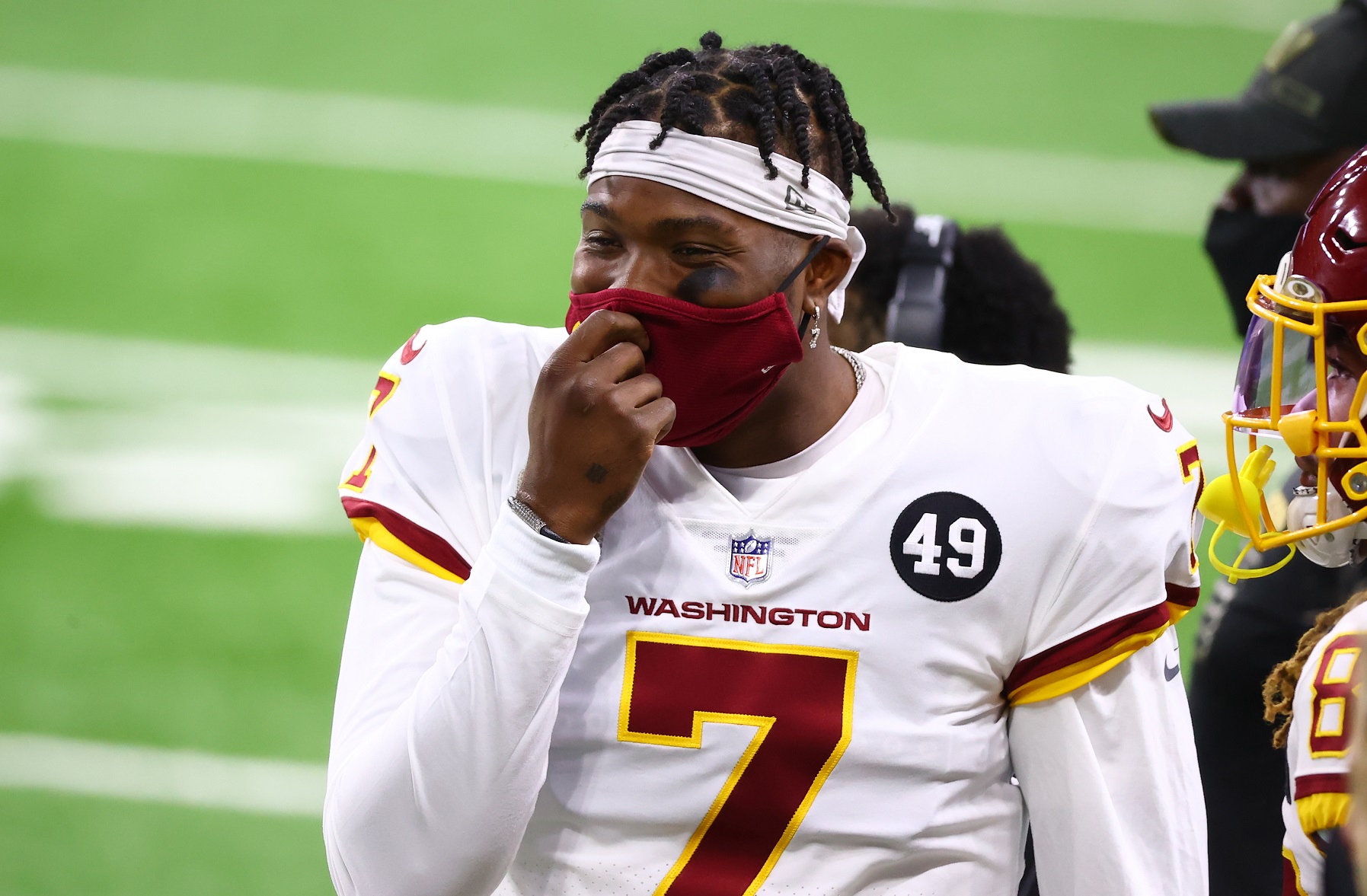 Kyler Murray Aside, Drafting Quarterbacks in 2019 Turned Out To Be a Terrible Idea
Dwayne Haskins isn't the only quarterback drafted in 2019 who could be staring at a short career.
Patrick Mahomes and Deshaun Watson have been the highlights of the 2017 NFL draft class of quarterbacks. For all his flaws, Mitch Trubisky's presence doesn't mar the group much, and C.J. Beathard still has a future.
Aside from Kyler Murray, the 2019 class of signal-callers has produced almost nothing but heartache for fans of their teams. The crash-and-burn by Dwayne Haskins raises this ugly possibility: Other than Murray, it's possible that not one QB from that group will still be in the league in 2023, let alone starting for his current team.
Kyler Murray and Dwayne Haskins are polar opposites
Almost two full seasons into his career with the Arizona Cardinals, Kyler Murray is star material. The No. 1 overall selection of the 2019 draft has thrown for 7,606 yards and 46 touchdowns in his first 31 games. He has rushed for 1,360 yards and 15 touchdowns. After taking 48 sacks as a rookie, Murray has had to eat the ball just 25 times in 2020.
Murray has connected with DeAndre Hopkins 111 times for 1,372 yards and six touchdowns in 2020. With Hopkins still possessing several productive seasons ahead, it's a duo that should menace defenses for a long time.
Juxtapose Murray with Dwayne Haskins, who went to the Washington Football Team with the 15th pick last year. Haskins was the Ohio State starter for one season before turning pro, and Washington rushed him into the lineup midway through his rookie season. He started seven games and finished with seven TDs and seven interceptions.
Haskins' first year under new head coach Ron Rivera didn't prove to be any better. He was 1-5 as a starter and threw five touchdowns compared to seven interceptions. Haskins lost his job early but returned in Week 15 following an injury to Alex Smith. He threw for 295 yards, a touchdown, and two interceptions in a loss to the Seattle Seahawks. However, that was followed by Haskins being photographed without a face mask at a party.
The team fined Haskins $40,000 and stripped him of his status as a captain. After a weak showing in Week 16 vs. the Carolina Panthers, Washington made the decision to release Haskins, virtually unprecedented for a first-round pick playing in just his second season.
The two other best hopes to endure may be close calls
The New York Giants have one season left to assess Daniel Jones before they make a decision on his fifth-year option. If Baker Mayfield gets paid after this year, maybe Jones gets paid next year.
For now, Jones is an enigma. He got off to a sound start after replacing Eli Manning last year and finished with 24 touchdown passes. However, he threw 12 interceptions in 13 games and fumbled a league-high 18 times. This season, Jones has regressed: an interception to match each of his nine TDs passes and another 10 fumbles.
Jones is dangerous on his feet and has not been surrounded by an abundance of talent. But 21 interceptions and 28 fumbles in 26 games cannot be considered acceptable by any stretch of the imagination. It's harsh to think that a No. 6 overall draft pick with a lot of positives simply will not make it to his fifth season as a starter, but it's a realistic possibility.
Drew Lock went to the Denver Broncos as the 42nd selection of the 2019 NFL draft and has started 12 games this season. With a 57.0% completion rate, 14 touchdown passes, and a league-worst 15 interceptions, his passer rating is a modest 72.5. The 2021 season might not be make-or-break for Lock, but it will go a long way toward determining whether he's headed for a long career in Denver.
Gardner Minshew appears to be as good as gone
The Jacksonville Jaguars found a promising signal-caller when they grabbed Gardner Minshew out of Washington State midway through the sixth round of the 2019 NFL draft. He has 37 TD passes and just 11 interceptions in 20 career starts … and presumably no future in Jacksonville.
The Jaguars have won the Tank for Trevor Derby over the New York Jets. They will draft first next April and will almost certainly take Clemson quarterback Trevor Lawrence if he declares for the draft. Minshew is too good to dump, but he figures to be benched in favor of Lawrence by the middle of next season. He either becomes trade bait before the 2022 season or rides out his rookie contract in Jacksonville. Either way, he won't be the Jaguars' starter by then.
Of the rest of the 10 QBs in the 2019 draft class, the biggest name is Jarrett Stidham, who hasn't been able to displace Cam Newton in New England this season. It would take a true optimist to believe that Bill Belichick won't go in another direction at quarterback in the next year or two.
All stats courtesy of Pro Football Reference.