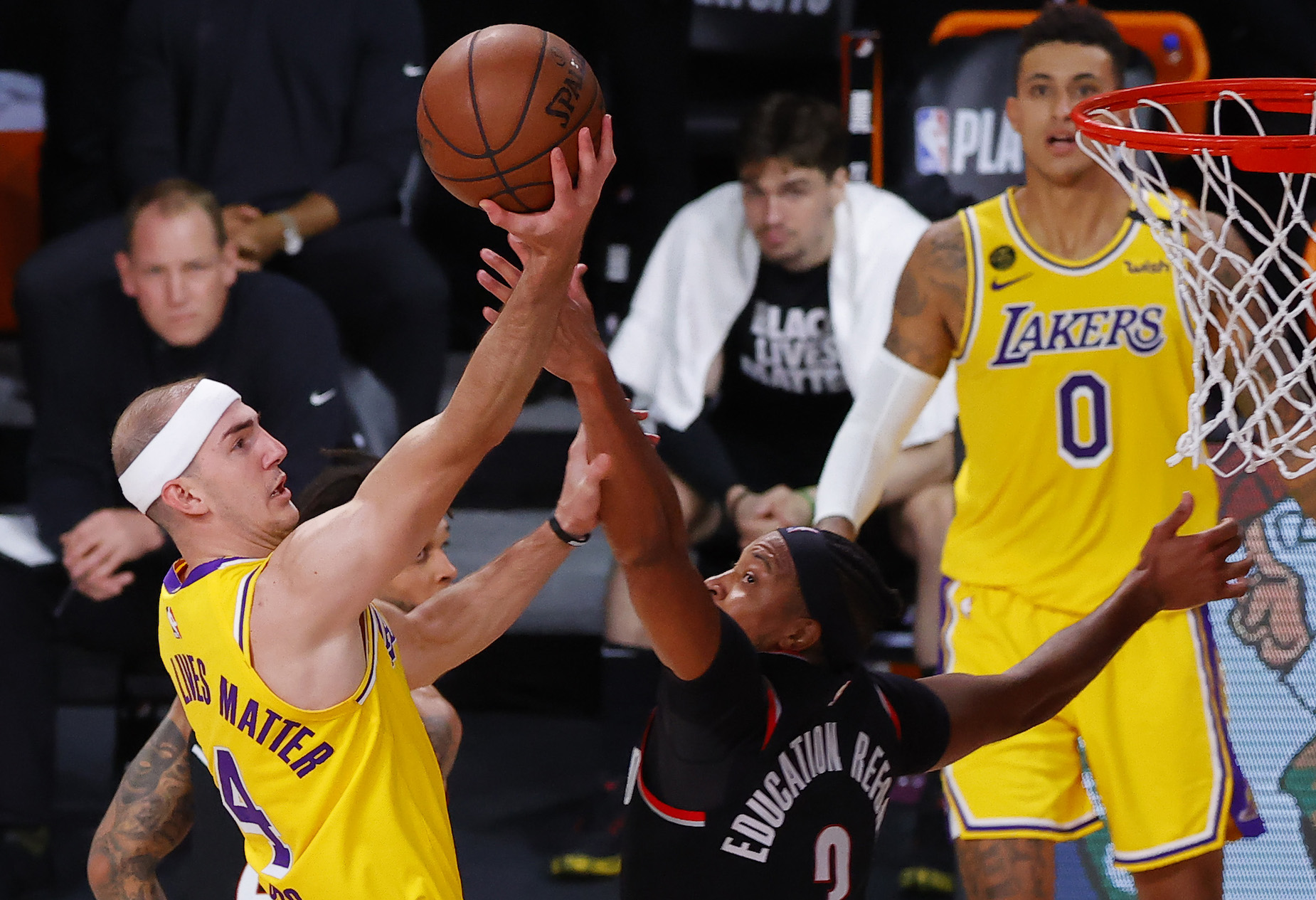 Lakers Guard Alex Caruso Has Become a Fan Favorite, But He's Also a Surprisingly Good Player
Lakers guard Alex Caruso has become a cult hero and a fan favorite during his time in Hollywood. He's also a better player than you might think.
When you think of the LA Lakers, superstar players probably spring to mind. Whether you prefer historical legends like Magic Johnson and Kareem Abdul-Jabbar or modern greats like LeBron James and Anthony Davis, the Hollywood club never has any shortage of talent. Despite what you think, that talent pool also includes Alex Caruso.
If you tune into a Lakers playoff game and see Caruso on the floor, you might assume he's just a bench player stepping in to eat some minutes. This year, though, the guard has proven himself to be both a cult hero and a surprisingly good player.
Alex Caruso's road to the LA Lakers
Due to their star status, Anthony Davis and LeBron James were household names before they ever entered the NBA. Alex Caruso, however, was a less-heralded recruit.
After playing his high school and AAU ball in Texas, Caruso took his talents to Texas A&M. He spent four seasons with the Aggies, developing into a reliable starter; while the guard never stuffed the stat sheet—he averaged eight points, 4.7 assists, and 3.6 rebounds per game for his college career—he did earn a spot on the 2016 All-SEC Defensive Team.
When the 2016 NBA draft rolled around, Caruso went unselected. He suited up for the Philadelphia 76ers summer league squad but failed to make the regular-season roster; he then signed with the Oklahoma City Thunder, was cut, and spent the season with the club's G-League affiliate.
The following offseason, the guard joined the LA Lakers' summer league team; after a solid showing, Caruso earned a two-way contract. He spent the next two years splitting his time between the big club and the G-League's South Bay Lakers before earning a two-year contract in July 2019. Since then, he's become a rotation player on the Lakers' roster, averaging just over 18 minutes per game.
Becoming a fan favorite in Hollywood
Given the quality of his teammates, Alex Caruso is never going to be the top dog on the LA Lakers. That reality, however, hasn't stopped the guard from becoming a fan favorite.
His popularity is due, at least in part, to his appearance and status as a role player. While fans may love LeBron and Anthony Davis, they're not the most relatable; Caruso, on the other hand, looks like someone you'd find playing pick-up ball at your local gym. That reality has made him an Internet sensation and a cult hero.
Caruso, for his part, agrees with that assessment; in a world dominated by freakish athletes and seven-foot-tall superstars, he's someone who the fans can connect with.
"I think it's the way I play—every game I go out there and play as hard as I can, and I think people appreciate that," he told Leo Sepkowitz of Bleacher Report. "Then it's the fact I look like I could be a common person walking on the street. They all want to hold onto like, 'Hey, that's one of us out there doing it,' which is funny because I feel like I'm a normal person. I walk around and I don't feel like I'm 6'5″, I don't feel like I'm this guy that plays for the Lakers. But it's the reality of it."
Alex Caruso might be an Internet meme, but he's also a surprisingly solid player
On paper, Alex Caruso's stat line doesn't stand out; he averaged 5.5 points, 1.9 rebounds, and 1.9 assists per game during the 2019-20 campaign. Looking beyond those numbers, though, shows that the guard is a surprisingly good player.
As Mike Trudell of NBA.com explained, Caruso has a knack for doing the little things right on the court, like playing tough defense and making the right pass under pressure. That's reflected in his "net rating, which measures a team's point differential per 100 possessions."
When you eliminate players who appeared in fewer than 20 games and averaged under 15 minutes per night, Caruso has the 13th highest net rating in the league; makes him the Lakers leader, placing him ahead of LeBron James. While it's obviously not the end-all, be-all of stats, it does suggest that the Lakers are playing well when he's on the court.
From an anecdotal perspective, Anthony Davis has also been impressed by Caruso's ability to step in and do a job."He always seems to make the right play, and he always seems to be in the right position at the right time, all the time," the big man explained, according to Silver Screen and Roll. "He's tough, a big guard, finishes well, shoots well, reads the defense well. You can put him on anybody, one through three, he's going to lock them up."
No one would call Alex Caruso a game-breaking talent or the NBA's next superstar. The guard, however, is more than just an Internet meme; he's a solid role player on a talented Lakers team.
Stats courtesy of Sports-Reference and Basketball-Reference