Larry Bird Didn't Have to Say a Word to Make an Opponent 'Look Like a Real Douche Bag'
Larry Bird was legendary for his trash talk on the court, but he could also get in his opponents' heads without saying anything.
Larry Bird is nearly as famous for his trash-talking as he is for his skills on the court. Throughout his storied career, Bird often struck fear in his opponents and crushed their spirits with his pointed words. However, the legend of Larry's quick tongue was so strong that, at the Boston Celtics Hall of Famer's peak, he could get into opponents" heads without saying a word.
Larry Bird could get in his opponents' heads without saying a word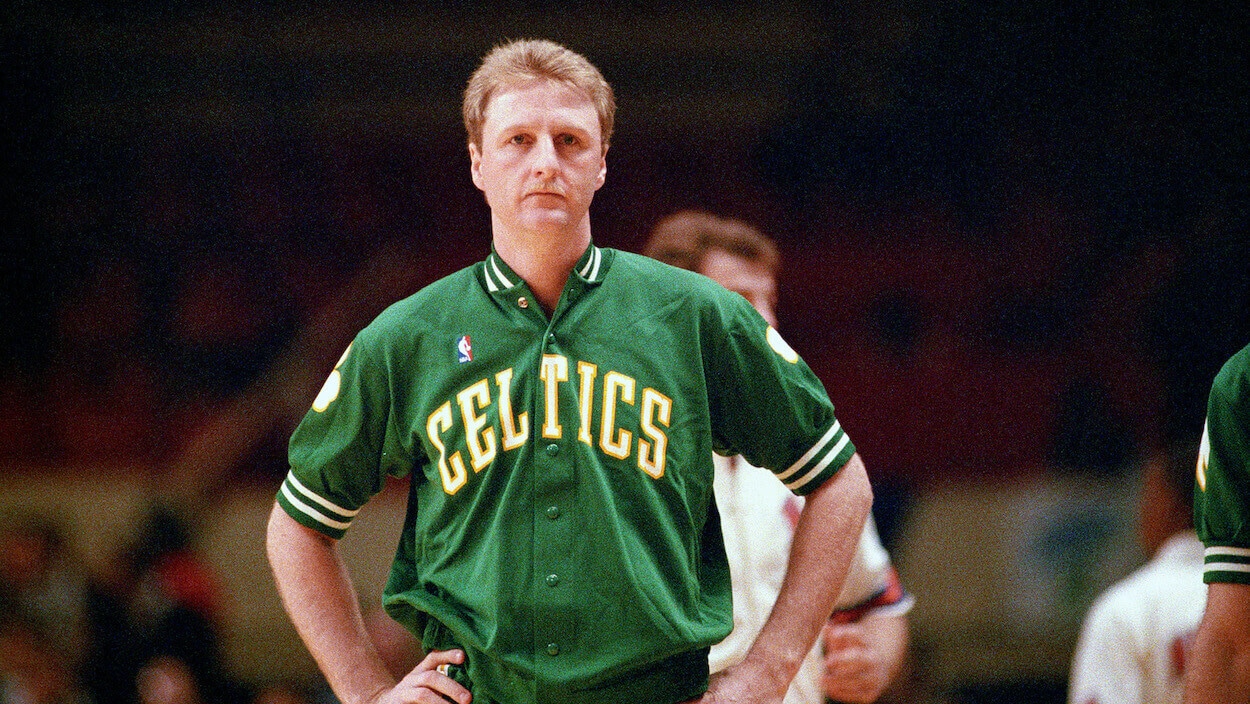 Leo Rautins was an excellent college player at Syracuse and the second-ever Canadian player taken in the 1983 NBA Draft.
The Philadelphia 76ers took Rautins No. 17 in that draft, but a serious knee injury ended his career after just 32 NBA games over two seasons. His biggest claim to fame in NBA history is probably that the 76ers released him in 1984 to make room for their first-round pick that season, Charles Barkley.
Despite not playing all that many NBA games, the 6-foot-8 forward did have the distinct (dis)pleasure of playing against Larry Bird.
In 2020, in a retrospective about Bird's legendary trash-talking, Rautins shared a few stories with The Athletic about his experiences with Larry Legend.
Rautins told writer Jayson Jenkins, "I say this in the utmost complimentary way: Larry was a prick."
He then delved into what made him say this, starting with his recollection of their head-to-head battle on the court.
"I was with the Nets in preseason. I'm covering Larry for a couple possessions. He comes off this screen and curls up from the baseline to the top of the key. He catches the ball and I'm way back. I'm doing everything I can to fight through these screens and catch up to him," Rautins recalls. "He didn't say a damn word, but I swear to God he was thinking, OK, come on, keep coming, keep coming, you're almost here, jump … OK, I'm shooting the ball. It was the weirdest feeling I've ever had with nobody saying a word."
"I've played this game long enough to know: He waited for me. He waited for me to make that a tough shot," Rautins says to this day. "I 100 percent know he was screwing around with me."
And that wasn't the only story Rautins shared about Bird unnerving opponents without actually saying anything.
After leaving the NBA, Rautins played professional basketball in Europe from 1985 to 1993, save for two one-year stints in the CBA.
While playing in France, Rautins played with former NBA point guard Leon Wood, who participated in the first-ever NBA 3-point contest against Larry Bird in 1986.
"They're all in the locker room. Almost right before they're supposed to go out there, Larry walked in the room and looked around. He looked at one guy and laughed. Looked at another and went, Eh. He just went around the room and did that and walked out," Rautins recalls from Wood's story.
"Think about that. The pressure you just put on yourself. You're going to look like a real douche bag if you flop. And [Bird] won it."
So, whether it was a brief NBA-er like Leo Rautins or a room full of the best shooters in the NBA, Larry Bird didn't even have to open his mouth to get in his opponent's heads.