Larry Bird's Greatness Once Left Him Facing an Unusual Request From the Referee
Basketball fans around the world were privileged to see Larry Bird take the court. Referees, it seems, were just as keen.
For most basketball fans, meeting Larry Bird would be a pretty cool brush with greatness. Even if you can't stand the Boston Celtics, it's impossible to overlook what Larry Legend did on the hardwood. And while you might think that those who work in sports would be a bit more cynical — or, if nothing else, less awestruck by star players — that's not always the case.
Consider, for example, one game during the Tournament of the Americas, which proceeded the 1992 Olympics. Bird was there as a member of the Dream Team, but he barely played due to his bad back. That reality, however, didn't sit well with one referee.
As the story goes, the forward was resting on the sidelines when that official came over with a request: Could Bird please enter the game? And, after some urging from Magic Johnson and Michael Jordan, he did just that.
Sound unbelievable? Well, let's check it out.
A foreign referee asked Larry Bird to enter the game so he could tell his family about it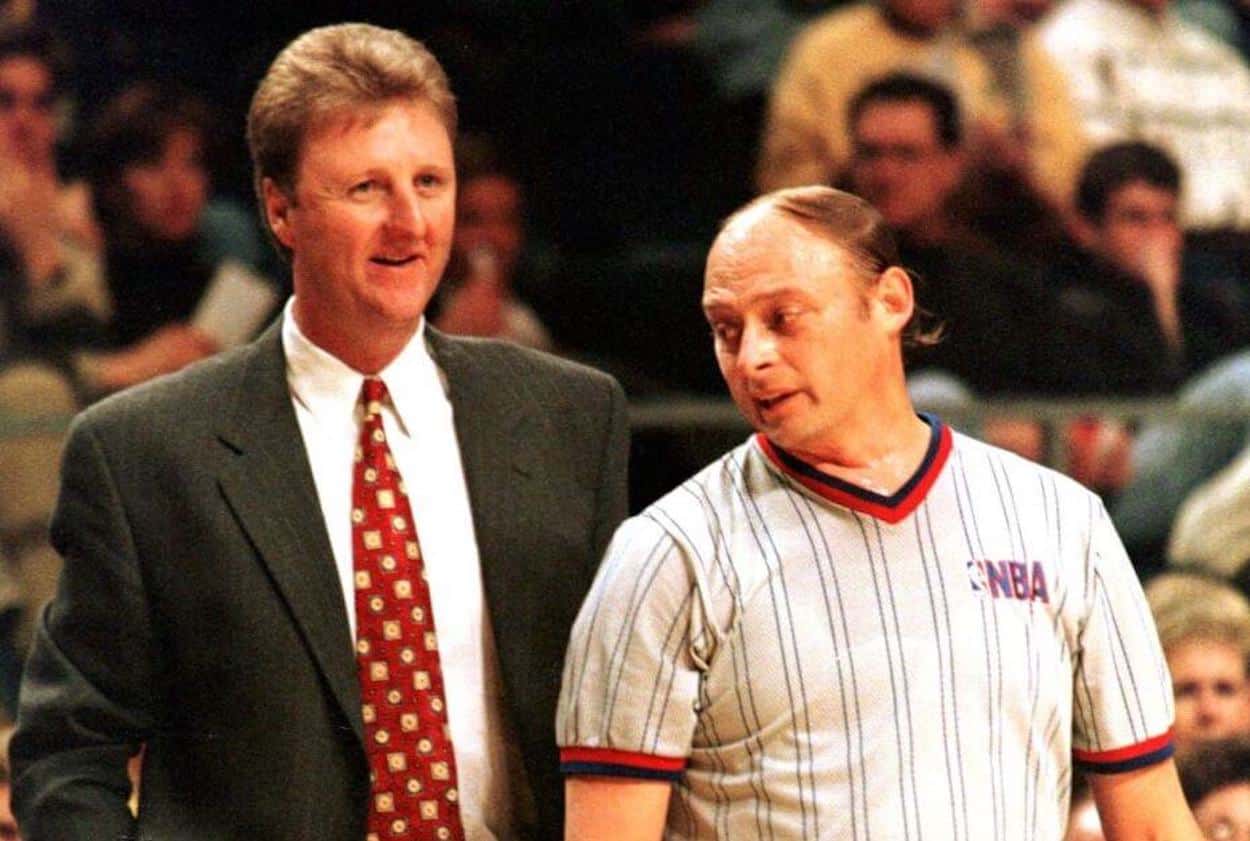 As anyone who's attended a sporting event after years of watching on TV can confirm, there's something special about seeing elite athletes strutting their stuff in person. That's apparently even true for those working the game.
Ahead of the 1992 Olympics, the Dream Team traveled to Portland for the Tournament of the Americas before heading to Barcelona. Given the talent on the squad and his back pain, Larry Bird didn't see much action; he spent some of his time lying on the floor near the bench, trying to get comfortable.
On one occasion, though, he received an unusual request to enter the fray. It didn't come from the coaching staff, though.
"In one of those games, I was in my usual spot on the floor when this Latin American official ran by our bench," the forward recounted in his 1999 book, Bird Watching. "I hadn't played all game, and as he ran by, he said, 'Mr. Bird, Mr. Bird, please, you must come into the game.' I was looking at him, wondering what he was talking about. He said, 'I must be able to tell my family that I refereed a game in which the great Larry Bird was playing.'"
And while Bird wasn't usually someone who bowed to pressure — consider his outfit choices during summer vacation as an example of that reality — his teammates played their part in getting him on the court.
"Of course, it was my luck Magic [Johnson] and Michael [Jordan] were sitting on the bench with me at the time," the living legend continued. "Next thing I know, they're pulling off my warm-up jersey and telling Chuck Daly to get me in there."
And while there's no way to be sure what happened after that, we do know that the forward appeared in two contests during the tournament. And, despite his modest stat line — he scored 19 points, pulled down seven rebounds, and dished out two assists during those games — hopefully Larry Legend put on a show for that referee.