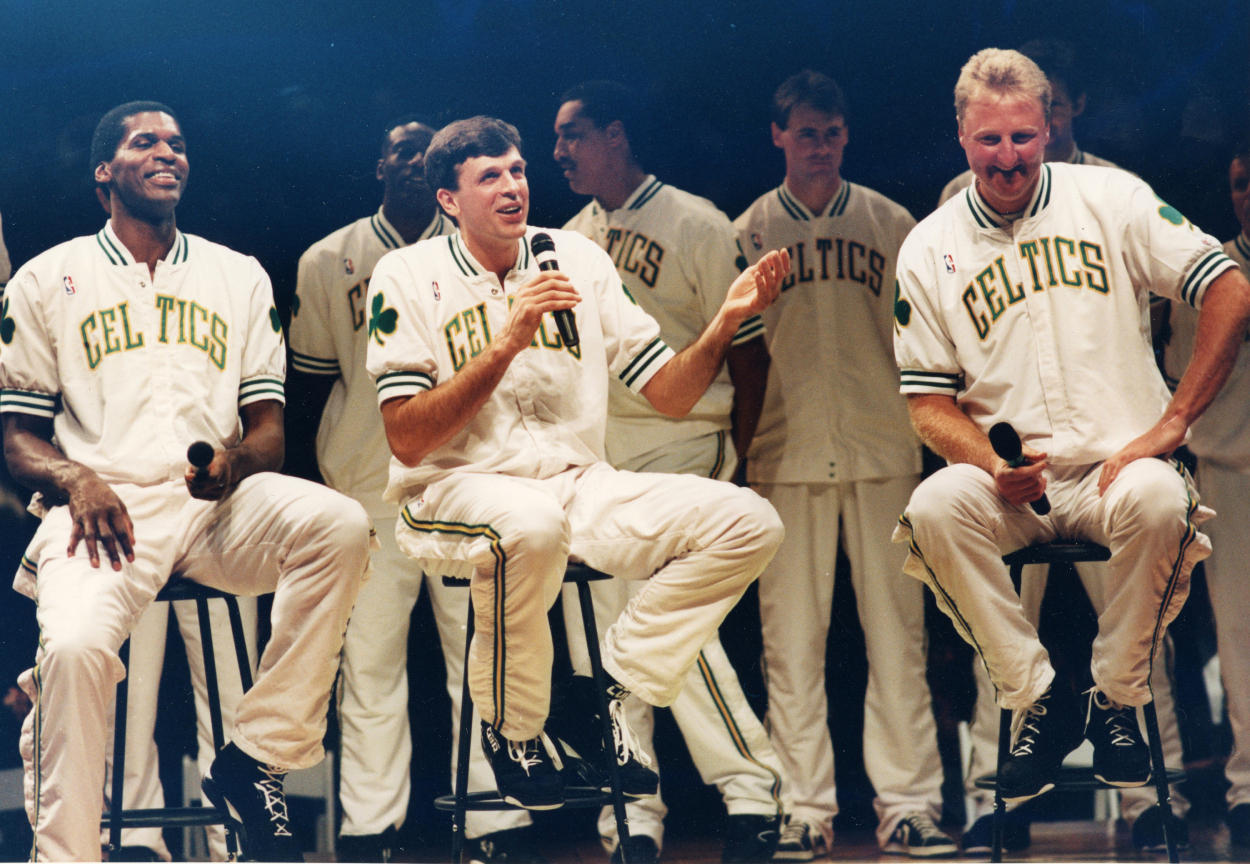 Larry Bird Had Classic Response When Asked What He Would've Said to the Hated Bill Laimbeer Had He Shown up for Larry Bird Night
Larry Bird had a classic response when asked what he would have done had Bill Laimbeer showed up for Larry Bird Night.
It was the hottest ticket in town since Game 7 of the 1984 NBA Finals. Getting into Larry Bird Night in February 1993 at the Boston Garden was quite the challenge. The building was filled with stars, including Magic Johnson, Bobby Orr, John Havlicek, and many of Bird's former teammates.
One person who was not in attendance was Bill Laimbeer, Bird's arch-enemy and noted instigator. When the Boston Celtics legend was asked what he would have done had Laimbeer shown up, he had a classic Larry Bird response.
Larry Bird Night was quite the ordeal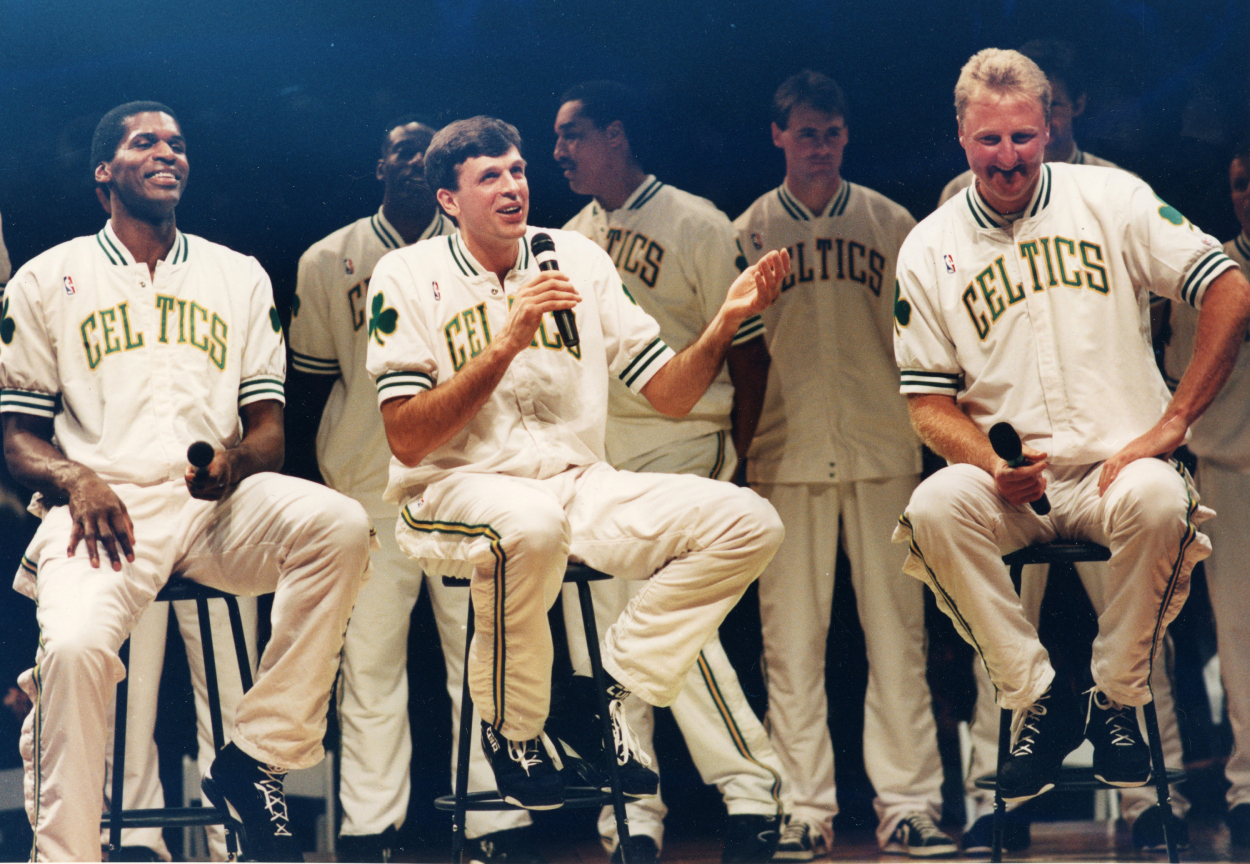 According to the Los Angeles Times, if you weren't one of the lucky 14,890 people who managed to grab a ticket for Larry Bird Night, scalpers were offering them for as much as $500 on the street. Steven Riley, then the Celtics' vice president of sales, said those tickets were the toughest to get since the seventh game of the 1984 NBA Finals against the Los Angeles Lakers.
It was a night of recollection and tributes. It was also a night of standing ovations, the first coming for Georgia Bird, Larry's mother. She didn't say much, but when emcee Bob Costas asked her to comment on her son, she said, "He was a great little boy."
Many big-name Celtics and former Celtics were in attendance, including Tiny Archibald, Bill Walton, Dennis Johnson, K.C. Jones, Artis Gilmore, Cedric Maxwell, JoJo White, and Dave Cowens.
Bird emerged from the tunnel, generating another standing ovation with his name chanted as he walked to the center of the court. It was a great tribute to the man who helped bring back the winning tradition to Boston with three NBA titles.
Larry Bird gave classic response regarding Bill Laimbeer's absence
Bird was widely regarded as one of the biggest trash-talkers in the game. He was also quick-witted and wasn't shy about his strong dislike for Detroit Pistons center Bill Laimbeer. That all came together for one hilarious moment on Bird's special night.
Laimbeer was known as the NBA's biggest antagonizer and was likely the league's most hated player. Bird had referred to him as a dirty player.
The two went at it during Game 3 of the 1987 Eastern Conference Finals. Laimbeer flagrantly brought down Bird with a nasty foul that began a heated battle on the court as punches were thrown. When the action stopped, Bird fired a basketball at Laimbeer and was ejected.
At the beginning of the conversation with Bird on Larry Bird Night, Costas brought up Laimbeer.
"It seems like a perfect night, except for the fact that Bill Laimbeer couldn't be here," Costas said, according to the LA Times. "What would you tell him if he were here?"
In typical Bird fashion, he answered, "That we would probably hang him up with (the banners)."
Bird said he didn't like Laimbeer even outside of basketball
Laimbeer offered the poorest of excuses for that violent foul on Bird in 1987.
"Bird went up for the shot, and it looked like (Dennis) Rodman was going to undercut him," Laimbeer said after the game, according to Sports Illustrated. "I grabbed hold of Larry to break my fall."
Again, Bird had a quick-witted response.
"Yeah, right, he was trying to break his fall," Bird said. "And when I threw the ball, I was just trying to get it to the ref."
Well after his playing days, Bird admitted he didn't like Laimbeer, even off the court. In a sit-down interview with Bill Simmons, he explained.
"It's because he was a dirty player," Bird said in a YouTube video posted by The Universe Galaxy. "He had to do what he had to do, and I understand that, but you take like (former Piston) Ricky Mahorn, he'd hit you and you knew you were going to get hit. He didn't try to maim you. Bill tried to hurt you."
It's a good thing Laimbeer didn't show up on Larry Bird Night. It may have soured a perfect evening in Boston.