Larry Bird Is Unsurprisingly a Fan of Modern Basketball's Evolution: 'The Little Guys Are Taking Over'
When you think of Larry Bird, long-range shooting probably comes to mind. While the legendary forward wasn't a one-trick pony — he was a pure scorer and a deadly trash-talker — he certainly knew how to tickle the twine from downtown.
Through that lens, you'd probably think that the forward appreciates today's NBA. Three-point shooting, after all, is essentially a requirement, and almost everyone, barring the purest of centers, will float to the perimeter. And while you'd be right, Bird didn't just give modern basketball the metaphorical thumbs up. He addressed the subject with his typical candor.
Let's check it out.
Larry Bird likes the way that basketball has evolved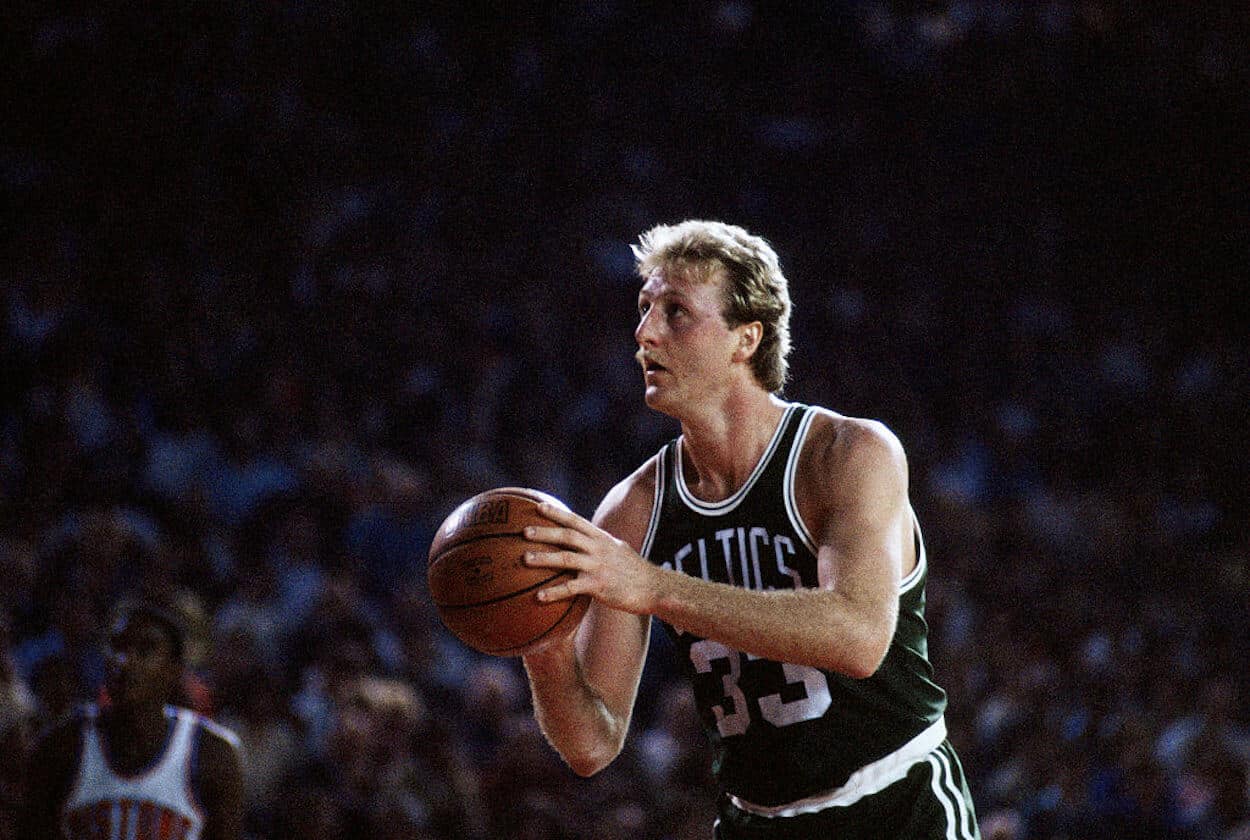 When a former player speaks about the evolution of their preferred sports, it's reasonable to expect a "back in my day" mentality. And while Larry Bird can certainly be set in his ways, he had no problem with the NBA becoming more and more reliant on outside shooting.
In a 2019 Associated Press story (h/t the Daily Hampshire Gazette), Brian Mahoney chatted with the living legend about a handful of topics. Unsurprisingly, given his exploits in the Three-Point Contest, one of those was the evolution of NBA offense.
"Bird still does some scouting for the Pacers," Mahoney explained, "and is a fan of today's wide-open style of play and its heavy reliance on the 3-point shot." That wasn't all, though. The former Celtic also provided some quotes about the topic.
"My concern 15 years ago was everybody's going to be 6-(foot)-9 like Magic Johnson at the point guard, and the little guys are going to get squeezed out. Now it's just the opposite," Bird said. "The big guys are getting squeezed out, and the little guys are taking over, and the 3-point line has been there since 1980, and nobody utilized it until the last 15, 17 years. I can remember watching Kentucky play, and Rick Pitino was shooting 3-pointers all the time, and I go, 'Jesus Christ, no way you can win like that.' Now if you don't do it, you're not going to win."
That wasn't the entirety of his comments, however. Larry Legend admitted that, back in his day, defenses didn't really bother covering players in three-point land.
"Matter of fact, when I played, we never guarded guys out there," he added.
That wasn't the only time Bird has praised the modern NBA
And, lest you think that Bird's comments were a one-off, there are some other quotes from the former star about the state of modern basketball. In February 2018, he shared his take on the way NBA physicality has evolved over the years. As someone who shone in the rough-and-tumble 1980s, Larry Legend is glad that offensive players have a bit more room to strut their stuff.
"I really like the game now. I really think they cleaned it up as far as the grabbing, the holding, the cheap shots," he said. "When you're out there playing, you like to have freedom, and they have that now." 
As I mentioned earlier, it's easy to have a personal bias and default to the belief that your era was the best. And while we know that Larry Bird has no problem holding firm on any of his convictions, he doesn't seem to have a problem with the way basketball has changed.