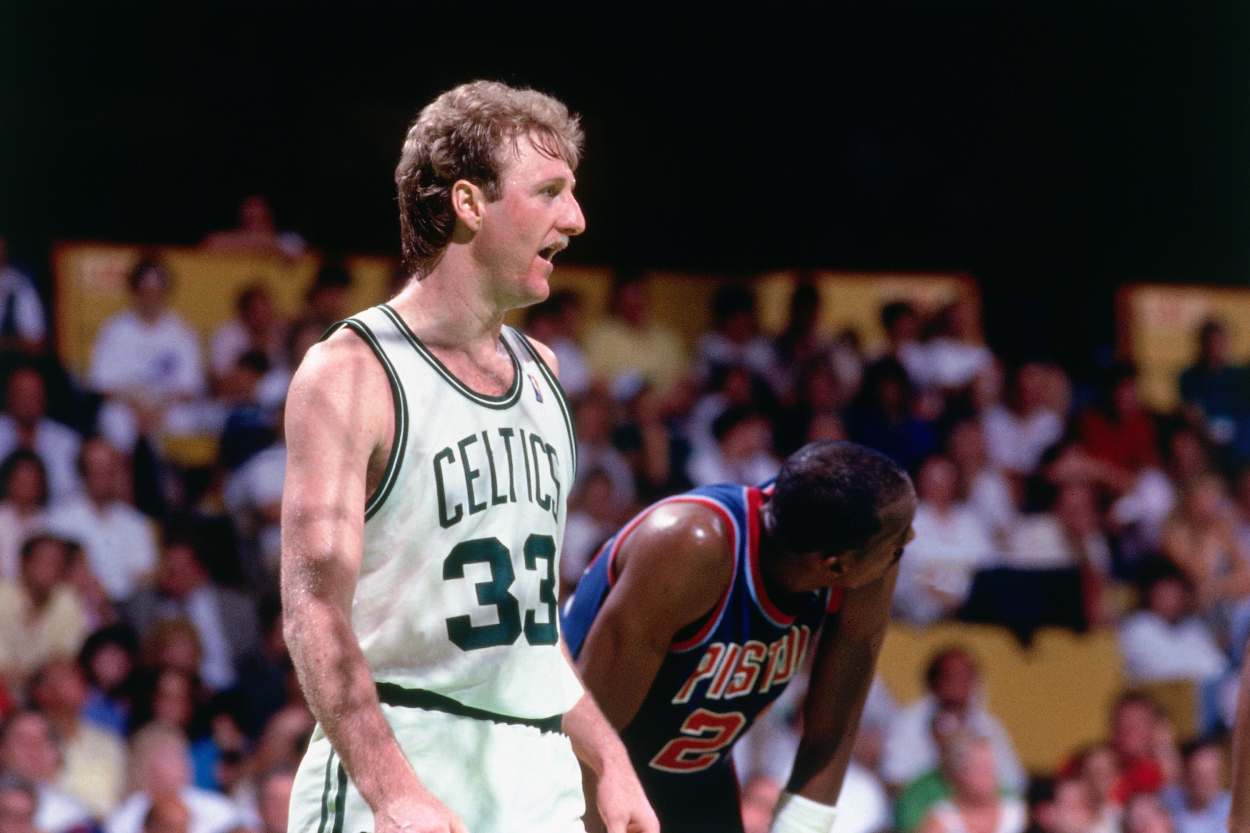 Larry Bird Once Showed His Incredible Cockiness by Sending a Confident Wink to a Reporter Before Shooting a Meaningful Shot: 'Guys Don't Do That Today'
Larry Bird was as confident as they come throughout his NBA career, and he once showed his incredible cockiness by sending a wink to a reporter before shooting a meaningful shot.
Over the years, a plethora of stories have come out about Larry Bird and the immense confidence he had in his abilities throughout his NBA career with the Boston Celtics. However, there weren't too many people who got as close a look at it as Boston Globe columnist Dan Shaughnessy.
In fact, Shaughnessy recently used a story to prove Bird could back up every bit of his cockiness. To put it simply: Larry was just too good.
Larry Bird went on a free-throw streak in 1990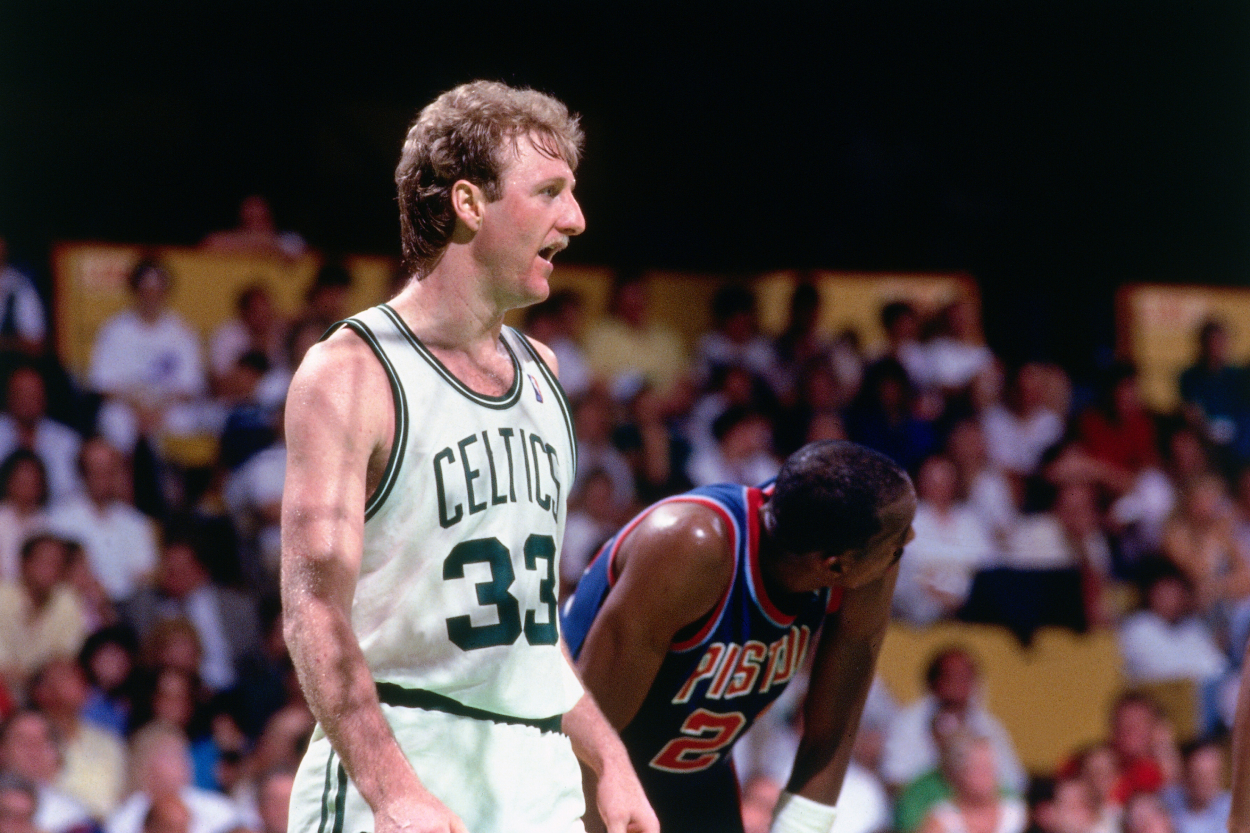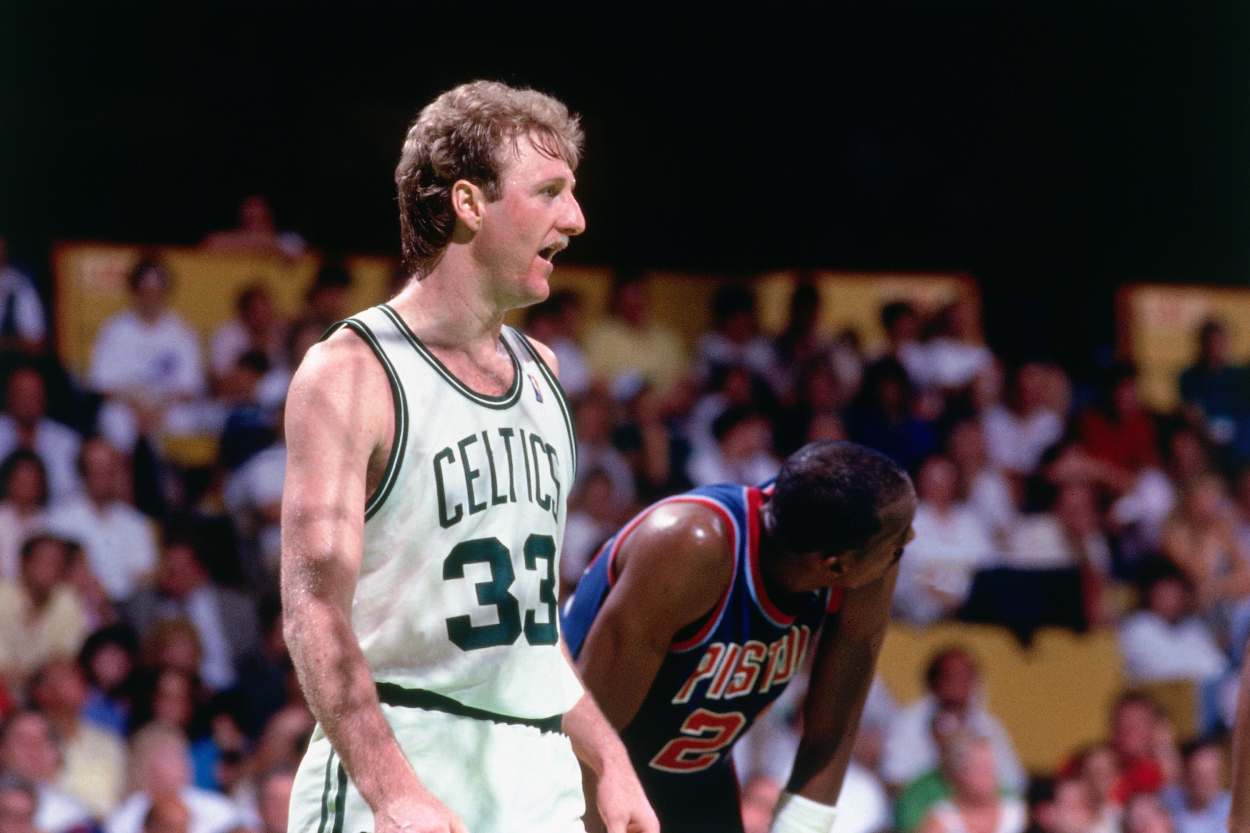 In a recent interview with Rich Eisen, Shaughnessy recalled a story from when Larry Legend was on a free-throw streak and had made a significant amount consecutively.
He didn't say what year the story took place, but it's reasonable to assume it occurred in 1990 when Bird sank 71 consecutive free throws, per the Los Angeles Times. That final mark was just barely short of the then-record that Calvin Murphy held, which was 78.
Micheal Williams later broke Murphy's record in a streak that started during the 1992-93 season and extended into the 1993-94 campaign, reaching 97 total.
Despite not reaching Murphy's mark, though, Bird's 71 was still impressive. And Shaughnessy, of course, had to document it in the Boston Globe.
Larry Legend gave the reporter a wink before sinking 1 of his free throws
During Bird's streak, Shaughnessy planned to write about it in a story that would be in the newspaper. He essentially needed Larry to make his shots during a specific game so that his already-written article wouldn't be wrong.
"I'd get there early, plug in my stone-age computer next to the bench; he'd come over, he called me 'Scoop,' he said, 'Scoop, what are you working on?'" Shaughnessy said on the Nov. 24 episode of The Rich Eisen Show. "I was like, 'I'm doing an early story. You are approximating the NBA record for consecutive free throws. … So, don't miss one tonight, or I'll look bad in the paper.'"
Shaughnessy said Bird then got fouled in the first half of that night's game. He made his first free throw. But before shooting his second, he looked at the columnist and sent him a confident gesture.
"He looks over and winks at me before he makes the second," Shaughnessy said. "Guys don't do that today."
Having that much confidence is unreal, but it just adds to Larry Bird's legend.
He was a cocky, trash-talking hooper.
Larry Bird was as cocky as they come during his career, but he could back it up
There have been numerous stories to come out about Larry Bird's confidence over the years.
The man heavily used his left-hand, which was his off-hand, in an actual game and still dropped 47 points. Bird also once walked into a 3-point contest and asked the other players which of them would finish second.
But there was another instance with Shaughnessy where Bird put his legendary personality on full display.
Due to the fact Larry had recently injured his shooting hand, the reporter decided to compete against him in a shooting contest.
"I challenged him about this taping of the hand, how he [couldn't] do that in the game, and he said, 'I could tape my whole hand up, make more shots than you.' And I'm like, 'I don't know,"' Shaughnessy said during the On the Parquet podcast in 2015, per The Boston Globe.
The two then shot 100 free throws, worth $5 a shot.
Despite a close first round, Bird still won $160 off Shaughnessy, and he even played with the reporter's "eight $20 bills in his shoe the" next night during a conference finals game against the Philadelphia 76ers.
No matter what the challenge was throughout his iconic NBA career, it seemed Larry Bird always prevailed.
You can't really blame him for having so much confidence, either.
Stats courtesy of Basketball Reference