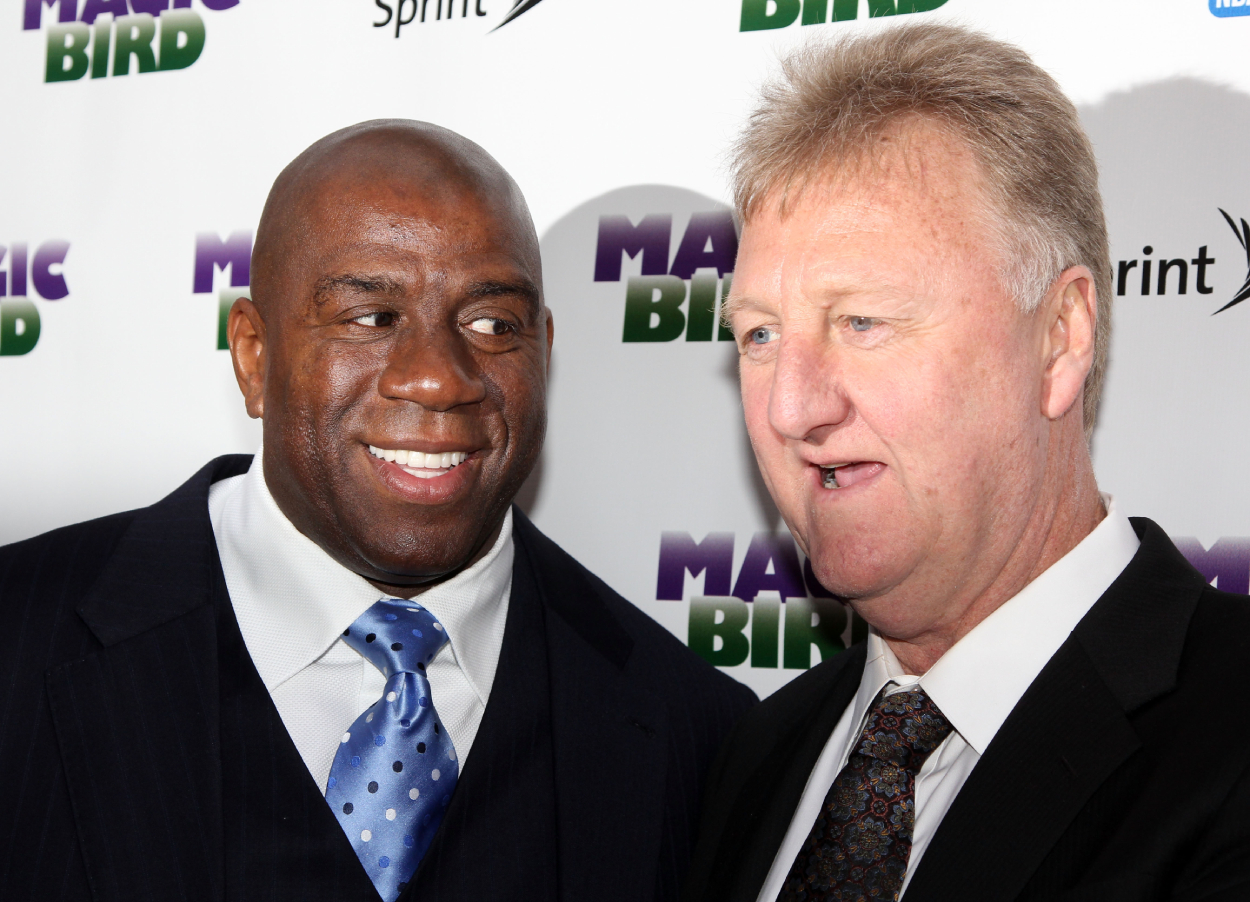 Magic Johnson Shares Iconic Larry Bird Stories in Honor of the NBA 75th Anniversary Team: 'That's a Bad Boy'
The NBA recently unveiled its 75th Anniversary Team that featured various past and present stars who have dominated the league over the years. Magic Johnson and Larry Bird were among the former players who made the list, so Johnson recently shared some iconic stories from Bird's days as one of the league's most dominant players.
The NBA 75th Anniversary Team included a plethora of iconic players — past and present — who represent the league's rich history and the hard work that every star puts into being great. To no one's surprise, Los Angeles Lakers legend Magic Johnson and Boston Celtics icon Larry Bird both made the team, so in honor of the recognition, Johnson looked back at some of his favorite Bird moments.
Magic Johnson and Larry Bird made the NBA 75th Anniversary Team
In honor of the NBA tipping off its 75th season, the league unveiled a list of its 75 greatest players to ever play (due to a tie, it actually included 76).
Eleven current stars earned spots on the team, including LeBron James, Kevin Durant, Stephen Curry, Giannis Antetokounmpo, and several others. But it mostly consisted of past players like Larry Bird, Magic Johnson, Michael Jordan, Kareem Abdul-Jabbar, Kobe Bryant, and Shaquille O'Neal.
"I think you know that God has blessed you, put you in this position," Johnson said on the Oct. 20 episode of ESPN's NBA Today. "I just wanted to play in the NBA. You never think that you'd be one of the top 75. You just wanted to accomplish your goal and dream, which is to play in the NBA and win a championship. So, to be named in the top 75 is tremendous; I don't take it lightly."
The list didn't rank the stars in any particular order, and the voters consisted of current and former players, front office executives, coaches, journalists, and WNBA legends.
Magic Johnson recalled iconic Larry Bird stories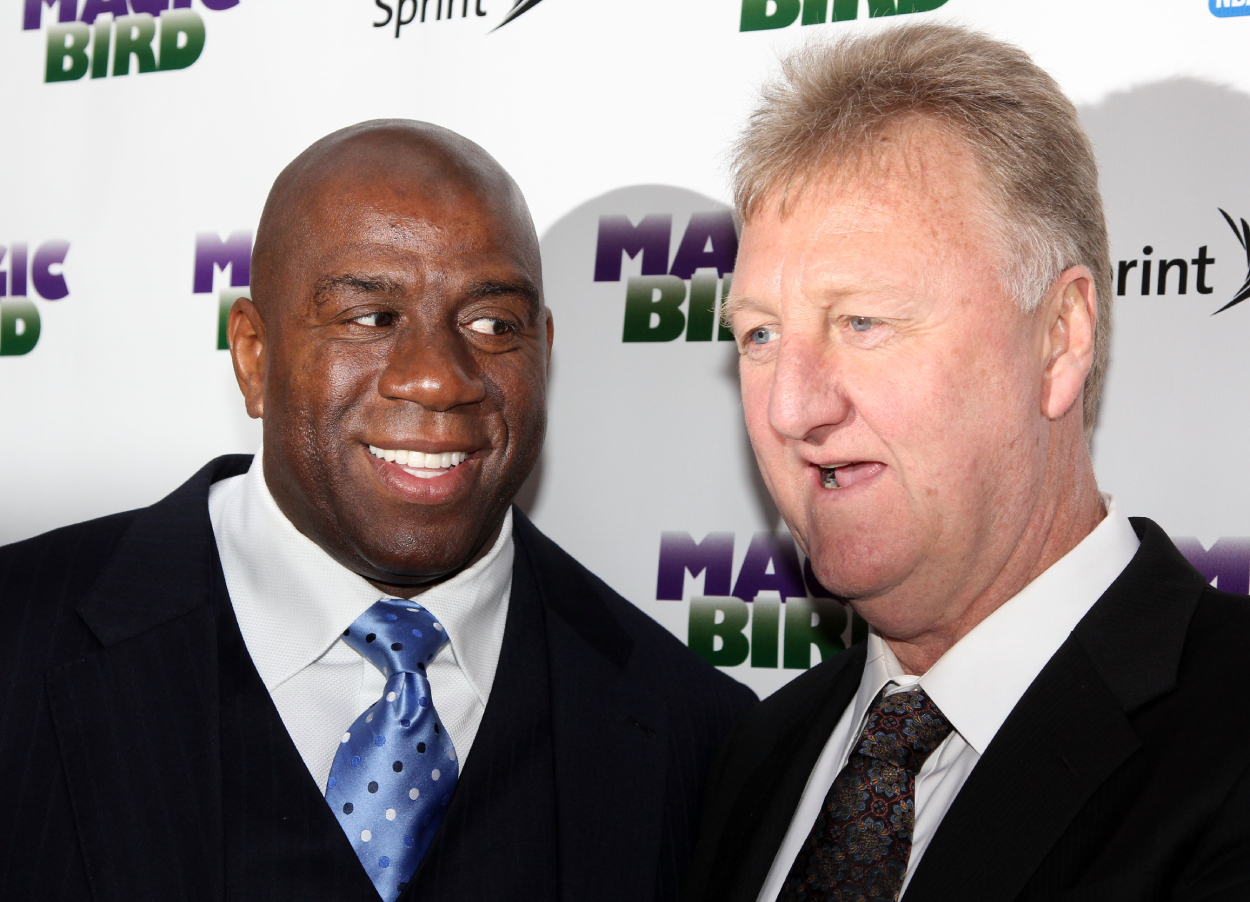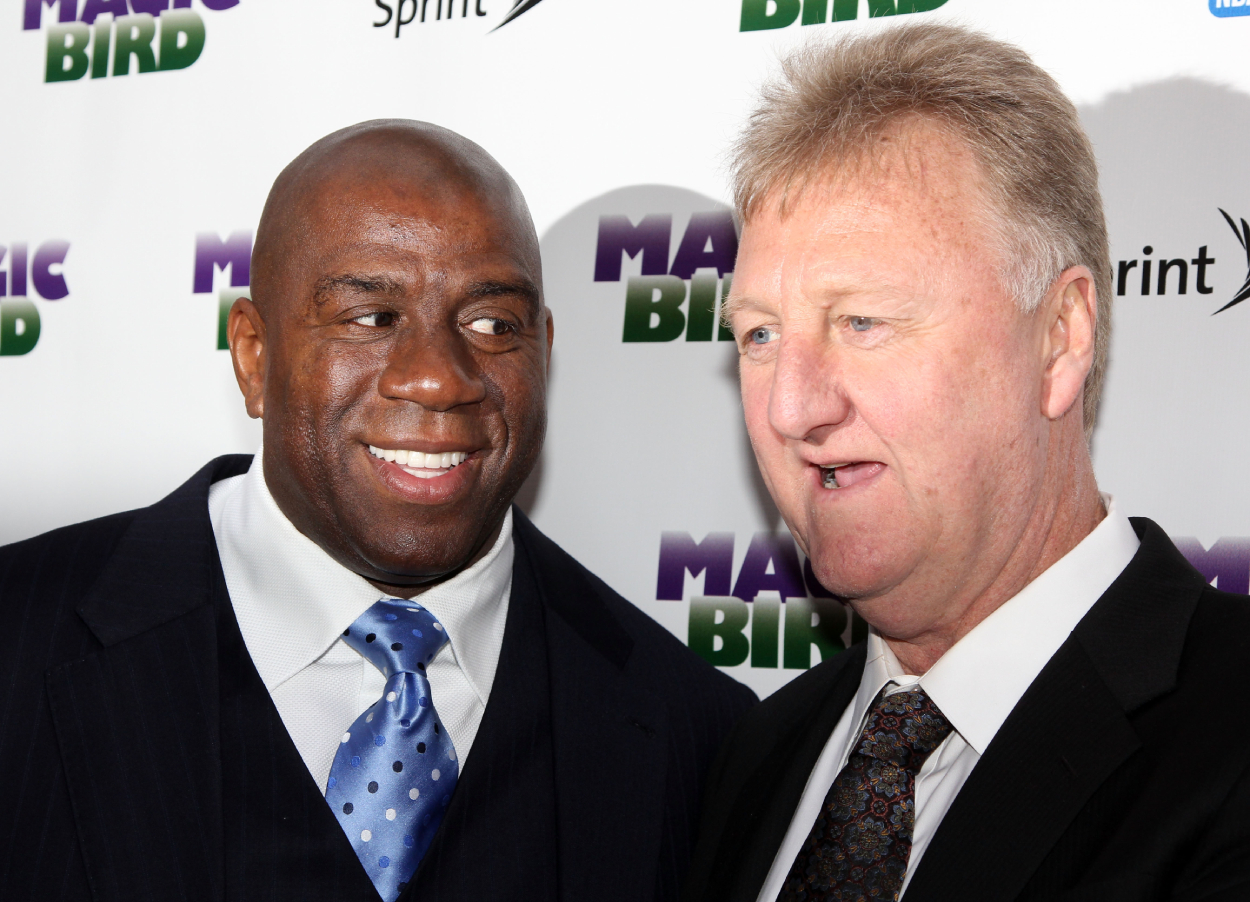 While appearing on NBA Today, the co-hosts ran through some of Johnson's contemporaries on the list, and once they got to Bird, he had a lot to say.
"He was so bad; that dude, he could shoot it from anywhere," Johnson said. 
Johnson and Bird had one of the greatest rivalries in NBA history. They played each other in the NBA Finals three times after also facing off in the college basketball national championship game when they were both in school. They were two of the greatest players to ever play, and they both dominated the league in the 1980s.
While discussing his former rival, Magic recalled the time Bird broke the Celtics' record for points in a game, which his teammate Kevin McHale had previously set with 56 on March 3, 1985. Larry Legend broke it just nine days later by scoring 60.
"He went up to Kevin and said, 'You know you not gonna hold that record too long,'" Johnson recalled. "… Just putting on a show. That's who Larry Bird was."
The Lakers icon then looked back at another legendary Bird story that took place before a 3-point contest during NBA All-Star Weekend.
"All nine other 3-point shooting contestants were already in the locker room; he said, 'Which one of you guys coming in second?'" Johnson recalled.
Magic then finished by giving a simple message that sums Bird up perfectly: "That's a bad boy; that's a bad boy."
Johnson and Bird may have had an intense rivalry, but they had a tremendous amount of respect for each other, and it appears that respect still exists to this day. Those Bird stories have been retold countless times, but they just sound better coming from Magic.
Magic reacted to some of the other Lakers legends who made the NBA 75th Anniversary Team
It's fun to listen to Magic Johnson tell his favorite Larry Bird stories, but he also had praise for some of the other former Lakers stars who made the team, specifically James Worthy, Wilt Chamberlain, and Jerry West.
"Dr. J was a beautiful basketball player that we all admired; James Worthy was beautiful to watch, too," Johnson said on NBA Today. "He could get on that wing and put it in that one hand and dunk on you. He could pass; he could defend. Jerry West: I mean, what can you say? Jerry means so much to basketball. That was easy as well. And Wilt Chamberlain, him and Shaq probably the two most dominant big men we've ever seen ever in the league."
Dominant, indeed.
There have been many great players to enter the league. But the stars who made the NBA 75th Anniversary Team just played (or are still playing) on another level. They are legends among legends and, without a doubt, deserved the recognition.
Stats courtesy of Basketball Reference