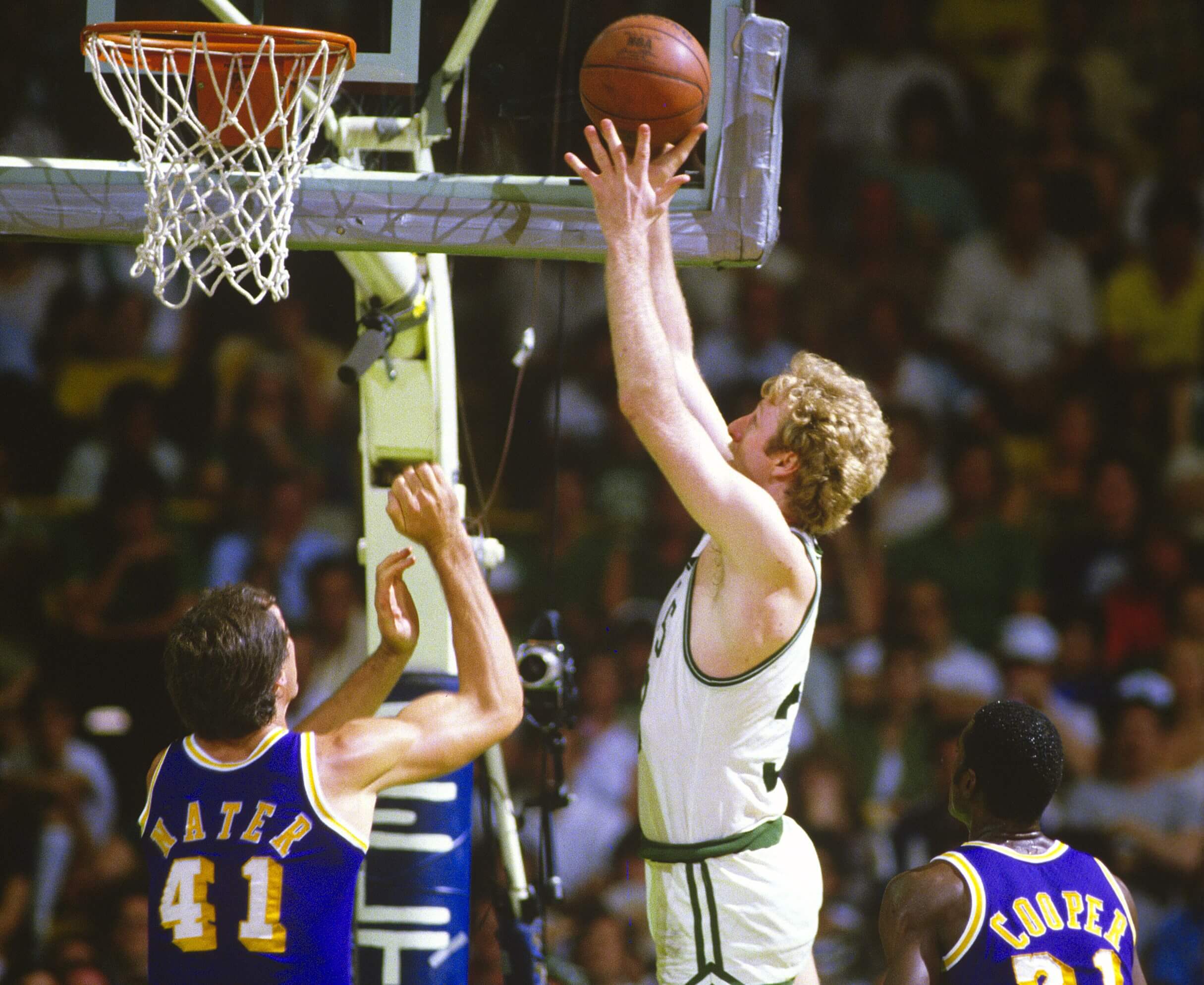 Larry Bird Knew He Had to Capitalize on the 2 Advantages He Had Over Michael Cooper in the 1984 NBA Finals
Larry Bird had to find a way to use the advantages he had against Michael Cooper in the 1984 NBA Finals.
The Boston Celtics were lucky in the 1984 NBA Finals — at least through the first four games. The Los Angeles Lakers outplayed them significantly, yet the series headed back to Boston for Game 5 tied at two games apiece.
Both of Boston's wins came in overtime, and the Celtics, thanks to a Gerald Henderson steal in Game 2, were fortunate the Lakers didn't grab a 3-0 series lead. Boston regrouped, and Larry Bird admitted he needed to change things up against the intense defensive pressure applied by Lakers guard Michael Cooper.
Larry Bird riled up his Boston Celtics teammates after a Game 3 embarrassment
The Lakers immediately took control of the 1984 NBA Finals by stealing homecourt advantage from the Celtics in Game 1. Led by Kareem Abdul-Jabbar's 32 points, the visiting Lakers pulled out a 115-109 victory in Game 1. They nearly did the same in Game 2.
LA held a two-point lead and had possession of the ball with 18 seconds left in the second game of the series. Lakers forward James Worthy lofted a cross-court pass intended for Byron Scott that was intercepted by Henderson. Henderson drove in for the game-tying layup with 13 seconds remaining. The Lakers failed to get off a shot the rest of regulation, and Boston escaped with a 124-121 overtime win.
In Game 3 in Los Angeles, the Lakers flat-out dominated. Larry Bird was the lone Celtics starter to show up, finishing with 30 points. Nobody else had more than 10 points in an embarrassing 137-104 win. After the game, Bird blasted his teammates for their soft play.
"Until we get our heads where they belong, we're in trouble," Bird said, according to Jackie MacMullan's book When The Game Was Ours. "We're a team that plays with heart and soul, and today the heart wasn't there. I can't believe a team like this would let LA come out and push us around like they did. We played like sissies."
Kevin McHale received Bird's message loud and clear. In Game 4, with his team trailing 76-70, McHale clotheslined Kurt Rambis, who was driving in for a layup. The hard foul prompted both benches to clear and swung momentum in Boston's favor. The Celtics went on to win in overtime and eventually claim the series in seven games.
Bird knew he had to make some changes in Game 5 against Michael Cooper
Although Bird had a strong game in that Game 3 blowout loss, he struggled with his shooting in the other three games against Cooper, a defender who Bird said was the only one who could really shut him down. In Games 1, 2, and 4, Bird went 24-for-63 from the floor. He knew he had to find a way to capitalize on his advantages over Cooper, and he knew the Celtics had to want it more than the Lakers.
"We had to come out and be tougher than the Lakers — prove to them we wanted it more," Bird wrote in his book, Drive: The Story of My Life. "For three-and-a-half games, that wasn't the case. We never did shoot well in that series. We wound up winning despite shooting something like 40 percent from the floor. Some people called it '1950s basketball.'
"We were a good rebounding team anyway. We just had to turn it up a notch. I also realized that if I was going to get the job done against Michael Cooper, I'd have to play a more physical inside game and take more advantage of my two advantages over him — size and strength."
In Game 5, Bird made 15 of 20 shots from the floor and went for 34 points in a convincing 121-103 victory. After losing Game 6 in LA (Bird went 8-for-11 for 28 points), the Celtics sealed the deal with a 111-102 win at home in Game 7.
"What changed that series was our physical play and our offensive rebounding," Bird wrote. "We seemed to be getting all the loose balls and all the garbage points inside. We were all making that extra effort. The series was won in the trenches.
"I took Cooper inside so much I wound up making more free throws than field goals in six of the seven games. That ordinarily doesn't happen more than about six times during a whole 82-game regular season."