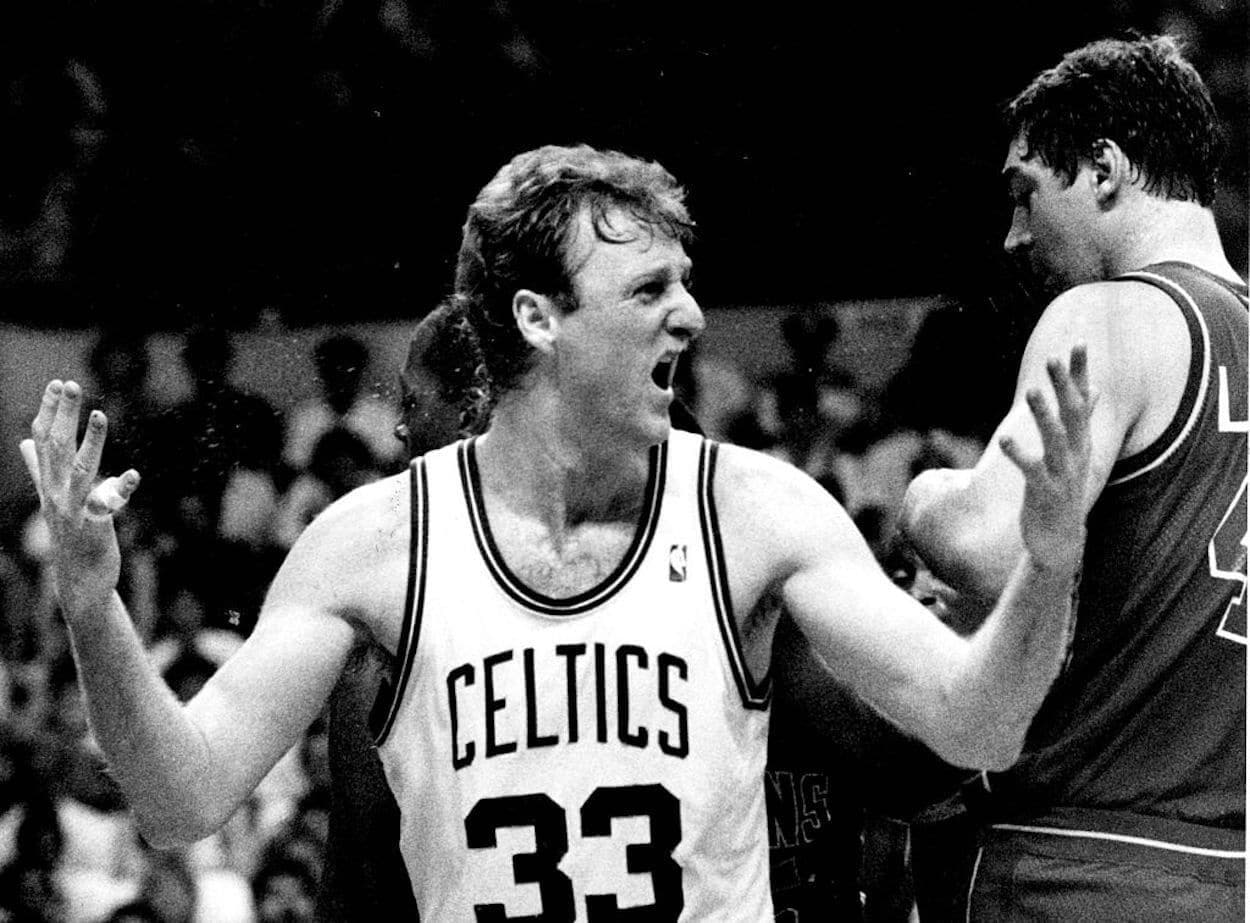 Larry Bird Proved His Indiana Supremacy and Told Chuck Person That He'd Have to Mow His Lawn During Their Playoff Duel
While going against Larry Bird would provide a chance to test your mettle, there would also be some manual labor on the line.
Over the years, Larry Bird was responsible for some iconic trash-talking stories. By and large, the famous forward wasn't mean; he simply knew he was better than you and wanted you to understand that reality. His signature move consisted of telling an opponent how he was going to score and then executing, but there was room for some variation. Chuck Person apparently bore witness to that.
During the 1991 NBA postseason, the Boston Celtics and the Indiana Pacers went toe-to-toe in a first-round series. Not only did Larry Legend prove that he was the top dog in his home state, but he potentially earned some free lawn care to boot.
Sound unbelievable? That's No. 33 for you.
Larry Bird and Chuck Person put some lawn care on the line during the 1991 playoffs
During the early 1990-91 NBA season, the Boston Celtics cruised to 56 wins and entered the postseason as the second seed in the Eastern Conference. Their first-round opponent was the Pacers, who snuck into the playoffs with a .500 record. While many fans would have expected a walk-over, Larry Bird and company got more than they bargained for.
Indiana, led by Chuck Person, Reggie Miller, and Detlef Schrempf, pushed the Celtics to a deciding fifth game, but that wasn't the only battle going on. Person and Bird both knew how to talk trash, and the pair engaged in their own personal war of words.
"The Indiana series was great because that's when Chuck and Reggie Miller was coming up," Dee Brown remembered on the Showtime With Coop show. "They're like, 'OK, we're taking over. Now we're the new team in the East.' And Larry, you know, again, he was going through the back issues and trying to be healthy and was playing a high level. And the Rifleman, he had all the, you know, the antics and things like that. Larry was like, 'Listen, I'mma tell you this. I'm the baddest man to come out of Indiana. Like you just holding place right now.'"
While Person was only playing in Indiana — he actually hailed from Alabama and played his college ball at Auburn — Bird's sentiment rang true. He might be on the back nine of his career, but he was still the top dog. And, to confirm that, he added some extra stakes to his trash talk.
If I win this series, you're going to have to mow my grass at the end of the series.

Larry Bird, as quoted by Dee Brown
And while you might expect Person to be taken aback by that comment, he apparently took things in stride.
"I'm like, 'OK, mow grass, this is the kind of bet we're talking about now?' Brown continued. "[Bird's] like, 'You're gonna come to my house and mow my grass if we win this series.' I think Chuck's like, 'Yeah, man. We ain't losing this series.'"
Talk about confidence on both sides of the argument.
Bird won the battle, but it's unclear if Person ever held up his end of the bargain
When push came to shove, though, there was only going to be one victor. In the decisive Game 5, Larry Bird and Chuck Person both dropped 32 points, but the Celtics secured a 124-121 victory. That meant No. 33 had secured both Indiana bragging rights — again, let's ignore the fact that the Rifleman simply played in the Hoosier State — and some free lawn care.
With that being said, though, Dee Brown wasn't sure if he ever held up his end of the bargain.
"We won the series. I don't know if he ever paid his dues and came and mowed the grass," the guard remembered.
And while no homeowner is ever going to pass up free lawn care, Larry Legend probably wasn't too bothered if his opponent didn't show up. Not only was Bird a humble guy who had no problem getting his hands dirty — he suffered his fateful back injury building a driveway, after all — but we have at least two media references to him mowing his own lawn.
In a 1985 LA Times story, Anthony Cotton mentioned that Bird received the call inviting him to accept his MVP award while mowing the lawn in French Lick. For the record, he did attend the ceremony but caused quite the stir by showing up in his summer attire. Then, in a 2016 WBUR piece, Gary Waleik mused about the questions he planned to ask the NBA legend during an interview. One of those, although we never saw the outcome, was "about his insistence on mowing his own lawn."
"What superstar does that?" Waleik wondered.
The answer, of course, is Larry Bird. Whether he was talking trash, draining threes, or doing chores, the famous forward was unabashedly himself.