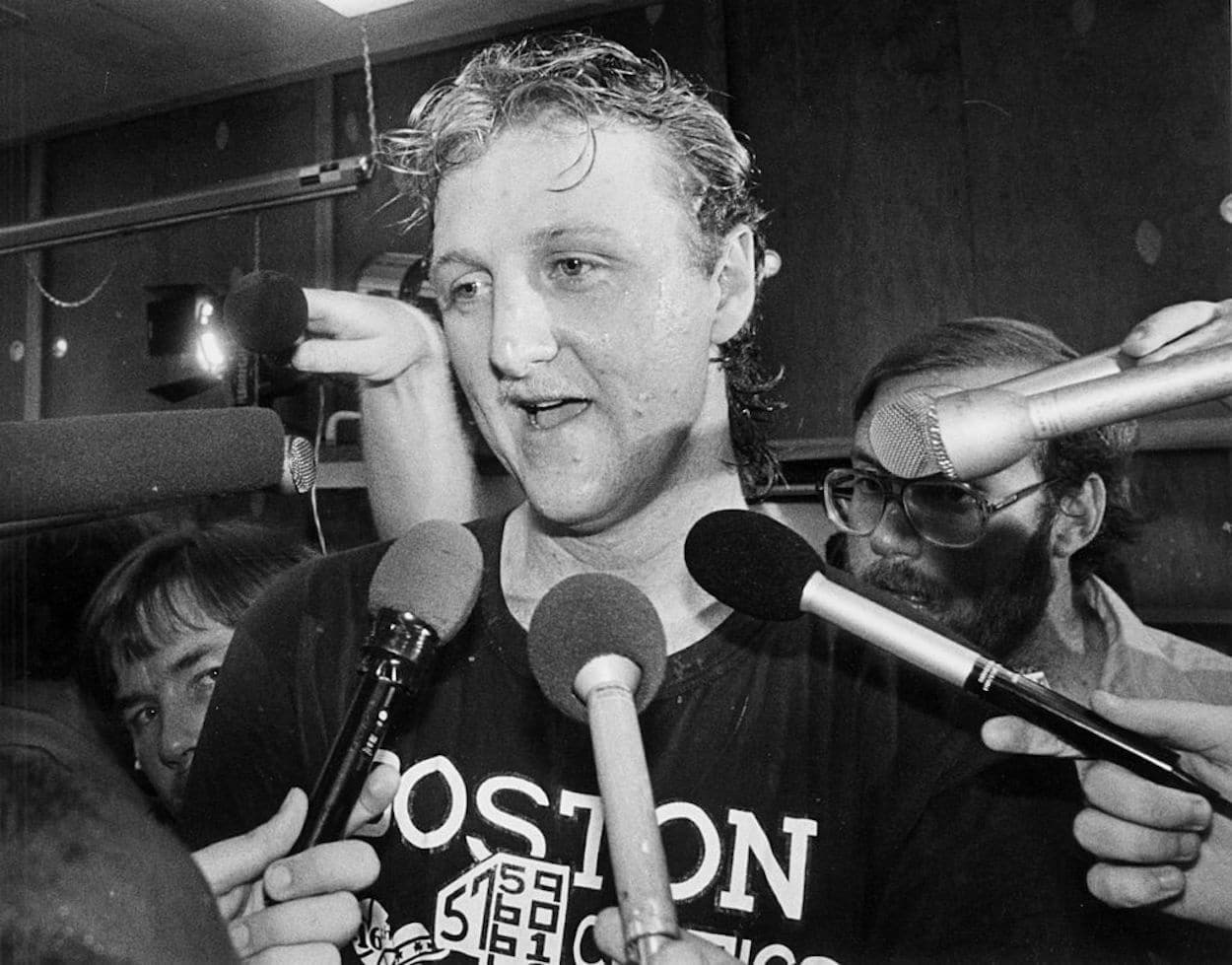 Larry Bird Won the Inaugural 3-Point Contest, Then Trash-Talked the Celtics Who Bet Against Him While Taking Their Money
During the 1985-86 season, some Boston Celtics made the bold decision to bet against Larry Bird. Let's just say that didn't work out too well.
When you hear the name Larry Bird, a few NBA memories probably come to mind. If you're something of a purist, you may remember the forward leading the Boston Celtics to three NBA titles. It's also possible, however, that you associate Larry Legend with three-point shooting or trash-talking.
During the 1985-86 campaign, No. 33 had no problem combining the latter two traits into one tour de force.
That season, of course, saw Bird win the NBA's first three-point contest. And after claiming victory and reuniting with his teammates, the sharpshooter was on a mission. If you bet against him, you were going to pay the price … literally.
Larry Bird stood in the hotel lobby collecting bets and talking trash after claiming the three-point crown
These days, the events of NBA All-Star Saturday have somewhat lost their luster. It seems like big names don't want to participate in the Slam Dunk Contest, and after decades of watching essentially the same Three-Point Contest, things feel a bit less special. During the 1985-86 campaign, though, things were a bit different.
That all-star break saw the first NBA Three-Point Contest, and Larry Bird headlined the field. When he, Dale Ellis, Sleepy Floyd, Craig Hodges, Norm Nixon, Kyle Macy, Trent Tucker, and Leon Wood hit the hardwood, there was only going to be one winner: Larry Legend, who out-dueled Hodges to take home the title.
Shortly after claiming that prize, Bird returned to the Celtics for the second half of the regular season. While it might seem unbelievable now — how could you bet against the Hick from French Lick? — some members of the Boston squad apparently doubted his chances. Not only did that skepticism push the forward to enter the contest, but it gave him the perfect opportunity to flex his metaphorical muscles after the fact.
"When the Celtics checked into Sacramento's finest Red Lion Inn to start the junket, Bird patrolled the lobby with a mini-golf pencil and small notepad, collecting cash from teammates who made the mistake of betting against him in the three-point contest," Dan Shaughnessy recounted in his book, Wish It Lasted Forever: Life With the Larry Bird Celtics. "No one was allowed to postpone payment."
And, thankfully for use, the veteran scribe documented the exact line that Larry Legend used.
"If you don't have your money, I'll wait right here while you go back to your room and get it," Bird told teammates. "I'm the Three Point King."

Dan Shaughnessy
As always, Larry Legend wasn't short on confidence.
Bird may have also played some mind games before winning that three-point title
If you know anything about Larry Bird, you'll be aware that the forward had no problem showing his confidence. That was certainly true in 1986. Some of the Celtics might have bet against him, but he wasn't going to be a shrinking violet ahead of the Three-Point Contest.
In a famous flex, Bird walked into the locker room and asked his peers, "Man, who's comin' in second?" That might not have been the only mind game that the Celtics star played, though. (This line has also been described as taking place in 1988, but, as we'll see in the following paragraphs, there are also quotes quotes tying it to the inaugural NBA Three-Point Contest.)
In Jeff Caplan's ESPN account of the first Three-Point Shootout, Craig Hodges remembered how Bird was nowhere to be found when the shooters were supposed to meet up 30 minutes before the main event. When he arrived, it was clear that he was the big man on campus.
"So probably like two minutes before the meeting — and I'm sure he knew exactly when the meeting was going to be — [Bird] busts in the door and walks through," Hodges recalled. "He looks around the room and doesn't say anything."
At that point, No. 33 uttered his famous line about coming in second. That wasn't all he said, though.
"Yeah, I walked in there and said that," Bird told Caplan. "Then I said, 'Boy, them red, white, and blue balls are real slippery. I can't even hold onto them.'"
Was that a genuine comment? Or was Larry Legend trying to psych his peers out? No one knows for sure, but Caplan suggested it was the latter, writing that Bird "tried to dig deeper into the heads of his competitors."
Take all of that — the pre-competition mind games, the on-court performance, and the willingness to call himself the Three Point King while demanding his teammates pay up — and you've got a prime example of what made Larry Bird so special.
The forward had the perfect blend of talent and confidence, and he wasn't afraid to show anyone what he was made of.