Larry Bird's Three-Point Contest Mind Games Went Beyond His Famous 'Second Place' Line
While the NBA Three-Point Contest may seem bland — how exciting can shooting uncontested jumpers be? — the event has produced some high drama over the years. Consider Larry Bird's iconic trash-talk ahead of the first edition of the shootout as a perfect example of that. As the story goes, the Celtics star walked into the dressing room, asked his fellow competitors which of them wanted to come in second, and then won the competition.
Although that interaction has earned a place in basketball lore, it's not the entirety of the tale. In fact, that question was only one part of Bird's strategy.
Larry Bird played multiple mind games ahead of the 1986 Three-Point Contest
By the time the 1986 All-Star break rolled around, Larry Bird had already established himself as a legitimate NBA talent. As if that reality didn't make him intimidating enough, the forward knew how to get inside of his opponents' heads.
As laid out in Jeff Caplan's ESPN account of the first Three-Point Shootout, the shooters were supposed to meet 30 minutes before the competition began. When the group assembled in the locker room, however, Bird was nowhere to be found.
While it's not clear what happened — perhaps Bird was pulled aside for a media obligation or some other benign reason — making others wait ahead of the big moment is a classic psychological tactic. If nothing else, we know the other guys noticed.
"No telling [where Bird was]," Craig Hodges remembered. "He was probably the top one or two players in the league at that time, so he was walking around All-Star-biggie while we were role-player shooters, coming off the sideline, trying to get a little airtime and a little stardom out here."
Eventually, though, the main man arrived. And, as a man who had the utmost confidence in his own abilities, Larry Legend certainly made an entrance.
"So probably like two minutes before the meeting — and I'm sure he knew exactly when the meeting was going to be — he busts in the door and walks through," Hodges continued. "He looks around the room and doesn't say anything."
When Bird eventually spoke, he uttered the line that's now written in NBA lore: "Man, who's comin' in second?" That quip wasn't all he said, though.
"Yeah, I walked in there and said that," Bird told Caplan. "Then I said, 'Boy, them red, white, and blue balls are real slippery. I can't even hold onto them.'"
Was that another bit of psychological warfare? Or was Bird being genuine? Caplan indicated it was the latter, as he noted that the Celtics star "tried to dig deeper into the heads of his competitors."
Larry Bird, of course, backed it up and won the inaugural Three-Point Contest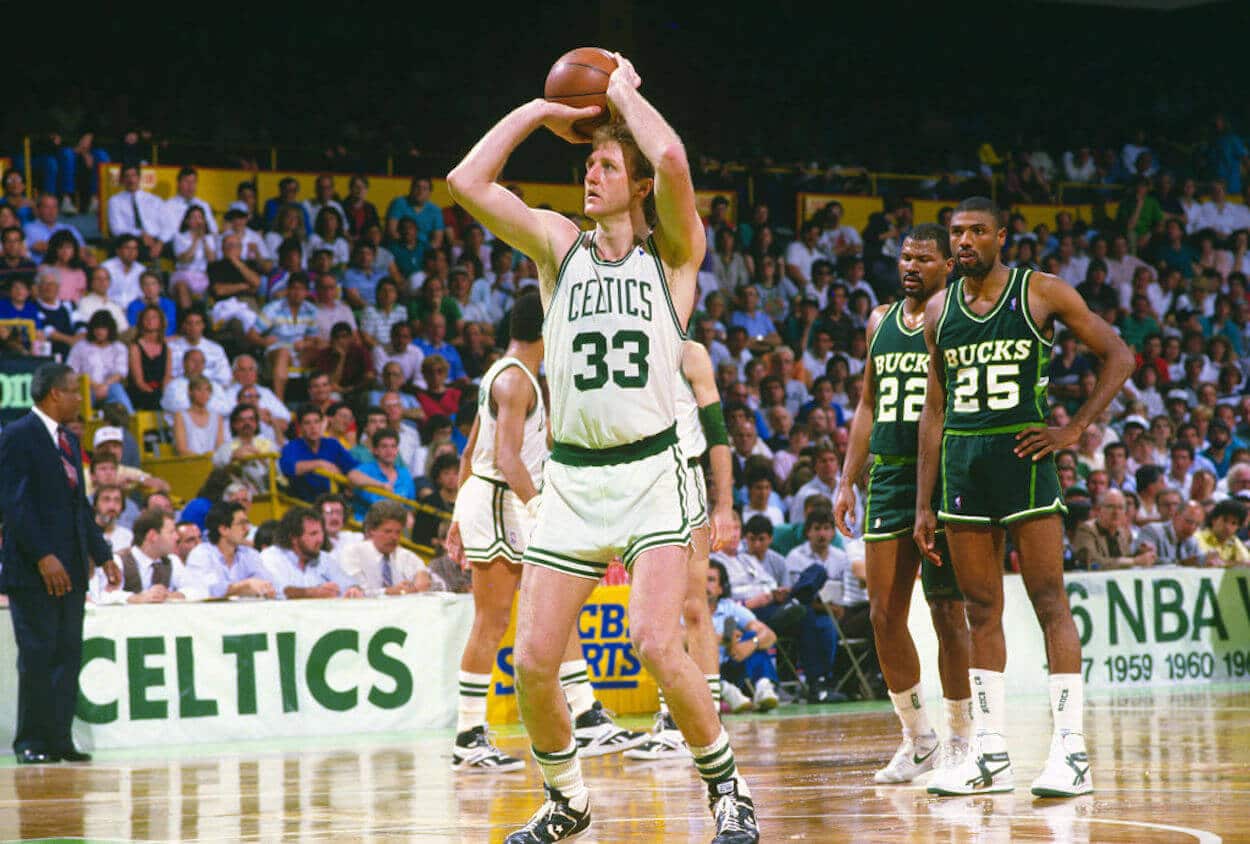 While trash talk and mind games make for a good story, they lose some of their luster if you fail to back it up. With Larry Legend, though, execution was never a problem.
Although he slightly faltered in the first round, notching 16 points to Hodges' 25, Bird eventually hit his stride. In the final showdown, the Celtic found his stroke; he hit 11 consecutive shots, tallied 23 points, and secured the win, just as he predicted.
And, as if that wasn't enough, Bird defended his title in 1987 and completed the three-peat in 1988. When you talk a big game, that's exactly how you back it up.