Larry Bird Wouldn't Have Even Entered the Three-Point Contest Without Some Trash Talk From Robert Parish
In the pantheon of legendary NBA marksmen, it's impossible to overlook Larry Bird. While three-point shooting might not have been as essential in the 1980s as it is today, the Celtics star was more than capable of pulling up behind the arc. He also confirmed that accuracy by winning the first three NBA Three-Point Contests and dishing out some trash-talk along the way.
Basketball history, however, could have turned out quite a bit differently. In fact, Larry Legend might not have entered the shootout in the first place.
The assist, it seems, goes to the rest of the Celtics, with a special shout-out to Robert Parish. Without a bit of behind-the-scenes trash-talk, Bird could have stayed on the sidelines.
Let's break it down.
Larry Bird wasn't going to take part in the inaugural Three-Point Contest until his teammates taunted him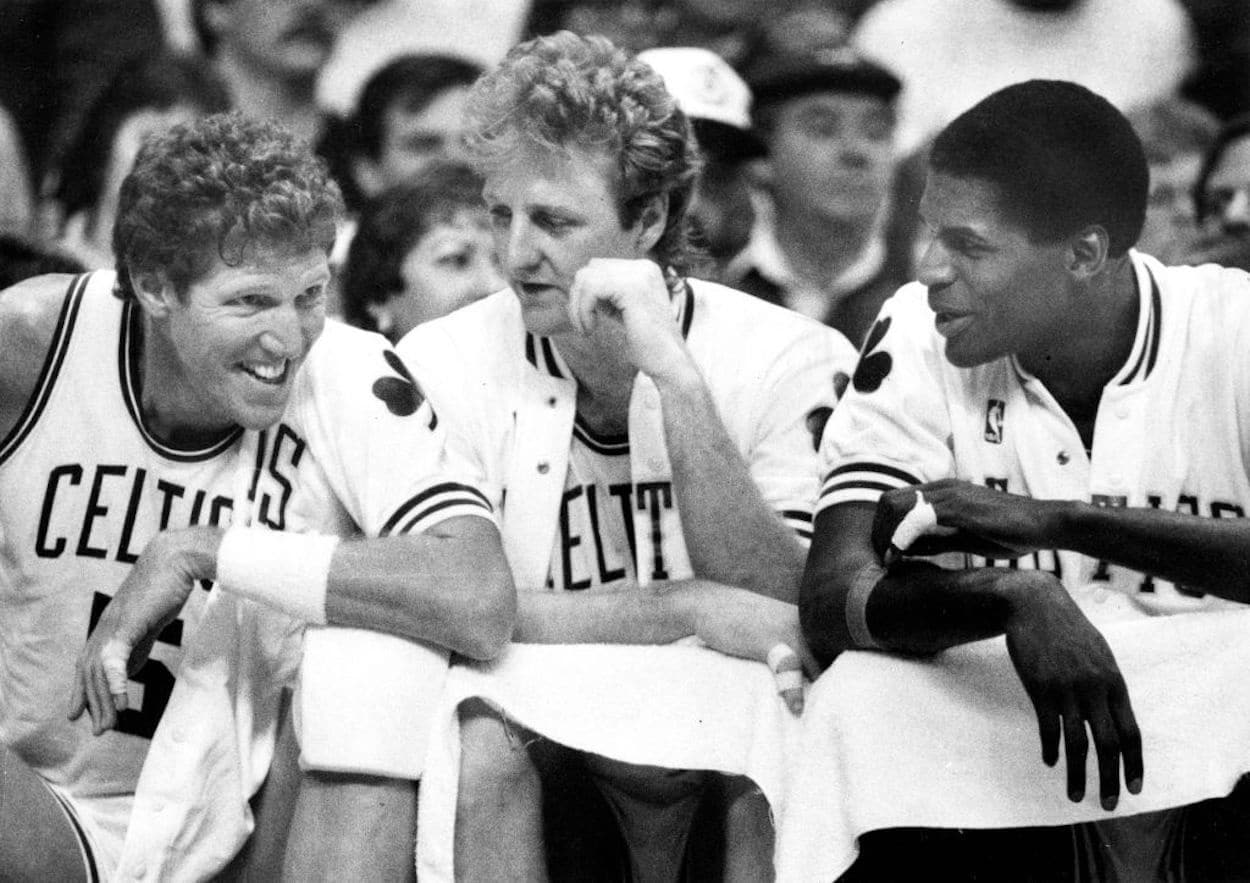 Beyond possessing incredible basketball talent, Larry Bird was also quite the competitor. That reality altered basketball history in a number of ways, including one fateful decision during the 1986 All-Star break.
As we all know, the legendary forward entered the inaugural three-point contest that year and claimed victory. That win started a run in which Larry Legend claimed the first three titles before anyone else — in this case, Dale Ellis — claimed the crown. That dominant streak almost never happened, though.
In 2010, ESPN's Jeff Caplan sketched out a behind-the-scenes story about the 1986 edition of the Three-Point Shootout. In it, he quoted Bird as admitting that it took some needling from his Boston teammates to get him onto the court.
"I wasn't going to do it all, but my teammates, especially [Robert] Parrish [sic], said I couldn't win it anyway, so that's why I went down there and did it," Bird explained. "I figured after what Robert said, I thought, 'Well hell, I'm going to be there anyway, I might as well go out there and win it.'"
That means Robert Parish and his peers are responsible for some memorable moments in Three-Point Contest history
If you know your NBA history, then you already know that Robert Parish and the Boston Celtic played a major role in shaping modern history. Bird's revelation, however, requires that they get a bit more credit.
As mentioned above, Larry Legend not only entered the first three Three-Point Contests but won them and confirmed himself as the Association's top marksman. While All-Star events may seem silly, those victories have become a part of the forward's legacy. He did more than just win, though.
Ahead of that first competition, Bird famously arrived in the locker room after his peers and asked which of them was coming in second. Doing that, and then backing it up on the court, helped solidify the forward's reputation as an elite trash-talker.
That wasn't the only time he poked at his three-point peers, though. In 1990, Craig Hodges took home the title; Bird took part in the competition but was feeling the effects of the back injury that ultimately ended his career. When Hodges was asked about the living legend's health, he said that, when he was back at his best, Bird knew where to find him. When Larry Legend heard that comment, he quipped that he knew exactly where Hodges was: "at the end of the Bulls' bench."
And while those episodes aren't as important to Bird's story as his NBA titles, they are a part of the larger narrative. The greatest players transcend simple wins and losses; they become larger-than-life figures who tower over the sporting landscape. In this case, Larry Legend did win championships, but he also swaggered into locker rooms, talked trash, and proved his prowess in all things basketball.
And, to think, that wouldn't have happened without Robert Parish and the Celtics talking a bit of smack behind the scenes.