Larry Bird Provided a Wise Message to LeBron James' Haters in 2012 That's Become More and More Relevant Since
When you consider the modern NBA landscape, few men are more divisive than LeBron James. On one side of the aisle, you have those who claim the Lakers star is in the GOAT conversation, if not worthy of claiming the title himself. On the other, you'll see the likes of Skip Bayless and others who assert James is overrated, underperforming, and unworthy of tying Michael Jordan's shoes.
And, based on his high standards and willingness to talk trash, you might think that Larry Bird would sit in the latter camp. If we take the living legend at his word, though, that isn't the case. Not only did he come to James' defense, but he once provided some sage advice that LeBron's haters should heed.
Larry Bird provided some genuine praise for LeBron James during a 2012 interview with Bill Simmons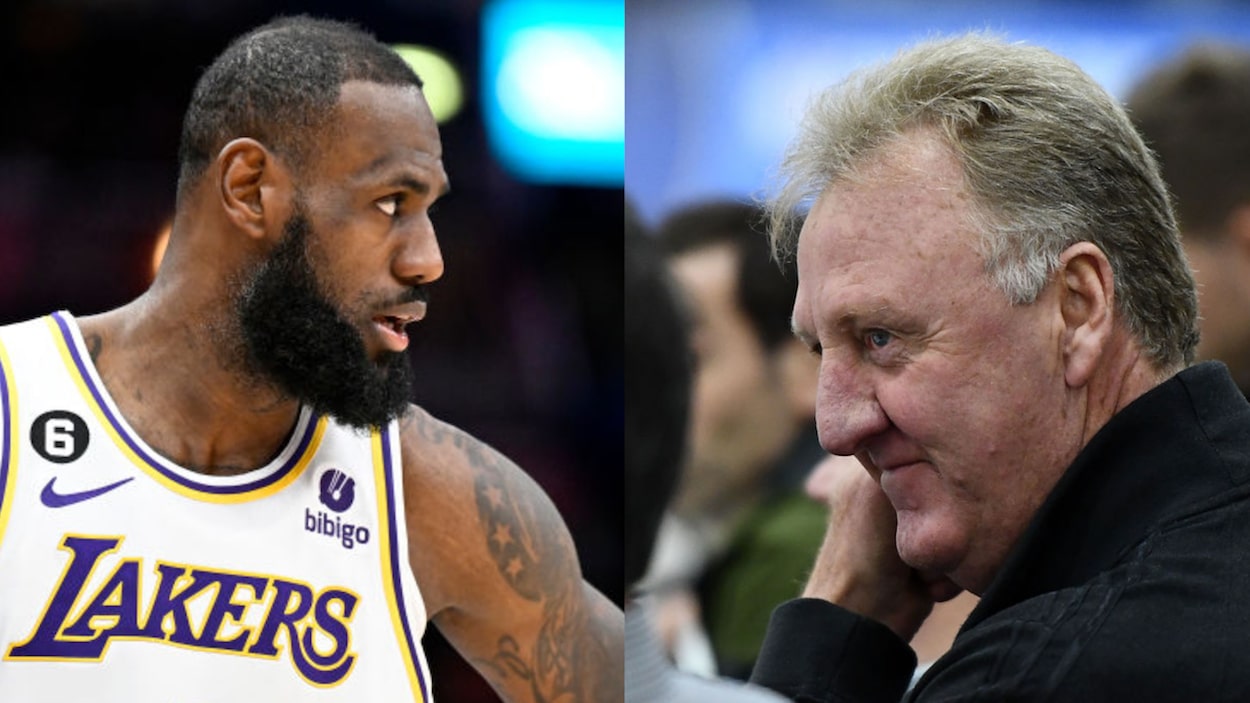 During his time on the NBA hardwood, Larry Bird had no problem using his signature dry wit to remind opponents and teammates alike of their place. And while he still retained his edge in retirement, the Celtics star did pay two modern greats some high praise in 2012.
On an episode of The BS Report With Bill Simmons that's preserved on Youtube, Bird discussed both Kobe Bryant and LeBron James. While he said he'd rather play with the former man if given the choice — Larry Legend cited the Black Mamba's will to win, desire to improve, and overall toughness as key factors — he also made sure to acknowledge King James' talent.
Beyond saying that it would be more fun to play with James, Bird spoke about how LeBron's talent was undeniable, even if he had rubbed some NBA fans the wrong way.
I think you should sit back and enjoy him. Because I think he's one of the greatest to ever play our game. You know, we all make mistakes. I've did a lot of things I sort of regret, whether he regrets it or not, I don't know. But he made some, you know, a couple of decisions. "The Decision" was a bad decision. But as far as playing basketball, you gotta enjoy this guy. If you're a basketball fan, you gotta sit back and go, "Wow, how did he do that?" Or, I always say, "Boy, I wish I had his speed." You know? But some of the stuff that kid does out there, he's by far, and Kobe was always my favorite since I got out, but LeBron James is by far the best player in this league.

Larry Bird speaking to Bill Simmons in 2012
In complete fairness to Larry Legend, plenty has changed since he made those comments. James not only has four NBA rings to his name, and he's matured from a kid into one of the Association's elder statesmen. With that being said, though, the larger point remains valid.
Even a decade later, Larry Bird's statement about appreciating LeBron is more valid than ever
Since Larry Bird spoke in King James' defense, time has kept marching on. If anything, though, that makes appreciating the Lakers star more important than ever.
Although LeBron hasn't slowed down, everyone knows that he'll have to retire sooner rather than later. While it's impossible to predict when that day will come — perhaps he's waiting to play with Bronny — it will eventually arrive. At that point, he'll be confined to highlights, record books, and memories.
It would be a shame to miss out on seeing and appreciating LeBron James because of something as silly as dislike or rivalry. Don't think he's the GOAT? Want to argue that he's overrated? That's fine, but it shouldn't stop you from witnessing a piece of history.
And, if nothing else, consider Larry Bird. He wasn't above calling his own teammates out, let alone trash-talking someone else. If he can take the time to marvel at what LeBron James is doing, so can everyone else.