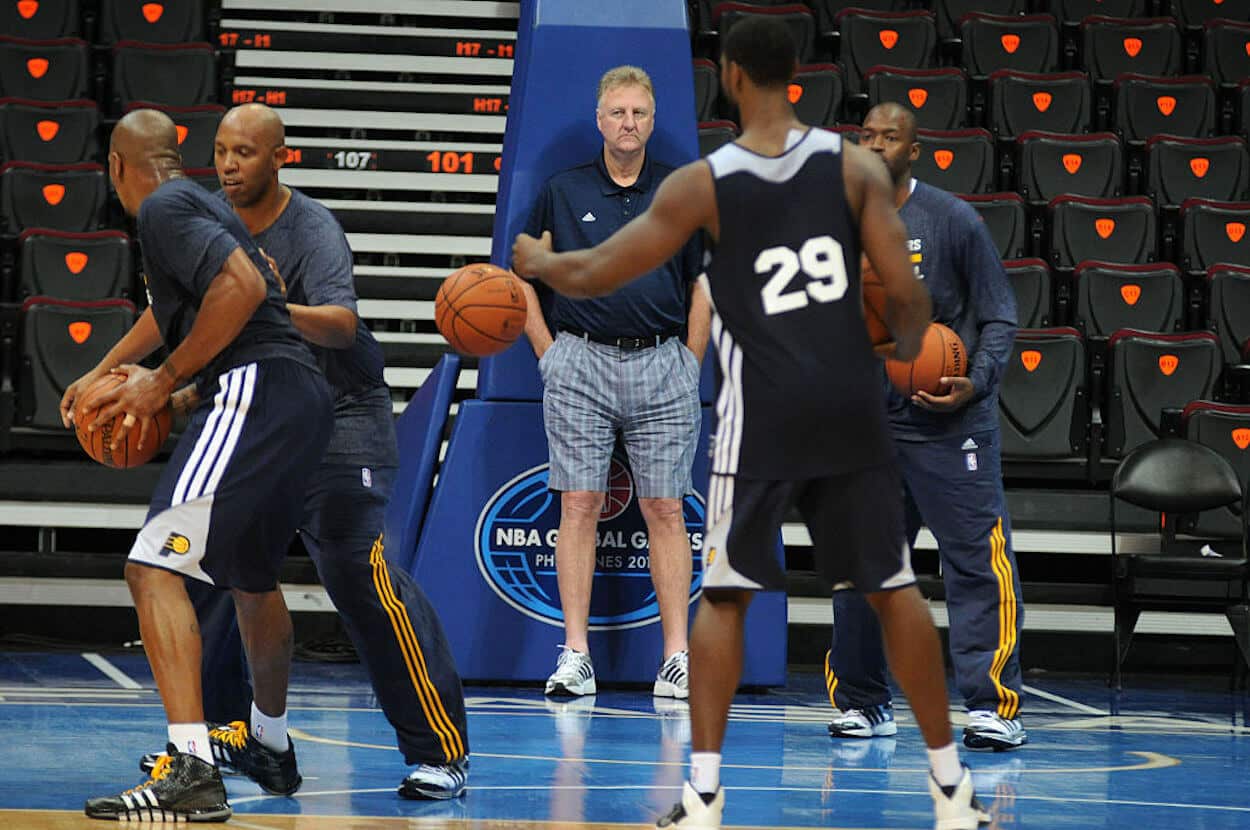 Larry Bird Still Managed to Prove His Shooting Credentials to Lance Stephenson, Even in Retirement
Even in retirement, Larry Bird was more than capable of draining his fair share of long-range jumpers. Just ask a former Pacer about that.
At this point in time, there's nothing groundbreaking about saying that Larry Bird was a lethal shooter during his time on the NBA hardwood. It's also reasonable, however, to assume that his skills deteriorated a bit in retirement. The forward did, after all, retire in 1992 while dealing with the aftermath of a painful back injury.
And while we don't know too much about Larry Legend's shooting today, we do know that he still had it during his time in the Indiana Pacers front office. Just ask Lance Stephenson about that.
As the guard tells it, Bird walked into the gym one day while the players were stretching and buried 10 shots without batting an eye. Then, showing a touch of his signature confidence, he simply walked off the court, took a seat, and continued going about his business.
Sound unbelievable? Let's head back to Pacers practice and check it out.
Larry Bird impressed Lance Stephenson with his long-range shooting ahead of a Pacers practice
While Lance Stephenson never quite turned into the star it seemed like he was destined to become, the Brooklyn-born guard still spent plenty of time in the Association facing off against basketball's elite. Despite that experience, Larry Bird's talent still looms large.
During an appearance on the Setting the Pace podcast, Stephenson was asked if he had any memories of Larry Bird from his time in Indy. The former New York Mr. Basketball did, and it unsurprisingly focused on shooting.
"So, we stretching, right," Stephenson began. "So, the whole team is just stretching. And Larry just walks on the court, like, grab the ball, and started jacking threes like [swish noises]. Like, I'm like, I'm looking at everybody like, 'Do y'all see this right now?' And he made at least 10 in a row, threes."
As if that wasn't impressive enough — Stephenson didn't specify the year, but he was with the Pacers from 2010-14 and returned for spells in 2016-17 and 2021-22, meaning that Bird would be far removed from his playing days — there was more to the story than some accurate shooting.
"Just walked in, came in, looked at us, and was like, looking at us stretching, hit like 10 threes in a row, and walked off," Stephenson continued. "And sat like he ain't do nothing … fold his legs, and just sitting there, looking at us. I'm like, 'Yo, this guy's nice.' … I'm like, 'Man, that's a legend right there.'"
That may sound a bit more understated than Bird's NBA trash talk, but the signature confidence was an ever-present part of the legend's repertoire.
Paul George had a similar story of Bird's shooting touch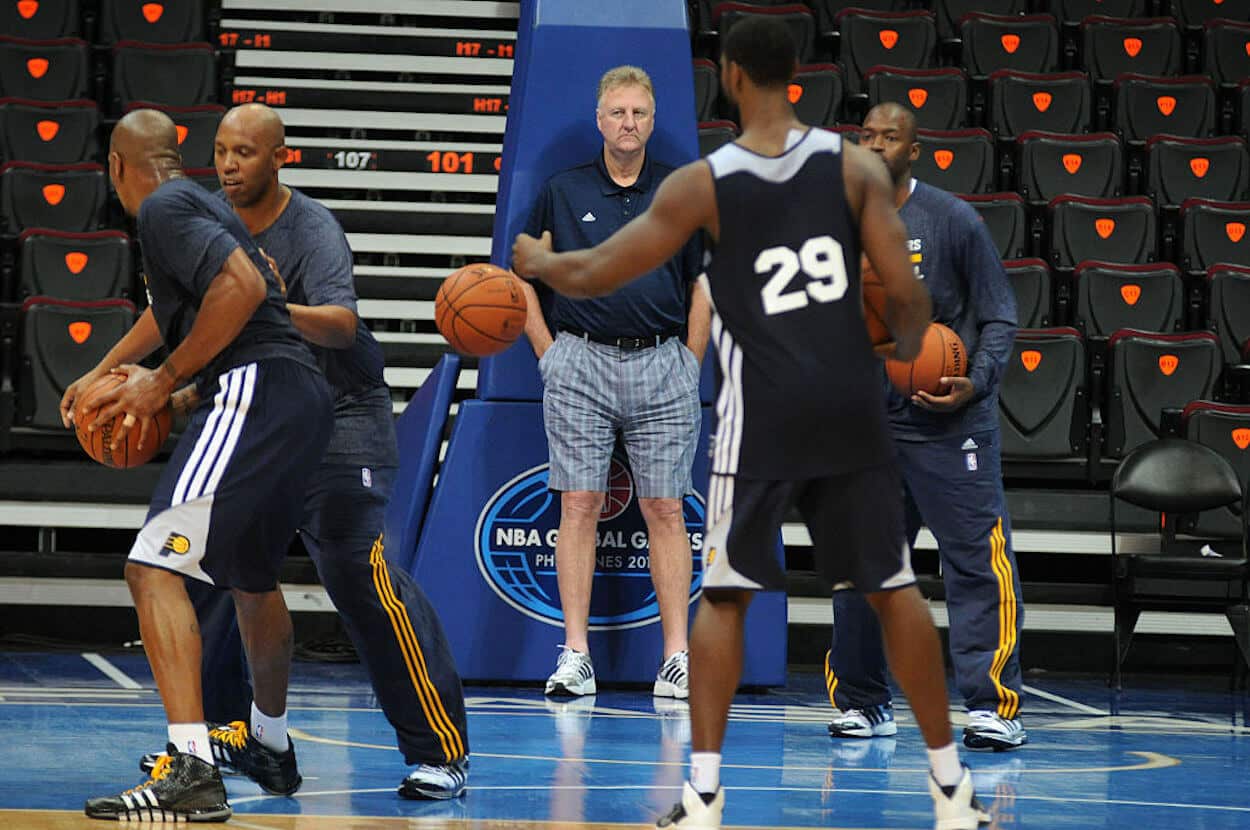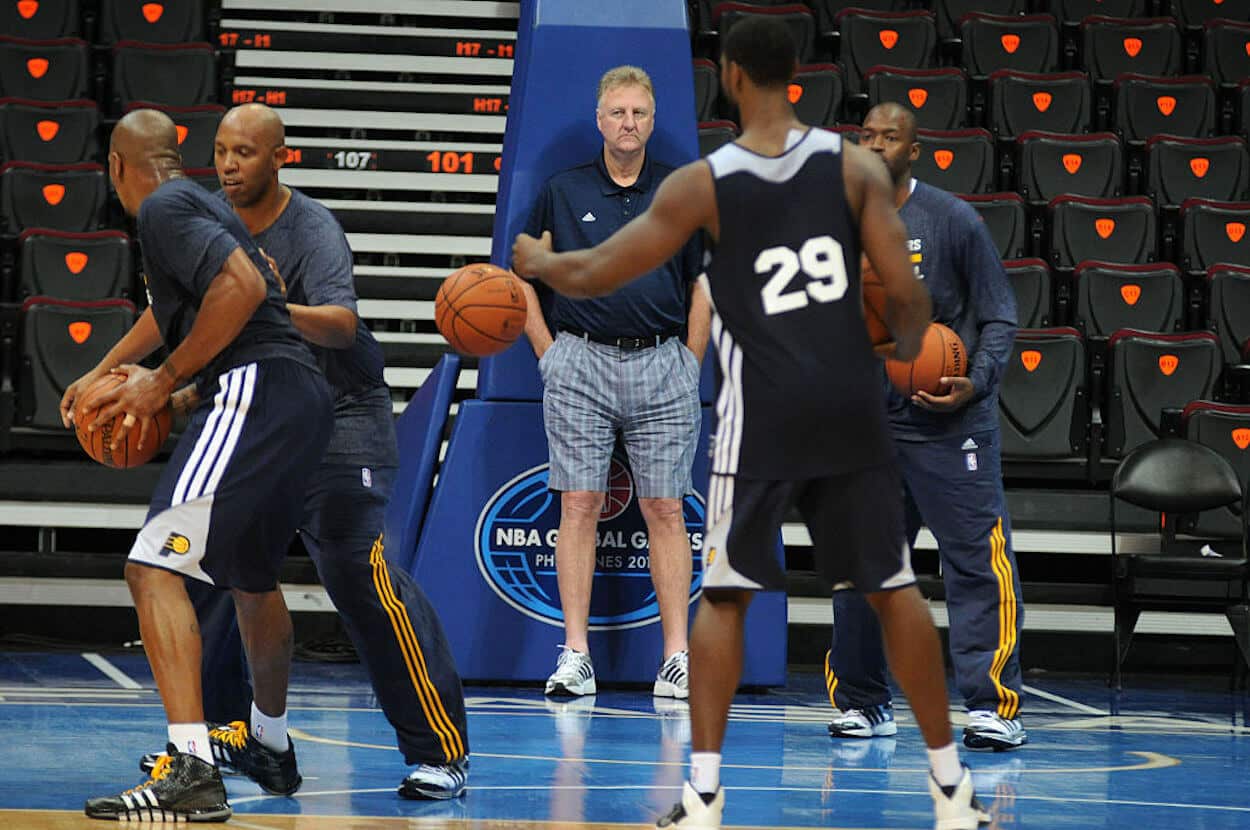 Lance Stephenson wasn't the only Pacer who got a glimpse of Larry Legend's signature skill, though. Paul George also reminisced about seeing the executive knocking down long-range shots without missing a beat.
In 2013, George remembered how Bird "picked a ball up that had rolled over. He rolled up his sleeves and made about 15 in a row and just walked out like nothing just happened. It was the craziest thing I've seen." And while you might expect that NBA players would be familiar with the former star's skill set, that apparently wasn't the case.
"We were speechless," George added. "We didn't know whether to keep shooting or just to end practice. It was sweet, man."
And while it's not clear whether those two accounts are describing different events or are simply two perspectives on the same encounter, it's impressive either way.
Whether Larry Legend was so impressive that he blew two players' minds or he was putting on multiple three-point shooting exhibitions even in retirement, both of those options are perfectly believable given his talent.