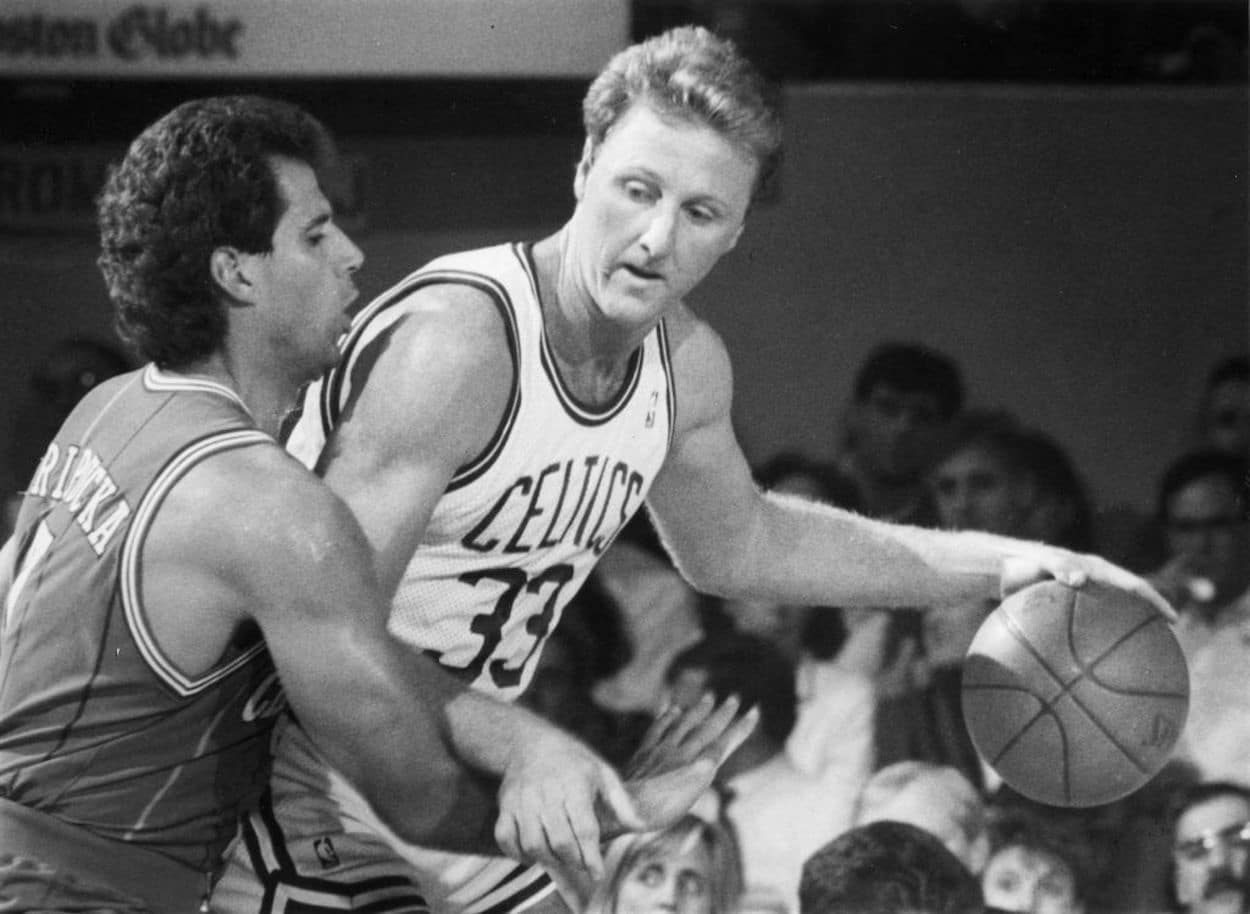 Larry Bird Took Offense to Being Guarded By Someone Shorter Than 6-Foot-6 and Kelly Tripucka Paid the Price
While defending Larry Bird was already a mammoth task, things were even tougher for guys under 6-foot-6. Just ask Kelly Tripucka.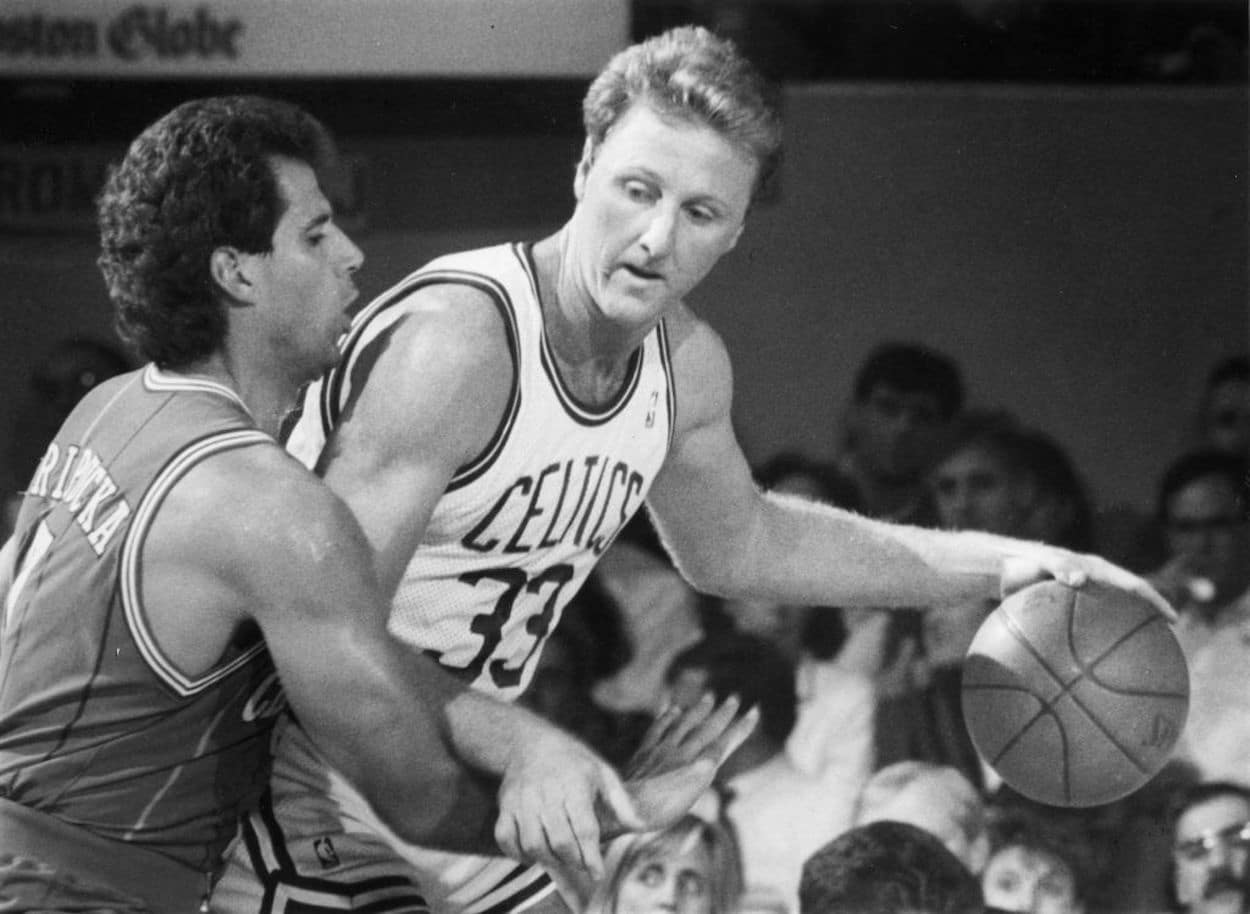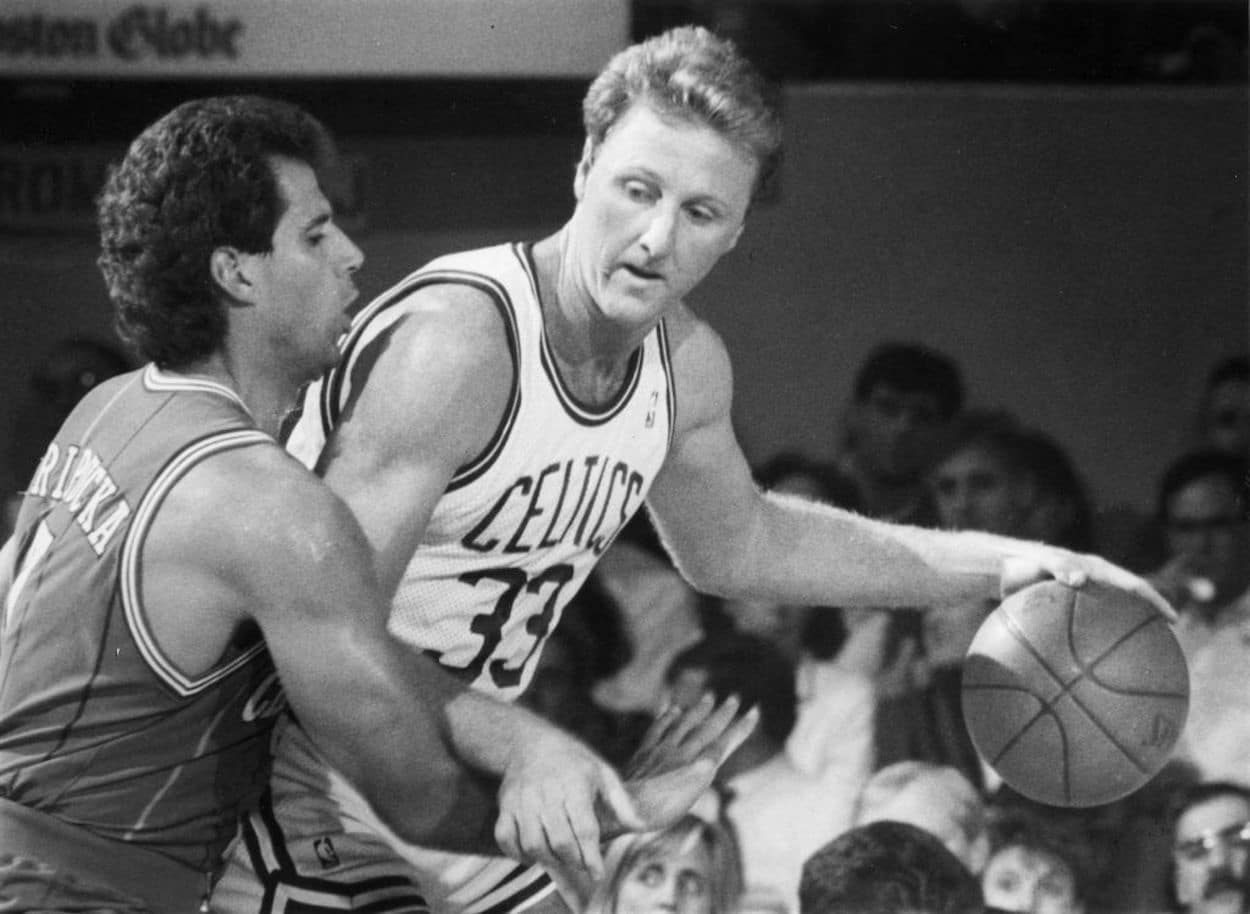 During his time on the hardwood, Larry Bird had supreme confidence in his own skills. The Boston Celtics legend was even known to tell his opponents exactly how he planned to score before doing just that. That wasn't his only quirk when it came to defenders, though.
In an old interview, Bird said that he felt being guarded by a "white guy" was disrespectful to that game. Thanks to a more recent conversation, though, we know that Larry Legend also didn't care for being guarded by anyone shorter than 6-foot-6. And, according to Rex Chapman, Kelly Tripucka paid the price for that preference.
Larry Bird was offended when guys like Kelly Tripucka tried to defend him
Given his height and overall skill, anyone tasked with defending Larry Bird was in for a long night. Players who clocked in at anything under 6-6, however, would face an additional challenge. Beyond the sheer height disadvantage, the Celtics forward would apparently have a bit of extra fire in his belly when facing them.
"I remember Kelly Tripucka was going to guard him, and we had Jerry Sichting on our team, who had played with Larry," Rex Chapman recalled on The Rich Eisen Show. "And Jerry had told us, Larry, in shoot-around, he said that no man in the world 6-6 and under could guard him. And he takes offense to it. And so, if you notice a lot, even when Boston played the Bulls, Michael didn't match up with Larry a lot. It was Scottie, it was Horace."
The Charlotte Hornets, however, remained undeterred and sent Tripucka, who Basketball-Reference lists at exactly 6-6, to stop Larry Legend.
"We put Kelly Tripucka on him, and we went out for the jump ball," Chapman continued. "Larry looked at the rest of us and said, 'You guys are putting Tripucka on me?' And everybody, nobody said anything. He just said, "Alright guys, whatever we're running, forget it. Four down, four down,' and just started running Kelly into the post. Calling his own play. And in four possessions, he had, you know, two baskets, an and-one, and an assist, and we had to mix it up. He no longer, Kelly was no longer on him."
Larry Legend was also known to pull a similar move against larger defenders like John Salley
Based on that anecdote, it might seem like the best possible solution was to task a larger defender with stopping Larry Bird. In reality, though, that was easier said than done.
During his own appearance on The Rich Eisen Show, John Salley described how Bird "put fear" in him. Facing a 6-foot-11 opponent wasn't even enough to give the Celtics star pause. Just consider the story the center shared (h/t the Indianapolis Star).
Bird: "You on me?"

Salley: "I say, 'Yeah, I got size on you.'"

Bird: "Y'all not double-teaming me? (while looking around for a second defender)"

Salley: 'Nah, it's just me."

Bird: "Mouse in the house!"

Salley continued: "They change the play, he shoots and says, 'You better ask for a double team, bruh.'"  

John Salley on The Rich Eisen Show, as transcribed in the Indianapolis Star
That matchup came to an when the big man picked up two fouls. At that point, Bird became someone else's burden.
While there were some slight variations — Bird opted for a jump shot against Salley and pulled Tripucka into the post — the overarching message is clear. When you were facing the Boston Celtics, there was no way one man could defend Larry Bird on his own.
 Like Sportscasting on Facebook. Follow us on Twitter @sportscasting19 and subscribe to our YouTube channel.