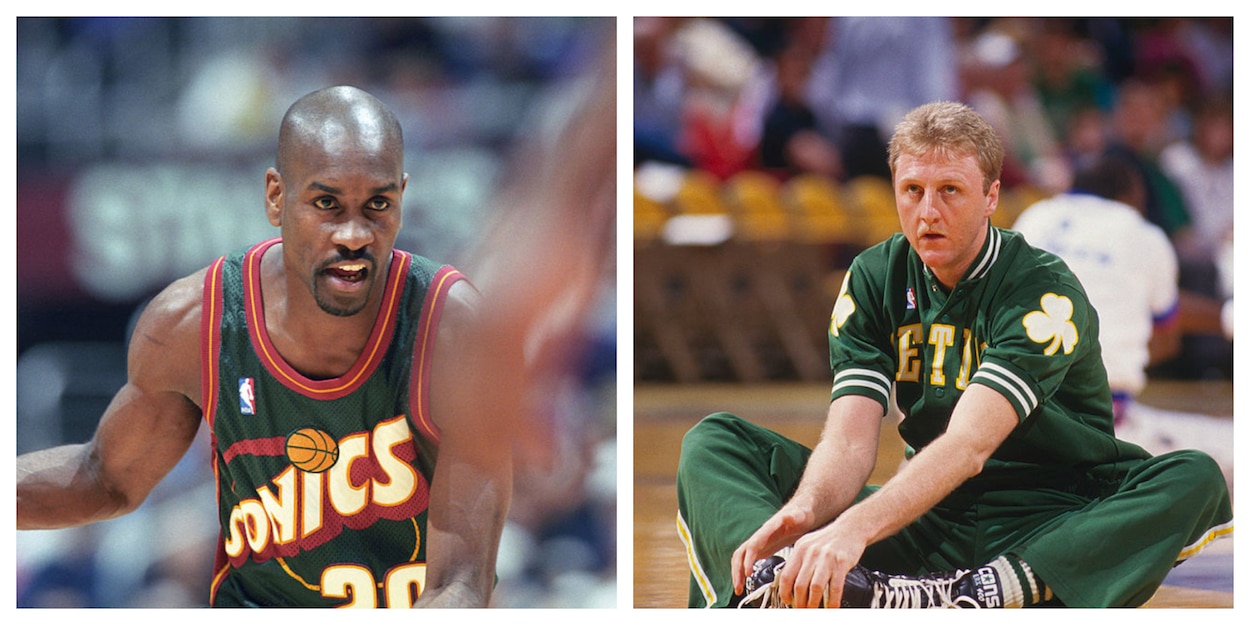 Gary Payton Confirms That Larry Bird Had the 'Ultimate Game' and Some 'Cold' Trash Talk
While it's not groundbreaking to praise Larry Bird, Gary Payton recently paid the Boston Celtics legend some lofty compliments.
When it comes to modern NBA trash-talkers, Gary Payton sits near the top of the list. The Glove was a relentless defender and verbal warfare was part of his arsenal. In retirement, though, he's able to see things from a more removed perspective and dish out a few compliments.
Many of those, at least on a recent podcast, went to Larry Bird.
During an appearance on The Old Man and the Three, Payton was asked about Larry Legend's trash talk. Not only did he confirm that Bird could talk a big game, but the former guard also admitted that he could back it up.
Gary Payton shares his experiences with Larry Bird
If you ask a modern basketball fan about Larry Bird, long-range shots and biting trash talk probably spring to mind. Based on Gary Payton's perspective, that's an accurate assessment of the former Celtics star.
"JJ, he was cold, man," Payton told Redick. "He'd tell you like this … 'You know what? I don't know what you got for Christmas, but I know what I'mma give you. What I'mma do is I'mma take you on this block, I'mma dribble two times, and then I'mm a pull up in your face … and that will be your Christmas present from me.' … He used to tell you where he gonna shoot it in your face and how you couldn't stop [him] and how you ain't no good to him. And I was like, 'Woah, man, that's just a little bit, that's disrespectful.' And then it'll happen. That's the whole cold thing about it."
While those stories aren't wholly unique — we've heard plenty of defenders explain that Bird told them exactly how he planned to score — the Glove wasn't done yet. He still had to provide some high praise for Larry Legend.
"Everybody used to say Larry Bird was slow and all that," Payton continued. "Game. I don't care what nobody said, he had the ultimate game. And he used to do it, he used to back it up."
In hindsight, the numbers back up Payton's perspective on Larry Bird
Sometimes, the benefit of hindsight can change our perspective on a player. While that's not really the case for someone like Larry Bird — he was always highly regarded — his numbers still hold up well today.
During his time on the hardwood, Bird averaged 24.3 points, 6.3 assists, and 10.0 rebounds per outing. He also attempted 1.9 three-pointers per contest, although that number reached as high as 3.3 per game in some individual seasons, and shot 37.6% from downtown for his career. The forward also won three titles, Rookie of the Year honors, and three MVP crowns.
That resume obviously speaks for itself, and they confirm Payton's claims about Bird having the "ultimate game." Beyond that, though, they also paint a picture of a man who would be remarkably at home in today's NBA. The Celtics star clocked in at 6-foot-9, could drain shots from the outside, and was capable of finishing at the rim, even if he wasn't throwing down dunks; all of that combines to create a walking mismatch. While his foot speed may have left a little bit to be desired — the Glove even acknowledged Bird's reputation for lacking some athleticism — the forward's offensive game could compensate for that.
Add in a bit of trash talk, and you've got a dangerous player in any era. Gary Payton, after all, isn't going to just hand out compliments for the fun of it.
Stats courtesy of Basketball-Reference.
Like Sportscasting on Facebook. Follow us on Twitter @sportscasting19 and subscribe to our YouTube channel.