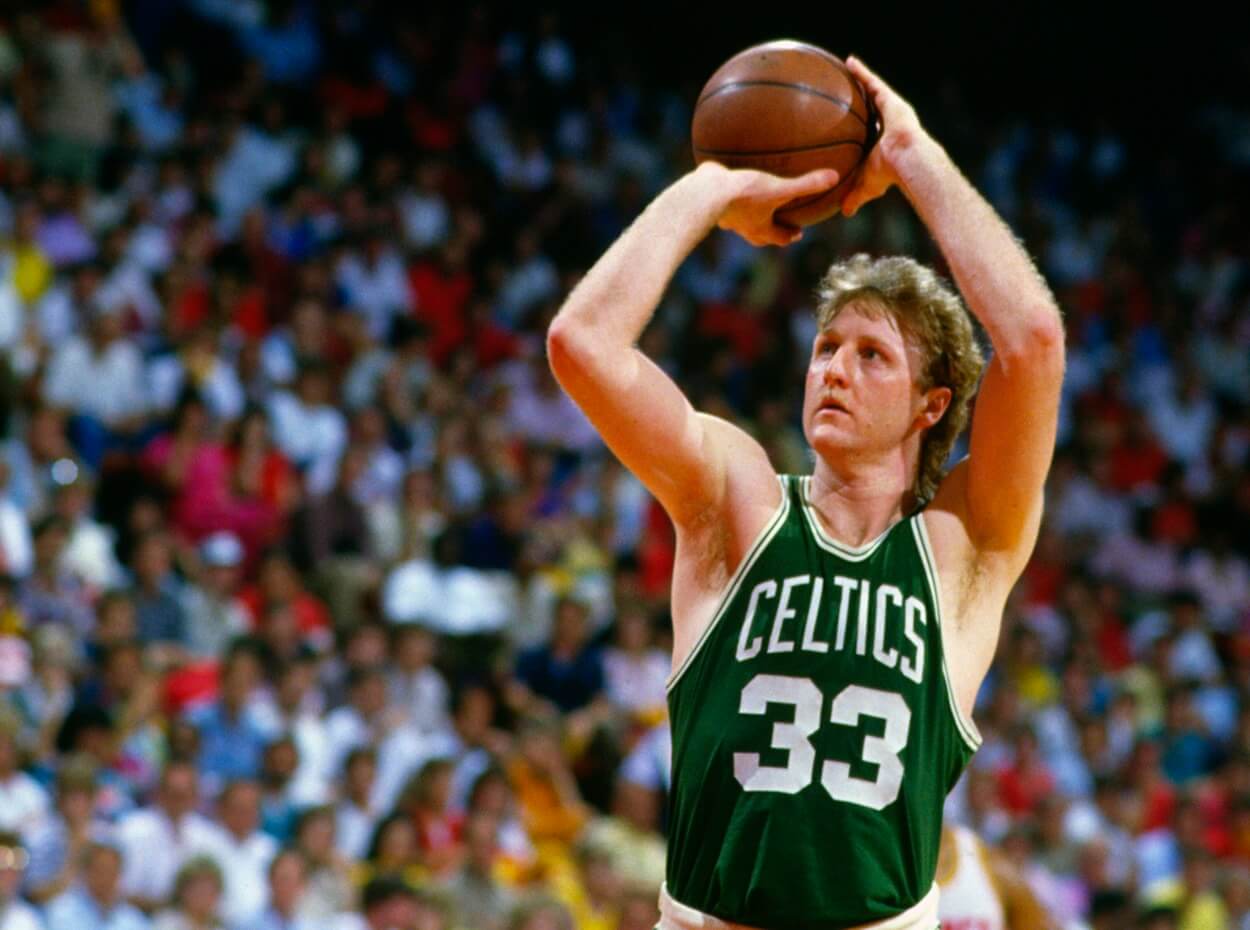 Larry Bird Wasn't the Legendary Three-Point Shooter Most Think He Was
Larry Bird is one of the all-time NBA greats but is nowhere near one of the league's all-time greatest three-point shooters.
Today's NBA is undoubtedly different than the one in which Larry Bird played back in the day — in so many ways. For the purposes of this piece, however, we'll simply focus on one aspect — the three-point shot.
No matter the era, Bird, who played 13 seasons with the Boston Celtics (1979-1992), is still seen by most NBA experts and historians as one of the greatest shooters in NBA history. Even ChatGPT is on board there (yes, I asked).
Now, you may notice I said one of the greatest shooters and not one of the greatest three-point shooters. Because the simple truth is this — he wasn't. Not even ChatGPT thinks so (yep, I asked that as well).
While that may sound blasphemous to some, the numbers don't lie, folks. Sure, Bird won the three-point contest three consecutive years, putting on some highly entertaining performances and once famously asking his adversaries who was coming in second before the battle ever began.
But as far as his actual career is concerned, Larry Bird just wasn't the legendary three-point shooter some might think he is.
Larry Bird made a shockingly low number of three-pointers during his NBA career
As I'm sure many of you reading this are already screaming at me through your screen, let me make something clear. Larry Bird was a phenomenal talent and easily one of the greatest overall players the basketball world has ever known, especially on the offensive side of things.
Over the course of his 13-year career with the Celtics, one that included three NBA MVP trophies, a dozen All-Star selections, 10 All-NBA selections, three championships, and a pair of NBA Finals MVP awards, the Indiana native averaged 24.3 points, 10.0 rebounds, and 6.3 assists per game.
And while his defense has often been overlooked — or even criticized, for that matter — let's not forget he averaged 1.7 steals per game and was an All-Defensive selection on three occasions. So to make things clear, this isn't a knock on Larry Bird's overall game.
But was the three-point shot one of the best aspects of his game? No, it wasn't.
For one, it may surprise some to know that "The Hick From French Lick" made just 649 regular-season threes in his career. Now, when he retired following the 1991-92 season, that was good enough to make the top five on the NBA's all-time three-pointers made list.
But this is how much the game has changed. At the time of this writing, that doesn't even make the top 250. Of course, Bird didn't attempt nearly as many shots from beyond the arc as guys do today. The most threes Larry Legend ever took in a single season was 237 in 1987-88, and the most he ever made was 98 that same year.
In comparison, Stephen Curry, who's made more than five times the three-pointers that Bird did, attempted 886 in 2015-16, the season in which he set the single-season record for makes with 402.
Curry, of course, relies on the three more than Bird did. In 2015-16, the three-pointer accounted for 55.4% of Curry's overall field goal attempts. In 1987-88, shots from beyond the arc made up just 14.2% of Bird's shot chart.
Bird's three-point shooting percentage is barely better than that of Jayson Tatum
At this point, some of you are probably saying, "Well, he'd have a lot more than 649 if he played today." And you'd likely be correct in that assessment, as the three-point shot is obviously a much more significant part of the modern game.
I mean, even centers are tossing up triples these days.
In 2020-21, en route to winning the first of back-to-back NBA MVP awards, Nikola Jokic attempted 237 three-pointers, the exact number of Bird's aforementioned career-high. And Jokic nearly made just as many, falling six short of Bird's 98 in bucketing 92.
And that somewhat leads to the larger point.
Okay, so Larry Bird doesn't rank higher on the all-time made threes list because he didn't shoot as many, right? But it's not as if he ranks well regarding three-point shooting percentage either.
To make those 649, Bird fired off 1,727 regular-season three-point attempts, putting his career number at .3758. As of this writing, that ranks 179th in NBA history, one spot below Wesley Matthews (.3759) and one spot ahead of Kirk Hinrich (.3754). Just a couple of places down at the moment at No. 182 is Jayson Tatum (.3752).
For those wondering, the all-time leader in this department is Steve Kerr (.4540). Stephen Curry currently sits in 12th (.4275). But I digress.
How do you feel about that, Celtic fans? Jayson Tatum, who's already made more than 1,000 career triples, is essentially just as good of a three-point shooter as Larry Bird.
And Bird was actually worse in the postseason. Did he make some clutch threes in leading Boston to three championships? Absolutely. But in 164 playoff games, he made just 32.1% of his attempts, going 80-for-249.
Can you make the case that Larry Bird is one of the greatest shooters of all time? Yes. That mid-range jumper was deadly and close to unstoppable when he was on. But one of the greatest three-point shooters in NBA history? That's just not the case.