LeBron James' First Big Three Was Actually Not With Dwyane Wade and Chris Bosh
One of the biggest moves of LeBron James' career was when he decided to create a big three on the Miami Heat with Dwyane Wade and Chris Bosh. That trio ended up being very successful too. The Heat went to four straight NBA Finals when those three played together. However, James' big three with Wade and Bosh was not the first big three he played in during his NBA career. He had one on the Cleveland Cavaliers.
LeBron James had great success with Dwyane Wade and Chris Bosh
Throughout LeBron James' first stint in Cleveland, the Cavaliers could not win the big one. They ultimately had one NBA Finals appearance during the seven seasons James was there. The San Antonio Spurs swept them in those Finals too.
Not being able to win a ring in Cleveland led to LeBron James joining Dwyane Wade and Chris Bosh on the Miami Heat in 2010. The Heat was an organization that already had a championship culture too, starting with team president Pat Riley.
As you probably know, James and the Miami Heat were very, very successful together. They had four straight NBA Finals appearances. They also ultimately won back-to-back NBA championships in 2011-12 and 2012-13. It all ended, though, when James decided to return home to the Cleveland Cavaliers in the summer of 2014.
This big three was very successful. This was not the first big three LeBron James was a part of, though. It was just the first one to be that successful.
James had a big three during his first stint with the Cavaliers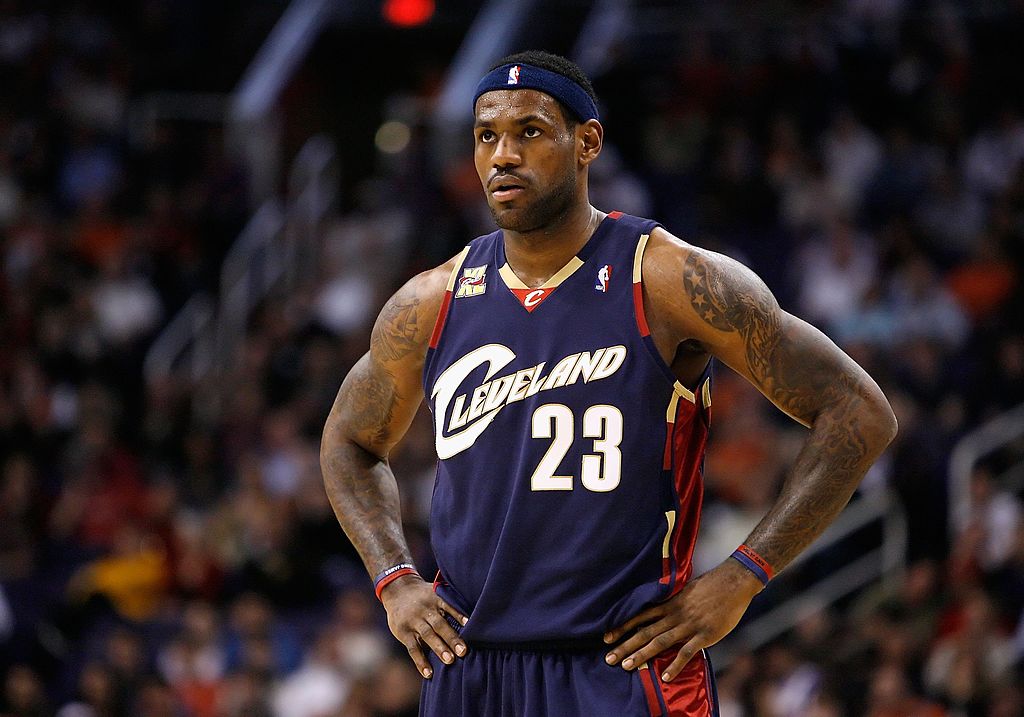 Many people might laugh at this, but the trio of LeBron James, Mo Williams, and Zydrunas Ilgauskas was actually a really successful big three. James was, of course, one of the best players in the world when they played together. Williams and Ilgauskas, on the other hand, complemented him really well. In their first season as a big three during 2008-09, the Cleveland Cavaliers had the best record in the entire NBA at 66-16. Williams averaged right under 18 points per game too while Ilgauskas, the big man, averaged about 13 points to go with 7.5 rebounds.
Then during their second season together, the Cavaliers were even more loaded as they added Antawn Jamison and Shaquille O'Neal. This caused Williams' and Ilgauskas' numbers to dip as the Cavaliers were more of a team and not just a big three. They still had the best record in the NBA during that season too.
No, Mo Williams and Zydrunas Ilgauskas were not nearly as talented as Dwyane Wade and Chris Bosh. Zydrunas Ilgauskas was also near the end of his career, so this was not going to be a long-term big three. The trio, however, was pretty successful in the two seasons they all three played together.
They were just not successful enough.
The championship culture on the Heat was the difference
What kept the Cavaliers' big three from achieving all of its goals was the lack of a championship culture the Cleveland Cavaliers had in the organization. The Cavaliers had never won an NBA championship up to that point. They had also only been to the NBA Finals once, and that was the one they went to with James. There just wasn't anyone who could instill that championship pedigree into the team. This led to everyone failing to help James when he needed it the most in the playoffs.
The Miami Heat, on the other hand, had and still have Pat Riley as the team president. He won five NBA championships as a head coach, four with the Los Angeles Lakers and one with the Miami Heat. Riley also had nine NBA Finals appearances in total as a head coach. He knows what it takes to win. So, that championship culture, along with three All-Stars in James, Wade, and Bosh, led to the Heat winning championships. The Cavaliers proved they could win in the seasons they had Williams, James, and Ilgauskas. They had the best record in the entire league each of those seasons. They just did not have that culture to help them win it all.
Dwyane Wade and Chris Bosh are two of the best players to ever play. They were both a million times better than Mo Williams and Zydrunas Ilgauskas. However, Williams and Ilgauskas were still really talented players and complemented LeBron James really well. Because of this, the LeBron James, Dwyane Wade, and Chris Bosh big three was not the first big three James played in. The one he had with Mo Williams and Zydrunas Ilgauskas was.