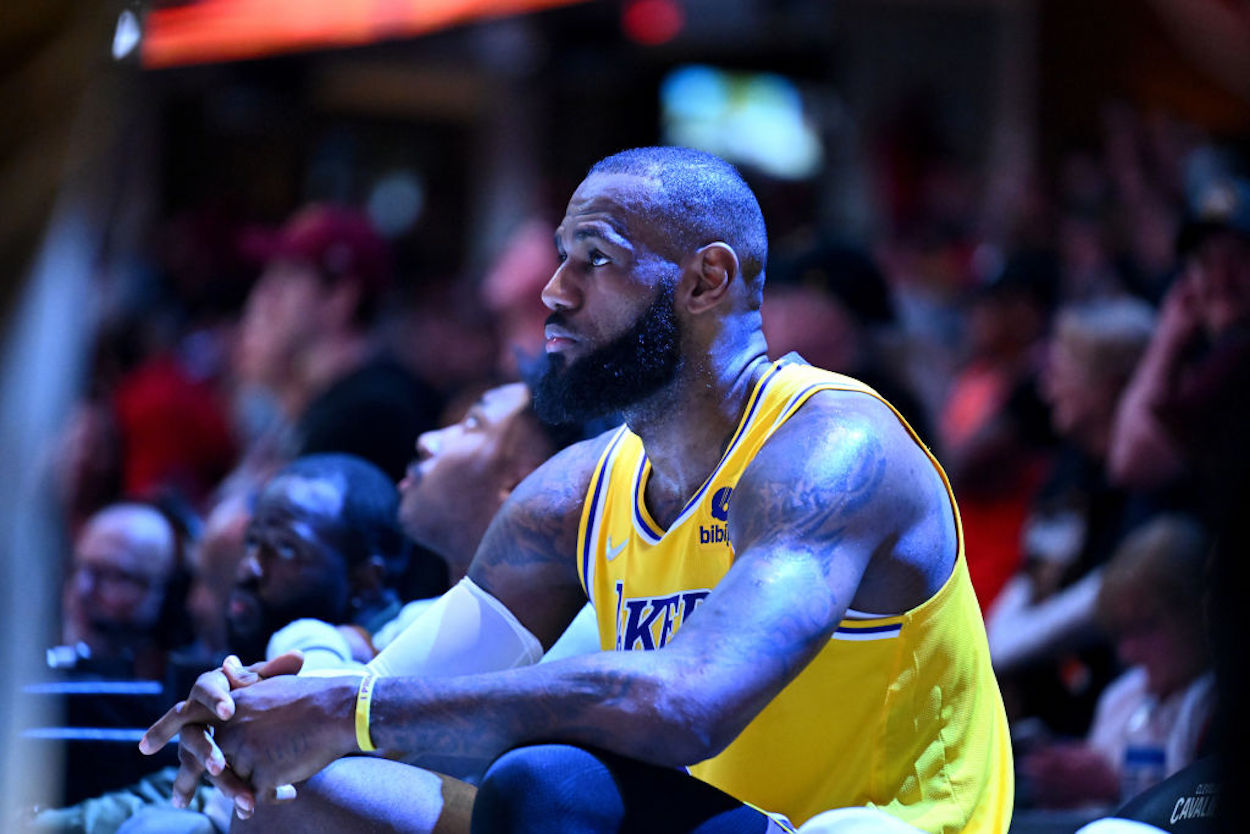 LeBron James' Injury Update Destroys the Selfish, Stat-Padding Narrative
Throughout the 2021-22 campaign, some have suggested that LeBron James was stat-padding. His recent quotes, however, tell a different story.
It goes without saying that the Los Angeles Lakers' season didn't go according to plan. Russell Westbrook failed to find his feet in Hollywood, Anthony Davis spent large chunks of the year on the sidelines, and LeBron James struggled to overcome nagging injuries. As you might expect, that outcome led to plenty of hot takes, many of which took aim at King James himself.
One of those narratives centered around James' "stat-padding." With the Lakers falling out of postseason contention, some in the media started to argue that LeBron's outstanding individual year was little more than a selfish attempt to get something out of the season. If he couldn't win a championship, at least he could prove how good he was as an individual.
If the star's recent quotes are anything to go by, though, that narrative has been destroyed.
LeBron James revealed that he didn't consider playing in the last few games of the season
Coming down the season's home stretch, the largest remaining Lakers narrative was LeBron James chasing the scoring title. While some suspected that he'd push through his ankle injury to earn a place in the record books, he didn't return to the lineup, which gave Joel Embiid the crown.
From afar, that seemed surprising. Pro athletes are famous competitors, and they're known to push through the pain in order to feed their inner fire. Based on his quotes from Monday, April 11, though, James' absence seems to make sense.
"There's no surgery required, no injections, but I'm going to have to stay off [the injured ankle] for 4-6 weeks to let it recover," he explained, according to Lakers beat reporter Mike Trudell.
James also offered the coup de grace to the selfish, stat-padding narrative.
"LeBron said there was no consideration of him returning to play just to qualify for the scoring title, due to his ankle injury. Were he healthy, he'd have played," Trudell noted in another tweet and included the following quote from James: "I'm not out there just to be playing meaningless games to win the scoring title."
That quote raises issues with the entire stat-padding narrative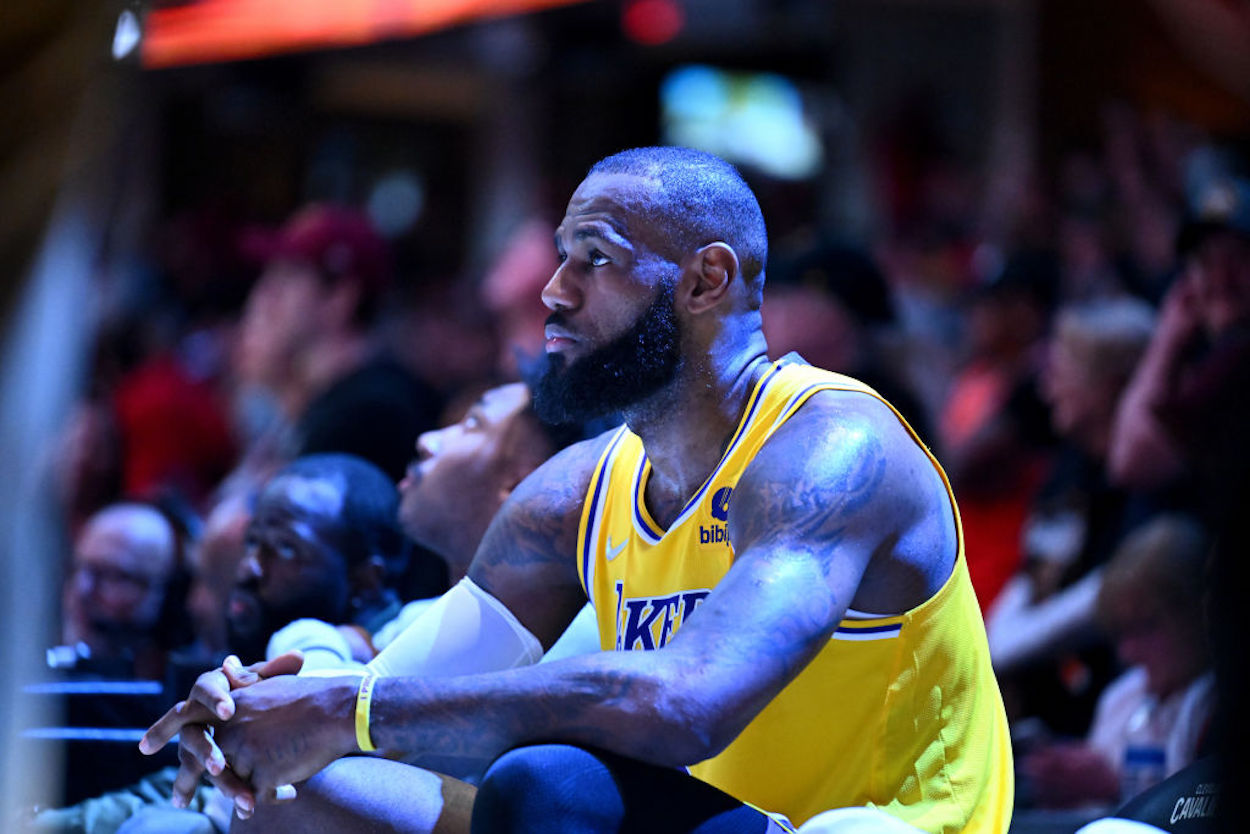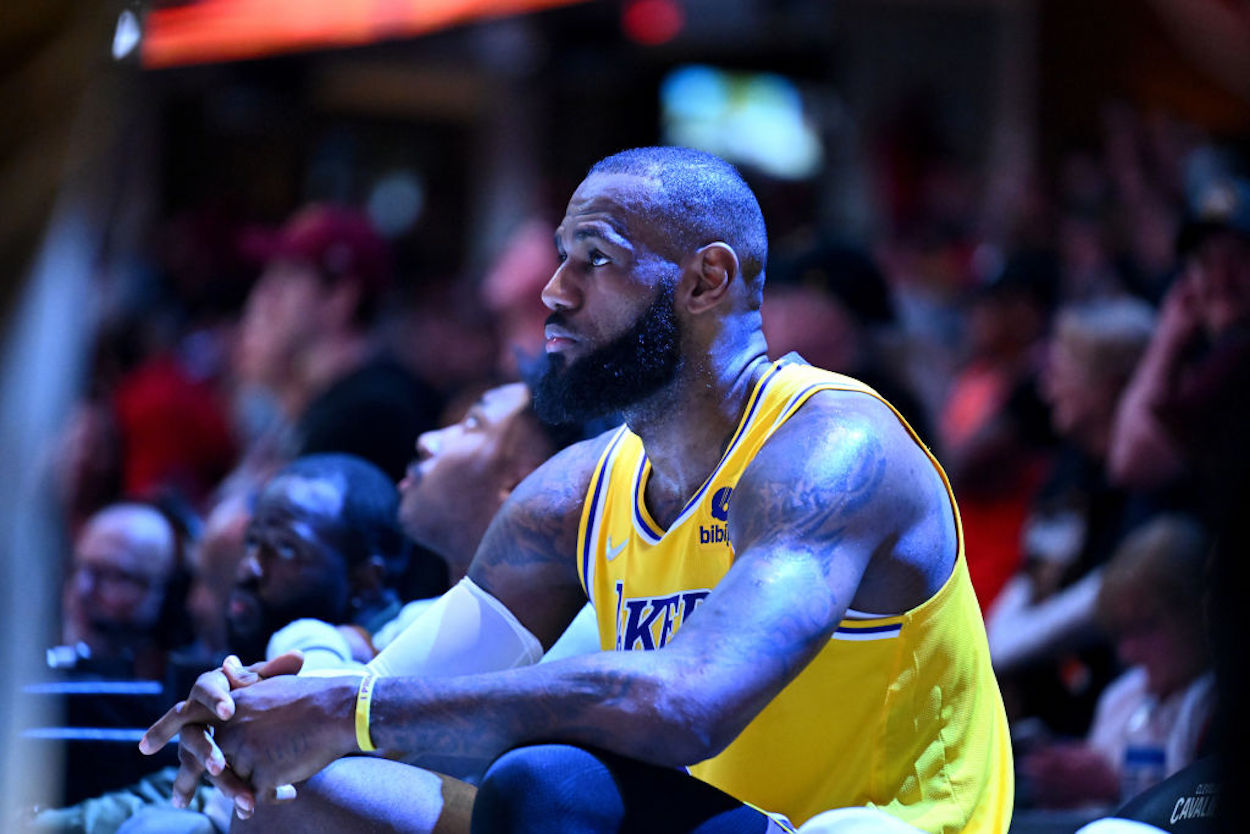 While you can find countless tweets accusing LeBron James of padding his stats, let's zoom in on one particular instance. In late February, Skip Bayless fired the following message: "LeBron James, in Year 19, has already played 36 minutes tonight but is still in the game, trailing by 22 with 5:08 left, to stat-pad with easy garbage-time buckets as he chases Kareem's all-time scoring record."
Looking at the box score, James finished the game with 36 minutes under his belt; he potted 32 points on 13-of-23 shooting in a 123-95 loss to the New Orleans Pelicans. While you could argue that he shouldn't have stayed in the game, let's consider the counterarguments.
Say James stays on the sidelines as the Lakers get drubbed. It's safe to assume that, if he sat out the fourth quarter, he'd be ripped for hanging his teammates out to dry. That evening, the Lakers' second-leading scorer had 16 points. Do you legitimately think LeBron would have gotten off scot-free if he had spent 15 minutes on the bench watching his team lose by 40?
That brings it back to James' quotes and his insistence that he wouldn't play solely to win a scoring title. While his statement should be enough to silence any narratives, you could argue that he's just playing the PR game. Through that lens, I'd suggest an alternative reading.
Regardless of how you feel about the NBA veteran, he isn't naive to the realities of professional basketball. James has been in the spotlight since he was a teenager; he knows how narratives form and where his critics will sharpen their knives. Risking his long-term health for a (comparatively) meaningless scoring title would be the ultimate selfish choice. It's not like this would have finally edged him past Michael Jordan in any meaningful metric. It would have only made the score 10-2
Imagine the social media scenes if he won the scoring title, only to be forced into retirement by a serious ankle issue. Twitter's servers would probably overheat within a few minutes.
Furthermore, you could argue that the forward has enough perspective on basketball to assign value to individual accomplishments. The fact that he called the games "meaningless" is telling. We've all seen young players go all-out in an attempt to make an impact on the league. At this point, James is beyond that. At the risk of trying to get inside his head, he probably realizes that missing out on a scoring title is less painful than potentially ruining his chances at a championship.
Again, that's not to say LeBron James is the perfect player. There are plenty of flaws, both large and small, that you could pick apart. Stat-padding during the 2021-22 campaign, however, probably wasn't one of them.
Stats courtesy of ESPN