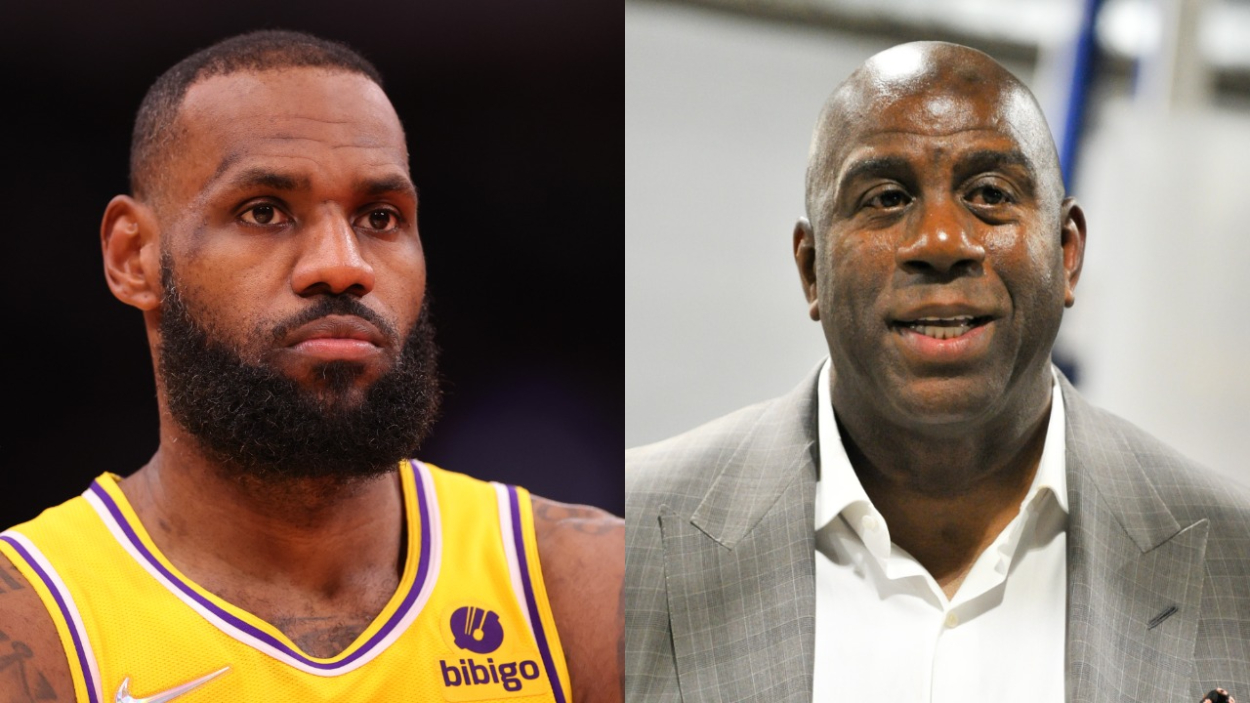 LeBron James, Magic Johnson Reportedly Not 'on the Greatest of Terms'
Magic Johnson is no longer in the Lakers' front office. However, he and LeBron James are reportedly not on great terms, which just further proves that LA's issues run deep.
The Los Angeles Lakers are more than just a disappointing NBA team. They are an organization in the middle of an unprecedented power struggle that Hollywood wouldn't even be able to replicate it in a movie script.
The pillars of the battle appear to be the team's superstar, LeBron James, and its general manager, Rob Pelinka. However, it might go deeper than that.
NBA legend Magic Johnson played a significant role in bringing James to LA in 2018. He was the Lakers' president of basketball operations when LeBron signed with the team, but he stepped down after The King's first season. 
And there appears to still be some hard feelings about his departure. LeBron and Magic are reportedly not on the best of terms.
Magic Johnson has a lot of influence within the Lakers' organization
Magic Johnson was one of the greatest players of all time and is a Lakers legend. He won three MVPs with the organization and led it to five championships.
He later worked in the team's front office as LA's president of basketball operations and helped sign LeBron James, but he shockingly stepped down in 2019.
However, Lakers governor Jeanie Buss has still leaned on him for advice during this tumultuous season.
"To me, he's still working with us," Buss said to Bill Oram of The Athletic last month. "In terms of an official capacity, in the NBA, you have to be very clear as to who can negotiate on your behalf and who can't. So he doesn't have that official designation. But in terms of his support, his wisdom, his insight, I freely call on him as needed."
"I just sat down with him," Buss said to Oram, "and I said, 'Should I be concerned? What are you seeing?' And he just talked about, you know, the injuries and that the team hadn't had a chance to be together. … So, you know, he's very calm and insightful. And it, you know, I appreciate his seeing the big picture instead of reacting to every game."
Just because Johnson still has a great relationship with Buss, though, doesn't mean he's close with others in the organization. He publicly blasted Rob Pelinka after his departure, and the way he left reportedly irked James.
LeBron James and Magic Johnson are reportedly not on the best of terms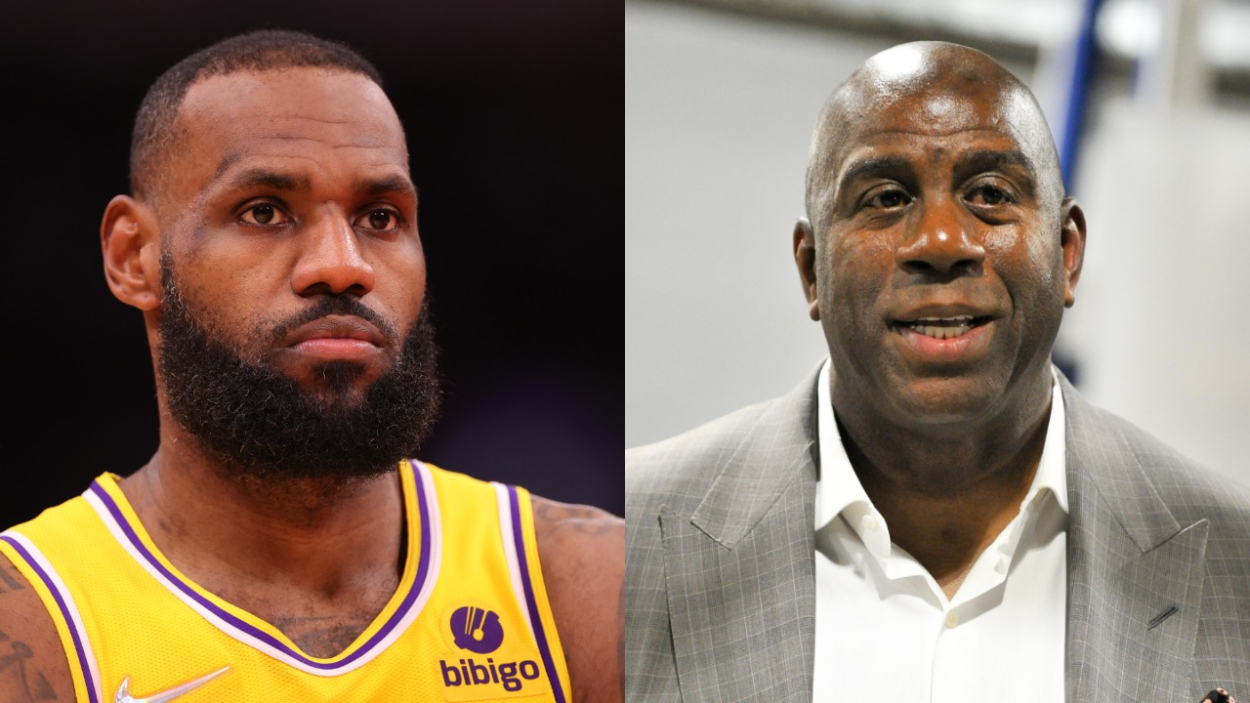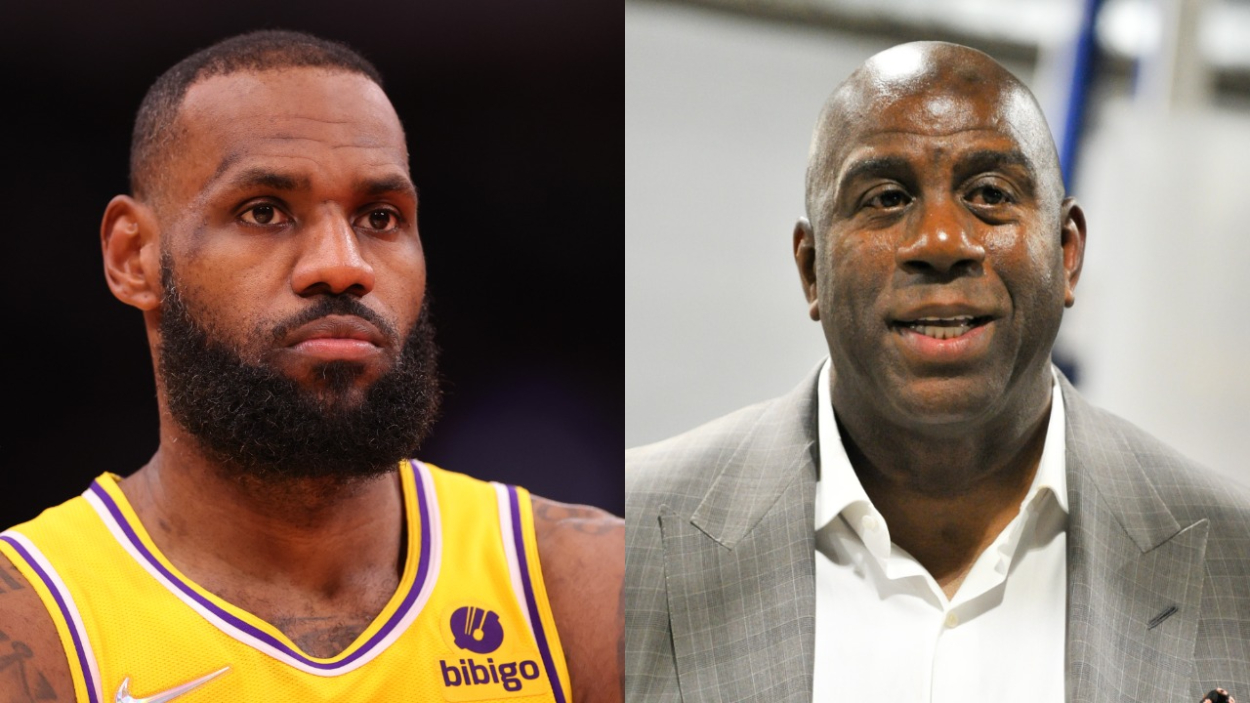 Brian Windhorst knows LeBron James better than almost anyone. They are from the same hometown, and the former has covered The King throughout his entire career.
In a recent appearance on his podcast, Windhorst subtly dropped a bombshell about James and Magic Johnson.
"My guess is that she (Buss) is gonna seek Magic's opinion when it comes to [this offseason]," he said on the Feb. 25 episode of Brian Windhorst and The Hoop Collective podcast. "What Magic might offer will, I think, be interesting. I also think it's interesting to point out that I'm not so sure that LeBron and Magic are on the greatest of terms right now. LeBron was very upset that Magic pulled the ripcord after the first year and didn't even tell him; just did it. There's scar tissue there."
He continued: "And earlier this year when Magic criticized the Lakers … and LeBron was asked about it, LeBron declined to talk about it. … So, I'm not even sure that this palace intrigue is just about Pelinka vs. LeBron."
Even if LeBron and Magic aren't too close, they seem to still be somewhat friendly with each other. The legends took a photo together at a Los Angeles Chargers game this past NFL season.
But no matter what their relationship is like right now, Windhorst proved one thing: The Lakers' problems run deeper than the surface.
The Lakers' problems run deep
LeBron James vehemently told reporters this week that he doesn't want to leave the Lakers. He's committed to the franchise.
But winning likely played a role in his decision to leave the Cleveland Cavaliers for LA in 2018. The Lakers gave him an opportunity to win more titles, and they brought home the Larry O'Brien Trophy in 2020.
However, the franchise has mismanaged the roster ever since. And despite sitting in the thick of the NBA Play-In Tournament race with a sub-.500 record, the front office chose not to make a move at the trade deadline.
Are the Lakers really dedicated to winning?
LeBron is the most powerful man in the NBA. The Lakers can build around him and try to win now but destroy their future in the process. Or they can start preparing for life without The King and throw away any chance of winning titles in the next few years. Rob Pelinka likely knows this, and so do Jeanie Buss and Magic Johnson.
The pressure to win with James is likely suffocating for the Lakers, but they put themselves in this position. They brought LeBron to LA and had championship expectations when doing so. If they want to make good on what was probably a promise made to James by Magic Johnson in regards to winning titles, they will have to risk their future.
If they don't, LeBron James could be on his way out of Tinseltown.