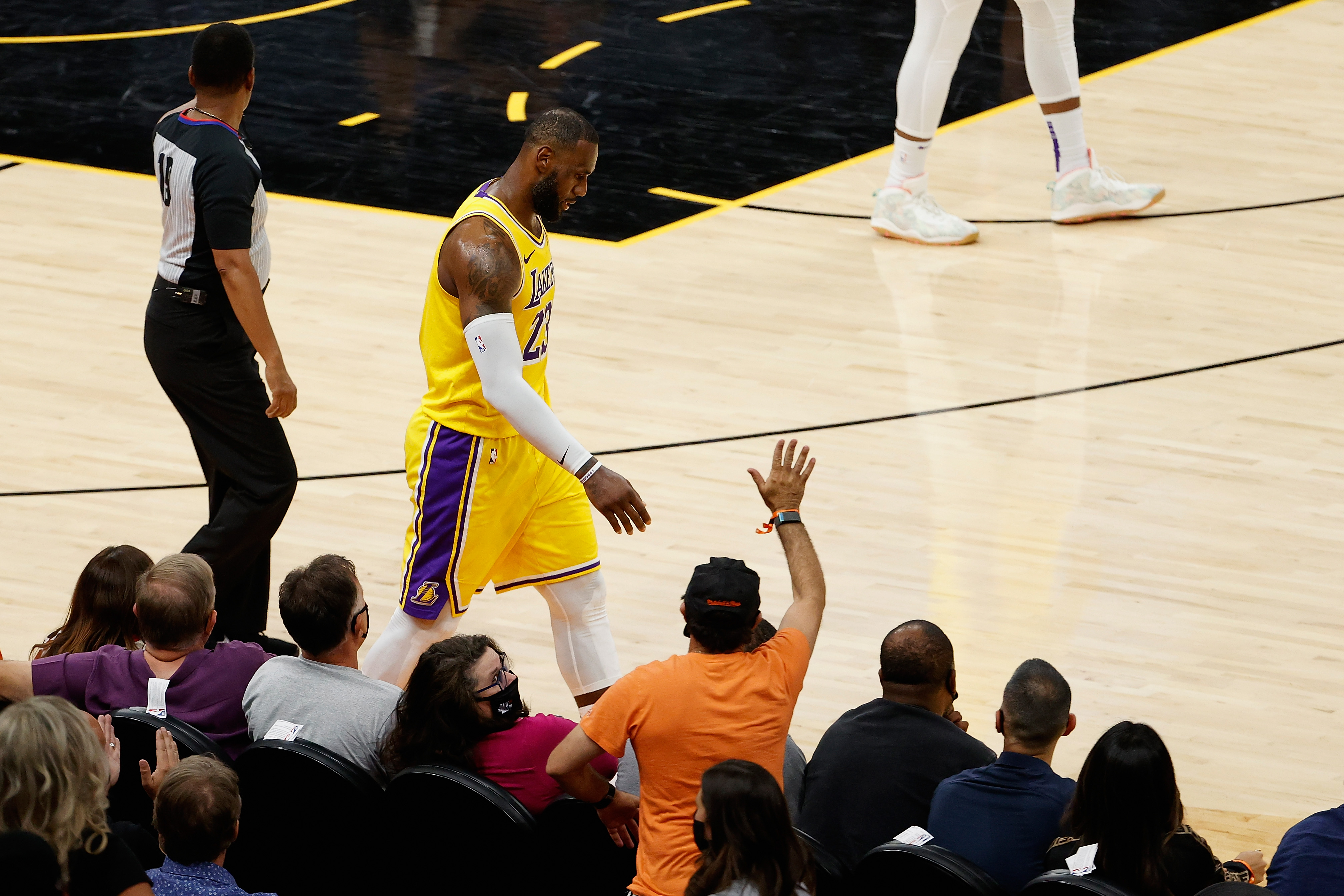 LeBron James Proving He's a Different Type of GOAT
A frustrated LeBron James walked into the locker room with 5:44 to play Tuesday night.
Tuesday night's performance may have cemented LeBron James as the GOAT. No, not that kind. Michael Jordan owns that one. Jordan never walked off the court and bailed on his teammates. Once again, King James left his Los Angeles Lakers squad on the bench, this time with a little less than half of the fourth quarter remaining. Things weren't going well, so it was time for him to put himself in GOAT mode — go off and tank.
Simply put, LeBron James is a sore loser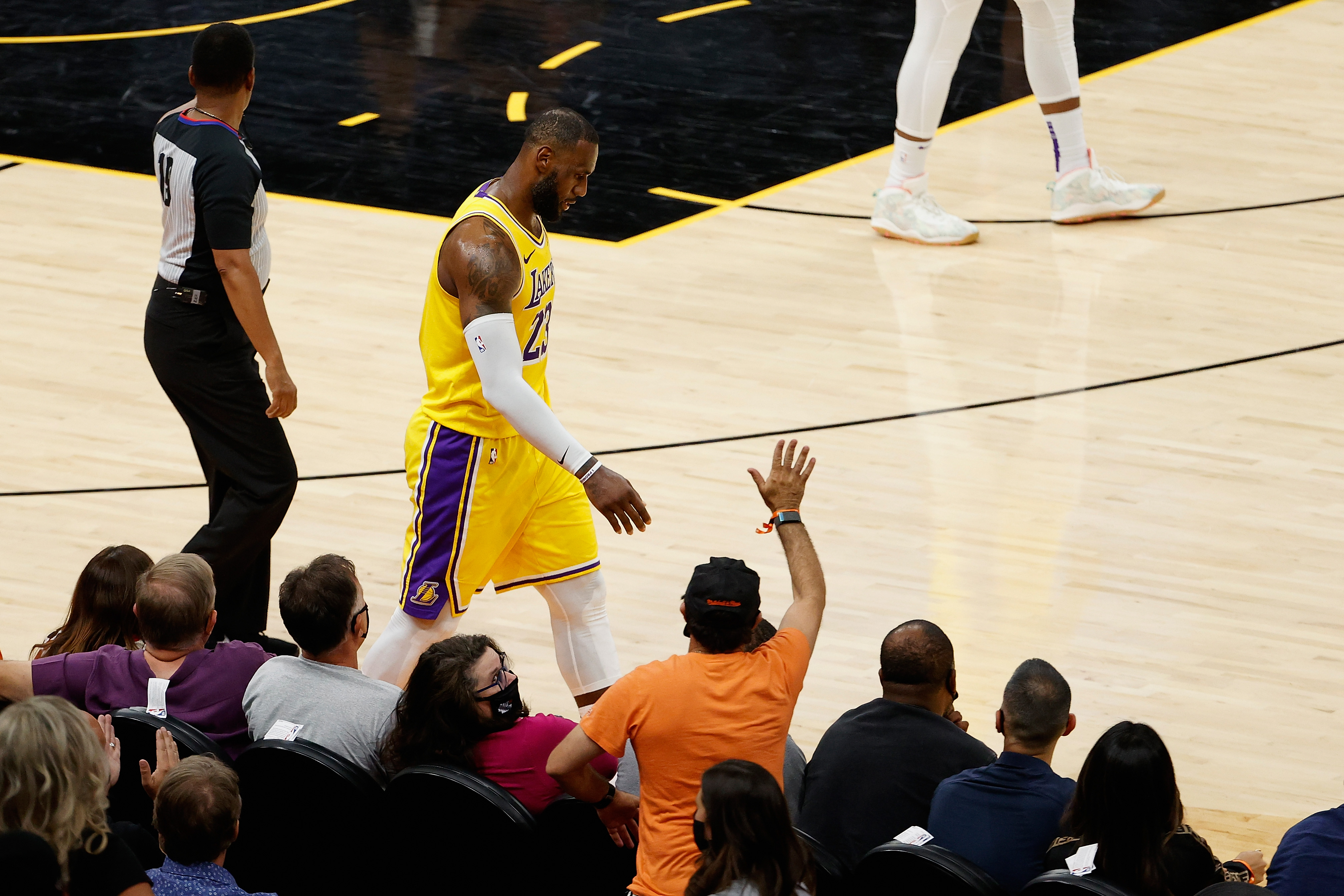 James has walked off the court before during losses. But, never has he done it with 5:44 remaining in the game. When things don't go well for him personally or as a team, he sulks.
The Phoenix Suns manhandled the Lakers on Tuesday. The Lakers played without Anthony Davis, but they still had James, who is widely considered the best player in today's game. It just didn't matter.
James led the Lakers with 24 points in the 115-85 rout, although he probably thinks the score was 105-73 because that's what it was when he turned his back on his team. After the game, he had a quick comment.
"We got our ass kicked. It is that simple," James said. "They did whatever they wanted to win this game."
It's not the first time Lakers star LeBron James has been labeled a quitter
During Game 3 of the NBA Finals last year, James walked into the locker room before the game ended. Of course, his team was losing. He wouldn't do it if his team was ahead. There were only 9.7 seconds left. When asked if he was frustrated or if he just lost track of time, he quipped, "Both," according to USA TODAY.
Here's a hint, LeBron: When the buzzer or horn sounds, that signifies the end of the game.
The problem with this walk-off was that he was still playing. He was on the court and just headed to the locker room. Is it the end of the world he left with a few ticks left on the clock? No. It's just not a good look for a basketball player many consider one of the best ever.
In 2018, James' Cleveland Cavaliers were swept by the Golden State Warriors. Former NBA player Stephen Jackson called out James for quitting and making excuses during the series. James supposedly punched a whiteboard after a tough Game 1 loss and hurt his hand. Jackson didn't buy that as an excuse.
 "He quit. He knew he was playing against a better team," Jackson said in 2018, according to Yahoo! Sports. "After Game 1, he knew he was beat. Point blank, bruh. It had nothing to do with his hand. They got swept. 4-0. Take it like a man. Go home, bruh.
"I think his heart was questioned. I don't know if he punched his heart against the whiteboard. Because at times it looked like his heart was hurting. He wasn't competing, wasn't giving the same energy we see from LeBron."
Even former teammate Eddie House called James out for quitting in the 2011 NBA Finals
James was even called out by his own teammate when he was a member of the Miami Heat. Eddie House was on the Miami team that lost to the Dallas Mavericks in the NBA Finals. He spoke about it in 2018 when the NBA's GOAT topic came up.
"I can't get over the fact he didn't show up in Dallas," House said, according to The Sporting News. "Not only because I was on the team, but the fact he was the best player and everybody was dependent on him to show up and do what he does, and he was M.I.A.
"He had a bad series. Jordan never had that. People killed James Harden for having a bad series last year … but you going to say somebody who quit in the Finals, [at] the end of everything, when all the marbles are on the table, that he's the greatest of all time? I can't buy it."