Stephen A. Smith Once Claimed That LeBron James' Cavs Teammate 'Betrayed' Him so Significantly That It 'Compromised His Greatness on the Basketball Court'
LeBron James has had many great teammates on the Cleveland Cavaliers, Miami Heat, and Los Angeles Lakers. That's part of why he is a four-time NBA champion and has played in the NBA Finals a whopping 10 times.
However, he has also had some not-so-great teammates. In fact, he reportedly had at least one Cavs teammate who "betrayed" him so significantly that ESPN's Stephen A. Smith said the situation compromised James' "greatness on the basketball court."
LeBron James had significant success during his first stint with the Cavs
LeBron James went to the Cavs with the No. 1 overall pick in the 2003 NBA draft, and he took that organization to heights it had never before reached. 
In addition to proving his greatness individually — he won two NBA MVPs during his first Cavs stint and led the NBA in points per game in 2007-08 — James led Cleveland to the NBA Finals in 2006-07.
The Cavs ultimately lost to the San Antonio Spurs in that series but accomplished more in the next few seasons. James led them to the two best records in franchise history during the 2008-09 and 2009-10 campaigns as they won 66 and 61 games, respectively.
During those two seasons, though, the Cavaliers failed to meet expectations in the postseason. Cleveland lost in the Eastern Conference Finals in 2008-09 and the conference semifinals in 2009-10.
ESPN's Stephen A. Smith, though, once claimed that non-basketball issues led to the Cavs and James' demise during that 2009-10 season. 
Stephen A. Smith said that LeBron's teammates 'betrayed' him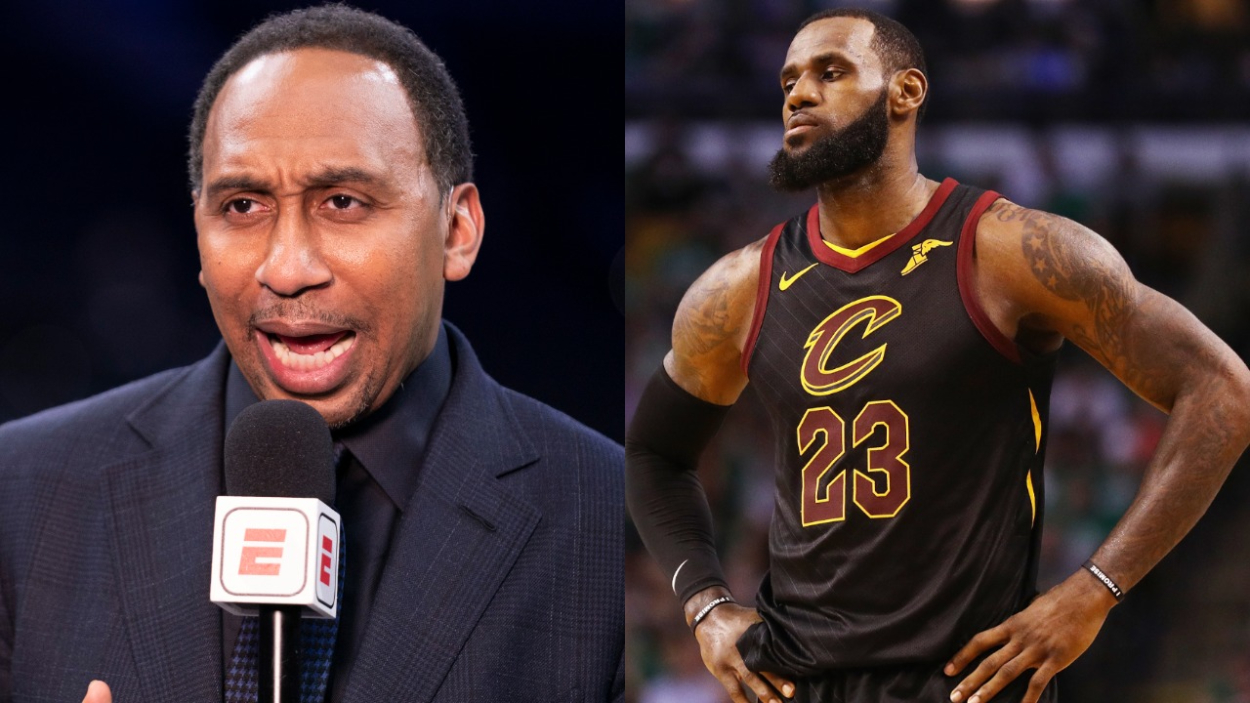 In 2019, Stephen A. Smith appeared on his show, First Take, to discuss comments reportedly made by Kevin Garnett, which essentially insinuated that the Boston Celtics forced James out of Cleveland by defeating the Cavs in the 2010 playoffs.
Smith didn't necessarily say Garnett was wrong. He did, however, add that James' departure from Cleveland was about more than just basketball.
"There were personal issues going on with LeBron James and his teammates," Smith said on the Dec. 19, 2019, episode. "He was disrespected, and he was flat out betrayed, and I don't give a damn what anybody says; he probably will never speak about it. Some people gonna call me a liar, whatever. I don't give a damn. I'm telling you what I know. He was betrayed by some of his teammates and that Cleveland organization. And that played a role into why he left Cleveland to go to Miami."
He continued: "There were a lot of things going on with LeBron James that's none of anybody's damn business. And I will come to his defense to the grave on that one. What happened to him that last year in Cleveland was nothing short of betrayal. It had nothing to do with basketball. But it also compromised his greatness on the basketball court because he was distracted, which is why, when he went to Miami the next year, every single press conference, Dwyane Wade was sitting by his side."
Smith's co-star on First Take, Max Kellerman, also agreed, saying, "It's widely known what you're talking about. … That was absurd what he had to deal with that year."
While neither Smith nor Kellerman brought up the specific situation, we can reasonably assume it has to do with a widely known rumor from James' last season on the Cavs before he joined the Heat. That specific rumor claimed that teammate Delonte West allegedly slept with his mother. Former NBA player Calvin Murphy even claimed the rumor was true, per Bleacher Report. However, it was never 100% confirmed.
Whether because of West and any of his other teammates from that year or other personal issues, LeBron James was certainly not himself during that 2010 playoff series against the Celtics.
He ultimately bounced back, though.
LeBron James later won a championship with the Cavs
LeBron James did struggle significantly in the 2010 playoff loss to the Celtics. While he averaged 26.8 points, 9.3 rebounds, and 7.2 assists, he only shot 26.9% from 3-point range and 44.7% from the field, compared to his 50.3% field-goal percentage that regular season. He then had nine turnovers and shot 8-of-21 from the field in the series-ending Game 6.
James bounced back significantly and later led the Cavs to the promised land. After going to four consecutive NBA Finals with the Miami Heat from 2010-11 through 2013-14 and winning two NBA titles, James went to four more consecutive Finals with the Cavs from 2014-15 through 2017-18. He ultimately won an NBA championship with the Cavaliers in 2016 before later winning his fourth title with the Lakers in 2020.
While a teammate's betrayal might have kept LeBron James from beating the Celtics and going to the NBA Finals with the Cavs in 2010, he still went on to have significant success in Cleveland (and the NBA in general).
After all, he is an NBA GOAT.
Stats courtesy of Basketball Reference