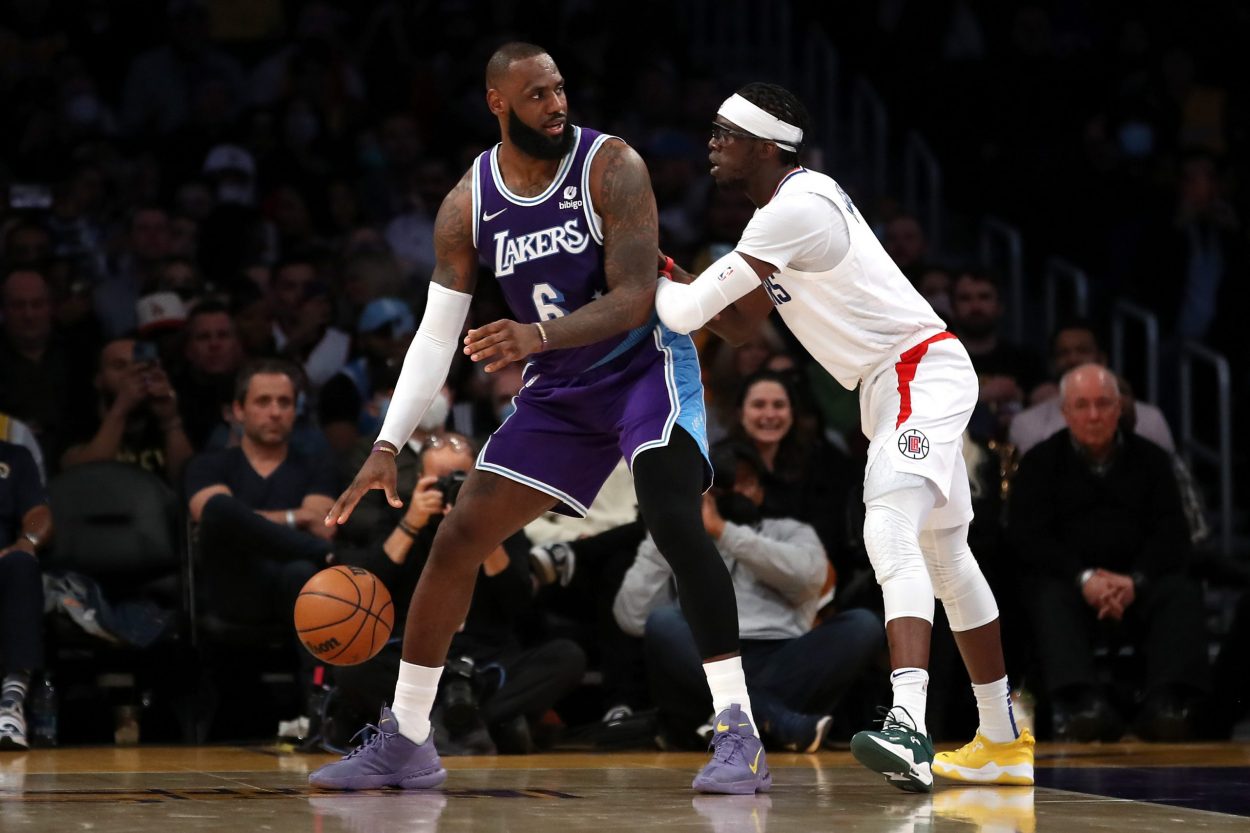 LeBron James Reportedly Wanted Sam Presti to Replace Rob Pelinka
LeBron James' praise for Sam Presti during All-Star Weekend takes on a whole different meaning given the nature of the latest reports.
LeBron James had plenty of things to say during NBA All-Star Weekend, from speaking about a possible reunion with the Cleveland Cavaliers to his determination to play with his son, Bronny, before his career ends. But amid all that noise, James also set aside time to praise Oklahoma City Thunder general manager Sam Presti. That flattery could take on a new life of its own if the rumors regarding "LeGM's" tectonic movements in the front office prove true.
James' remarks seemed poignant, especially regarding his future with the Los Angeles Lakers. However, he might have hinted at failed maneuverings against Rob Pelinka with his endorsement of Presti.
LeBron James believes Sam Presti is one of the best general managers in the NBA
The Oklahoma City Thunder haven't won an NBA championship. They find themselves in an organizational rebuild. Still, those factors don't detract from Sam Presti's reputation as one of the best GMs in the game. Not in James' eyes, at least.
During one of his media sessions in Cleveland, James called Presti the "MVP" of the Thunder organization before lauding OKC's GM for his skills as a talent evaluator.
"The MVP over there is Sam Presti… I don't understand this guy's eye for talent. He drafted KD, Russ, Jeff Green, Serge Ibaka, Reggie Jackson, Josh Giddey. … This guy is pretty damn good."

–LeBron James
LeBron didn't even mention James Harden, either. Nor did he talk about the trades Presti swung to land Shai Gilgeous-Alexander (in the Paul George) and a wealth of draft capital.
There's a bit of irony to LBJ's Presti praise.
James (rightfully) never has much interest in roster-building, typically helping to orchestrate moves he feels will help his teams in the immediate future. On the other hand, Presti employed more of a long-term approach in the early Thunder years and is doing so again behind young players such as SGA, Josh Giddey, and Tre Mann.
Despite the differing approaches in competitive models, though, James acknowledges Presti's body of work. He reportedly wanted the Thunder GM in LA.
LBJ reportedly wanted Presti to replace Rob Pelinka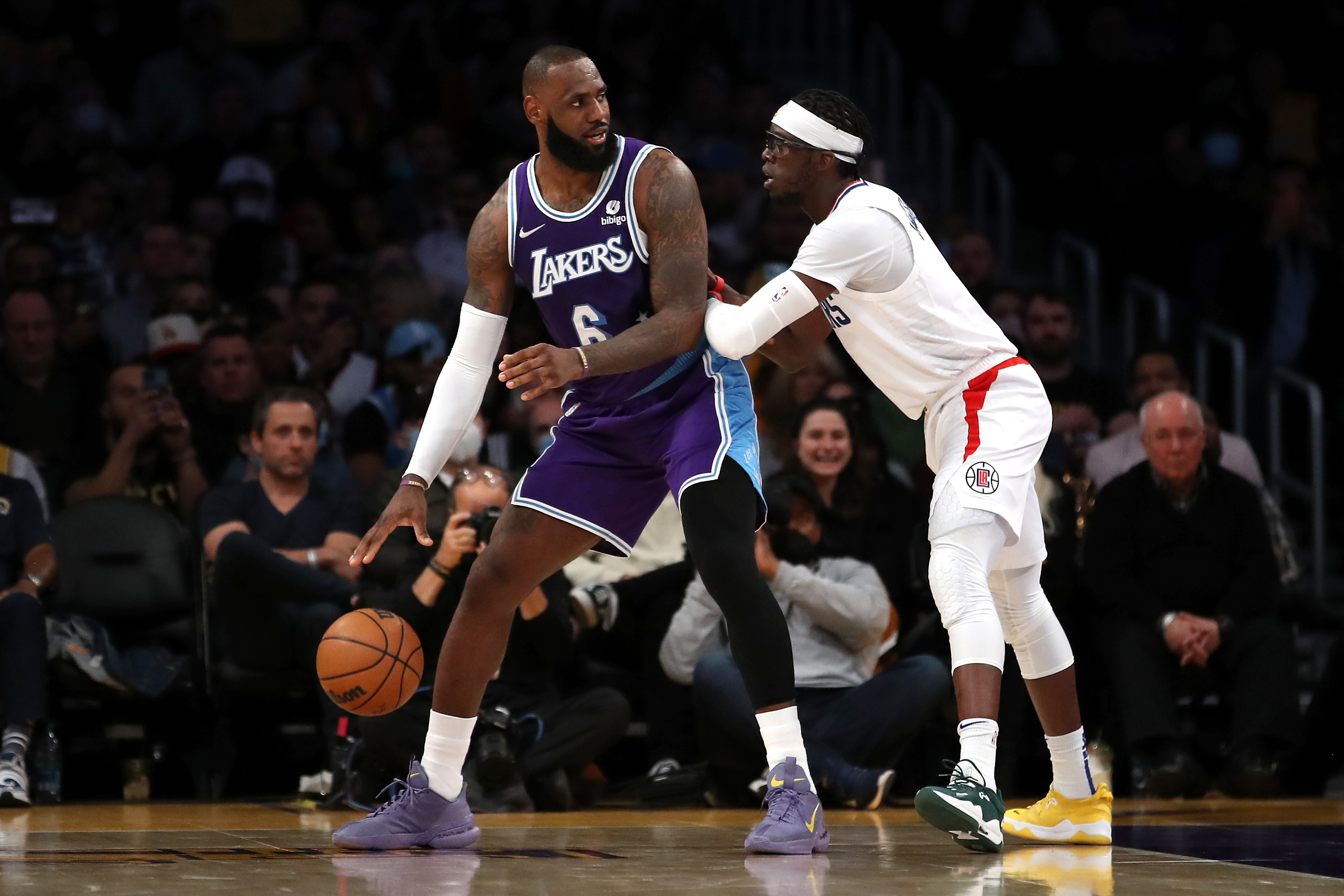 All indications are that LeBron James remains with the Lakers in the coming years. Signing a 1+1 extension with LA affords both LBJ and the Purple and Gold a little more time.
However, that doesn't mean James refuses to mix things up and spur change within the organization.
Although LeBron's agent, Rich Paul of Klutch Sports, denied the whispers of his client wanting to leave LA and beefing with the front office, rival GMs think the King has an agenda. One told Ric Bucher of Fox Sports that James actually wanted Presti to replace Pelinka as Lakers GM.
"I heard that he was trying to get Sam Presti in there to replace Rob. I don't see that happening, but I could see him trying to get Pelinka out of there."

–Eastern Conference GM to Ric Bucher of Fox Sports
As of now, everything is hearsay. Still, given James' purported influence within the organization, it's not out of the question for LBJ to have stumped for Presti at one point. If nothing else, his comments during All-Star Weekend sure seem like telegraphing in light of this latest report.
Will the Lakers cede control to LeBron and eventually coax Presti to come to El Segundo? That remains to be seen. Regardless, Pelinka is probably running out of time.
What can the Lakers do to ease the tension?
The simplest answer to the above question is pretty straightforward: Win games. Unfortunately for Laker fans, W's have been hard to come by this season.
The Lakers overcame a 10-point first-half deficit in Saturday's game against the LA Clippers, outscoring the Clippers 31-15 in the third quarter. They promptly blew the lead in the fourth quarter, falling to 27-32 on the season.
Even if the Lakers make the play-in tournament, they aren't likely to go very far. Much of the focus has already shifted to the future, with the latest LeBron James murmurings only furthering that notion.
How can LA recover and build optimism for next season? Much of that responsibility falls on Pelinka.
The Purple and Gold might try to package first-round picks in 2027 and 2029 to get off Russell Westbrook's contract. Maybe it's time for the team to consider trading Anthony Davis, though that doesn't seem like a move LeBron would sign off on.
Regardless, it's clear that LA has to make moves this summer. Pelinka is on thin ice, particularly if the LeBron-Presti rumors are rooted in truth.
Stats courtesy of Basketball Reference.