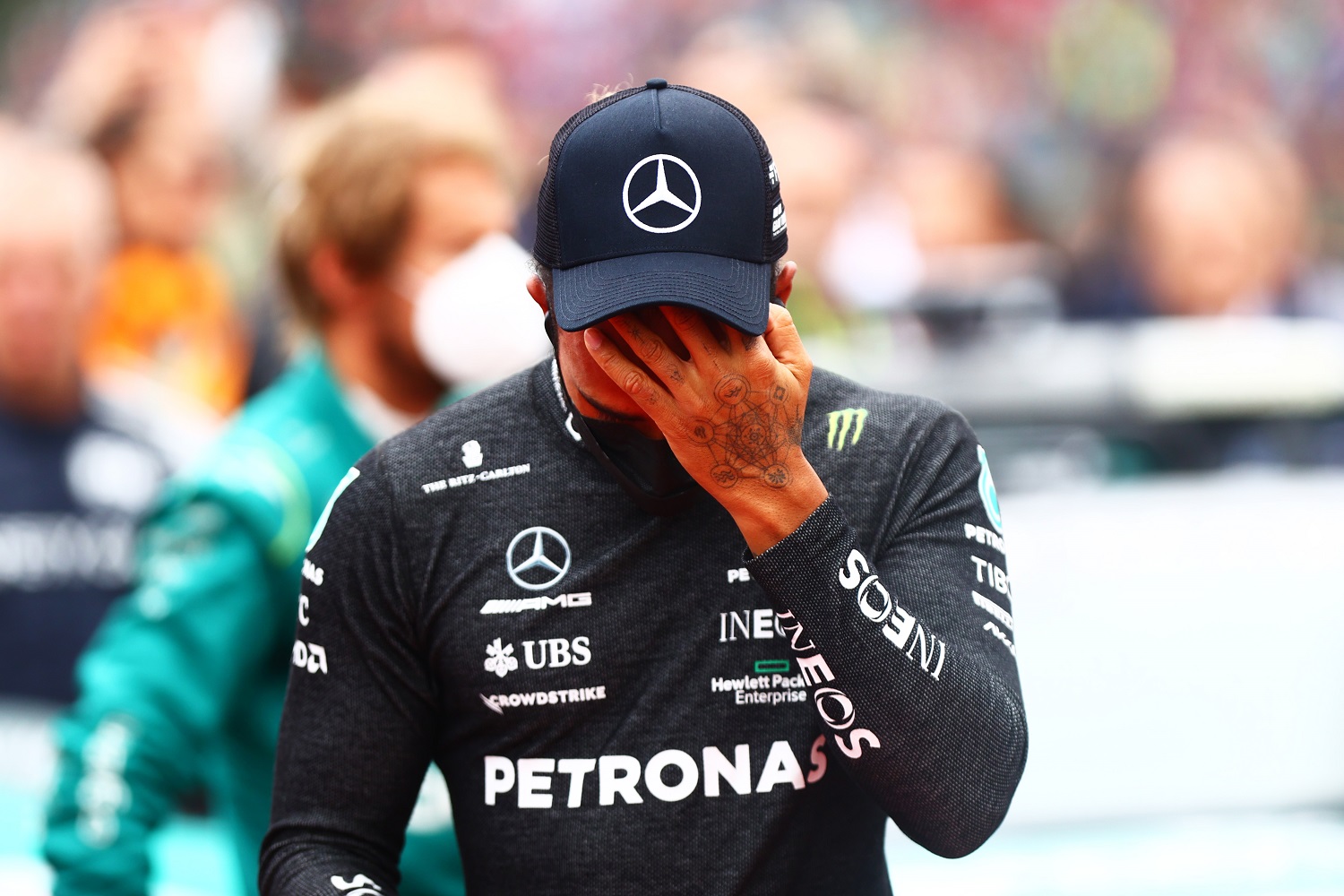 Lewis Hamilton Must Deal With a Bitter Indignity at Imola That Will Define His Season
Being lapped by Max Verstappen at Imola has to be a demoralizing moment for seven-time F1 champion Lewis Hamilton.
Lewis Hamilton does not fall into the category previously occupied by Willie Mays, Johnny Unitas, and Muhammad Ali. While it's entirely possible that his skills have fallen off, Hamilton is without a doubt better than what we have seen four races into the new season.
Perhaps he should have retired after the bitter finish to the 2021 season, but it wasn't a matter of needing to because of performance. That being said, it's over for the British Formula 1 great.
One can point to failures in the Mercedes racing program, but the way last season ended may be every bit as much the culprit in Hamilton's descent into mediocrity. The crazy final minutes of the season-ending race stripped Hamilton of his will to fight to the end, and Sunday at Imola was the indignity that ends his status as a serious F1 contender.
Lewis Hamilton holds noteworthy Formula 1 records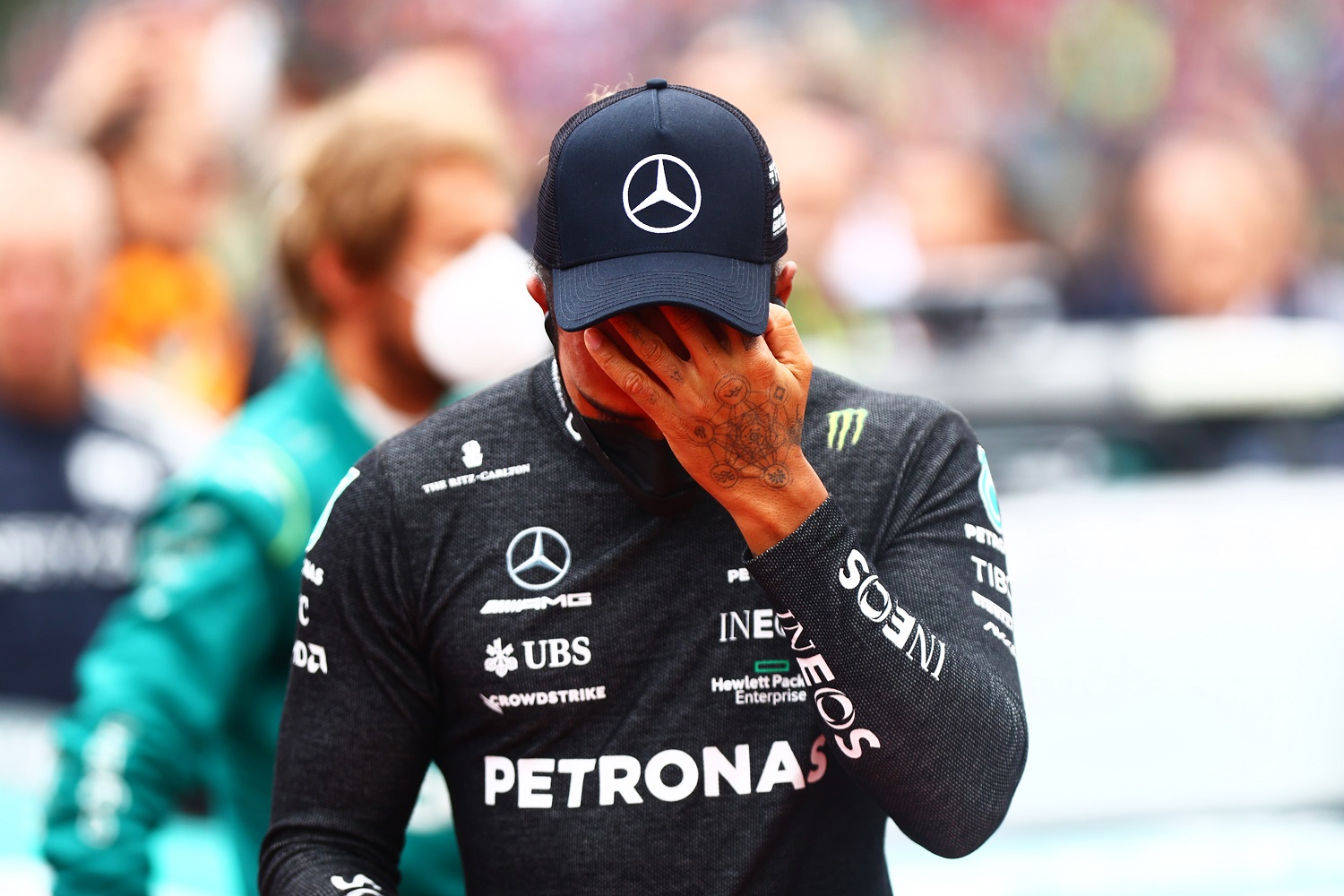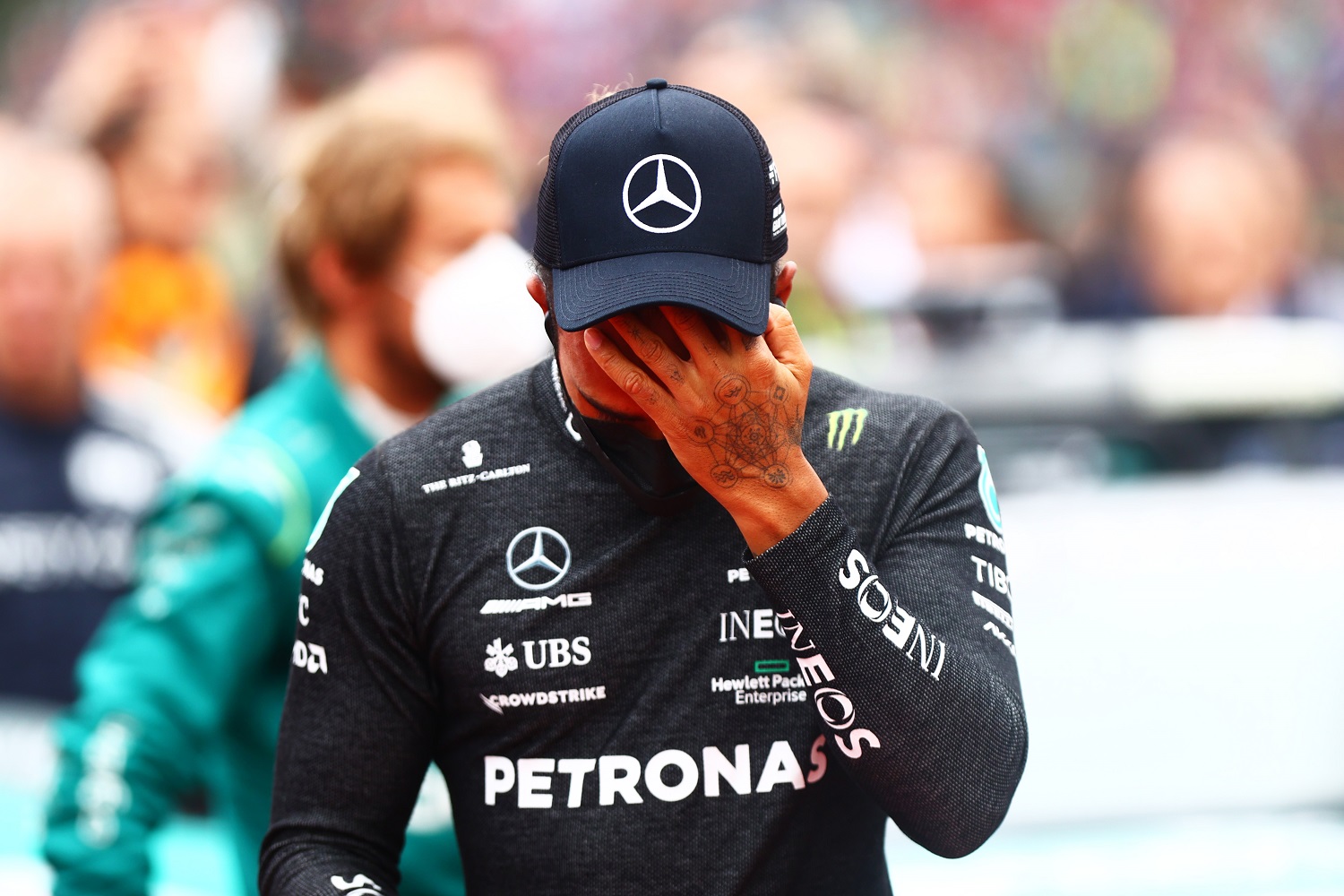 Every generation produces a dominant driver in the Formula 1 ranks, but it's fair to say few, if any, have separated themselves from the field the way Lewis Hamilton has.
Hamilton is the all-time leader in grand prix victories by a 103-91 margin over Michael Schumacher, and it's a long trip back to No. 3 on the list (Sebastian Vettel, 53). Not surprisingly, Hamilton also holds the marks for poles earned (103-68 over Schumacher) and podium finishes (183-155, again over Schumacher).  He also owns records for laps led, races won by leading wire-to-wire, and victories from the pole position.
It earned him seven World Drivers' Championships, tying Hamilton with Schumacher.
Here's the thing, though: There are 18 races remaining in the current season, and it's entirely possible, perhaps even likely, that Hamilton does not add to any of those records.
Imola was a lost weekend
The writing was on the wall by the time practice closed on Friday at Autodromo Enzo e Dino Ferrari. Lewis Hamilton put in close to a full practice but generated no speed on the 3.04-mile circuit, finishing 18th on the list of fastest laps.
Hamilton's Mercedes was only marginally better in qualifying. There, he placed 13th with a lap almost a second off what former teammate Valtteri Bottas logged to secure the final berth in Q3.
Saturday's first sprint race of the season was no more encouraging. Max Verstappen of Red Bull and Charles Leclerc of Ferrari overwhelmed the field. Not only did Hamilton finish 41 seconds off the pace, but his 14th-place showing was three spots behind teammate George Russell.
Sunday's 13th-place finish in the Emilia Romagna Grand Prix was Hamilton's worst showing since 15th place at the 2021 Azerbaijan GP. Before that, you have to go back to 2009 with McLaren to find a more dismal result in a race that Hamilton finished.
An indignity at Imola will define Lewis Hamilton's season
Though George Russell finished fourth on Sunday, he was still half a lap behind winner Max Verstappen as the Mercedes cars continued to struggle.  Still, it was the third straight outing in which Russell outperformed Hamilton. If that didn't frustrate Hamilton, then surely a development with Verstappen did.
On Lap 41 of the scheduled 63, Verstappen's Red Bull car came up behind Hamilton and prepared to lap his rival. That brought out a blue flag advising Hamilton that he needed to give way to the defending series champion.
"Sorry for what you have to drive today. … I know this is undrivable," team principal Toto Wolff said to his driver via radio on the cool-down after the finish.
"Yeah, no worries, Toto," Hamilton responded.
Hamilton had been unhappy all weekend. The fact that he didn't snap at that point suggests that, for all practical purposes, his season and his Formula 1 career are over.
Like Sportscasting on Facebook. Follow us on Twitter @sportscasting19.