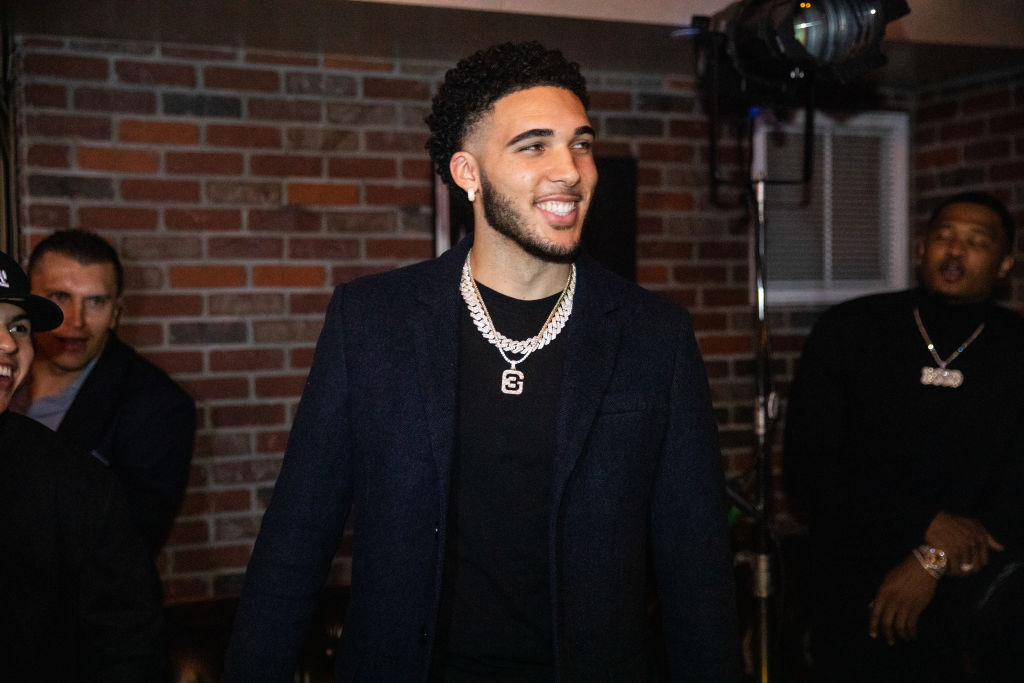 LiAngelo Ball Is Getting Closer to the NBA, But Could He Really Be the Scoring Champ?
LiAngelo Ball is inching closer to an NBA career and LaVar Ball is already predicting that he'll be the league's scoring champion.
In the modern NBA, there are several levels of confidence. At the "lowest" tier, there are guys like Giannis Antetokounmpo who know they are great but prefer to let their game do the talking. Then come talented players who can get a bit ahead of themselves, like Joel Embiid. Finally, in a league of his own, you have LaVar Ball; no matter what happens, he has unshakable confidence in Lonzo, LiAngelo, and LaMelo's star potential.
After a rocky road to the pros, LiAngelo Ball is finally making progress towards an NBA career. Could he really develop into the league's scoring champion, like his dad claims?
LiAngelo Ball is finally making progress towards the NBA
During high school, LiAngelo Ball made a name for himself on the basketball court. During his freshman year at Chino Hills High School, LiAngelo and Lonzo played together; before long, the Los Angeles Times called the brothers "quite a duo." Before long, LaMelo joined the team. More victories and media attention weren't far behind.
While LiAngelo would establish himself as an explosive high school scorer, he never turned into a prized college recruit. The guard headed to UCLA but barely played for the Bruins. During a trip to China, Ball and two teammates were arrested for shoplifting; while they returned to the United States in a minor political scandal, the incident cost LiAngelo his college career
After a brief spell in Lithuania, LiAngelo entered the NBA draft; no team was interested in his services. Rather than playing in the G-League, he joined LaVar's Junior Basketball Association.
In recent months, however, Ball has finally taken some steps towards an NBA career. In December 2019, he started practicing with the Oklahoma City Thunders' G-League affiliate; now, the team has reportedly offered him a contract. While he's not in the association yet, Ball is (slowly) trending in the right direction.
LaVar Ball unsurprisingly sees greatness in the future
While LiAngelo Ball is moving in the right direction, his dad, LaVar, isn't going anywhere. On Tuesday, he appeared on FS1's "Undisputed;" as usual, he had plenty of opinions to share.
LaVar touched on everything from this season's NBA playoffs to LaMelo's NBA prospects, he made a bold prediction about LiAngelo. Although the guard is yet to make his G-League debut, his father already sees greatness in the future.
"Zion could lead this league in scoring regularly until my other son get there," LaVar explained. "When Gelo get here, you can forget it. It's over."
"Gelo has always been the best scorer everywhere he go," he continued. "When he get in the NBA, within three years, I guarantee he's the scoring champ, guaranteed!"
LiAngelo Ball can't really become the NBA scoring champion, right?
After LaVar Ball announced LiAngelo was destined to become the NBA's scoring champion, even Skip Bayless was stunned. In fairness, that's probably the right reaction.
While LiAngelo has shown scoring talent before, he hasn't been able to do it at a high level. His 72 point game in Lithuania was dubious at best; in LaVar's Junior Basketball Association, he did score 48 points in a single outing but was remarkably inefficient from the floor. In this case, the simplest answer is probably the most accurate. If LiAngelo Ball had the potential to be an NBA starter, let alone the scoring champion, he would have a full-time job in the association.
At the same time, however, it's important to note that LiAngelo isn't the one making these outlandish claims. As far as we can tell, he's kept his head down in Oklahoma City and has apparently impressed the organization enough to earn a G-League contract. While that's not an automatic ticket to greatness, it's certainly a step in the right direction.
LiAngelo Ball might not even be an NBA player next season, but he's finally moving in the right direction. He deserves some credit; LaVar, on the other hand, is still just talking a big game.