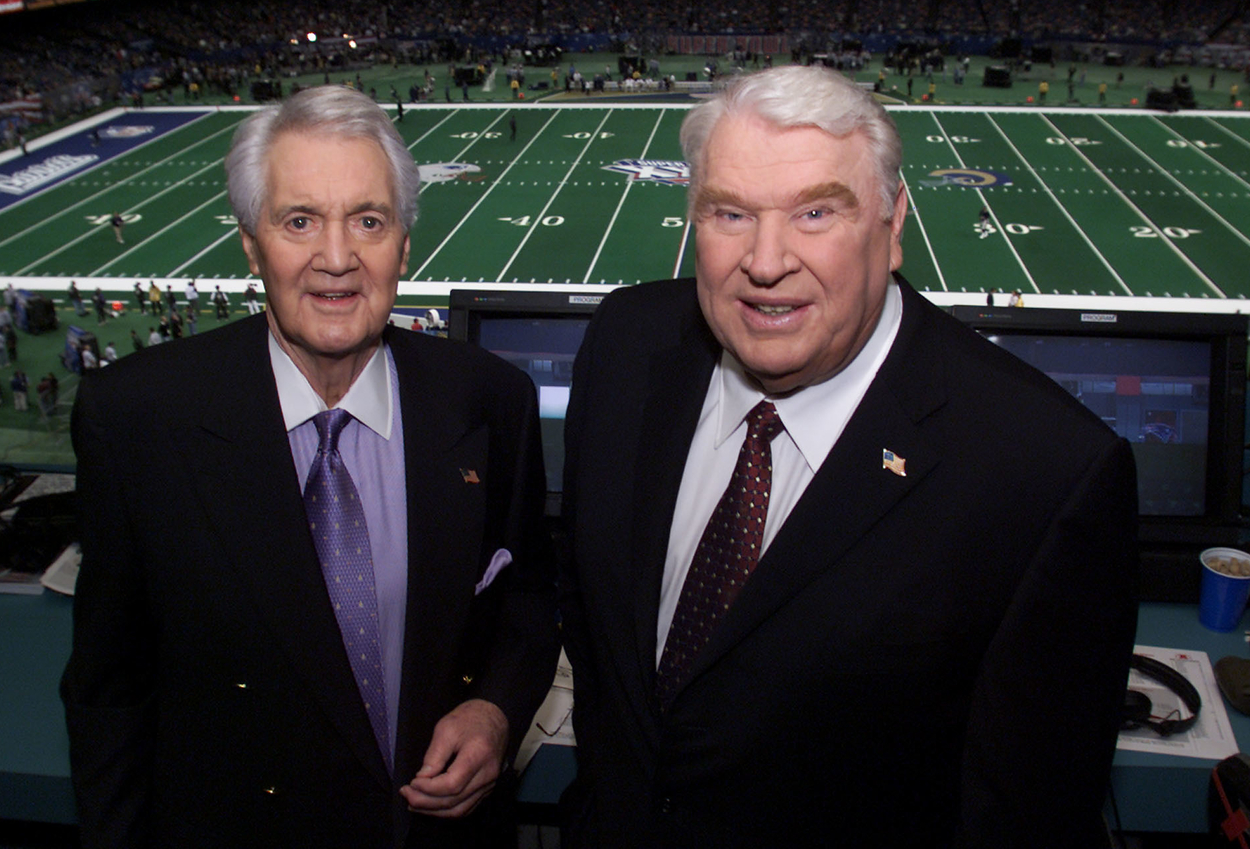 How Long Did John Madden and Pat Summerall Call Games Together?
Football fans spent many a Sunday watching Pat Summerall and John Madden call the action. How many did years did the two spend working together?
For decades, rarely did a football Sunday go by without the iconic duo of Pat Summerall and John Madden on the call. The former placekicker and the retired Super Bowl-winning head coach began working together at CBS and, when they called their final game together in February 2002, did so while at Fox.
How long did Madden and Summerall work together? Well, despite what it may have felt like at the time, they weren't calling games when players still wore leather helmets and operated out of the Wing-T offense.
John Madden and Pat Summerall spent 22 seasons calling games together
After stepping down from his position as the Oakland Raiders' head coach in 1979, Madden joined CBS as a low-level color commentator. Things changed in 1981 when CBS promoted Madden and teamed him up with Summerall, a former NFL champion who, several years earlier, had made the rare transition from color commentator to play-by-play voice.
From 1981 through 2002, Madden and Summerall were inseparable on Sunday afternoons. Summerall's simple, deadpan style meshed perfectly with Madden's booming voice and love of the telestrator.
The duo called games together for 22 seasons, a streak that ended when New England Patriots kicker Adam Vinatieri ended Super Bowl 36 in style. Although Summerall originally intended to retire following the 2001 season, he instead took a semi-reduced role in 2002 and primarily worked Dallas Cowboys home games, in large part because he lived in the area.
Older fans will also remember Summerall, who died in 2013, lent his voice to the Madden NFL gaming series in the 1990s and early 2000s. Those who still have working copies of Madden NFL 2002 can still hear the legendary broadcasting team in action.
Summerall and Madden frequently worked the football world's most important games
In January 1967, Summerall worked as a sideline reporter for CBS' coverage of Super Bowl 1. By 1982, he'd risen to play-by-play voice and called his first Big Game with Madden at the Pontiac Silverdome in Michigan. Protected from the dismal weather outside, young quarterback Joe Montana threw a touchdown and ran for another in the San Francisco 49ers' 26-21 victory over the Cincinnati Bengals.
Summerall and Madden called eight Super Bowls together, a stint which fittingly began with Montana and ended with Tom Brady. They worked Thanksgiving Day together every year, which often meant a trip to watch the mediocre Detroit Lions in action.
Luckily for the duo, they often got to call Dallas Cowboys games when the franchise still legitimately served as America's Team. However, the timing of the NFL's broadcast rights in the early 1990s prevented them from calling any of Troy Aikman and the Cowboys' three Super Bowl victories during the decade.
Madden ended his broadcasting career working with another iconic play-by-play announcer: Al Michaels
Super Bowl 36 marked Madden's final game at Fox. Although Summerall returned for another year, his partner joined ABC and teamed up with Al Michaels, the network's longtime Monday Night Football voice.
Madden and Michaels worked on Monday nights for four seasons. The duo also called two Super Bowls together, including Super Bowl 40 in 2006. That game marked the final one for both at ABC.
Months earlier, Madden signed with NBC Sports and agreed to work on Sunday Night Football when the broadcast rights transferred ahead of the 2006 season. Former Pro Bowl receiver Cris Collinsworth revealed earlier this year that NBC once considered having him and Madden call SNF games together.
However, NBC eventually lured Michaels away, even if it meant giving up the rights to Oswald the Lucky Rabbit. Michaels and Madden continued their partnership, this time on Sunday nights, through the end of the 2008 season. The Pro Football Hall of Famer retired in April 2009, months after working Super Bowl 43 and over seven years after his final game alongside Summerall.
Like Sportscasting on Facebook. Follow us on Twitter @sportscasting19.